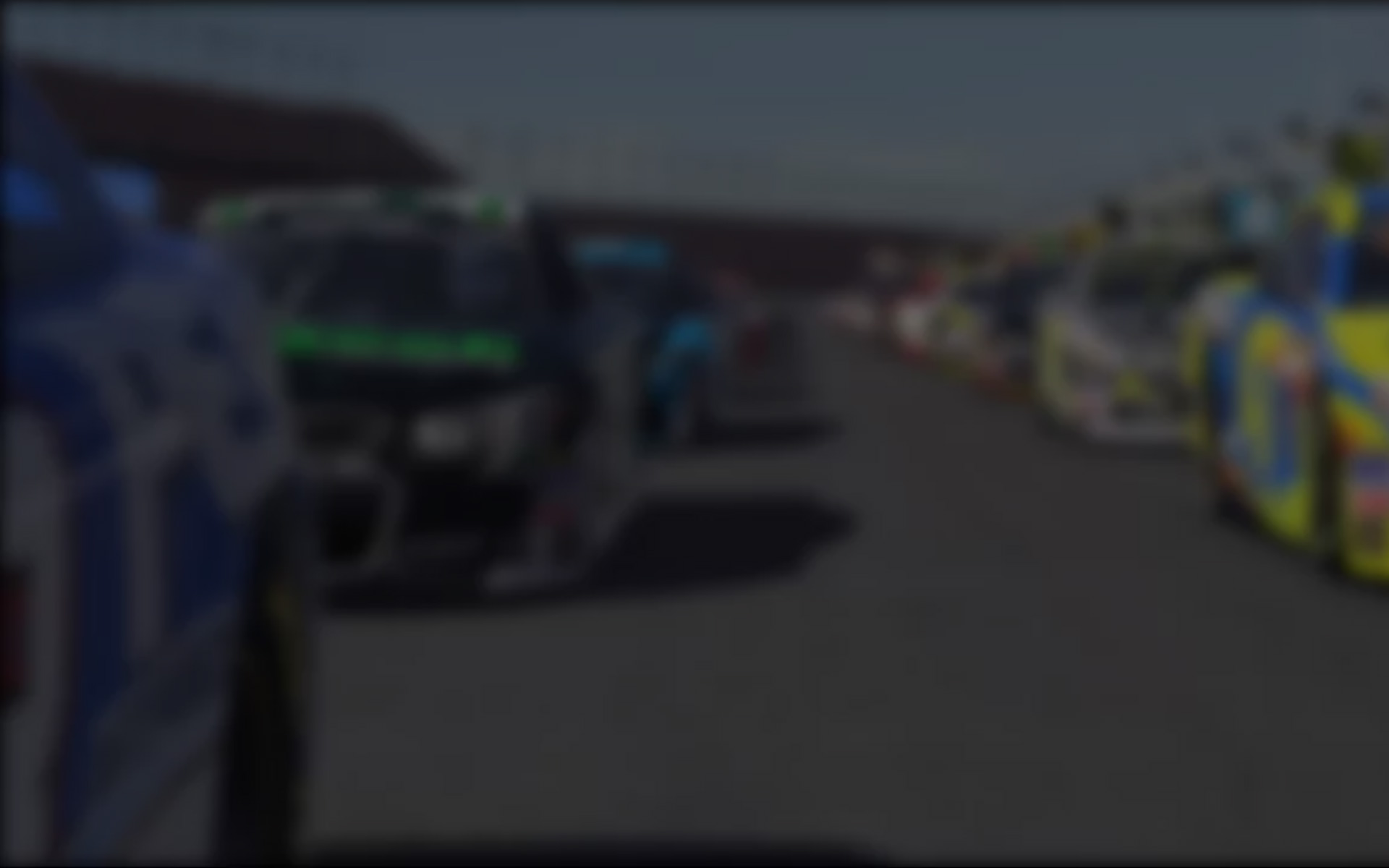 16th Street is back ladies and gentlemen.
Yup. That's right. One of the most  popular leagues in iRacing is back, and it is back in force.
Coming into the season opener at the Homestead-Miami Speedway, 337 drivers were signed up for the 16th Street Racing League, and 41 showed up to race.
We had 22 entrants into Sunday evening's transfer session, 15 of whom would transfer. The transfer race was a rather clean affair, with only two cautions in a 47 lap event. In it, we had Ryan Norton qualify on pole with a 24.000, a scant .001 seconds ahead of Brandon Trost.  Daniel Olszewski qualified in P3 with 24.005s, 24.013s was good for fourth, which was set by Matt Pawelski, while Ellis Stephens' 24.215s put him fifth.
The 22 drivers took to the green, and immediately, Norton and Olszewski cleared Trost. This put Trost back to 3rd, with Pawelski (yours truly) in fourth ahead of Toni Helminen who had started sixth.
The field was generally patient, as in the transfer race there is absolutely no point in battling every lap if you are not in 16th, as you just increase your chances of wrecking and not transferring. Besides some battling on restarts for the final transfer spot, the sim racing was civilized although there was a huge battle until Michel de Jonge pitted on lap 32 from inside a transfer.
No driver late in the race saw it prudent to race hard, and as such the field largely stayed the same for the latter half of the race with the exception of Olszewski, whose no pit strategy led him to back his pace way down, and eventually run out of fuel on the last lap. He would still finish in the seventh position while Justin Dion clinched the final transfer spot with de Jonge finishing 16th, one lap behind.
The list of the transfer drivers ahead of Dion read as follows:
14th: Tony Helminen
13th: Steve J Richardson
12th: Bud Weissert
11th: Roger Powell
10th: Austin Espitee
9th: Mike Perry
8th: Gary Borkenhagen
7th: Daniel Olszewski
6th: Ellis Stephens
5th: Jonathan Goke
4th: James McClure
3rd: Matt Pawelski
2nd: Brandon Trost
1st: Ryan Norton
The race provided a solid preview of the events to come in the main race. The field would be reset, and everyone would requalify, meaning that those who transferred could start anywhere. All signs pointed to what would end up being a wild and crazy race in South Florida.
So. The main attraction. The main event.
This race was broadcast live on Racespot TV, meaning that there was an extra bit of pressure for many of the drivers. On top of this, the winner would have a donation by iRace4Life to Orphan Secure made in their name. So, suffice to say, there was a solid amount of pressure going into the event.
Olszewski had once again qualified on pole, with a lap time of 24.155 seconds, just ahead Christopher Demeritt (24.160s). Matt Pawelski was third with a time of 24.163s, followed by Tim Holgate who had run at 24.164s and Matt A Kingsbury 24.183s.
Olszewski got a jump at the green as Demeritt would "issues."  This opened the door for Holgate who got an excellent start, and by the  exit of Turn Two he had cleared both Pawelski and Demeritt. Coming off of Turn Four, Holgate had also gotten by Olszewski to lead the first lap. Olszewski, however, still put up a huge battle on the outside, and would regained the lead on Lap Two and remained there for several laps.
Holgate finally got around Olszewski  on Lap 13, and it was obvious that his car had come to life. Now in dirty air, Olszewski fell back into the clutches of Demeritt, who could not find a way around. On Lap 16, Ryan Norton found a significant amount of speed running on the highside. Over the next few laps he used his newfound advantage to go from sixth to second passing Trost, Pawelski, Demeritt and Olszewski. He passed  both Trost and Pawelski on the highside, then used the high lane to get a run on Demeritt before he swung low and took the spot. Norton didn't really have to work for second place as, on Lap 17,  Olszewski got loose and nearly spun. He found himself in the backstretch grass and, as a result, by the end of the lap he had slipped from second place all the way back to 12th.
However, by this point it was clear something was wrong Olszewski's Dallara. His tires were either way too hot, or he had suffered some sort of damage and his slide backwards continued until Lap 20 when he had a slight fender bender.  On the inside was Helminen who, thinking he was clear, moved up and into the front wing of Olszewski's car. The contact sent Olszewski around,  triggering a wreck that claimed the cars of Erick Davis, Randy Crossno, Dave Jinks and Steve J Richardson as well as that of Olszewski. Crossno would for the most part be able to continue, albeit heavily damaged.
On the ensuing pit stops, your top five of Holgate, Norton, Demeritt, Pawelski, and Trost stayed the same. There was however, a very important development. During the yellow, Norton suffered an equipment failure and, as a result, would have to quit the race. Demeritt, Pawelski, and Trost all moved- up a spot while, behind them, Brandon Lichtenberg advanced into the top five.
On the restart, everyone would be well tempered in the front group. However, eighth place Joe Branch (still a part of this front pack) made attempt after attempt at getting by sRay Kingsbury. This battling allowed Ray's brother, Matt, to pull away while in sixth. Branch's crusade would eventually cost him the spot he already had, as Courtney Terrell bided his time before making a textbook move to the outside of Branch, taking eighth place on Lap 44. On the following lap, Matt A Kingsbury got loose into Turn Three, allowing Ray and Terrell past. Terrell got a great run and attempted to clear Ray Kingsbury by Turn One, but things were way too close for comfort and Terrell was forced to to take evasive action. This move enabled Neffry Auwg, who had gotten by both Branch and Matt A Kingsbury in short order, to pass Terrell for P7.
The racing in this group calmed down with the exception of a near wreck involving Ellis Stephens and Matt Kingsbury on Lap 47. Stephens tried the slide job just as Kingsbury was crossing back over to the inside, with contact resulting. Although neither driver wrecked, however, the incident allowed Vick Caudill to pass Kingsbury and set his sights on Stephens for 10th.
The top group held station until the green flag stops on Lap 66, with Holgate and Pawelski leading the top group on to pit lane. Holgate entered and exited cleanly, whilst Pawelski endured a dismal pitstop of nearly 10 seconds. As a result, when Demeritt and Trost pitted on Lap 68, Trost cycled into third, jumping Pawelski.
Your top five would stay the same until another round of green flag stops around Lap 105. Once again, Holgate and Pawelski were first to pit, followed by the rest of the top five on Lap 107.   This time Lichtenberg got around Pawelski while three drivers remained out on track and in the lead in the form of  Terrell, Branch, and Gary Borkenhagen, before shenanigans would ensue.
Coming out of the pits, Jon Porzuc, a lap down, got around Trost. On the access road, Trost made a very aggressive move to get around Porzuc. As a result, Porzuc was able to get the run off of Turn Four in an attempt to get around Trost.   Having none of it, Trost defended the bottom lane just as Porzuc got the run. Caught by the sudden closure of the hole, Porzuc pushed into Trost, who went around.
In addition to the two combatants, the incident collected a passing Lichtenberg, who suffered right side pod damage. Also impacted were your main players — Holgate, Demeritt, Lichtenberg and Pawelski — who were trapped a lap down on the ensuing caution. They would cycle to the tail end of the line on the restart, however, but still behind almost all of the previously lapped cars.
The Lap 114 restart marked the beginning of what looked to be an incredible charge. The dominant Tim Holgate now had almost the entire field ahead to pass if he were to get the win. He made incredibly swift work of the competition, as he and the group behind him passed all but two cars Terrell and Branch — by the time Lap 123 rolled around.
Terrell and Branch were just biding their time. Neither would win if they wrecked one another. Behind them, Auwg had passed Pawelski, and Lichtenberg was sizing him up. However, a caution on Lap 134 changed everything. Holgate & Co. would be caught up, and because it was under 10 laps left, all lapped cars would be sent to the rear. Terrell thus lead to the green on Lap 139, followed by Branch, Borkenhagen, Holgate, Demeritt, Auwg, Pawelski and Lichtenberg.
The field charged into Turn One and, almost immediately, drivers were sliding all over. An Auwg moment allowed Pawelski, Lichtenberg, and others through and dropped Auwg back to a 10th place finish.
All of the front drivers were on top of each other. Branch was driving over, under, over, then under again in an attempt to get around Terrell. Behind them, Holgate was working on Borkenhagen, but could not get by until the last lap, destroying his chances of taking the win.
Branch ultimately gained the outside, but somehow over the course of the final lap, Terrell maintained enough momentum on the inside to hold Branch at bay.  In an incredible piece of racing. Terrell clung to victory by .043 seconds in a photo finish.
---
You may also like...
---