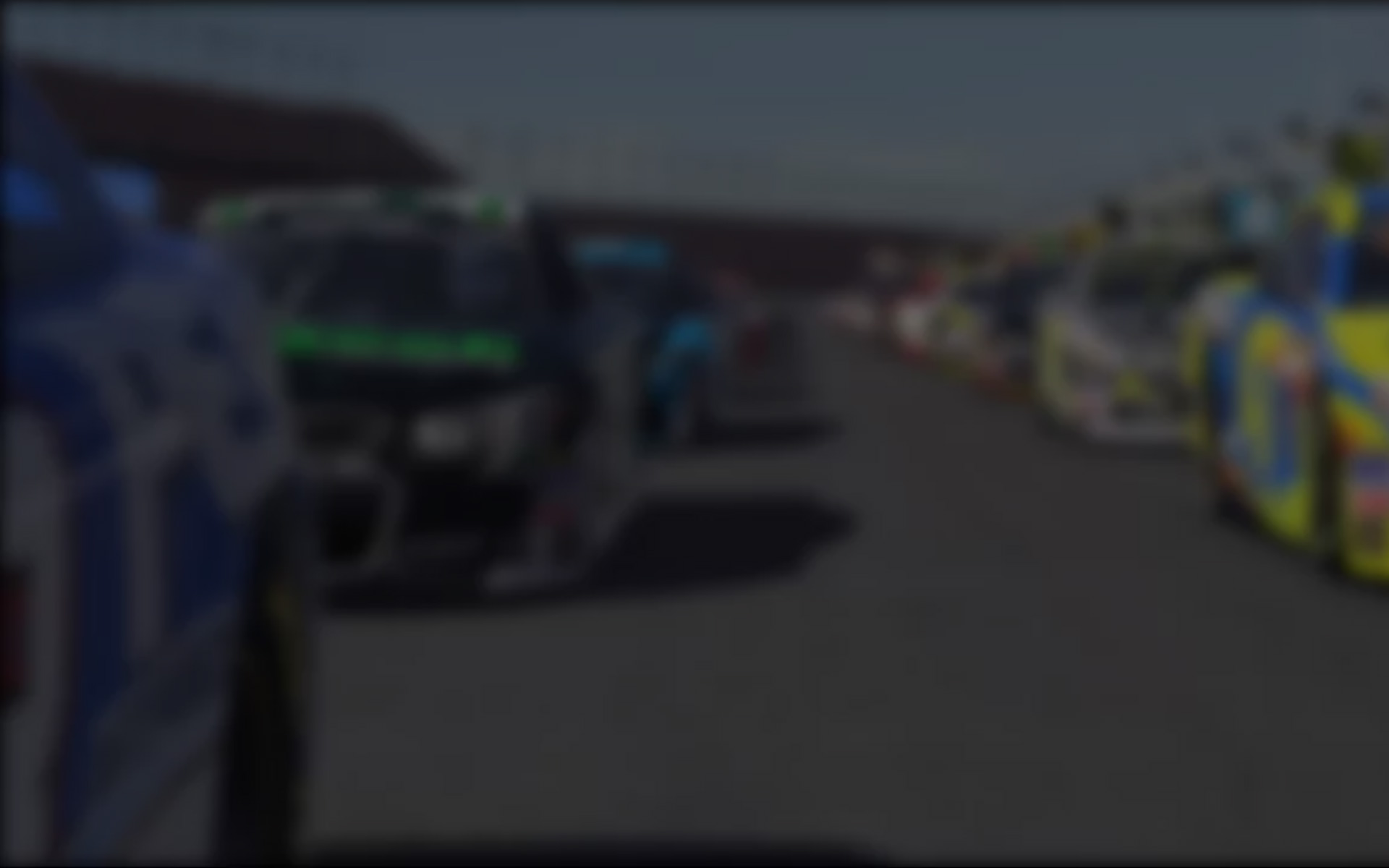 Week Eight of the NASCAR iRacing.com Class B Series took to Talladega Superspeedway in Alabama for the only restrictor plate race during Season 4.  Over 1,500 sim racers entered race servers during the week to see who could survive the lottery known as Talladega.
Chad J Laughton (Carolina) would lead only one lap in route to the Strength of Field win on Friday night.  Laughton made a last lap pass over Dustin Montgomery (Mid-South), barely beating Montgomery by .058 seconds.  Liam Lambert (New York) rounded-out the top three finishers.  Malik Ray (Carolina) and Steven Eszenyi (Connecticut) concluded the top five.
For winning the SoF race, Laughton picked-up 366 points for Week Eight.  Dustin Motgomery garnered 352 points with Lambert taking home 338.  Steven Eszenyi raced four times over the course of the week and took 311 points with him.  Dylan Duval (Eastern Canada) would collect 284 points.   The race would run caution-free with no fewer than 38 lead changes among 14 drivers.
John Cordon (Florida) would led all sim-racers with 47 starts for the week, collecting four wins for his efforts.  Cordon's four wins tied for the most wins among four drivers.  Also collecting four wins would be Jason Gould (Flordia), Adrian Duncan (Eastern Canada), and James Avalos (Virginias).  Joey Schmidt (Benelux) would finish in the top five 17 times, the most of all drivers.  James Avalos and Adrian Duncan saw the green flag first 13 times.
Brandon Jerrell (Atlantic) continues to have a stranglehold on the field in the overall points standings.  Jerrell holds a 425 point lead over new second place man, Tyler D Hudson (Mid-South).  Wes Weidman makes his first appearance in the top five as he now sits third.  Brandon Buie (Atlantic) also makes his first look inside the top five in fourth.  Ryan Luza takes the biggest hit this week dropping to fifth, 648 points out of the lead.
The NiCBS heads to the Kentucky Speedway for Round Nine of Season Four.  Stay tuned to inRacingNews for all the latest on the NiCBS.
---
You may also like...
---