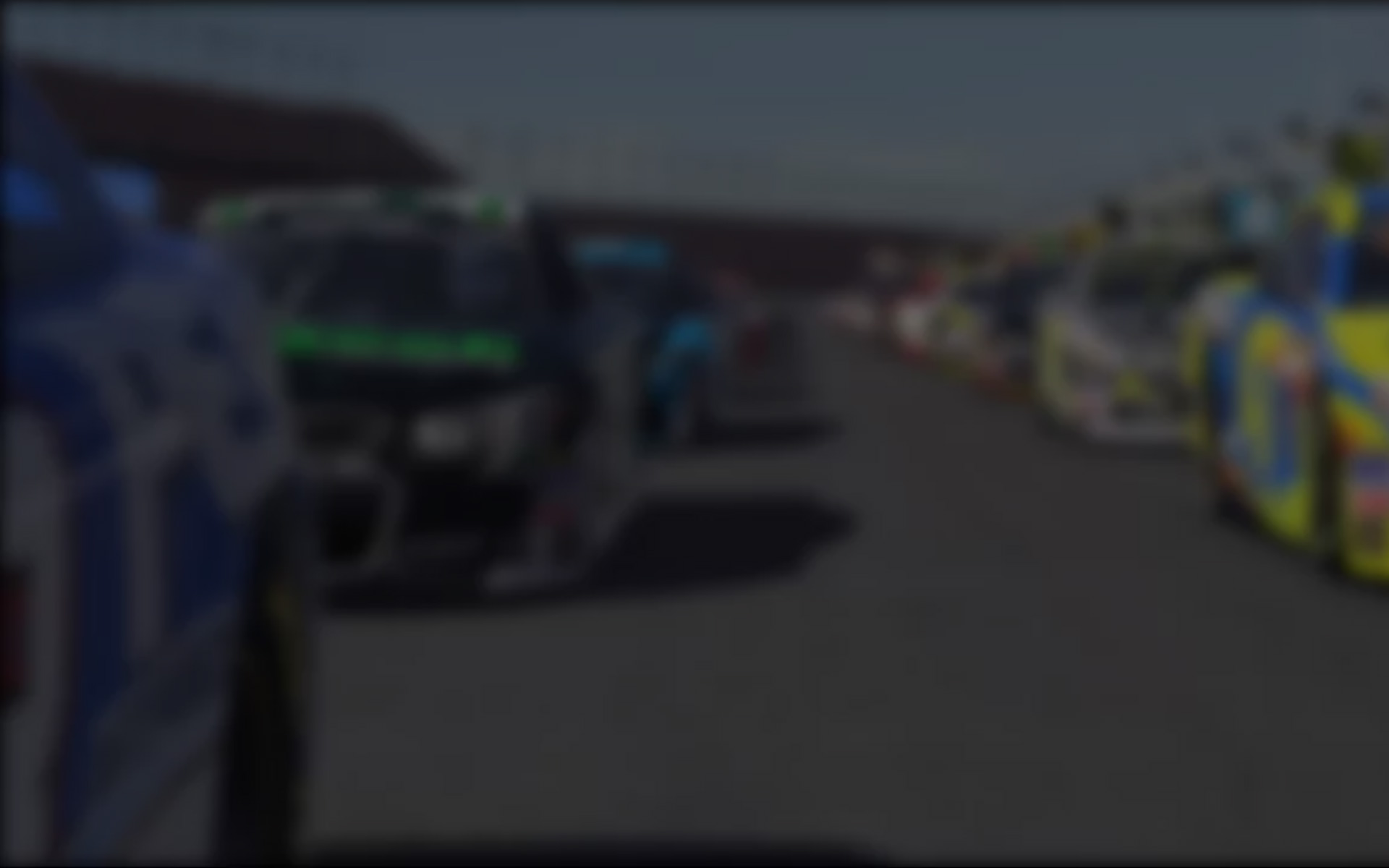 The NASCAR iRacing Series made its second trip to a road course this season – namely to Watkins Glen International in upstate New York. The 2.4 mile 'Cup' configuration contains the Inner Loop section, where drivers struggle to get their cars slowed and turned into the double chicane of a corner – both in qualifying and race trim, offering potential overtaking moves and opportunities that we don't see on the traditional oval courses.
Ray Alfalla scored the most points at Watkins in the Open Series, by winning the largest SoF race of the week, which – in keeping with tradition — turned out to be Race One of the week. Alfalla took away 399 points from the 6220 SoF, and by leading every lap, driving the fastest lap and pulling over nine seconds ahead of the field by the end of the 45th lap – showed why he is a former NASCAR PEAK Antifreeze champion looking to add another DWC title to his resume this year! Matt Bussa was his closest competitor, with Corey Vincent rounding out the Top 3. The special thing about such a high (6200+) SoF is that drivers that can't make into the top five still earn an amazing amount of points.  Case in point: championship leader Patrick Crabtree scoring a massive 302 points from an eighth place finish.
In other Open races at Watkins, Michael Conti continued his winning ways in Race Two by driving to Victory Lane – a spot he would visit in the NASCAR PEAK Antifreeze race. Bussa once again showed consistency with another runner-up finish – but I'm sure he was hoping for the win! Nathan Wise was a second off of Bussa for third, but shouldn't be disappointed with 360 points. In the last Open race of the week, Teemu Iivonen was the dominant driver – finishing seven seconds clear of Chris Overland. Benjamin Burmeister came home a solid third, but will be confused as to how the top two managed to pull a 40 second lead over him!
In the Fixed Series this week, Alfalla once again scored the most points – setting himself as the benchmark to beat in both series! Conti was close behind in second, just 3.5 seconds short of taking Alfalla's win. 10 seconds separated the podium finishers, with Bussa coming home a close third. The gap between the all DWC top three and the rest of the field was . . . well . . .  large! Cullen Brown was the top finishing A licenced driver – but he was over a minute behind the top three!
In the second race, Rob Read led a small, but very important portion of the race — only four laps.  Still, it was enough to take the gold, with Marc Melcher missing out on the win after leading 80 laps of the 90 lap race. Alexander Abraham was involved in a close battle for third, but managed to hold on to score 193 points.
Melcher made up for his disappointment in Race Three, winning by over seven seconds, which is quite an achievement. Robin Mundhenk lead 51 laps, but was unable to hone-in on Melcher's advantage. Thomas Davis and Martin Carroll were a close third and fourth, respectively, with just .4s separating the pair at the finish. The final race saw Conti once again come out on top, with the delta between him and runner-up Wayne Bourke a mere 16 seconds! The gap between Bourke and third place finisher Jordan Werth was once again a mere . . .1 minute 12 seconds as The Glen clearly provided a challenge for some, and a reward for others.
Week 23 returned to Michigan, for the simracers of the NASCAR iRacing Series to do battle at one of NASCAR's fastest playgrounds. Michigan is a favourite among many drivers for the immense speed you carry around its 2-mile long ribbon of tarmac. In the first Open online race of the week, Justin Bolton took advantage of the eight laps he led, driving his Chevy Gen-6 to Victory Lane to capture the most points this week due to the large 6048 SoF – which was the biggest SoF of the week. Ryan Michael Luza was a close  second.3s behind, but was unable to capture the win, even though he was out infront for just over 50 laps! Malik Ray once again found himself in the top three, with 361 points to his name for this Michigan week.
Adam Gilliand was the victor of Race Two, with 384 points in the 5984 SoF race. Chris Overland kept him busy and tried to pressure Gilliland into a mistake, but it wasn't to be for Overland – who settled for P2 and 371 points – which in itself is a nice points haul! Corey Vincent wasn't that far behind, just .4s – meaning if the front two slowed, Vincent would have been right there to seize the opportunity. In the final Open race of the week – Gilliland showed his Michigan dominance by once again driving into the lead from 21st on the grid, to take his second win in three races at MIS. Trey Eidson was a close second, with the NASCAR PEAK Antifreeze Series pairing taking the top spots of the race results. Kollin Keister was .9s back from Gilliland, narrowly holding off Sacha Wesler for third.
Bussa showed why he is P1 in the Fixed standings by putting on a show in the virtual Irish Hills, leading half the race distance to finish ahead of the rest. Ryan Michael Luza was within an inch of beating Bussa, but had to settle for second and 285 points that came with that. Thomas George was a distant third, but nonetheless a top three finish in top split NiS action is some achievement – fighting it out with the best, and the best to be in the future.
Steffen Nobis was the man to beat in Race Two, finishing .3s ahead of Abraham – who finished where he started! Kevin Pommier set the fastest lap, but couldn't get around Abraham and had to be content with third. Race Number Three of the MIS week saw Luza finally get the win he deserved after many top three finishes – and what a way to do it! 12 seconds was the delta between himself and Kris Kelley in second, and with 83 laps led Luza was dominant. John Read finished narrowly ahead of Chad Laughton with just .4s separating the battle for third. Dwayne Vincent continued to score points in his bid to try and overpower Bussa at the top.
The final race of the week seemed to be the popular race for the faster drivers, boasting the highest SoF of the week (5298). Luza once again seemed dominant.  Starting from pole, leading 80 laps and taking the fastest lap, Luza was clearly the man to beat at Michigan. Davis got close in second, just .3s back from Luza, but was unable to overhaul the Texan for the win. DWC driver Brandon Buie rounded-out the top three, just .2s behind Davis, with eight laps in the lead to his name. Luza collected 340 points; if he continues at this pace, he could get himself up the standings in no time!
In the Open Series – Patrick Crabtree's DXRacer Ford Fusion still leads the field, just a few shy of 7000 points in the championship. Justin Bolton is his closest competitor – and even he is 300 points back from Crabtree! An interesting point is that over the 22 weeks already run in this season, Crabtree does not have a single win to his name – showing that consistency is key. Casey Tucker holds third in the standings, just over 50 points behind Bolton. Steven Eszenyi covers fourth with 6098 points, with Corey Vincent a mere 98 points behind in fifth.
Matt Bussa is still displaying his dominance in the Fixed Series by leading the standings, heading into the series' 23rd week of competition. Dwayne Vincent still holds onto second, although Bussa has been inching out that gap every week since he overtook him for the lead, with the margin between the two being around 300 points. Steven Gilbert is still driving strongly in third, slowly closing the gap toVincent. Kelley holds onto fourth, with Bolton rounding out the Top 5, running strong in both Fixed and Open Series' this season – just behind Kelley on 4345 points.
The NASCAR iRacing Series heads back to short-track racing  for Week 24 at Bristol Motor Speedway. The 'Worlds Fastest Half-Mile' certainly packs a lot of punch – with its 30 degree banking, it provides a massive challenge for car setups, and finding that sweet spot to go fast on such a small track, where times will be even closer this week than at Michigan. Will Bussa continue to open the gap at the top? Does anyone have an answer to Crabtree's consistency? Check out iRacingNews in two weeks' time for a report on both Bristol and Week 25 at Atlanta Motor Speedway.
---
You may also like...
---