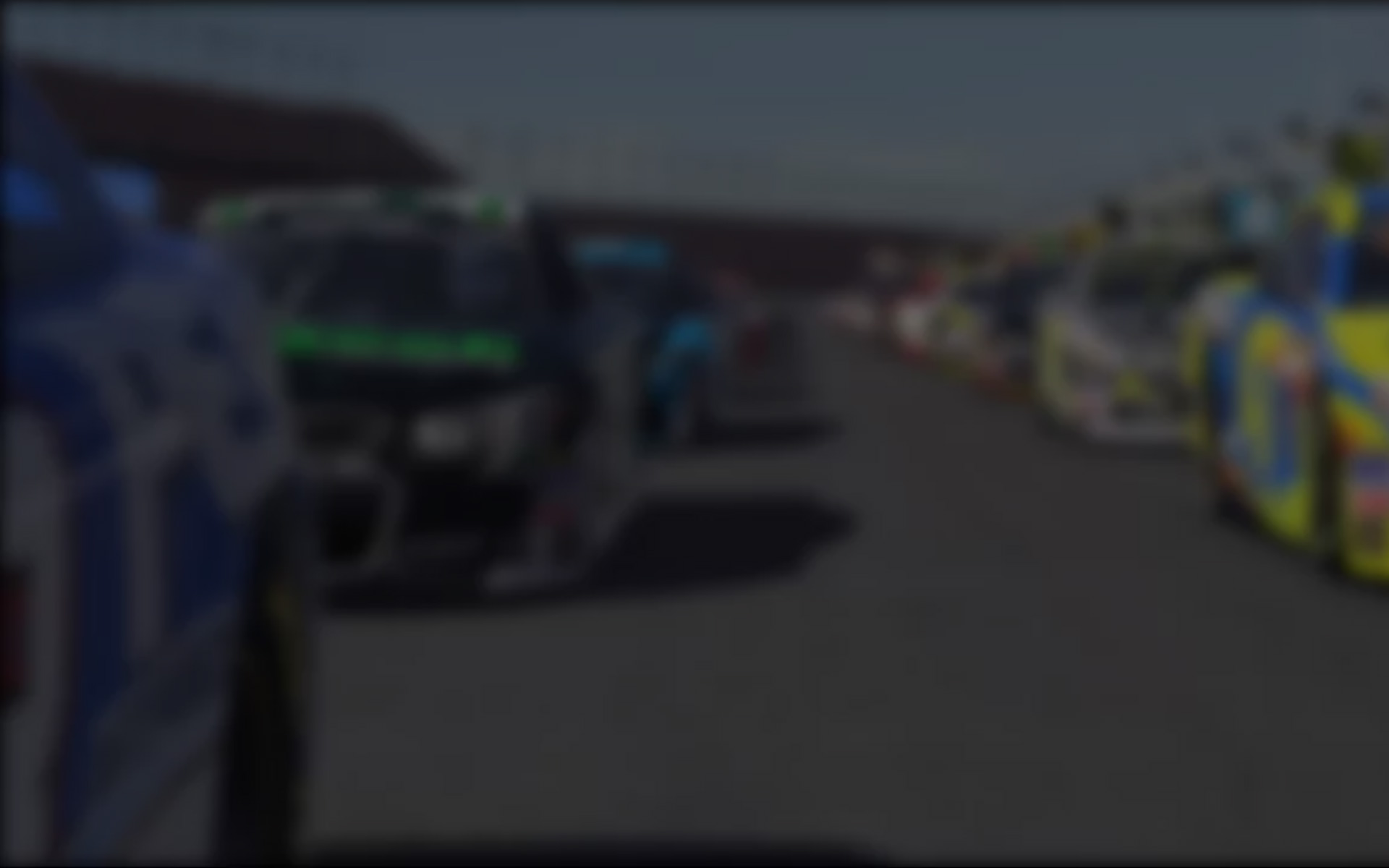 Trans Tasman's Madison Down was back for Race Two of Monday's online racing event in the iRacing.com V8 Supercar Series amid the dunes of Zandvoort, bringing a collective (good-natured) groan from the rest of the field.
Down snared pole position from Dylan Sharman in the VRS Falcon, while Wayne Harris and Darrin Vouch put on their best qualifying performances to date to grab third and fourth respectively. Next came Simon Black, Peter Kastanaras, Mark Rayner, Edward Van Velsen, Marty Atkins in a very impressive qualifying result, then Richard Lock rounding-out the top ten. Series godfather George Fullerton was eleventh, only 5/100ths of a second outside the top ten, the iRacing field bursting at the seams with a season-record twenty sim racers.
At the race start it was all Down into Tarzan, with Sharman attempting to go with him. Harris rearranged Vouch's door panel, likewise behind them did the pairs of Black-Rayner and Kastanaras-Lock. Behind them Fullerton pushed wide, allowing John Emerson and Michael Booth to slip past. Fullerton took the fight to Booth all the way up the hill, getting one position back.
By Lap Five, Down had shown a clean pair of heels to Sharman who was likewise clear from Vouch and Harris, both having one of their best runs to date. Mind you, Black was giving the Seeka Kiwifruit Falcon of Harris absolutely no rest. Rayner was sixth from Kastanaras, until Rayner put his left wheels onto the grass over the Turn Six crest, sending him into the sand trap and back into fourteenth. Then came Lock, Justin Strickland having a duel with Fullerton, and Atkins close behind. Scott U'ren was on an epic charge, having missed qualifying and started 18th, now up to 11th and menacing Atkins. Behind them was Michael Booth.
On Lap Eight Fullerton out-braked Strickland into Turn One and set about closing the gap to Lock and Kastanaras.  U'Ren and Atkins had a messy battle through the Turn Ten and Eleven esses, while fighting over a top ten position.  Atkins would spear-off at Turn One after missing his braking mark on Lap Ten and, a little later that lap, Fullerton gassed it into a half-spin exiting Turn Eight. While he regathered himself he had a ringside view of U'Ren trying to squeeze inside Strickland into Turn Nine, the resulting contact turning Strickland around and allowing Fullerton to get his eighth position right back.  U'Ren definitely had some red mist going, and it was effective.
The action was everywhere, except in Position One – which was all Madison Down's, to nobody's surprise.
Another big charger was Guy Leach, starting from 19th, now harassing Fullerton for ninth. U'ren, meanwhile, was now up to eighth, and sizing up Lock for seventh, getting him in the Turn Three hairpin.
By Lap 20 Vouch was on a mission to wrestle second place from Sharman, this being the biggest consolation prize in the shadow of Down's dominance.
U'ren's relentless charge claimed Kastanaras cleanly into Turn One at the start of Lap 23. Sixth place, from 18th. Meanwhile, Strickland had a trip through the Turn Six sand trap and retired following a hit from Van Velsen in the Coca Cola Falcon.
Down cruised to victory in Vettel-esque style, but second place was far from settled. Vouch had pulled-up to the bumper Sharman, understeering wildly through the last corners but hanging on by barely a whisker from Vouch, who nonetheless was rapt with his first podium for the year. "I picked up some tips off Mitchell (McLeod) for Race Two to reduce front tyre wear and it made a world of difference – thanks mate!"
Next was Harris, Black, U'Ren after arguably the charge of the race, Kastanaras, Lock, Leach and Fullerton just making it back into the top ten after Strickland's woes. Fullerton was typically upbeat afterwards "as the laps counted down I could feel the car moving … for the last 5-6 laps was holding up the guys behind…I believe I deserved a few taps as I was driving very defensively."
"I focused on driving the car straight and all the tyres woes I'd heard (about) didn't really affect me too much," said race winner Down in a masterpiece of understatement.
Wayne Harris quipped "So, Madison…when are you going back to your home planet?"
He's just saying what they're all thinking.
---
You may also like...
---