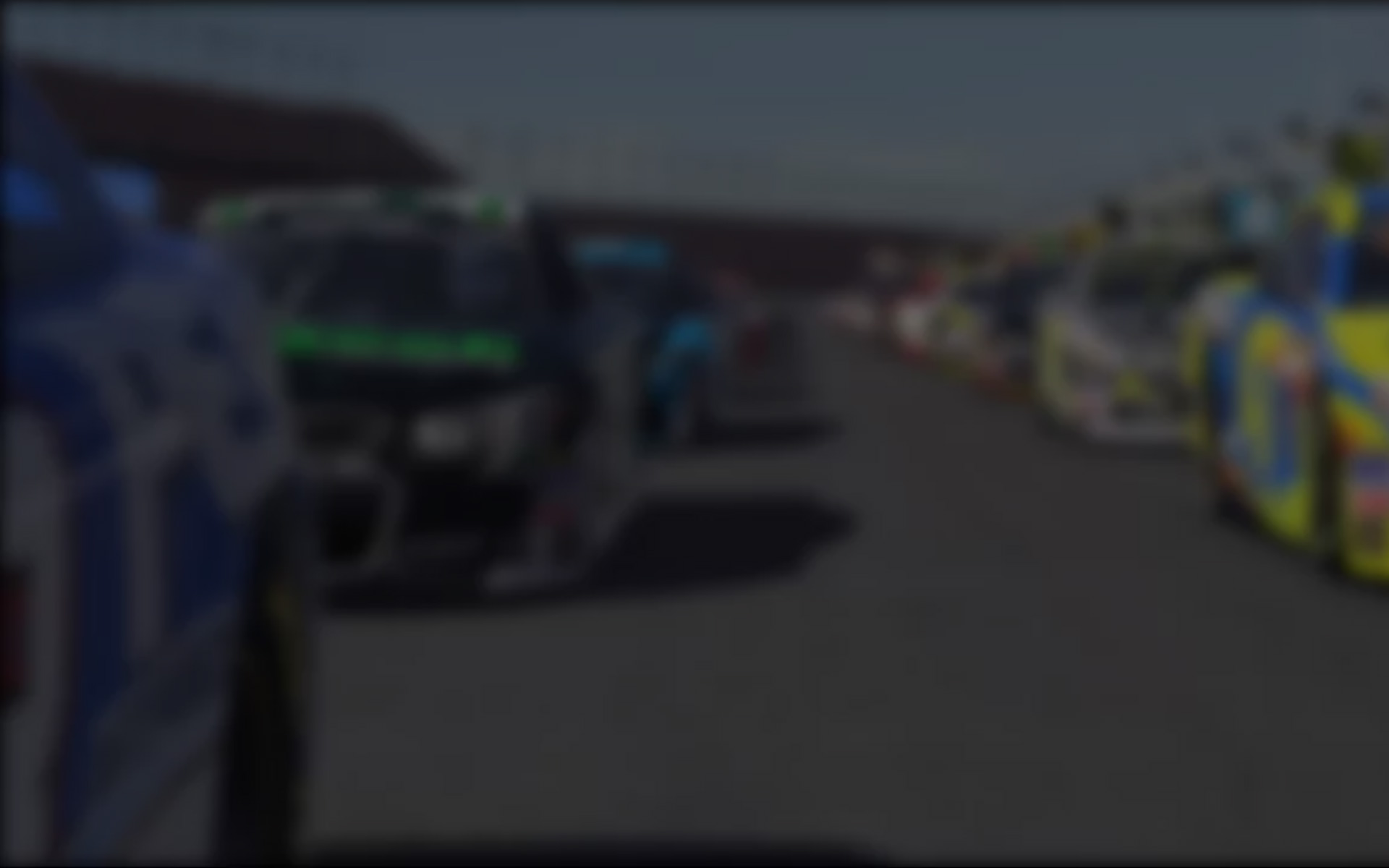 In what could only be described as an "odd" turn of events, 2014 Season 2 iRacing.com V8 Supercars Series defending champion, Richard Hamstead of Team TTL, arrived at Watkins Glen to participate in Week 5 of Season 3.  As this was his first official V8 race of the season, Hamstead is the first of the "old bunch" to return for Season 3. With former and new rising stars vying for dominance, Hamstead would certainly have his hands full with the current championship contenders on this high speed road course.
Coming off of a magnificent win last week at Oulton Park, Michael Fabian of Mad Cow Racing started things off right by taking pole position with a time of 1:06.632. Starting alongside of Fabian was one of the (if not THE) fastest American in the series, Chad Chastain of SDC Motorsports. Hamstead started his Ford Falcon in third with fourth and fifth being taken by two more SDC Motorsports drivers, James McKnight and Nigel Baines, respectively.
The lights went green, starting 50 laps of sim racing which would require a pit stop to finish. The field made its way through The 90 and into The Esses without incident but the clean run wouldn't last for long.
The first heavy blow came to the standout performer thus far in Season 3, Mitchell McLeod. Starting in seventh, McLeod had entered The Outer Loop on Lap One sandwiched between the two Kustom Image Motorsports drivers, Jake Burton and Kurt Stenberg. As they exited, Stenberg went wide which allowed McLeod to take the opportunity to claim a position. Unfortunately, McLeod got loose and went wide towards the exit as well. As McLeod was going wide, Stenberg was coming back in and the two collided. Stenberg got the worst of it as he was punted off the racing surface and towards the Chute (which is unused in the Classic configuration). Amazingly, Stenberg would go on to finish on the lead lap, albeit in eighteenth after starting in ninth.
McLeod wasn't out of the woods yet, however. Just two laps later in that same spot, he came together with Kamakaze Racing Team (KRT) driver Mark Anderson. It was McLeod who was sent into the wall this time while sustaining damage which caused his untimely retirement from the online event. This heavy blow to the former champ could have major repercussions further down the road for his championship ambitions.
Back up front, Chastain was hot on the back bumper of Fabian and waiting to strike. He wouldn't have to wait too long, however, as Chastain made the pass on the inside of Fabian at the entrance of The Outer Loop after building up speed on the Back Straight.
In another step backwards, Fabian was also passed by Hamstead at The 90 on the next lap.
Both Chastain and Hamstead began to pull away as it became obvious that the two were gearing up for a long battle. For the next eighteen laps, Chastain led the field with Hamstead unable to complete the pass. With both drivers running equal strategies, the race would indeed be decided on pit lane.
As the leaders entered pit lane on Lap 24, however, Chastain watched his hopes for a win burst into flames as he blazed his Ford Falcon onto pit road too fast. Receiving a 15-second hold penalty, Chastain was forced to watch as Hamstead drove away to continue his race and go on to take the win.
The closest challenger to Hamstead was Fabian who was over five seconds back. Finishing out the top-five were Martin Carroll, James McKnight (who set the fastest lap with a 1:06.956) and a frustrated Chastain. all of whom drive for SDC Motorsports.
Yearning to compete against the likes of Team TTL and Trans-Tasman Racing (TTR), SDC Motorsports (along with their alliance with KRT) has been making leaps and bounds towards the front and are what I believe to be "the team to watch."
In the past several races, Carroll has been consistently running in the top-ten and he now takes home his first championship podium finish after starting in eighth. Given that he was running laps times consistent with those of Hamstead, I have no doubts that had Carroll started closer to the front, he would've at least put the pressure on Hamstead if not taken the win for himself. As an active team, I predict that SDC will have a championship credited to their name in the coming seasons.
This Australian Strength-of-Field (SoF) race had a strength of 3925 and was split four times. The top-five finishers from the other splits are as follows:
Split 2/SoF 2221
1- Sam Compton
2- Michael Cracknell
3- Henry King
4- Chris Coxhead
5- Richard Aylward
Split 3/SoF 1525
1- Scott Brown
2- Jamie Eaton
3- John Mifsud
4- Glenn Small
5- Tony Clarke
Split 4/SoF 1007
1- Jason Cossey
2- Jack Ruler
3- Shane Best
4- Aaron Mcintyre
5- Benjamin Syron
As we close-in on the halfway point of Season 3, McLeod continues to hold the championship lead with 1061 points. Beau Cubis is close behind with 996 followed by Tony Autridge (939), Jake Burton (918) and Michael Fulcher (849).
With Week 5 wrapped-up, the iRacing.com V8 Supercars Series says goodbye to cold New York and hello to sunny California. The iconic Mazda Raceway Laguna Seca will be the home for Week 6 as drivers traverse 38 laps around this 2.23 mile road course.  With the New Tire Model version 5 (NTMv5) now playing a factor, many drivers are already expecting to see World Records fall.
As the various teams and drivers prepare for week of sim racing on the virtual Monterey Peninsula, all are aware the championship is still up for grabs. Could Laguna Seca be a deciding factor this season? Or will this season be a thriller and come down to final race? One thing's for certain: the 2014 Season 3 iRacing.com V8 Supercars Series will be one to remember as we bid farewell to the current Ford Falcon model and (hopefully) usher in the new Car Of The Future (COTF) which includes the Holden VF Commodore.
Perhaps it will be in time for the Supercheap Auto Bathurst 1000 next month? An online version of the 6+ hour race certainly would be a prime opportunity to put the new COTF through its paces as well as test out the new driver-swap ability coming soon. Time will indeed tell!
---
You may also like...
---