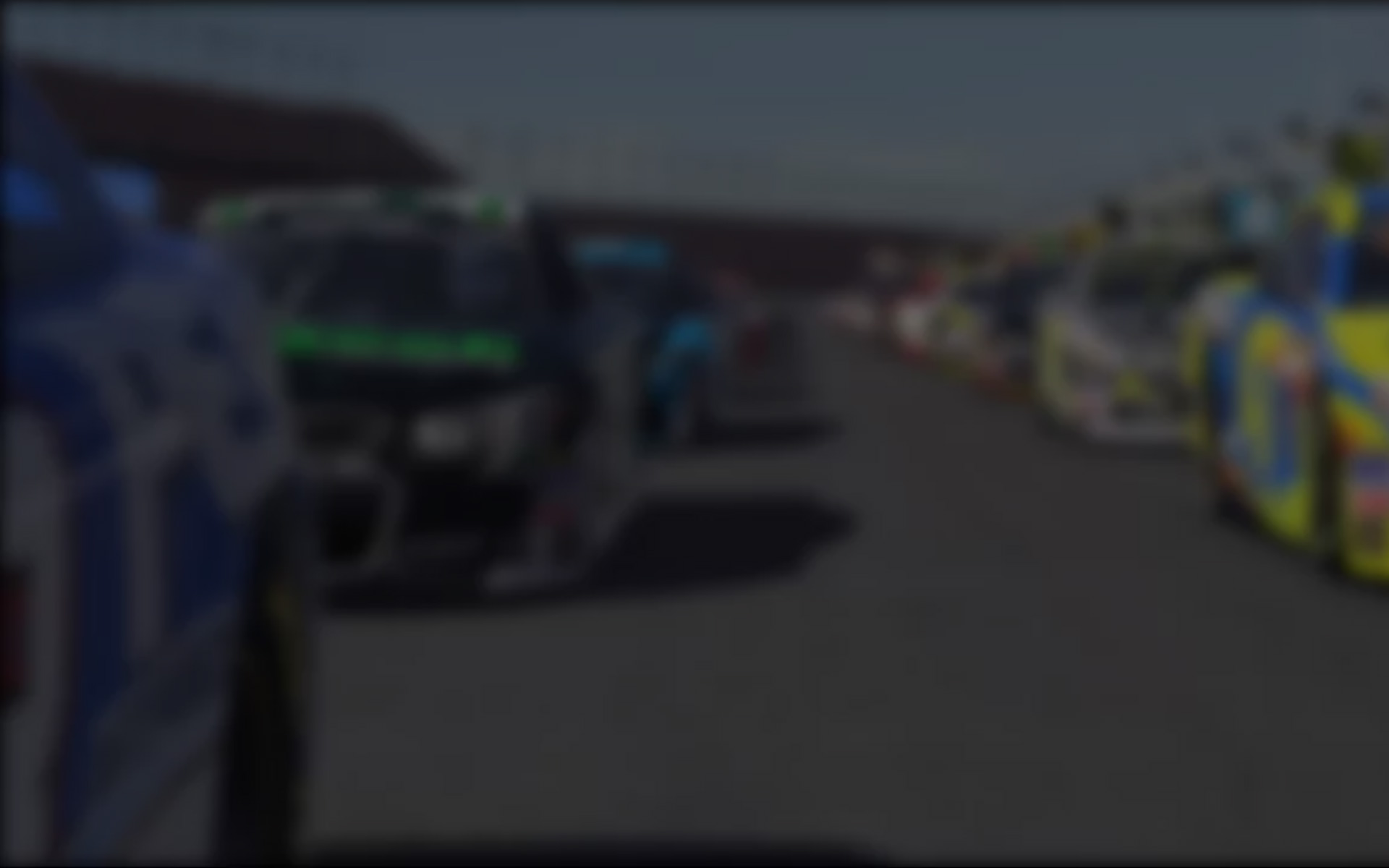 Wednesday night in the 10th week of the iRacing Oval Pro Series saw a back-to-back winner in Derek Wood and Ray Alfalla taking his ninth win of the season at Michigan International Speedway.
In the first split, Wood dominated his event for the second week in a row, leading 74 laps and taking his third victory of the season after surving a late race clash with Josh Berry.  With just six starts to his credit, Wood moved up to 31st in the points and has the second least amount of incidents out of all the drivers in the top 50 in the point standings. Wood earned his sixth top-5, earned 292 points for the victory, and continues to be a force to reckoned-with when he races.
Current points leader, Brad Davies started on the pole, led seven laps, and brought the car home in second place for 281 more points towards his already large lead. This was Davies' twelfth top-five in 15 starts, and his seventh pole. Davies now has seven wins on the season, and leads second place in the points by 207 through ten weeks.
Finishing third was the man who sits second in the points standings, Brian Schoenburg. Schoenburg started all the way back in 14th and marched to the front. Schoenburg didn't even crack the top-five until lap 86, then ran as high as third only to fall back to fourth. When Wood and Berry got together with five laps to go, Schoenburg benefited from the resulting reshuffle.  He earned 271 points for his third place finish, remained second in points, and claimed his 11th top-5 finish in 16 starts. Berry, on the other hand, slid to thirteenth and now stands eighth in the points with 2503.
Finishing fourth was Mike Kelley, who came all the way from a 25th starting position to earn his second top-5 of the season. Kelley is currently 42nd in points. Jordan Erickson brought his car home in fifth after starting ninth, earned his seventh top-5, and sits 17th in the point standings.
29 cars started the first split and 23 were running at the finish.
In the second split, it was Ray Alfalla taking the win and earning his record leading, ninth win in the Pro series. Alfalla started deeper in the field than usual, seventh, but it didn't hinder his ability to earn another victory. Alfalla only led 11 laps and was the benefactor of four drivers who led more laps but struggled near the end of the race. Alfalla earned 292 points and moved up to fifth in the point standings. It was also Alfalla's 13th top-5 in 21 starts.
Finishing second was the Virginian, Justin Garrett. Garrett came all the way from the 17th starting position to earn the runner up position. Garrett hasn't made a lot of noise this season but has been very consistent and sits a very respectable fourteenth in the point standings. Garrett has six top-fives in 18 starts and looks to be on his way to making the Drivers World Championship with ease. Garrett earned 281 points with his second place finish.
Finishing third was Bryan Blackford from the Florida Club. Blackford started ninth and put a steady drive on to finish third while earning 271 points with his finish. Blackford now has eight top-fives in 20 starts and has been steady all season. Blackford has an average finish of ninth and if he continues to maintain this pace, he'll easily advance to the Drivers World Championship.
Finishing fourth was Kyle Hadcock while Nick Neben brought his car home in fifth place.
---
You may also like...
---