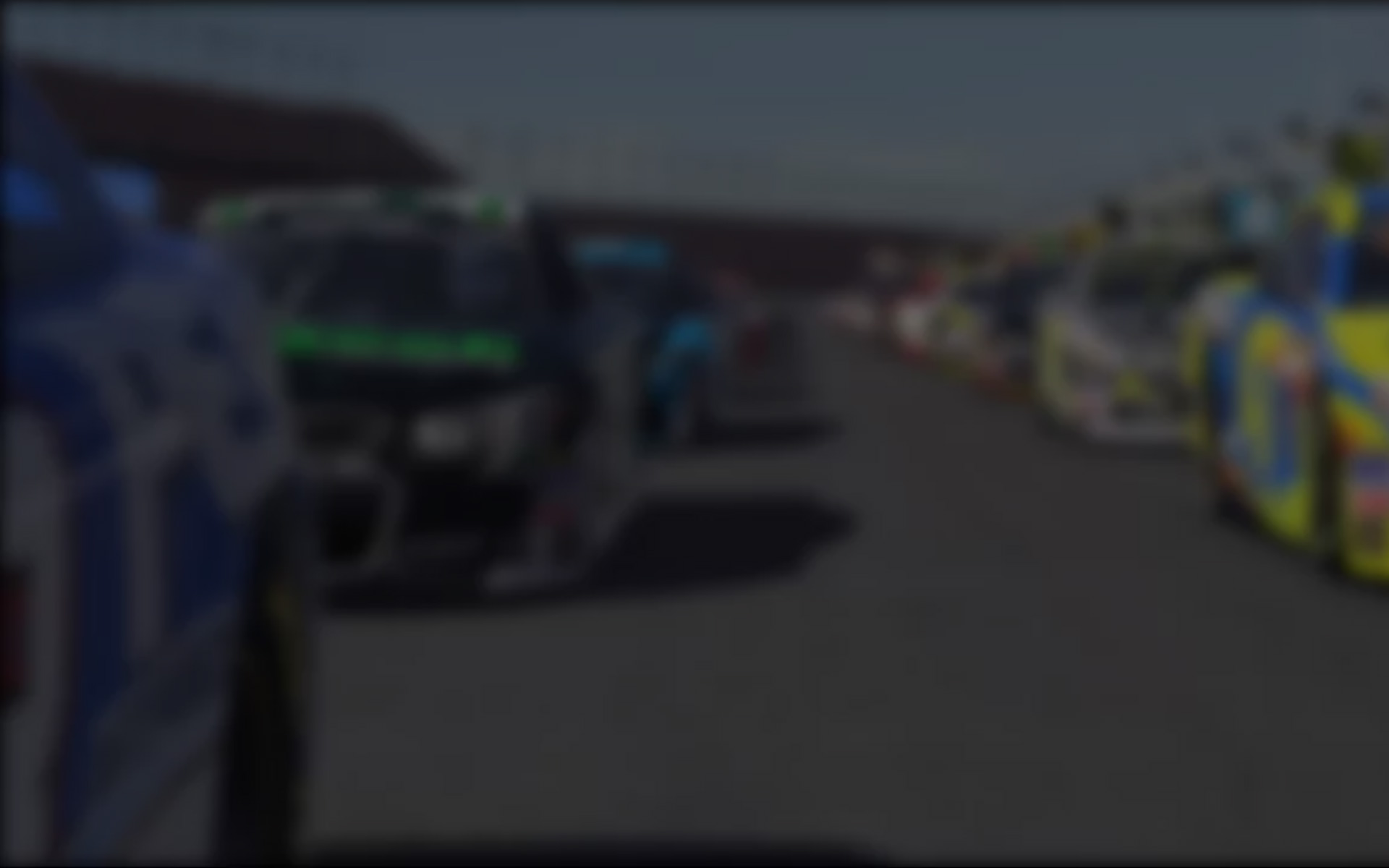 Twenty-six members of the Red Sox Racing League traveled to the Alton, Virginia for the "The Virginian 30 at VIR" at the Virginia International Raceway (VIR) in week two of the 2012 Season Two schedule.  VIR is a challenging 3.27 mile, 17 corner road course with significant  elevation changes between long straights and tight corners with names like Oak Tree, Roller Coaster and Horseshoe.  Practice time at the track is a must for anyone hoping to contend at the track where even the most seasoned drivers can see dreams of a podium finish dashed by a single lack of focus.
Fresh off his dominating win at Daytona last week, Brad Vincent captured his 10th RSR pole with an incredibly fast lap time of 1:37.532 at VIR.  Les Turner led the outside row with a lap time of 1:38.300.  John Koscielniak, Terry Daul, Andrew Gantman, Ed Sutcliff, Terry Schmidt, Jeff Sharp, Joshua Friedrichs, Kevin Kyle, Gary Jorgensen, Andrew Feldman, Divina Galica, Bill Pawluckie, and William Kabela completed the HPD  starting grid.
Reed Rundell led the Corvette grid after scoring his second pole of the season with a lap time of 1:49.188.  Tommy Rhyne, Patrick Guerin, Dean Moll, Corey Hastings, Jeff Thomas, Andrew Humphrey, Scott Husted, James Prostell Jr., Greg Harris, and Casey Carpentiere rounded out the Class B field.
Galica, who suffered from repeated electrical problems during the Daytona race, was happy just to have  made it to VIR.  "Our electricians and engineers were really scratching their heads about how to fix the car.  I had almost given up on racing this week, but one of our team members came up with a brilliant solution which allowed me to compete.  I can't give out details, except to say people with pets have an advantage!"
In an effort to make the starts of RSR multi-class events less dangerous, league administrators  experimented with a new starting procedure at VIR.  The experimental fix at VIR saw Rundell holding the Corvette field two seconds behind the HPDs as the green flag fell.  The gap wasn't enough however, as Rundell and the rest of the Corvettes had caught up to the HPD field before it cleared turn one.
Rundell did a good job of holding the Corvette field off the HPDs, but as he jostled for a way around Pawuckie in between turns five and six, the latency cyber-gods who rule simracing with an iron fist threw a penalty flag and issued a 4-point contact penalty to both drivers.  Reed was stunned by the ruling, but refused to give up as he fought off the demons of last week's disappointing race start.  Perhaps concentrating too hard on keeping his lead, Rundell lost valuable track position with back-to-back off track incidents in turn one on laps two and three.  If the rest of the Corvette drivers thought his misfortune meant a podium finish was in their cards, they had seriously underestimated Rundell's resolve.
The race was full of miscalculations as many drivers fought themselves and the track trying to survive VIR.  While Vincent calmly led the field lap after lap, defending league champion Les Turner and others were wondering what had happened to their ability to complete a lap without incident.  Turner's error occurred on lap four when he spun exiting Oak Tree.  That mistake alone wouldn't have ruined his chances at a podium finish, but a second error doomed his hopes.  Turner's fate was cemented when he  attempted to get up to race pace too quickly after the spin.  His rear tires lost grip, sending Turner off the left side of the track and dangerously close to the wall before his car came to a complete stop.   Turner was forced to watch as half the HPD field passed him before he rejoined the race.
Kyle, Galica, Friedrichs, Gantman, Thomas, Carpentiere, Pawluckie, Husted, and Harris all gave fans thrills as they collected incidents during the race.  Husted's off-track excursions on lap 12 was one of the most exciting examples of off road driving without 4×4 anyone could remember.  Hitting the right side curbing in turn 8, Husted's momentum carried him way off course on the left side of the track.  As his car safely negotiated the grass and made light contact with the railing, Husted decided to go for broke.  Instead of safely returning to the track, his momentum caused Husted to careen across the track surface at the entrance to turn 10.  He then drove down the infield grass before rejoining the racing surface for the uphill leading to Oak Tree.  Amazingly, nobody else was involved in the incident.
Running a clean race proved to the be winning formula at VIR.  The top-5 finishers in the HPD field, and the winner of the Corvette field, all completed the race without incident.
Class A results:
Vincent led all 18 laps on his way to victory in the HPD race.  His 43 second margin of victory might have looked effortless, but Vincent's path to victory was anything but routine.  His race was almost ruined on lap ten when Pawluckie drove back onto the track after an incident in turn one.  Pawluckie's HPD was off pace and blocking most of the track when Vincent came barreling out of turn one, yet Vincent somehow  managed to alter course in enough time to avoid crashing into the slower car.  Vincent had another scare trying to get past Guerin as he exited Oak Tree on lap 13.  Lap 14 saw Vincent asking the pit crew if his car had a target painted on it after he had to avoid Humphry's spinning car in turn four.  The final cone in Vincent's personal obstacle course reared its ugly head on the final lap when Harris spun in front of the leader at the entrance of turn 3.  Vincent's win was hard-fought and well deserved.
Koscielniak (2nd) overcame a slow pit stop and late race traffic to make a last lap pass for 2nd place.  It was his second podium finish in as many races.  Sutcliff (3rd) crossed the line one second behind Koscielniak to capture his first podium of the season.  "This was our first podium finish in quite a while", said Sutcliff.  "Congrats to Brad and Tommy for their wins, and thanks to everyone for the clean driving tonight!"
Sharp (4th) and Daul (5th), managed to hold off Turner (6th), as the three drivers finished within several seconds of each other.  Jorgensen (7th), Feldman (8th), Kabela (9th), Friedrichs (10th), and Schmidt (11th), all finished on the lead lap.  Pawluckie (12th) and Galica (13th) were scored one lap down.  Gantman (14th) retired early, while Kyle (15th) was scored 17 laps down.
Vincent, Koscielniak, Sutcliff, Sharp, Daul, Kabela, and Hastings received bonus points for completing the race without incident.
Vincent has a two point lead over Koscielniak in the overall championship points race after two events.  Daul, Sutcliff, and Turner round out the top-five.
Class B results:
Rhyne and Moll battled hard for the win in the Corvette field before Rhyne finally secured his second victory of the season with a last lap pass.  Moll appeared to have had the victory in the bag, but hit the inside curbing on exit of Oak Tree and slowed dramatically to avoid a race ending spin through the grass.  Rhyne was in perfect position to take advantage of Moll's unforced error.
Rundell battled back from his early race mistakes to earn third place.  "I don't know what I'm going to have to do next week, but there is no way I'm letting the HPDs ruin my race again", said Rundell after the race.  "The league is going to mandate a bigger gap between us and the HPDs next week, so hopefully that will give the Corvettes a little more breathing room before we hit slower traffic."
Guerin (4th), Hastings (5th), Carpentiere (6th), Thomas (7th), and Prostell Jr (8th) all finished on the same lap with the lead Corvettes.  Harris (9th) was one lap back, while Husted (10th) and Humphrey (11th) both retired early from the race.
Rhyne and Hastings received bonus points for completing the race without incident.
Rhyne has a two point lead over Hastings in the overall championship points race after two events.  Guerin, Rundell, and Carpentiere round out the top-five.
Next Race:
RSR returns to action at the "Dutch Grand Prix 30 at Zandvoort", at the Zandvoort Grand Prix road course on May 24, 2012.
 
Race Results:
http://rsr.ileaguerace.com/champ/show_event_result/Red-Sox-Racing-League/1545
League Standings (2012 – Season One):
http://rsr.ileaguerace.com/champ/show_champ/Red-Sox-Racing-League/285
League Video Site:
http://www.youtube.com/user/draftin11
---
You may also like...
---