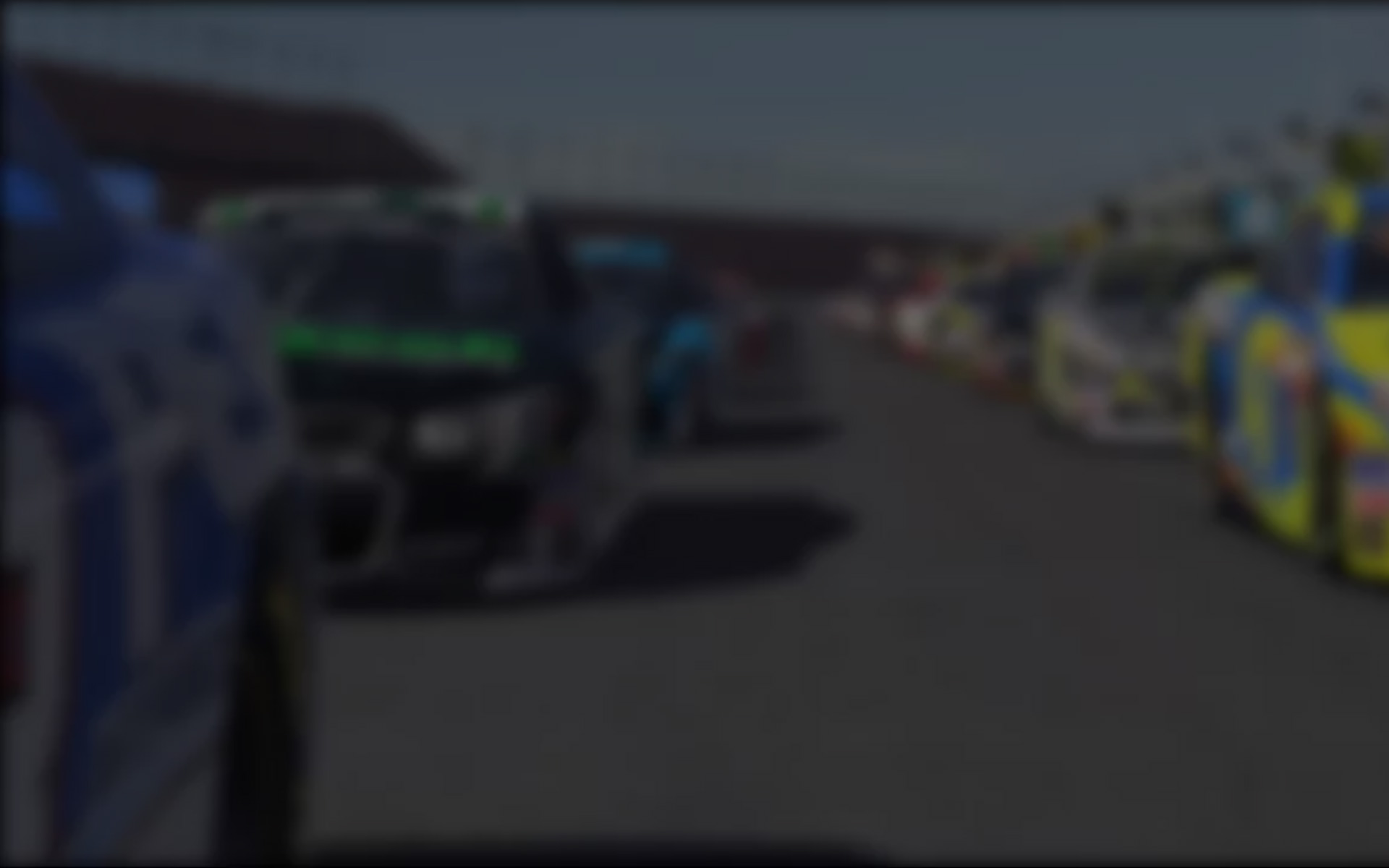 Bristol Motor Speedway has a well-deserved reputation of hosting some of the most exciting races one can experience. For sprint cars, this means action with a roaring 820 HP engine and less than 14s lap times around the renowned half-mile oval. As the iRacing.com Sprint Car Series rolled into "Thunder Valley" for Week 10, nobody was quite prepared for the events that would unfold under the lights.
There were over 56 entries that made the grid for the week's online races, with four events given the green flag. Defending iSCS champion Alan Binder, who returned after a week-long break, reminded the field of where they stood by blazing a top qualifying lap of 13.675s. For 50 laps, drivers would duke it out to determine who would be left in one piece when the smoke cleared at the "World's Fastest Half-Mile."
Tuesday started the excitement with a 19 car field – the largest field of the week. As the sprints roared to the green flag, it was PJ Stergios, who started on the outside pole, speeding away from the field. Mixing fast speeds with short distances concocts a somewhat dangerous potion on ovals, as the leaders find themselves in lapped traffic faster at Bristol than most other tracks on the iSCS schedule. On lap 21, while fighting with an ill-handling car, Eddie Walczyk collided with points leader Alan Binder, sending Binder's sprint hard into the front-stretch SAFER barrier. After another caution flag flew, Stergios held on for the win, his first of the season. Vinnie Sansone collected another second place finish, while Michael Lampela finished third. Steven Hunter and Scott Green completed the top five respectively while Binder was classified 16th, 29 laps down.
In a change-up, there was another race on Tuesday in which drivers were awarded championship points. Binder returned to the track, hoping for redemption and another win to start a new positive streak. Nine drivers entered the field, but only three left without incident. Tom Downey proved to be the driver to beat, as he came away with his second win of the season. Steve Linder came in second, while Jeremy Williams placed third. Binder suffered yet another incident late in the race and finished two laps down in fourth place. Newcomer Jared Reid rounded out the top five, four laps down.
Binder left the track without a word, but when interviewed about his incident with Binder in Race #1, Eddie Walczyk commented, "I have so many [quotes], none printable. I am sure Alan had many but he was too classy to share them." Binder's winning streak ended in Thunder Valley at 12, and his string of incident-free races was severed at 17; an incredible feat, and one unlikely to be seen or replicated with the sprint cars.
Thursday proved to be another excitement-filled event as a Lampela father-son front row led the field to the green. Lapped traffic was another obstacle to overcome once more as the caution flag quickly flew on lap 10 when the leader, Fred Lampela, collided with the Connor Anton, resulting in a wild ride for Anton. Fred suffered front-end damage from the incident, and had to relinquish the lead to Vinnie Sansone. On lap 21, it was Michael Lampela who brought out the second caution after an incident with a lapped car. Another green flag stretch ran until the next caution on lap 37 when Kim Martin's sprint broke loose, bouncing off the wall and across the track, collecting Chet Wheeler Jr. along with the leaders, Sansone and Fred Lampela.
With the usual front-runners off-track, a tense seven-lap shootout decided the winner. When the checkers flew, it was Michael Willard2 who held off the hard-charging sprint of Michael Clement to win his first ever sprint car event. Randal Robinson fought hard for a third place finish with Scott Kelly hot on his heels in fourth. Walczyk overcame his troubles on Tuesday by rounding-out the top five. Points leaders Sansone and Fred Lampela finished in 9th and 10th respectively.
Willard was ecstatic but thankful in victory lane: "I had decided that a fourth place finish was going to be a win for me, but things happen so fast at Bristol… What a rush! A huge thanks to Vinnie for the setups he shared on the forums."
"The steep banking here looks even more steep when you're upside down." — Fred Lampela
Lampela was clearly disappointed with his results, but remained light-hearted post-race: "I think maybe we should have Life Flight standing by at Bristol. The steep banking here looks even more steep when you're upside down."
Sunday concluded the week with another thrilling event. Lampela led the 12 car field to the green flag, but soon found himself in the middle of Finland's best sprint drivers. After many nail-biting moments, Petterri Kotovaara sped away from the field to the checkered flag, claiming his first win at Bristol. Joni Hagner finished in second, with Fred Lampela placing third. Aleksi Elomaa and Jan Beyer rounded-out the top five respectively.
Kotovaara praised his team and car setup in the winner's circle: "What a race; first win at Bristol feels awesome. Great battles between Fred, Aleksi & Joni. Car worked nicely on the outside line and always got good runs and was ready to challenge the guy in front of me."
Binder still leads the points battle by 22 points over Sansone, who slightly closed the gap at Bristol.  Fred Lampela remains in third place, -212 points. While it may seem that everyone should catch a breather next week after all of the adrenaline shown in Thunder Valley, Week 11 sees the sprints returning to Lanier National Speedway, which is even shorter in distance than the high banks of Bristol. Expect another exciting recap next week on iRN!
---
You may also like...
---