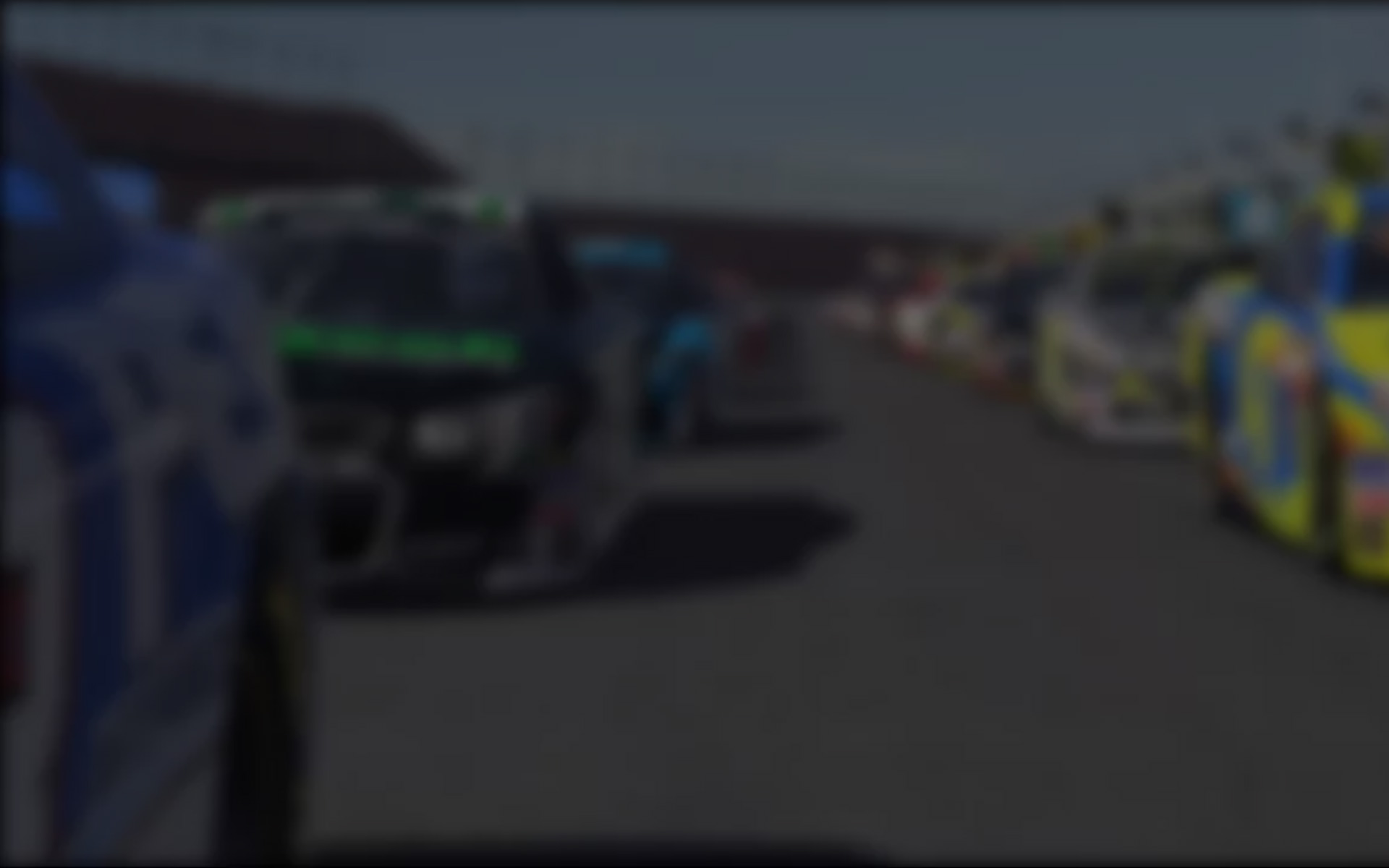 It was busy week at the Brickyard with participants aplenty competing in the NASCAR iRacing.com Class B Series Open championship as the famed 2.5-mile Indianapolis Motor Speedway played host to Week 2 of the 12-week championship.
Gale Force Racing's Larry Scott Jr. arrived in the virtual Hoosier State with the points lead after a successful run the week before at Richmond, but it was a teammate who stole his thunder and walked out of Indy with the checkered flag.  Kitchener, Ontario's Matt Baker took advantage of the carnage during a mid-race restart to secure the week's top race from his 11th place starting position.
As with the prior week, the opening night's 9:00pm EST race (Monday) turned out to be the high strength of field race which boasted a total of 3697.  23 cars took the green flag in the 50-lap event but none of them would come out unscathed.
Scott Jr. started from the pole with BRB Motorsport's Brian Lovingood flanked to his outside.  Scott Jr. led the first 13 laps before surrendering it to Lowline Racing's Trent Ringler coming-out of a caution period.  Scott quickly regained the lead before another yellow flag quickly slowed the race once again.  With a mix of cars on different pit strategies, disaster struck on the Lap 24 restart with Shane Parish leading the field after a two-tire pit stop.  The ensuing scramble into Turn 1 led to a huge pileup which damaged or eliminated many top cars in the field.
Not to look a gift horse in the mouth, Baker took over the lead on Lap 25 and never relinquished it as the race finished under the eighth and final yellow flag.  Every car in the field had at least one incident point with only two sim racers earning less than four demerits.
"The win was more like being in the right place at the right time," said Baker. "I was lucky enough not to get tangled up on mid-race restart that took out Trent (Ringler) and Larry (Scott Jr.). I feel like they probably had a little better car than mine, but I was fortunate enough to dodge that wreck. After a couple restarts after that wreck, I knew that my car was going to be good enough to compete for the win.
"The win was more like being in the right place at the right time." — Matt Baker
"Seeing how the race was caution filled, track position was definitely going to be a big determining factor for whoever was going to win that race. So I stayed out for the rest of the race and I was able to hold off Jeff (Baki Jr.) to get the win. I definitely need to thank Gale Force Racing and myself for getting the car ready for the race."
Baker's win earned him 235 points while leading 26 laps.  BRB's Jeff Baki Jr. came home second with 224 points while BRB teammate Randall Faulks took third and 213 points.  A pair of BRB drivers claimed the final two spots in the top five as Danny McCune Jr. and Shannon Segler finished fourth and fifth for 192 and 181 points respectively.  Scott Jr. set the fastest lap of the race with a time of 50.731 seconds.
The win was Baker's only race for the week.  Baki Jr.'s runner-up finish was good enough for second in a week that saw him earn top-five finishes in both races he entered.  Similarly, Faulks took third for the week with top-fives in all three of his races.  Brian Lovingood earned fourth for the week with 208 points with a win and a pair of top fives in three starts while McCune Jr. completed the top five for the week with 202 points thanks to a win and another top five.
With the "A" car at Gateway and next week's "B" race featuring a long trip to a new track in Japan, Week 2 was a popular week for the NASCAR iRacing.com Class B Series Open championship.  The week featured 70 official races with the top participation coming on Saturday night's 11:00pm EST race where no fewer than 61 drivers entered the event.  A total of 400 drivers ran the week at Indianapolis.  Of those 70 starts, 24 of them included Gregory Bryant who turned a total of 994 laps.  However, Travis Smith turned even more laps, logging 1009 circuits around the Brickyard in 22 races.  Jared Crawford posted the most wins taking 10 in 13 starts while earning the pole in every one of them.  Crawford also led the most laps with 451.  Freddie Besems earned the safe driver award, starting five races and turning 249 laps without posting a single incident.
Faulks, who finished third in last season's championship, takes over the points lead after two races by a single marker over Scott Jr.  Baki Jr. sits in third just two points back and Shannon Segler holds fourth only trailing by seven points.  BRB's Jeff Dukehart rounds out the top five in points trailing Faulks by 52.
"I know it's only two weeks, but it is nice to have this early points lead," said Faulks.  "It is really close up top and I could see it being this way all season.  There are also some very good guys outside looking in that I'm sure we will be dealing with before it is all over."
"It is really close up top and I could see it being this way all season." — Randall Faulks
Division winners for Indianapolis week were:  1 – Matt Baker 235 (Canada).  2 – Shawn Powell 198 (Carolina).  3 – James Tory 148 (Texas).  4 – David Spencer 133 (California).  5 – Bennie Holloway 107 (Carolina).  6 – Carl Johnson3 102 (Florida).  7 – Darren McCabe 91 (New York).  8 – Jeff Harris 86 (Ohio).  9 – Colin Gorton 62 (Australia/NZ).  10 – Jonathan Morrison 49 (Texas).
It will be a long trip to the Far East as week 3 of the NASCAR iRacing Class B Series Open heads to Motegi, Japan and the testy oval at Twin Ring Motegi.  The 1.549-mile layout includes a wide sweeping corner in Turns One and Two while requiring a drastically different approach in Turns Three and Four as drivers must brake hard for the much tighter corner found there.  The combination of Twin Ring Motegi being such a technical track along with being relatively new to the series should thin the sim racing herd exiting Indianapolis week.
---
You may also like...
---