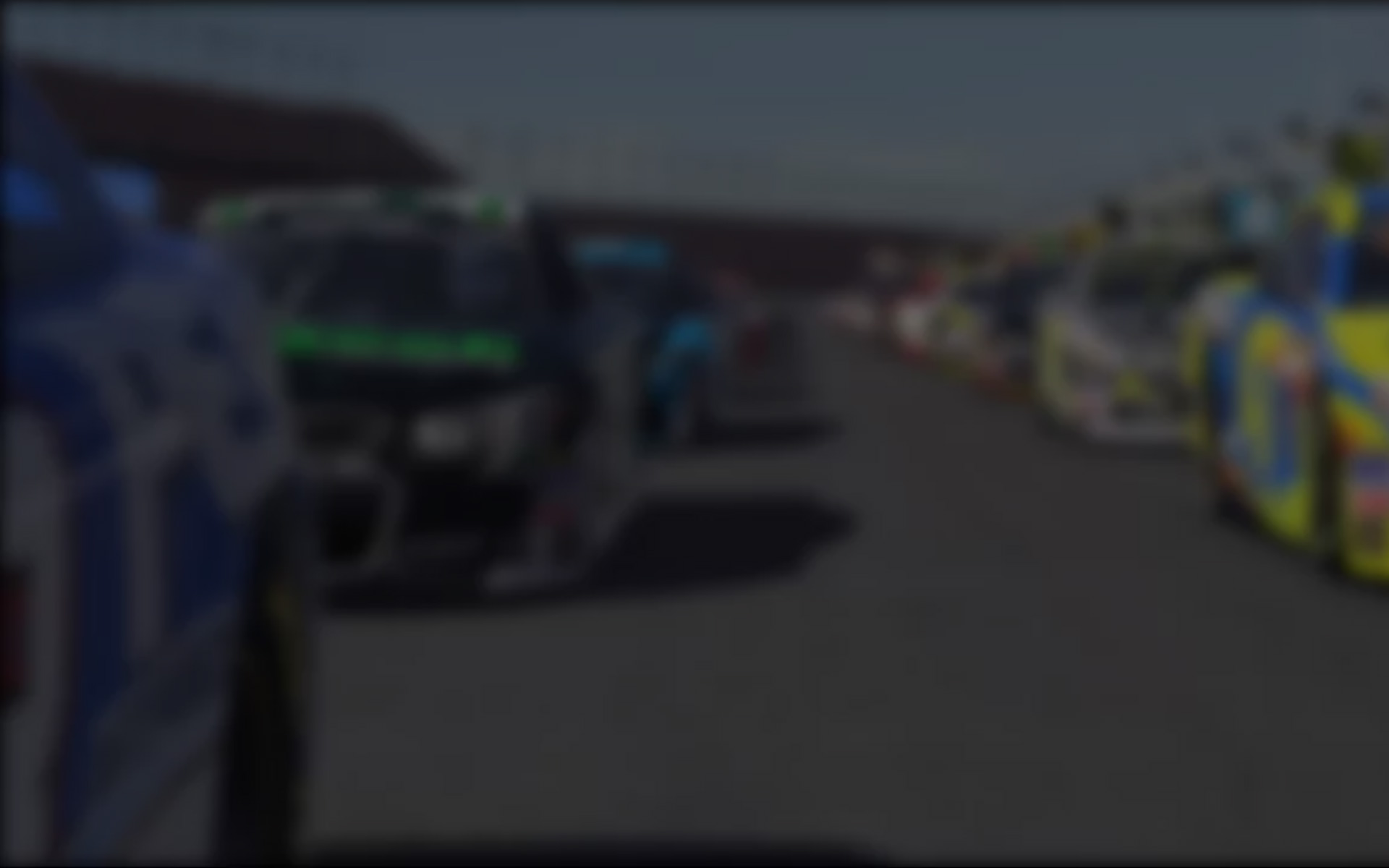 The 2.38 mile / 3.83 km Barber Motorsports Park complex near Birmingham, Alabama produced some outstanding on-track action for the SpecRacer Fords during Week 3 of the schedule. But despite the fact that, attendance numbers-ended up being down a bit, with only 260 SRFs showing-up to race.
Barber appears less frequently than many other tracks on the iRacing official schedules, and when it does appear on the calendar, it always seems to produce lower attendance numbers — most likely due to the fact that fewer people are familiar with it because it is used less frequently.  Given that, the apparent attendance dip for the SpecRacer Ford Challenge series actually represents a fairly healthy turn-out overall, proving that the SRF's own popularity can actually draw relatively strong numbers even at the less-popular venues.
Those in attendance during Week 3 can testify that Barber's long straights allowed the SpecRacer Fords to stretch their legs, while the twisty bits and the elevation changes added a bit of technical challenge to the mix.  All of this, plus Barber's wide, multi-line surface helped yield some close and competitive battles on-track, and the courteous, professional, and sportsman-like trend that was started in Weeks 1 and 2 also carried over to Week 3, which made for some exciting, challenging, and action-packed online races.
The overall Championship and Divisional points standings at the end of Week 3 were as follows:
Overall / Division 1:
Henri Salminen (Finland) – 699 points
Roope Turkkila (Finland) – 646 points
Petteri Kotovaara (Finland) – 579 points
Division 2:
Mirko Salati (Italy) – 430, points
Kristian Lindroth (Finland) – 398 points
Michael Cotchin (England) – 380 points
Division 3:
Cameron Scott (Plains) – 338, points
Brice Simeon (France) – 327 points
Jordi Casademunt (Iberia) – 286 points
Division 4:
Hernan Donatelli (Hispanoamérica) – 282 points
Steve OMalley (England) – 249 points
Michael Ryhl (Scandinavia) – 247 points
Division 5:
Ricardo Gama (Iberia) – 269 points
Vasco Martins (Iberia) – 228 points
Rod Silverwood (New England) – 224 points
Division 6:
Mickey Gulley (Georgia) – 201 points
Neal Kemp (California) – 192 points
Ed Benson (Carolina) – 176 points
Division 7:
Will H Maxwell (Western Canada) – 176 points
Bill Field (California) – 151 points
Zachary Waurin (Atlantic) – 138 points
Division 8:
Ricardo Margarida (Brazil) – 185 points
Andras Laszlo Kovacs (Central-Eastern Europe) – 163 points
Zachary Rivard (Michigan) – 121 points
Division 9:
Nathan Luetke (Virginias) – 96 points
Jeri Holth (Plains) – 96 points
Patrick Shelton (Virginias) – 78 points
Division 10:
Kurtis Davies (Indiana) – 57 points
Bill Litz (Michigan) – 54 points
Adam Isman (Western Canada) – 51 points
Rookie:
Jack Longress (Northwest) – 35 points
Billy Shepherd (England) – 22 points
Eddie Curry (Eastern Canada) – 18 points
Week 4 will take the SpecRacer Fords back to Lime Rock Park — a track that every iRacer should be intimately familiar with, so watch for the attendance numbers to pick-up significantly there.
---
You may also like...
---