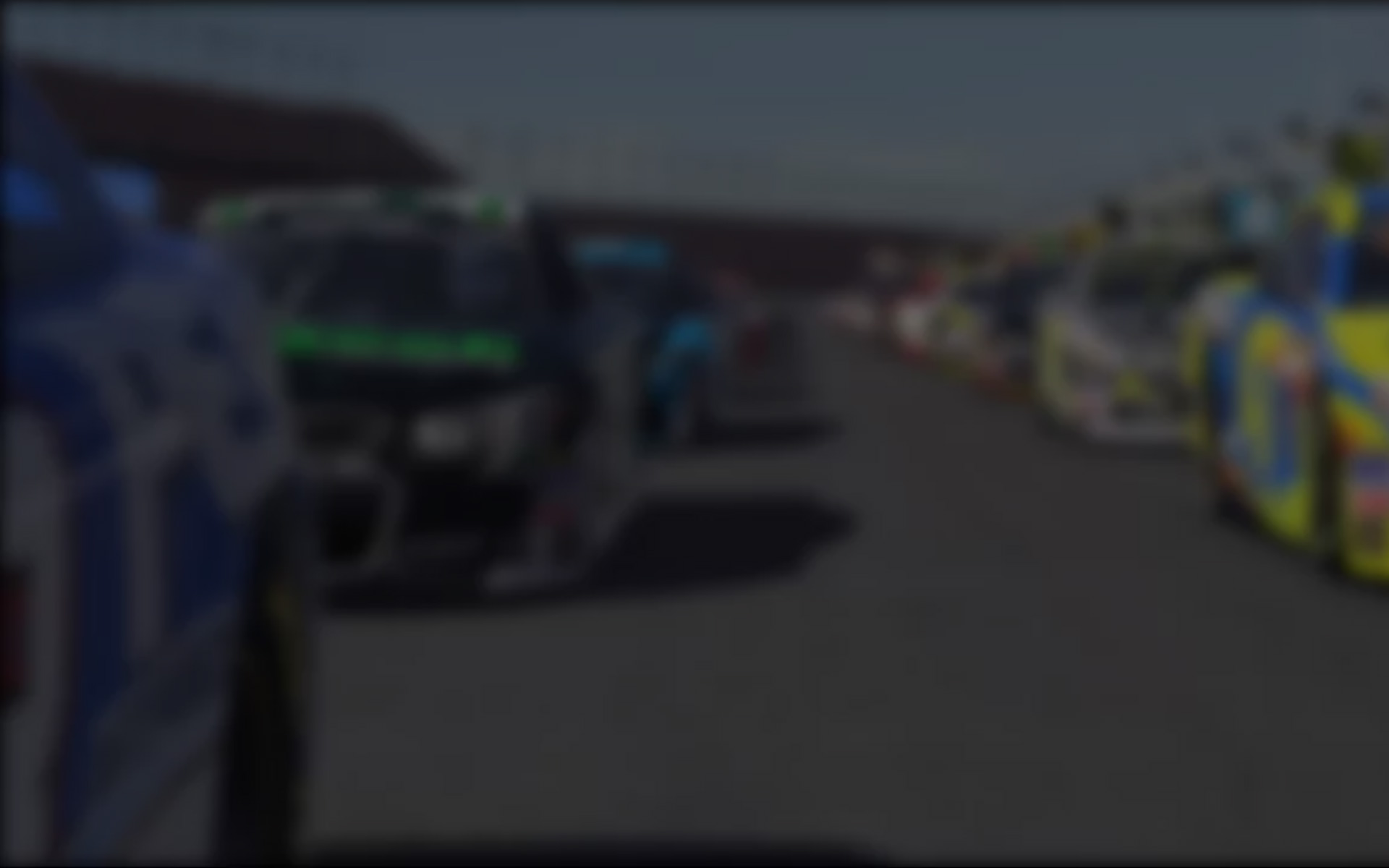 Today is Saturday.  Earlier in the week, Tuesday if you're interested, our team did something we honestly weren't expecting on Monday night.  We showed up to a brand new track and cleaned house.  "Max points," as they say.  I could sit here and say "we" all night, but the truth is that I wasn't there for the California race.  I was unable to be there due to a scheduling conflict, and it was just Nick and Peter for the 125 laps around Auto Club Speedway in Round Three of the 2014 NASCAR PEAK Antifreeze Series.  On Wednesday, I had an e-mail from iRacing News' own David Phillips.  It was addressed to both Nick and me offering us congratulations on winning the race.  There was a good one-liner that got a good laugh out of me:  "See what happens when you join the right race, not the Carb Cup?"  We're never going to let Nick live that down.
When I mentioned to David that I wasn't there for the race, he delivered another good statement:  "Well that should make the next Insider article a challenge…"  This is true, since I typically recount the events of the race for an article, but I can't do that if I wasn't there!  Also, trying to explain what all happened in a race I wasn't present for would be unfair to Peter Fisher, our spotter, who stepped-in to take up the slack when I couldn't make it.  Truth told, this is actually the second time that Peter has stepped-in and took Nick through the race to a win.  The first time was Kentucky of last year, ironically a track with the same banking and characteristic bumpiness as Auto Club Speedway.
Monday night, none of us were happy with what we had for the race.  We had a big test session (featuring me as a driver!  Scary, yes.) but nobody was really happy with what we had, including Nick.  I assumed that we'd just manage to stumble through the race and get away with a good finish.  I couldn't watch the race from where I was, but a phone call on the way home from my friend Sam Edwards sort of spoiled the good news:
Matt:  "Hello?"
Sam:  "Well now we know he lied…said the car was no good."
Matt:  "What on earth are you talking about?"
Sam:  "Nick won!  Weren't you there?"
Matt:  "No!   I had to leave!"
Sam:  "Ohh…should I hang up and let you go read Facebook?  You can call me back after that."
This race brought out something that makes our team, and all of Gale Force Racing in general, incredibly strong.  We have such a good group of "Crew Chiefs", strategists, and spotters that they can all take over someone else's role and make it look like nothing happened.  Even people in our team didn't know, like our buddy Sam here.  We obviously have the drivers, but for most of them, each one has a few people dedicated specifically to helping that one driver.  And, in most cases, those "crews" rarely actually race anything because they're working on our NASCAR PEAK Antifreeze cars.  It's that way for me.  If you see me in a sim-racing session, regardless of what car it is, it's very likely that I'm testing a new setup, or some new telemetry analysis method.
For our #05 group, just Nick, Peter, and myself, there is a mutual trust for all of us.  When I told Peter that I would miss the race, he never batted an eye, just tagged out and went to work.  Nick was the same way.  I told him I was missing the race and he wasn't fazed at all, just did everything like normal.  This kind of stuff is what makes us so strong each and every week.  Yes, Nick is very fast, but it's very difficult to get through the NASCAR PEAK Antifreeze season without any extra help.  The more we can keep Nick unaware of, the more focused he is on doing his job, and vice versa.  On top of that, the more we can keep each other focused on what we have to do, the better our results.  I know that Peter is going to call any other cars properly and not put Nick in a bad spot, and I know Nick isn't going to drop the ball on something stupid.  That keeps me free to do whatever I need during the race such as analyze the tire data, calculate fuel, or observe other drivers' strategies.
I had no problem missing the race, because I knew Peter wasn't going to spend the race with his eyes crossed and thumb in his mouth.  Nick knew the same thing, and they turned that into a win.  Relating it to a real-world NASCAR team, we've worked on the chemistry and trust in the team since the beginning, and it really pays off.  The simple fact that we can take one of us out (obviously we can't take Nick out of the picture) and have our own teammates unaware that someone was missing shows that we're a fairly well-oiled machine.  It has to be that way. We could never put a whole race together if we were constantly second-guessing each other.  We get away with it in the NASCAR iRacing Class A/B/C races, but the "lone wolf" mentality won't fly in the NASCAR PEAK Antifreeze Series.
On top of all that, it wasn't a few hours after the race before talks of the Texas race began.  We'd put California behind us quickly, despite achieving what we had initially thought was impossible.  This will be the last article that is released randomly whenever I happen to finish it.  From here onwards, look for these to hit the site on Mondays around 6pm ET.  I'll end this one with two quotes that we built our team around in the Pro Series and still fall back on today:
"Winning is not the result of just one person's effort.  Winning comes from the focus and determination of a number of people working towards a common goal."
-Jimmie Johnson
"Never think that success is down to your own performance alone. If you start listening only to yourself you take the first step back towards the bottom. The flowers of victory belong in many vases."
-Michael Schumacher
~~~~~~~~~~~~~~~~~~~~
Watch Nick, Matt, and Peter take on Texas Motor Speedway in the NASCAR PEAK Antifreeze Series next week, April 8th, on iRacing LIVE!
---
You may also like...
---