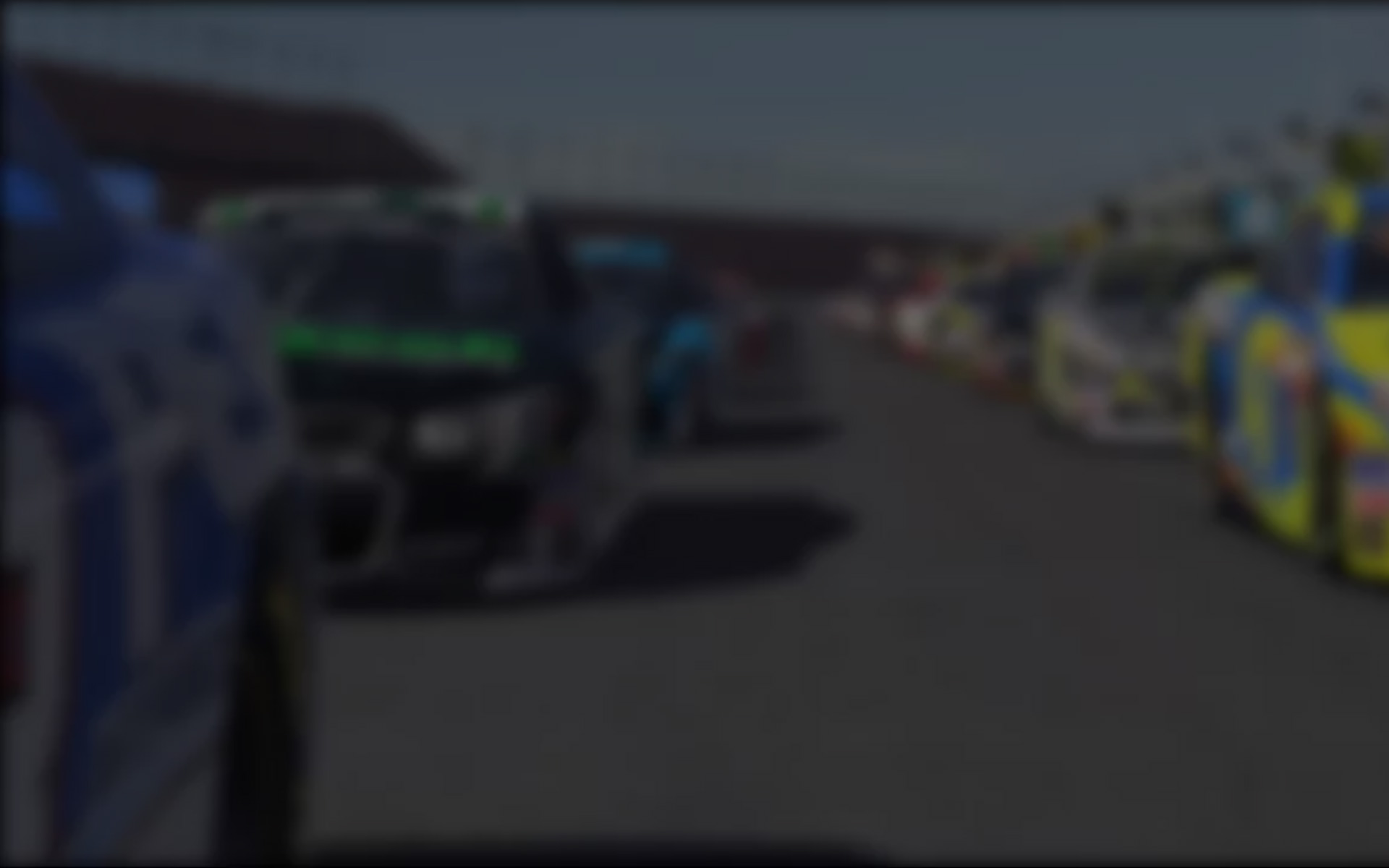 I've had this article planned for a while and I'm very excited about it.  Honestly, I do not want to write a single word about the Las Vegas race.  But I will, if for no other reason than to put a period on that and go into what I actually want to discuss.  If you want to read about the race from a broad view, Jason Lofing wrote a good article on it which can be found here:  https://www.iracing.com/iracingnews/nascar-news/humpe-wins-controversial-vegas
Our race was a disaster.  There is no better way to describe it.  Of our six drivers, one didn't qualify, one disconnected on Lap 5 (No, he did not switch to Nick Ottinger's internet service provider), three crashed, and one managed to escape the cataclysmic final restart to finish third.  In addition, our #05 car was woefully unbalanced.  The only shining moment was that a caution finally fell in our favor and at least put us in a position to finish much higher than we should have.  For all intents and purposes, Kenny Humpe's car was a rocket and I don't think anyone else had a car that could have competed with him for the win.  Nick even admitted at one point, while leading, that Kenny would eventually pass him and that he was simply trying to drive away from third so he wouldn't lose second place very easily.  What wound up happening is between them, and from what I can tell, they're both perfectly fine with each other.
That is in the past now.  I was told that, during the broadcast after the crash, one of the commentators said our season was finished already.  True, Nick has scored only 13 points so far.  For perspective, Alex Scribner has only been in one race (Daytona), and he's scored almost three times as many points.  That said, it is apparent the broadcasters overlooked some key points.  First, we do this every year.  Does anybody remember 2013?  You know, that part where Nick lost connection but managed to cause a 47-car pileup in the process of disconnecting?  That happened at Las Vegas, too, and it followed a crash at Daytona.  So we are unfazed.  Secondly, and more importantly, the cars that ran at Las Vegas are no more.
We've begun a new era, so to speak, of the NASCAR PEAK Antifreeze Series.  We had a new build in case you hadn't noticed.  We have less power, chassis updates, suspension component updates and aerodynamic updates.  This change is about as drastic as the switch from the "COT" car in 2012 to the Gen-6 car in 2013.  The cars drive completely differently, they react to inputs differently, they require a different driving style, and even how things are managed in the race is different.  Starting this week, when the NASCAR PEAK Antifreeze Series goes to Auto Club Speedway, all the drivers will be on a clean slate.  Everyone taking part in that race will be, actually.
"We've begun a new era, so to speak, of the NASCAR PEAK Antifreeze Series."
We've seen it so many times before in motorsports where a powerhouse team will be crippled by rule changes.  Red Bull was heavily dethroned when Formula 1 went to the new V6 engines.  The #48 team in NASCAR Sprint Cup seemed to be hopelessly lost all of last year.  Roush Racing was relentless before the COT came along, and ever since they've become "also-rans" with the occasional glimmers of their former selves.  The same thing could happen with this build, and it has in the past.  It's no secret that Nick was incredibly comfortable in the 2013 rules package and I'll be the first to admit that we really struggled with the 2014 rule set.  We won six races in 2013, with the next closest being two wins from Ray Alfalla.  Last year, we won only twice.  On both occasions Nick said his car was awful, and we could never chase down the handling issues we dealt with every race.
Just like the build that removed our minimum ride height requirement, I believe this new build returned the entire field to "zero."  We are just about two weeks into it, and we've already tossed out the old notebooks and rebuilt new ones for these updates.  As far as the overall setups are concerned, they aren't all that different than what we've worked with in the past.  By now, there are teams who are struggling with the build and there are teams who have found their stride.  Personally, I don't think we're perfect, but we're certainly not struggling with this build at all.
Obviously, the big question is how the racing is going to be.  I personally feel that the California race may not be very good in terms of the racing, but more in how the race plays out.  I can't remember which race it was where we saw a massive shift in rule changes mid-season, but that race was fun because it had a unique ebb and flow to it that eventually went away.  We had a group of cars that shot out into the lead (the Hares, if you will) and started to run away, but eventually those cars fell away and a second group (the Tortoises), caught them and sent the Hares back into the pack.  This trend alternated throughout the race and it was very exciting to watch!
I think we'll see that again this week at California.  I've already told Nick during testing, "We're not going to be able to get the car to not fall off like we wanted, that will be later in the year."  It just comes down to the fact that we're not 100% sure as to what is needed to make this new car run the distance like we could with the rubber bumpstops.  That said, it doesn't mean that nobody else has.  In fact, I would not be surprised if the winner of the race comes from a mid-pack starting spot.
Something else we are likely going to see is all of the drivers staying very close to one another.  Breaking traditions, I've actually been driving with our NASCAR PEAK Antifreeze Series drivers in testing instead of playing the Lone Wolf for data purposes.  I actually ran 30 or so laps with Nick last week and never had more than a few tenths of a second between us.  This was surprising because, aside from our team's kart race last October, he's walked away from me with little effort.  The same goes for everyone else on our team:  all of us have stayed in a group while on track.  It's not that the fast guys are slower, or the slow guys are faster, it just doesn't seem like we can break apart from each other.  The draft makes a big difference in this build, the lower power multiplies tiny mistakes, and the aero updates allow a trailing driver to move around to regain lost downforce.
It's no question the race at Auto Club Speedway this week will be exciting.  The cars will be much closer together, handling will be a much bigger deal, and it's unlikely that someone will run away with the race…but don't count that out.  What about the future though?  What will happen in a few months?  Well, whatever happens at California could likely spell out what will happen for a while.  Bumpy tracks are notoriously difficult to get a decent handling package together for, and we have nothing but bumpy tracks until May, when the series heads to Charlotte. We do go to Richmond (smooth track) in late April, however, and I'm very excited for that race.  It should be a barn-burner. Once we get to Charlotte, we'll really be able to get aggressive with this new setup package and find where the limits are and where we can improve.  Once that's established, it's just a matter of working that onto a bumpy track, and then we're back to the balanced cars we had before.  That goes for everyone, really.  Once everyone has a good handle on their cars, the sim racing will only get better.  Good racing comes from driver confidence.  If a driver has the confidence to dive off into a corner and knows the car won't bite him, then he's more willing to go after a position.  When both drivers fighting have the confidence, then we see some amazing racing.  We may not see that immediately at Auto Club Speedway, but we should start seeing it at Texas, even more at Pocono, and then later in the year it will just get more and more natural for all the drivers and we'll see that on track.
Our first two races went incredibly pear-shaped, true, but they don't exactly have any bearing on the rest of the season.  Our season, and everyone else's season, starts Tuesday night when the green flag drops at Auto Club Speedway.  We haven't simply been given a few updates, we've been given an entirely new car.  The teams who spent all their time making the last build work well could be at a deficit going into this race, and those who have done all their homework for the past few years could be one step ahead of the competition.  Had these changes been delayed until the Summer build, then yes, our season would be over.  The guys leading the points would maintain that, and we'd be left with two mountains to climb, one on our own.  As it stands now, we still have a mountain to climb, but we are climbing it with everyone else in the series.
---
You may also like...
---