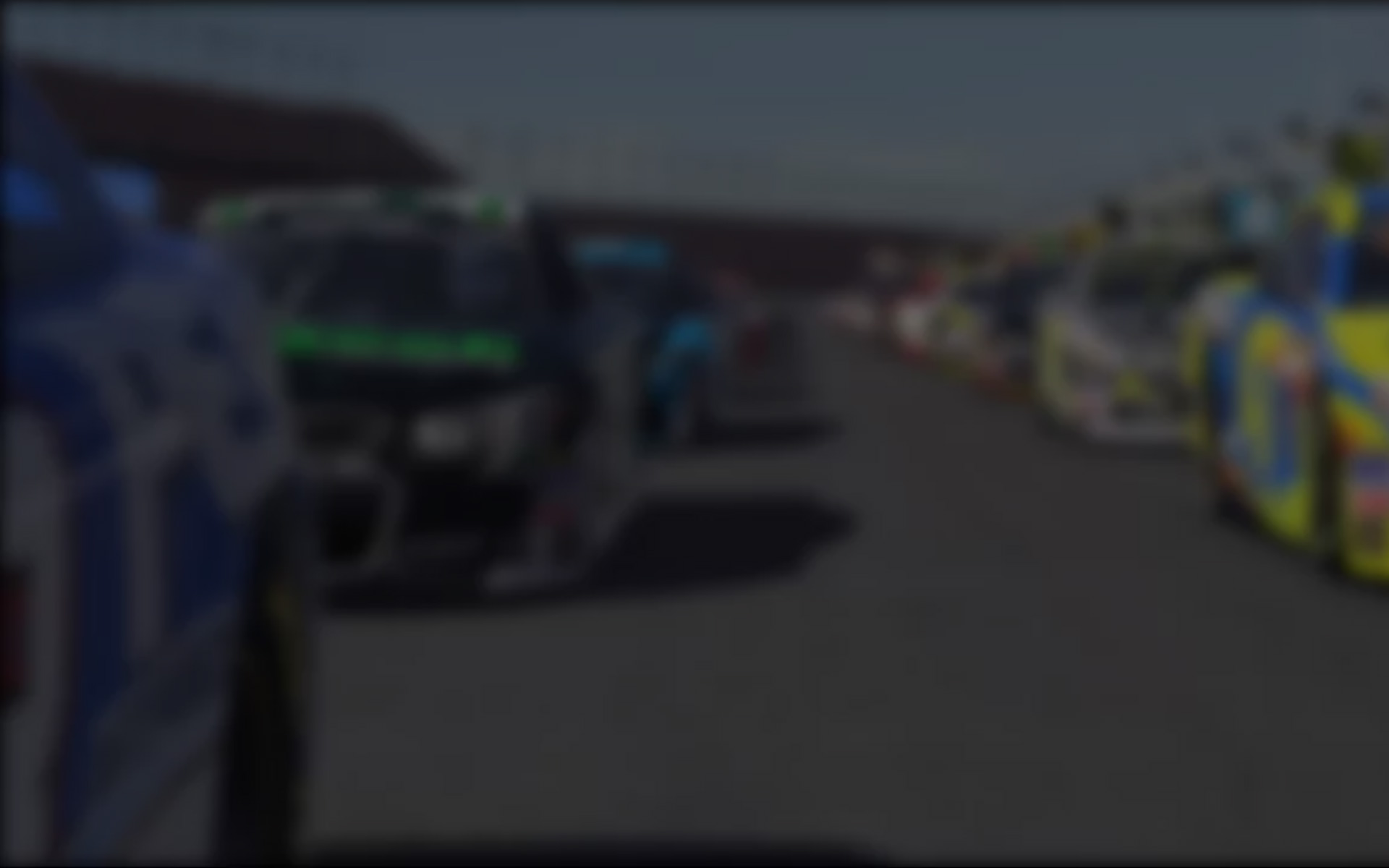 It was January 17th, 2011 when we finished up the final race in the Pro Series and I told Nick, "Man, I hope I never have to do this job using only the broadcast again."  Back then, we only had spectator slots in the race sessions, and they filled up fast.  I wasn't quick enough and missed out, having to watch the race using only the broadcast and whatever information I could get from those who did make it.  Five years later, it wasn't exactly great news when all my teammates started messaging me asking, "Can you get into the session?"  Nope, I got locked out along with the majority of the NASCAR PEAK Antifreeze Series crews.  Loaded full of sarcasm, Nick said, "I didn't have a problem getting in here.  You [called a race from out of the session] before didn't you?  It wasn't that hard!"  Surprisingly, it wasn't.  I pulled up the broadcast on one monitor, the live timing and scoring on the other, and after ten laps asked, "Alrightey…what needs to be fixed first?"
Nick fell to 35th at the first caution of the race and, despite only one of us being able to see the car, we were able to make adjustments to take the car back up through the field.  All things considered, a 15th place finish is fantastic considering how the race started.  And, if you're a fan of being metaphorical, that race by itself was almost a condensed version of our entire season.  Crashed at Daytona (again), crashed at Las Vegas, suspended from Texas and Michigan, got a bugged pit stop with only three tires at Charlotte, then winning back-to-back at Indy and Watkins Glen, and finally just holding on to what we had through the final three races.  Looking at that, a 14th place finish in points isn't too bad either.
This season was tough.  We've completed four seasons now, and without a doubt, this season has been the most unpredictable from week-to-week.  Well…except for who would win the race.  That was usually pretty easy to predict, but everything else was very, very different.  When we started the season, the cars were on rubber bumpstops.  The engines chugging out 900-something horsepower.  The cars producing the 2014-spec standard of nearly 2,400 pounds of asphalt-crushing downforce.  We ran that package once, and only once at Las Vegas.  Before that, we had the Superspeedway package, which we also run only once a year.  After that race at Vegas, the spoilers got cut, the engines neutered, the bumpstops swapped for coil springs.  We were back down in power to what was available from the Generation 5 "COT" engine.  It's also possible that we were back to that level of downforce as well.
It was a big change, but nothing really happened as far as who was challenging for wins or who populated the upper half of the speed charts.  There's a funny phenomenon in racing where you can change everything about the cars and the good drivers still win races.  Sure, one rules package may favor a driver more than others, but the drivers who are very talented will still show that talent regardless.  The same happened in the virtual world.  The cars after the build in March were so incredibly different from the cars from before the build.  I even went so far as to say that we'd see a shakeup in who was running up front, but I wound up eating those words.  In fact, it didn't even look like anything changed.  Despite that, after Nick was suspended from the fourth race at Texas, we got behind everyone.  That was the first 1.5-mile track with the new rules package, and we got to the Charlotte race with literally nothing in the notebook.  During that race, a pit stop bug reared its ugly head and shorted Nick a right-rear tire.  I thought it was something I'd done wrong in setting up the pit stop, but it came back at the Michigan race (also a race that we missed), where Michael Johnson and Danny Hansen departed pit road with only three new tires.  Kentucky was abysmal since, after missing Michigan, we had nothing to go on as far as a bumpy track with this new rules package.  Luckily, we got four tires on each pit stop at that track.
A win at Indianapolis took most of the sting away from the previous races, and dominating Watkins Glen all but fixed everything.  A visit to Phoenix reminded what we were up against when the pit bug returned, this time causing no fuel to be added to the car.  Everyone else thought it was some wild pit strategy, when in reality the car was just out of gas.  It worked out to a 2nd place finish after a duel with Ray Alfalla.  That race marked the end of an era, but we weren't aware of it yet.  We started work on Darlington immediately, but that momentum train was stopped dead with a notice that the Darlington race would be pushed back one week to allow for the new build to be released.  The build would include variable track conditions.  We'd been running in variable weather condition for months, but this was the first time things would really start changing during the races.
But who knew rubber on asphalt could be such a pain in the butt?  I've raced karts in conditions where there was no rubber on the track on lap 1, but about 40 tons of it by lap 10.  Peter and his brother have won tons of races with his brother in the northeast late-model divisions.  Nick's an information sponge, and could basically tell you what any track was going to do with this new build.  All three of us were prepared for that race at Darlington.  We even had a cool new paint scheme to show off!  None of it helped though, we fell flat onto our faces the moment the green flag was dropped.  A stupid, yet simple, mistake preparing for the race made it so that once a single car ran a lap in warmup, there was no telling what the car was going to do.
Sure, we could take the easy way out and say that a glitch with the new tracks gave others advantages, but in all reality, it was our own fault.  A lucky caution saved the race from being a mid-30s finish, a complete turnaround from the same race in 2014 where a caution ruined the race.  At Chicago, the first issue was fixed, but a small detail got neglected in warmup, and the car became a "featherless dart", for lack of a better term.  Who knows if it would have been better had the small detail been seen, but it doesn't really matter.  For the third race on the new tracks, a new hurdle:  no crews.  Plus, every single driver I've spoken to (even ones outside of our team) has said their car was wildly different in the race session than it was in the practice sessions leading up to the week.  Still, Nick and I (sans Fisher), managed to fix a car and get it moving back to the front.  Nick had to go over tire data and get it to me while he was in traffic, and I was crunching both fuel numbers and said tire data to get adjustments, both of us trusting that we were feeding the other one the right information.  It worked out!
We've never had so much change in one season.  We've had small tire updates mid-season that affected the cars a little bit, and we had an aerodynamic change in 2014, but nothing like we had this year.  The list of changes for the California race were so enormous that we were actually pulling out our COT cars to try and re-learn how to drive with no downforce and low horsepower.  I don't really know if that worked or not, but it sounds really cool when you say it to someone.  Once released, the work load doubled as our entire team tried to figure out what changed in the suspensions for the new secondary springs and how they got changed.  Once we finally got comfortable with that, they go and pull the rug out from under everyone and change the tracks themselves, and it's so awesome what we have right now.
To say this year was a disappointment is to look at it from the wrong perspective.  It's true that Nick crashed out of…a few…races.  It's also true that he didn't participate in…a couple…of races.  However, those races that didn't have a massive crash to put an end to the race were massive learning experiences.  I can't think of a single race where something didn't go horrendously wrong in some way, but I also can't think of a race where we weren't able to get together and find a way to fix whatever giant problem showed up.  I think this year was a good thing, and something that needed to happen to our team as a whole, not just our little #05 trio.  In all forms of racing, even virtual, it's easy to go on hot streaks like what happened in 2013, and it's easy to come out of that thinking you're entitled to it.  You think that you're supposed to be up front, and there's a spot waiting for you in the top 5.  Whenever that happens, the racing gods enjoy knocking you off of the imaginary pedestal that you built for yourself.
There was a point in the season where I asked Nick, "Do you still want to do this after this year's over?"  He simply said, "No."  "I'm ready to hang it up, too", I said.  He went on to win at Indianapolis  the very next day.  He led every single lap at Watkins Glen two weeks later.  While putting away my notebooks and charts after the checkered fell at Homestead, Nick said, "I'm ready for 2016.  We have what it takes to challenge for the championship again."  You know what?  I'm ready, too.
I want to give a special thanks to David Phillips, who for two years has put up with my long-winded e-mails, random texts, and my horrendous habit of submitting articles at the very last minute.  Despite that, he still lets me share the stories, good and bad.  I also want to thank everyone who has read these articles throughout the year, all of you who have send either myself or Nick messages of congratulations throughout the season.  Thanks for riding along with us, I look forward to sharing with you whatever wild nonsense we can conjure up next year!
---
You may also like...
---