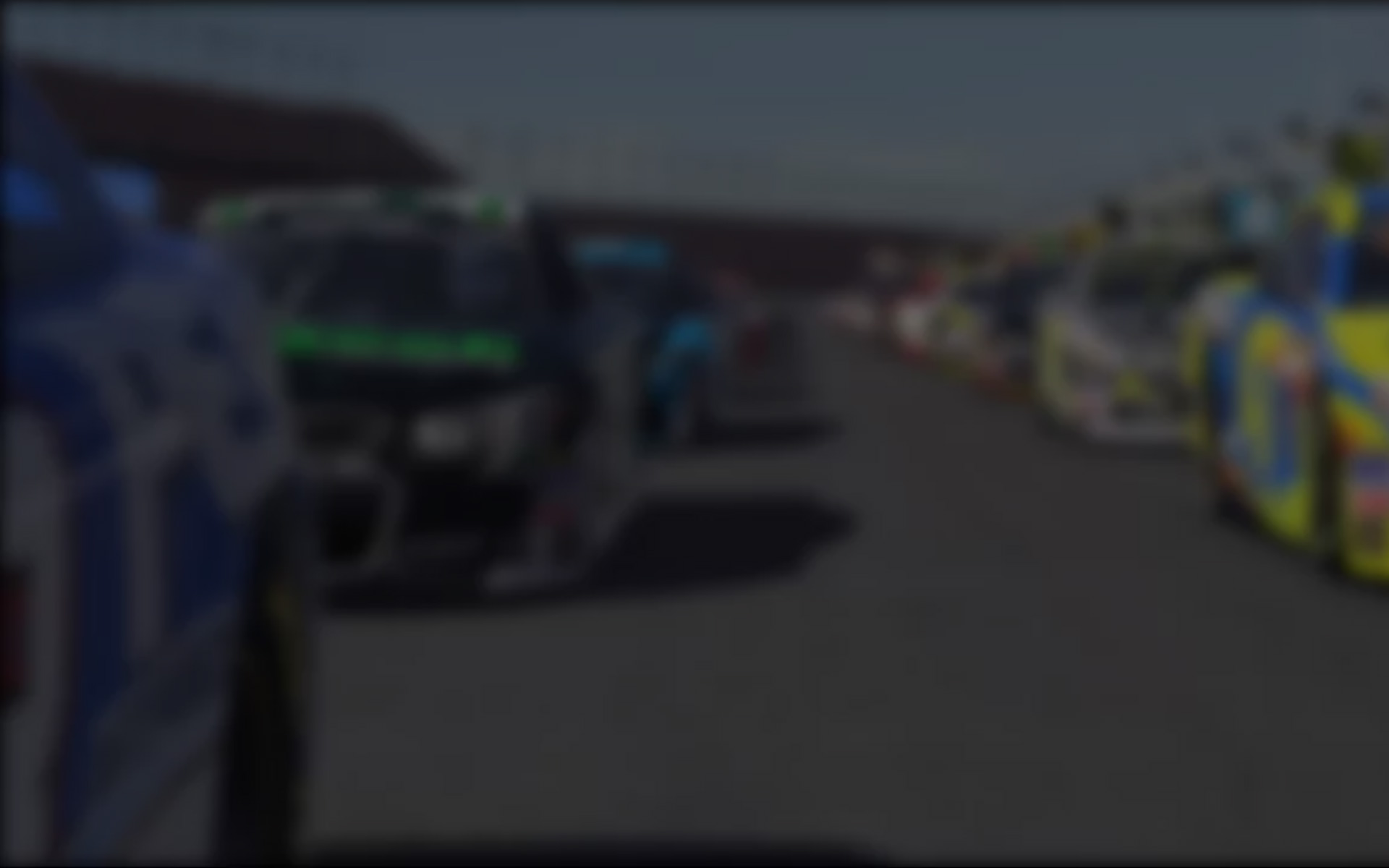 February 23rd, 2016 by Matt Holden
Today is the day.  The start of the 2016 NASCAR PEAK Antifreeze Series will be here in just a few hours.  For most of the iRacing community, the first two months of the year were spent racing, from the 24 Hours of Daytona last month to the new members starting out in their Legend Cars.  For our crew in the PEAK Antifreeze Series, the reality is quite the opposite.  A bunch of us, myself included, have been blazing a trail of mediocrity through the Class B series, but aside from that and the 24 Hours, nobody's really been racing here at Gale Force Racing.  I'm sure some of you have seen the presentations from the Road Series World Championship teams with their new liveries, driver lineups, and very professional-looking displays.  We're not that sophisticated here, but it's been a lot of work to get to this day.
Our speedweeks starts the moment the final checkered flag falls in the NASCAR iRacing Pro series.  We're lucky in the fact that the last Pro Series race is at Daytona, and the first NPAS race is at Daytona, with both races being on the same software build.  It gives us a chance to try out some new ideas before the season and see how well they work in a racing environment.  For example, by the time the Pro Series race at Daytona came along, we already knew that Alex Scribner would not be in contention for a World Championship license since he missed a few races due to his work schedule.  This was a perfect opportunity to put an experimental setup in a car and see how it worked.  His car was essentially the same car I ran at Talladega in the fall NiS race at Talladega, which was an updated version of the Daytona setup run in the 2015 NPAS season opener.  Running his car like that gave us the chance to uncover some major changes (for lack of a better word) to the aerodynamics of the superspeedway car.  We could then take that car, analyze it, and prepare the cars for the season-opener for the 2016 NPAS season.
Outside of the Pro-level stuff, we've also launched a new Class B team, headed up by Brandon Buie who drove our cars in NPAS for the past couple of years.  One car is driven full-time by Alan Elwood, the other is a rotating cast of every driver we have, including yours truly when the series gets to Bristol.  That endeavor has turned out to be more of a blessing than just another way to have fun.  Almost immediately in Daytona practice, we discovered a few correlations between the Cup cars and the Xfinity cars, and now we've been working the two closer together than ever.  Between the two cars, I've seen about 500 or so laps around the giant superspeedway, as well as destroyed quite a few cars during those laps.
The real "work" happens outside of the cars in that month between the Pro Series and the start of the PEAK Antifreeze Series.  Sponsors, paint schemes, even social media obligations come into play.  Just Nick's car alone has been a month's worth of headaches!  Rheem will return to the car for the fifth year in a row, which is fantastic.  In previous years, Nick's car has been painted to match the Rheem cars in other NASCAR series.  This year, however, Rheem was awesome enough to let us use the "throwback" scheme that was run in Darlington last year, albeit with some color adjustments.  That scheme was used by Nick's great uncle, L.D. Ottinger, in what is now the NASCR Xfinity Series, way back before Nick or I was even born. In fact, that scheme was actually on L.D.'s car when they ran the Late Model race at Bristol a few years ago.  We've changed a few things to make it look a little more modern, as well as make it Nick's car instead of L.D.'s.  In total, we sent six versions of the scheme to Rheem and two were approved for use in our series.  Since then, we've adjusted things on it just about every day, from logo placement for associate sponsors, to even something as small as painting the pit-box roof bright yellow to make it easier for myself and our spotter, Peter Fisher, to see it on pit road.
Nick's car wasn't the only one to receive the sponsor treatment.  I also helped to get Michael Johnson's car decaled for the Daytona race, thanks to support from Carolina Sim Works.  Two weeks ago, Michael's car was going to be essentially blank for the race, but thanks to an e-mail I received from Twitter, of all places, and Nick's help, we got a sponsor for the #39 car for at least Daytona, possibly for the whole year.  Again, we sent a total of five paint schemes to Casey Mahoney, owner of Carolina Sim Works, to consider for Michael's car.  We got the approval for one of them on Saturday.  Yes, the Saturday that was three days ago, and the deadline to submit it for series approval was Sunday evening.  I got to watch the Daytona 500, but I spent the majority of that time getting the screenshots for Michael's new sponsor.  Brad Mahar also has a new sponsor for the #13 machine, and our fourth driver, Matt Bussa, also has a new paint scheme.  We're not exactly thrilled about it, but I won't spoil the surprise.
Beyond Daytona, we have another year that could be full of surprises.  Daytona and Atlanta will both be run on the same build, and we know Atlanta will be run using the 2015 aero package.  Beyond then, we don't really know what to expect.  Phoenix will follow a two-week break for the series, and we expect the build to deploy during that break.  The big unknown is whether or not the Gen 6 cars will be updated with a 2016 aerodynamic package or not.  There hasn't been any official word on it at all, and rumors are scarce, so it's completely possible that we could run another year on the 2015 aero package.  However, we got the 2015 aero package update just before the third race of last year, and the 2013 season was delayed a bit to get the Gen 6 in, so if it comes along, that's when we'll expect it.  Despite that, I've done a ton of research on it anyway just to be safe.  As we learned last year at Darlington, the worst thing is to start off on the wrong foot.  Put simply, we know that the 2016 aerodynamic package will cut about 400 pounds off of the 2015 package, but the splitter will still be responsible for about a quarter of the car's aerodynamic performance.  This is big in terms of how we adjust the setup to compensate.  We'll need more mechanical grip, but we also need to keep the car aerodynamically happy.  It's a bit of a challenge, since one will always sacrifice the other.
Those eagle-eyed NASCAR fans may have noticed that the NASCAR R&D crew were testing a completely new car in the second half of last year.  Some have dubbed it the Gen 7, most just call it the X-3.  In researching for the 2016 package, I stumbled across some data for this new car.  Sideforce changes, downforce changes, even a stepped splitter…which I mentioned last year in an article about how NASCAR could fix some of its aero issues, but I'm not bitter.  After reading about this thing, I'm excited for it.  I may do a write up to highlight some of the features of the new car, but that's for a later date.  Still, even though it's a long ways off, it should eventually make its way into iRacing's virtual environment if NASCAR decides to go in that direction.  If that's the case, we already have an idea of what to expect.
In just a few hours, the green flag will drop on the first race of the NASCAR PEAK Antifreeze Series.  Nick will get back into his #05 Camry, I'll scribble some notes into a black leather-bound book that I've had since we started back in 2011, and Peter will play "eye in the sky" again with the soft clink of ice cubes in the background.  To say we won't be at each other's throats by the end of the night would be a little short-sighted.  We could very well be fighting by the end of the pace lap!  Still, our fifth year in the series starts on good vibes.  We feel pretty good going into it, ready for whatever comes our way.  Could our 5th year be the "Year of 05"?  It does have a nice ring to it, doesn't it?
---
You may also like...
---