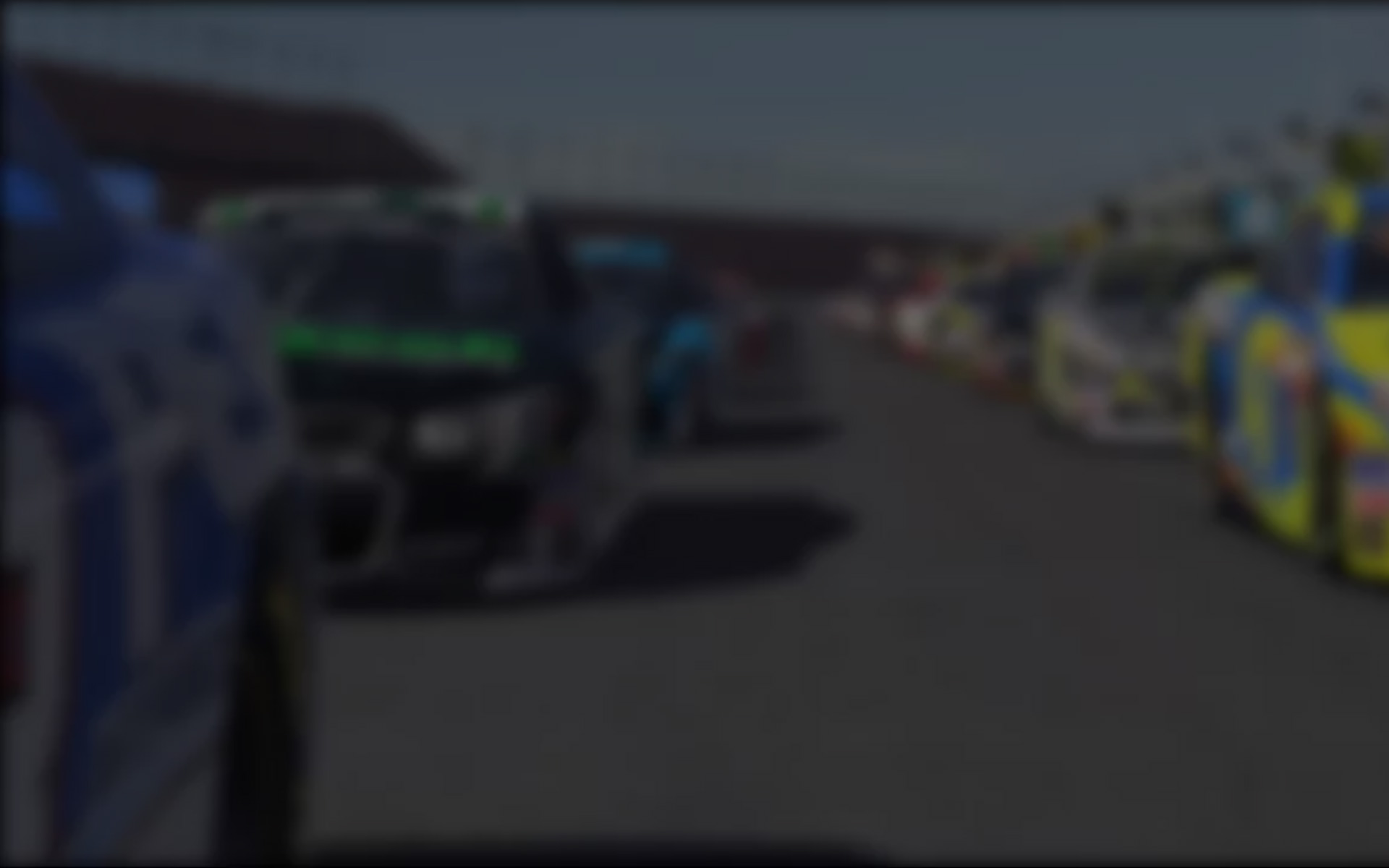 September 19th, 2015 by JaimeB
Who would have thought that, after three races in a row that were so strategy-heavy in the later stages of the race, the fourth in that series would be so unpredictable?  So much so that even those of us who were taking part in the race itself were struggling to get a hold on what was going on with their own car, much less everyone else?  I'll be the first to admit that it caught me off guard.  Our whole Gale Force Racing team was caught off guard, not just Nick Ottinger, Peter Fisher, and myself.   This time though, it wasn't the cars that were bad.  In fact, they were awesome right up until the race session began.  We simply did not prepare properly for this race, and for a group of people who are involved with real-world motorsports, I think Nick put it best in saying, "This is embarrassing."
It was embarrassing, to put it lightly.  For a driver who is used to running up front, especially at big speedways, to be mid-way through the race, two seconds off the pace, and lapped while running in 28th place, it's very embarrassing.  That was during the race, however.  Once the checkered flag fell, there was a bit of silence, Nick sighed, and I said, "Well…at least we know what we did wrong.  We can start with that."
Our big mistake was very apparent the moment the cars gridded:  the track conditions.  I know, I know…how can a team full of people who do this type of racing constantly be able to overlook the Dynamic Tracks that have been plastered all over the member site, this site, and any other site associated with iRacing?  Who knows, but the moment I got situated on the pit box in warm-up, I knew we were in big trouble.  BIG trouble.
In the weeks leading up to the race at Darlington, Nick had assaulted me with questions.  How to we plan the race?  How do we need to adjust the car?  What do I need to do differently?  He had watched races start-to-finish, basically on a loop.  We even watched the Southern 500 and watched how things progressed on the track, in the conditions, and how drivers were reacting to it.  He was prepared for this race.  I, on the other hand, got back into my Toyota Camry and started running it all over the place, just trying to get a feel for how the tracks changed, how the car reacted, and what I needed to do to it to get it  back underneath me.  I even ran the NASCAR iRacing Series race at Richmond after exactly one year out of the series and my first full-length race since winning the 24 Hours of Daytona.  I was prepared for this race, too.  And Peter?  Peter does this all the time with his brother in real-world late-model racing, so he was prepared, too.
We made our biggest mistake every day for a week leading up to the race:  We never tested with the track fully rubbered up.  Yes, it sounds stupid now, but we'd misinterpreted some information from the officials earlier in the week.  We were under the impression that the race would start with 30% usage with no marbles, or "Moderately Low", so that's what all of our practice sessions were set to.  I even played the part of the "rubber truck", running an endless stream of laps around Darlington while the drivers practiced just trying to put use on the track surface, generate any marbles, and try to work in alternate lines like the apron of 3 and 4.  It wasn't enough though.  When the warmup session began, the track was set to Moderately High usage, and the ending state of that session would carry over to the race.  The track was also 4° Fahrenheit hotter than any of our practice sessions, the hottest being 104° over the weekend. Basically, the Warmup session began with the track more worked-in than any of our practice sessions ended.  Add in 41 cars and you can easily see how the track progressed far beyond anything we ever tried in the week leading up to the race.
Nick and I had gone over a pace to run in the first tire stint in order to save the tires as long as possible and get the best average lap possible.  In theory, it should have wound up with him allowing a few cars past early but surging back to the front late.  Keep in mind that all of the races we've run at Darlington have been fairly caution-free, and it makes sense.  However, the surge never happened.  His pace was good, and the front runners quickly fell off beyond the pace we'd talked about, but by that time the track was gone.  It was lap 15 and we'd lost the car already.  The surface was hot, the rubber was dense, and the #05 was sent backwards through the field losing positions lap after lap and there was nothing we could do about it.
Around lap 20, Nick told me the car was extremely tight in turns 3 and 4, describing the exact same problem I encountered at Richmond just a few days before.  On the first pit stop, I threw the adjustments I'd used at Richmond into the car to try and get ahead of the track.  It worked, for two or three laps,  but then the slide began again.  It had freed up the car in turns 3 and 4 by the tiniest of margins, but it made the other end of the track (that was getting very dark as well as being shadow-free) a much more treacherous adventure.  Rear grip was gone from turn 2, and then the car got very tight again in 3 and 4.  At one point, I moved my perspective down to the middle of 3 and 4 to watch the cars.  There was a point where Nick's front brake rotors were still getting a brighter shade of orange while other cars were back on the throttle.  That was it, we'd lost the track and there was no hope of getting it back.  Eventually, I reset all the adjustments back to where we started and just hoped for the best.
We finally got a caution to fall in the right place, which moved us from 28th position, one lap down, to the top 5.  After a few restarts, some Darlington Stripes, and a smashed-up left-front fender, 13th place was what we had to show for it.  Considering how far back we were running in the middle of the race, I was thrilled.  I still wanted to get to Chicagoland as fast as possible and put Darlington on the backburner for as long as possible.
What's amazing is how unbelievably fast this series, and the iRacing service itself, has been turned around.  We had put a brand new setup in the car for this race, something along the lines of what we want to run in 2016.  We'd designated Darlington, Chicagoland, and Homestead as test sessions for next year after hearing Dynamic Tracks would debut at Darlington.  Nick repeatedly said that the car itself was not bad.  In fact, he was very confident that he would be competing for a win during the race.  It was simply that we'd grossly underestimated how the track would evolve through the race.  We learned our lesson, and hopefully we won't have this problem in the future.
It's easy to get upset and angry over something like this.  We all tested for hours and hours, only for it to look like none of us had ever seen a car before, and all of our cars go from racing machines to rolling roadblocks.  Sure, we all feel like total idiots for not even considering that the track would eventually reach "100% usage", but most of us were simply…amazed.  A year ago, when the team came to Charlotte to race go-karts, I was sitting in a room with them and said, "We'll see dynamic tracks some day, but they're going to do it properly.  They won't artificially modify a track surface to give one lane more grip, they'll make us, the drivers, modify the track surface as we go."  When asked when that could be coming, I said, "If it's here in the next five years, I'll be shocked."
Color me shocked.  We are not even a full year removed from that statement and we have dynamic tracks on iRacing.  And not just one track, they did it to all of them.  There is no way to go back and see what it was like before this, even though none of us will forget the freight-train parades at every track.  It's absolutely amazing to go into a session and see cars all over the track just trying out what will happen.  In races, it's easy to see who is still stuck in "bottom-feeder mode" and is unaware that the other lanes may be working.  In practicing for Chicagoland this week, there has been no definite preference for a lane.  I've been running right on the bottom of the track, Jeffrey Parker has been peeling paint off the outside wall.  Nick's been running somewhere in the middle.  What's amazing:  we're all running the same times.  We can run side-by-side and all of us have a chance at coming out ahead.  You can move around and find something that works better if you need it.  While Darlington was not a good indicator of how multiple lanes can open up, it was an amazing display of how much a track can evolve through the course of a race.
I ran a kart race Wednesday night in Mooresville.  It was a one-off thing, I was just there to have fun.  I couldn't help but notice how the track itself was changing as we ran on it, how the darker sections of tracks were a little bit slicker than the lighter areas.   The track has a turn that it's become famous for, the Turn 4 "bowl", a little more than 180°, banked a bit, with an entry speed of well over 60 mph in a race.  Through the night, I watched the turn get darker and darker, slicker and slicker.  I watched as drivers hunted for a sliver of grip somewhere, usually sliding out from the inside curbing by a few feet as they missed.  I did it, too…many more times than I'd like to admit, but I wasn't getting frustrated with any part of it.  All I could think was, "They nailed it."  And if they haven't, they're at least on the right track.  This future, this impossible idea, that we once considered the sim-racing equivalent of landing on the moon is here.  We no longer know what is going to happen on the virtual racetrack, it's become its own living entity.  This is a new era of sim-racing, and I'm thrilled that we can all be a part of it.
---
You may also like...
---