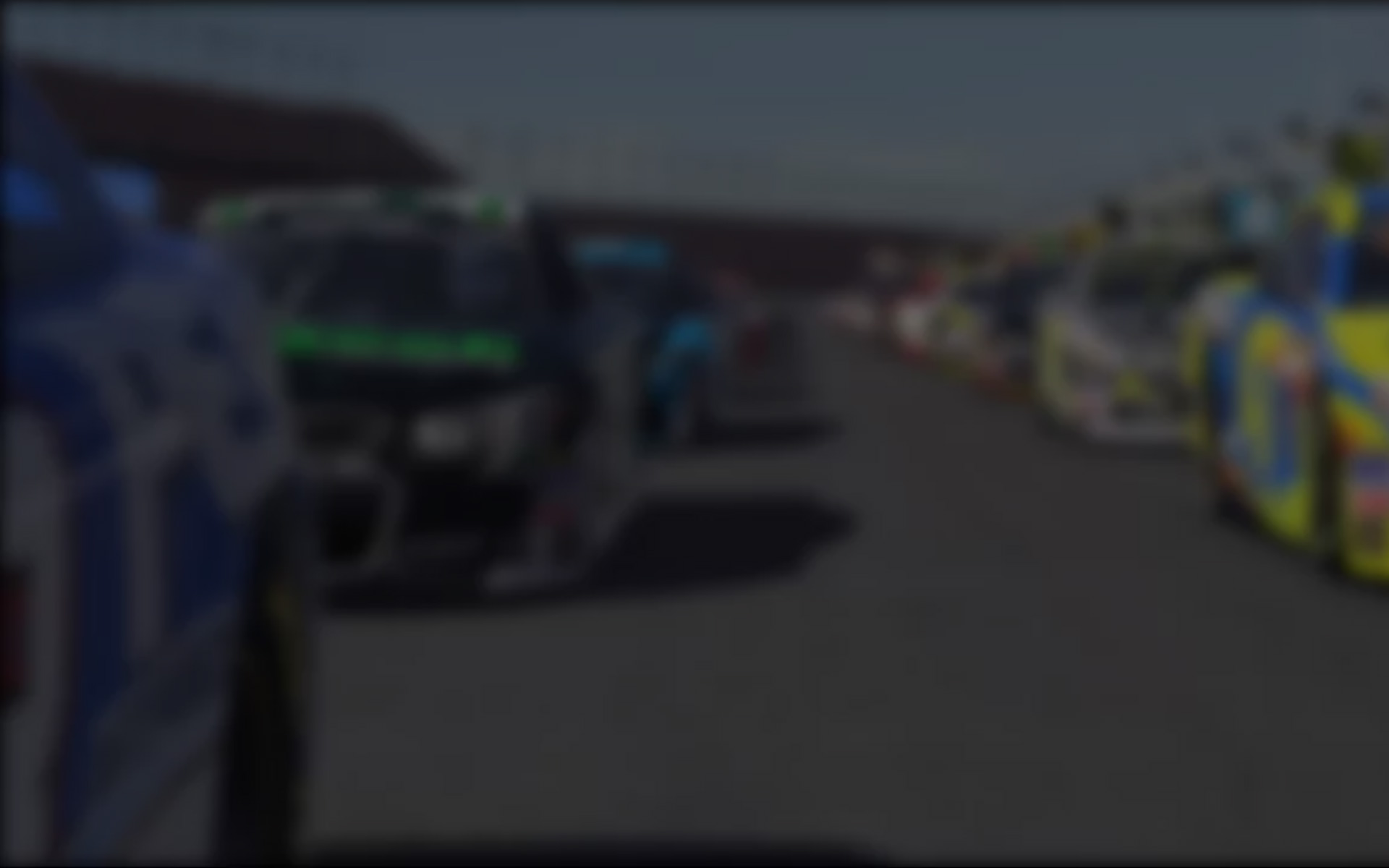 We had this grand plan laid out last month:  We'd get a decent finish at Daytona and use that as a springboard into a good season.  Instead of wadding the Daytona car up before the first pit stop, we'd just sail under the radar, get away with a few dents and scratches and start the season proper at Las Vegas without ever uttering the phrase "drop week". This year would be different!
It wasn't.  The hopes of a luck-filled season disappeared before anyone had begun discussing what to do on the first pit stop.  All six of our Gale Force Racing drivers had settled into their respective positions on track, stuck in whichever lane they had wound up in at the time.  While our spotter, Peter Fisher, hadn't let off his radio button since the drop of the green flag, I had only said one thing during our race:  "Temps look okay?"  Just a few laps later, Nick said, "Oh boy", and our race was done.  In four years running the NASCAR PEAK Antifreeze Series at Daytona, our finishes are 30th, 38th, and 41st.  Where's the fourth?  Nick got suspended from that race before the season started.
But why write an entire article on how we crashed?  That's lame, and there was so much about this race that should be applauded…and some things that should probably be avoided.  Obviously, the wreck that took the #05 out was caused by some wild and wooly net-code issue, but it has led to a joke within the team that Michael Johnson (Driver, #39) was actually running those dive plans NASCAR tested last year, but they were really hard to see, and wound up cutting down Andrew Fayash's tire.  Michael denies these claims, and just says that he was testing the new Gen6 "Dually" model.  Nick, however, is claiming that he is like Earnhardt, because of his luck at Daytona.  For the record, nobody has agreed with this statement as of this writing.
After Nick's crash, I got to do something I haven't done in years:  watch the race as a spectator!  Normally, I'd just go watch TV or fix something to eat, but the race was pretty exciting to watch in the first stage, so I stayed to watch the race instead.  In my opinion, the race was really, really good if you exclude all of the tiny mishaps that occurred  here and there.
It's been a long time since we've seen a restrictor plate race on the iRacing service that produced multiple lanes that could hold steady with each other.  And on top of that, there were even bouts of three-wide, multi-row racing towards the back.  It's a good step in the right direction for the plate-racing physics package, which has been characterized with single-file racing in the past few years.  Personally speaking, it seemed like this year was the first year that the racing mirrored the real-world NASCAR Sprint Cup race.  From what I could see, the majority of the first part of the race was simply two lanes that could never really pull ahead of one another.  Honestly though, I'm not totally sure anybody wanted to make the mad charge to the lead.  Most of the drivers, especially our GFR drivers, were very content on riding right where they were sitting.  Some drivers moved up a few spots, others fell a few, but I never heard any [major] frustration or anger on my scanner from any of the drivers.  They were content on letting the race click away in the early stages, something we really haven't seen much in the past.
What I found most interesting was how the physics still work to allow multiple types of drafting during the race.  Everyone saw the pack racing, but I'm not sure how many people noticed the cars towards the back of the field running in pairs to catch up to the main pack.  That's right, the "two-car tango" still exists, but while it's lost the edge it had in years past, it can still be used if organized effectively.  We actually had a stage in the race where two of our drivers, Matt Bussa in the #34 and Alex Scribner in the #50, made up multiple spots towards the end of the race by "tangoing" back up to a pack of cars.
There were also some mishaps, a few incidents that were either out-of-character for a driver or so strange that we can't really make sense of it.  I think Brian Day said it best at one point when he keyed up his radio and said, "We all just took our brains out and sat them in the floorboard", but isn't that what plate-racing really is?  Just controlled chaos?  There were some huge crashes, some rather questionable maneuvers, and we had our first ever repeat winner at the track in five years…but not without a bit of controversy.  I think iRacing has something to be proud of with that race, it was a huge step in the right direction, I think.  According to the drivers it was fun to race in and, from my seat, it was really fun to watch.
Obviously it's difficult to write up an in-depth article about a race when it was only 30 laps long.  Right now though, I think most of us are looking forward to the next couple of weeks.  Everyone is hard at work on Las Vegas already, but a lot of us are looking three weeks ahead to Auto Club Speedway.  True, Las Vegas will be a good indicator of how the season may play out, but keep in mind that a new build falls right after that race.  The build itself might be a huge shake-up and it might not be, it will depend on what's actually in the build.  Obviously, the NASCAR Sprint Cup Series had some major rule changes, and they've changed the cars up a lot.  We don't actually know (yet) if these changes will trickle down to the NASCAR PEAK Antifreeze Series with the new build.  If they do, then Las Vegas will be a throwaway race, a huge indicator of absolutely nothing relevant to the season.  If they stay the same, then Las Vegas will be a view of things to come.  Despite that, we know this:  The race one week from now will be big in some way.  Either we'll see the end of an era, or we'll see the beginning of a championship.
Let's be serious though, we're all going ga-ga over this new McLaren headed to the service and have basically forgotten about the mishaps at Daytona, right?  I know I have, at least.
All images courtesy of Brian Day and the GFR #4 Plan B Sales Facebook Page
---
You may also like...
---