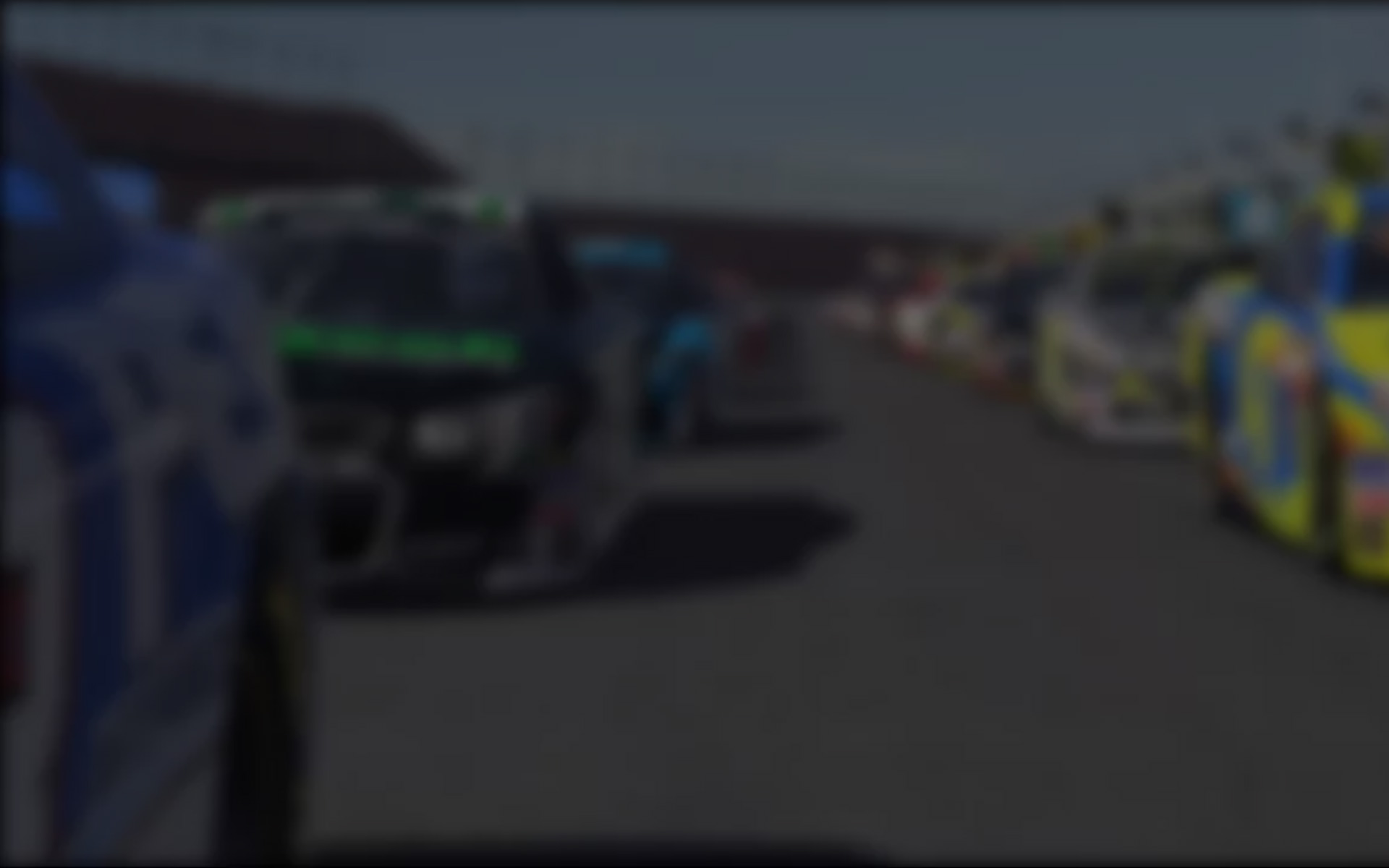 With a good team comes great teamwork, cooperation, and friendship.  However, with a good team also comes truckloads of trash-talking.  There are two situations in Gale Force Racing which generate the greatest amount of trash talking:
1)  I am ahead of Nick Ottinger on practice speed charts
2)  Someone claims to be the best driver
It should be noted that I only participate in #1 (and that the majority of the trash-talk from #1 comes from yours truly!) because I don't have to participate in #2.  I already know I'm better than them!  However, reason #2 recently spawned an event.  One so grand that GFR converged on one location and one of us walked away with a trophy.  Well…it was actually a tire with some names written on it, but it's still a trophy.
To begin the story of the now-famous "GFR Day" event, we need to go way back in time.  Sometime around the evening of March 11th, to be exact.  You see, there was a NASCAR Peak Antifreeze Series race that night at Las Vegas Motor Speedway and, for the first time in GFR history, we had a car fail to qualify for the race.  (This was also the same night that Nick qualified for the Carburetor Cup instead of the NASCAR PEAK Antifreeze Series race, so there was a lot of dumb going around that night).  Yes, our fun-loving driver of the #50 car failed to qualify, while the driver who qualified for the wrong track started the race!  Oh, what a war this started.  For those who don't know, Alex Scribner is a real-world driver who actually won NASCAR Rookie of the Year for his division in Louisiana last year.  After the race, we gave Alex an endless stream of verbal beat-downs for not qualifying, to which he uttered the phrase heard 'round the world:  "I COULD BEAT ANY OF YOU IN A REAL RACE CAR!!!"  Later that evening, this photo started making the rounds of our inner-circle:
So, while everyone began laughing and chuckling about how Alex was having a bad night, I actually took his outburst and began thinking….What if we could put all of us on the same track?  What if we evened the field with the same cars, waved the green, and saw who was really the best?  Hmmm…
So I went to work.  In the shadows I planned out an event, one where all of us would go to one race track here in the US, all get in equal cars (karts, in this case), and be shown a green flag, some lapswould be run, a checkered flag waved and, at the end, one of us would have bragging rights for a year.  We also got some baller t-shirts.
Seven months later, this happened:
Before I spill the details of what happened during the race, we have to visit some of the things that happened leading up to it!  I arranged a "Group Event" at the GoPro Motorplex in Mooresville, NC on October 12th where we basically got the track to ourselves for two hours.  We had 10 minutes of practice, 10 minutes of open qualifying, and then a 12-minute race.  But the event wasn't just one day, it quickly became an entire weekend of shenanigans.
First, Brian Day (Driver, #4 NASACAR PEAK Antifreeze Series car) and Sam Edwards showed-up at my house on Wednesday evening….at 10 minutes until midnight after driving to Charlotte from Alabama.  Thursday night, after we snagged some free tickets to the NASCAR Whelen Tour Mod finale and Sprint Cup Series qualifying from an elderly man in a cowboy hat, we had to go pick up Alex Scribner (Driver, #50 NASCAR PEAK Antifreeze Series car) from the Charlotte airport.  On the way, we fired up the GPS on Brian's phone, voiced by a woman we named Irene.  We quickly fired Irene after she got us super lost (with Sam's help, might I add) and replaced her with Siri on my phone, but she was equally as useless.  We eventually found Alex, though, and the combination of Irene and Siri got us SUPER lost on the way home.  We made it back around 2am.
Friday, we visited some places around town like the Sam Bass gallery (where Ronnie Binkley arrived to join the fun), Lionel (where they were having a die-cast sale) and even Zaxby's!  Eventually we met Michael Johnson (Driver, #39 NASCAR PEAK Antifreeze Series) and his wife at the hotel, which was nicer than my house.  Sadly, they were booked-up and I had to stay at home.  The Nationwide race was the scene of fun for that evening.
Saturday was (even) more interesting than Friday.  We started with a visit to Plan B Sales, Brian Day's sponsor, where we met Josh Wise and saw Ricky Stenhouse Jr.  While waiting outside, Ronnie Binkley uttered the worst sentence ever:  "This weather is great!  They said an 80% chance of rain and the sky is clear!"  It wasn't four minutes before the bottom fell-out and we were trapped in a downpour.  We decided to go visit Hendrick Motorsports, where we tried to convince Mrs. Johnson that Michael "needed" the nose piece off of Kasey Kahne's car.  We collectively turned into a band of morons when we identified one of the dash panels in the museum as the dash panel from the iRacing COT, and then I bought the new Chad Knaus hat, just in time for them to get booted from the Chase!  We also got a picture of Michael trying out his new race cockpit.  Someday Michael…someday:
I also snuck into the seat for a fitting.  It turns out that Michael and I are the same size:
After that, I bailed on the Cup Race idea because I didn't want to be half-lidded and groggy at the kart track the next day, but I missed the greatest event ever when some woman ran up and licked (yes, LICKED) Ronnie Sissney's ticket, then ran off.  I don't think anybody knows what was going on there.  From there, the Cup race went-off and Brian Day broke away from the group to run onto the front stretch with other fans, where he collected some of the rubber from Harvick's burnout, then made his way to the infield, where he was nearly run over by the #2 and #11 cars, but finally made it to Victory Lane.  I, however, got yelled at by a police officer while trying to meet everyone at the hotel.  I gave up on that idea and went home, where Sissney and Nick Ottinger showed up at 3am.  I pointed out their sleeping quarters and went to sleep.
At 10am sharp on Sunday, I kicked-in their door and yelled, "WAKE UP LADIES, TRAIN'S LEAVIN' IN 30."  Nick was unfazed, nearly sleeping through that, but Sissney almost took the bed into the shower with him in a rush to get ready to go.  That said, we all made it on time to the GoPro Motorplex where Binkley's jinx still hung over us with a thick covering of clouds and a slight mist.  We were also joined by MRN Radio's Tony Stevens (who also does iRacing broadcasts) and one of Sam's friends, Stephanie Russo.  Everyone who was new to the track was given a quick briefing, found helmets if they didn't have one, and were assigned a kart for practice.  All except for Nick, that is, who walked out onto the grid without looking to see which kart he had, then had to go back after I told him they were written on the wall in the lobby.
Practice was fun but, due to the light rain, some of the corners were a little treacherous.  Those who had raced in the rain were fine, but those who hadn't were met with a new challenge.  Sam Edwards, who likely has as much time on NASCAR tracks as any Sprint Cup driver, was nine seconds off the pace in practice. (He later made up eight of those seconds for qualifying).  The "First to spin" award was given out early, as I tried to hammer the throttle in a high-speed section of the track on the first lap out and looped it right in front of everyone.
Qualifying was controversial to say the least.  Nick was assigned kart #8 for qualifying, which created a ruckus among the team.  You see, I once drove kart #8 in the GoPro Motorplex fall league, and it's possible that I bent the rear axle in a crash.  I "forgot" to mention this to the track after that race, so when Nick went out for qualifying, he was nearly shaken apart by the bent axle.  Conspiracy theories and black helicopters were deployed, and it pretty much set the stage for the race.
The race was unique for everyone:  Standing start. In the rain.  In a kart.  We were gridded by qualifying times, then the green was thrown and we darted off for Turn 1.  I took the lead into the firs turn while Tony Stevens suffered from a bad start and fell to third, with Sam Edwards landing in second place.  It wasn't long before Sam got sideways in a slow corner and Tony passed him, which kicked-off the run for the finish.  In the final corner, as the rain started falling harder, my kart started understeering worse and worse, and Tony was able to close the gap to me.  Tony drove into the final corner as hard as he could, we bumped, he spun, and I gathered up my kart and went under the checkered flag, the winner of the Inaugural GFR Day karting event.
The race itself was fun for everyone.  There were spins, some bumps, a few "hand signals" and even an off-road mudding adventure for Michael Johnson.  After we brought all the karts back to the garage, everyone had a smile on their face, there were high-fives all around. Ronnie Sissney was renamed "Mark" and Nick was still complaining about a bad kart, even though he finished three laps down in last place.  We then went to Victory Lane, where I was handed my "trophy" – a kart tire with everyone's signature on it, the date of the event and "WINNER" written across the tread.
After a few minutes spent in a "pow wow" around Victory Lane, our fun was over, and it was time for everyone to part ways.  Ronnie Binkley headed back to his home across North Carolina, Mr. and Mrs. Johnson started the drive back to Kentucky, and the rest of us went to Outback Steakhouse . . . where we had the best waiter ever.  Why?  He gave us free Bloomin' Onions on a Sunday because Kevin Harvick won.  Typically, that deal is only for Mondays.
Ronnie Sissney and Nick Ottinger headed back to their homes after that. We said goodbye to Tony Stevens and then Sam, Brian, Alex, and myself all went back and watched TV at the super-expensive hotel:
Brian and Sam headed home on Monday morning, but the final "event" hadn't happened at that point.  Do you remember Irene?  Well, she possessed Alex's phone when I took him to the airport and tried her best to get us lost again.  I dumped Alex off at the terminal and headed back to the house to start planning the next GFR Day.  There's only one stipulation this time:  Irene and Siri will not be invited.
Race Results – GFR Day – October 12, 2014
1)  Matt Holden
2)  Tony Stevens (-2.948)
3)  Stephanie Russo (-13.436)
4)  Sam Edwards (-13.684)
5)  Ronnie Binkley (-29.628)
6)  Alex Scribner (-32.627)
7)  Michael Johnson (-42.304)
8)  Ronnie Sissney (-51.690)
9)  Nick Ottinger (-3 Laps)
---
You may also like...
---