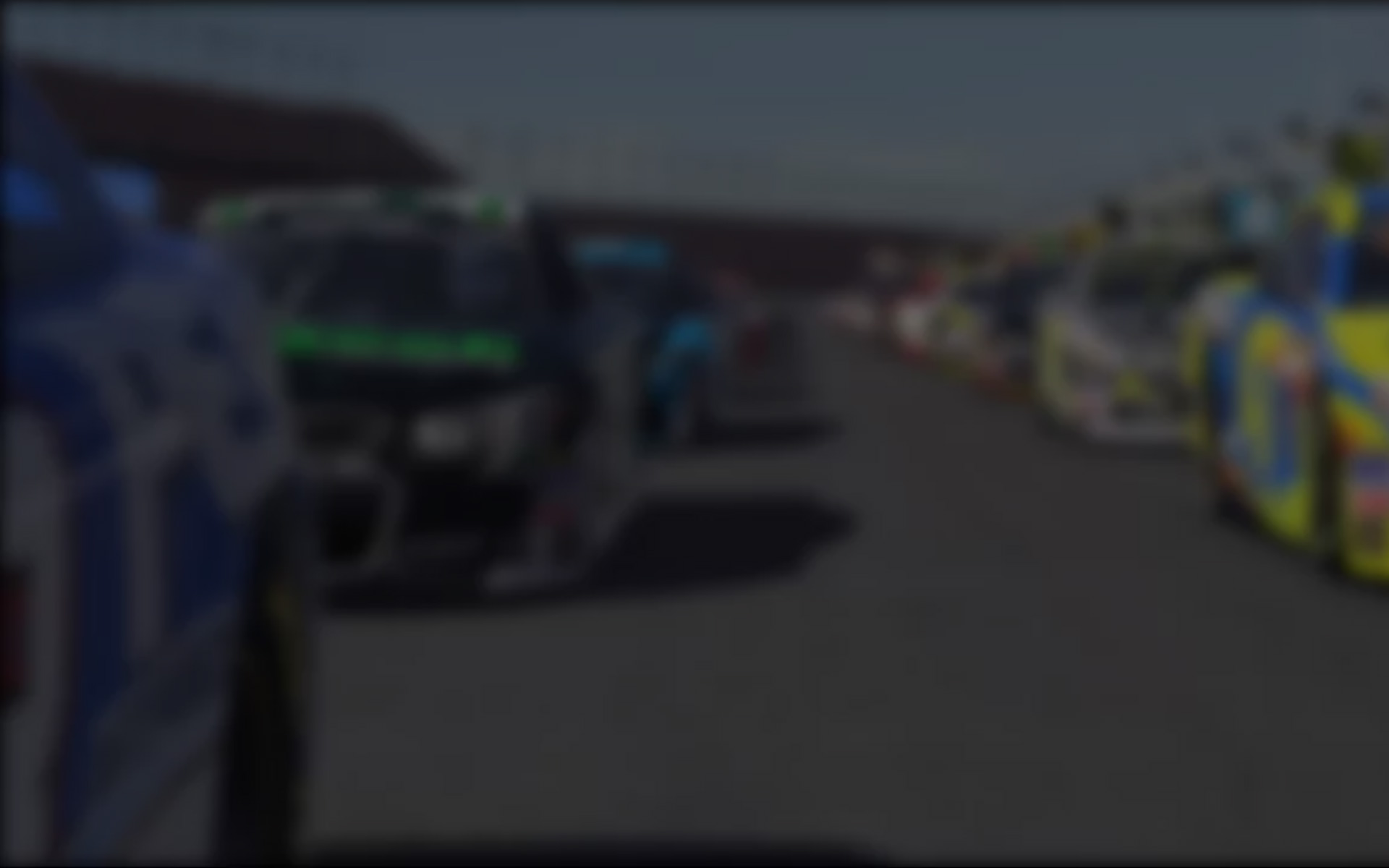 The virtual Brooklyn, Michigan played host to round five of the NASCAR iRacing Class C Series (NiCCS) tour as the world's top sim racers visited the two-mile Michigan International Speedway. The high-speed track lends itself to lots of side-by-side and action-filled online races as was seen over seven days of intense competition and in the end it was a familiar name to sim racing fans taking away the top spot.
Hendersonville, Tennessee's Josh Berry emerged as the top racer in Michigan as his win on Thursday locked-up the lead for the week. Berry edged Joel Edick and Brandon Buie for the victory which put 239 championship points in his pocket – two more than the three drivers tied for second on the week.
Joshua Laughton, Mitchell Hunt and Jason Burstein found themselves deadlocked at second. Each finished the week with 237 points and though the game plan for Laughton and Burstein was similar, Hunt made one more start than the pair and amassed one more victory than his fellow second place drivers. Hunt finished fifth to Berry in his first start of the week but then reeled-off two wins, beating the likes of Doy Woods and Ryan Bauer in one and Chase Paduano and Christopher DiBenedetto in the other.
Laughton and Burstein each made two starts in Week Five and for both drivers one of those starts ended with a stop in victory lane. Laughton found himself ahead of David Krikorian and Rod Funston in his first race of the week; likewise Burstein got the best of Jon Newsom and Allen Lewis in his first race of the week on Thursday.
Paduano came home in fifth overall of the over 1800 drivers competing at Michigan after taking away a trio of victories from the popular track. He also made more starts than his peers in the top five at MIS as he saw seven green flags over the week. The Indiana driver took his first checkered silk on the first day of competition as he edged out NiSWC driver Jesse Atchison and Justin Dalsant. Less than 24 hours later he made a return trip to victory lane as he topped Brian V Macklin and Dylan Duval. He completed the hat trick on March 2 as he beat Brandon Coppinger and Lewis for his final triumph of the week. For his efforts, Paduano recorded 233 championship points.
A pair of drivers hailing from France posted the fastest qualifying times of week with Stephan Pottier and Simon Crochart whipping off times of 39.742 and 39.747 seconds respectively. Alan Jones had the most success when it came to grabbing wins in Week Five as he ended up in victory lane nine times. His 36 starts ranked second to Edward Gatrell's 38 and was equaled by Rod Funston's 36.
Although Timmy Hill maintained his point lead through the fifth week, his cushion has all but evaporated. Forty points have flown out the window-netting as he now holds a nine point lead over Scott Speed. Parker Hammons falls to third, just five points behind Speed with early leader Tyler Hudson and Paduano completing the top five overall. Tim Axton, Chad Pruitt, Brandon Buchberger, Marty Arnett, Laughton, William Lark and Jason Vannatta round out the top twelve – each of them all sit within 100 points of Hill for the top spot.
Cody Hackl sits a top the standings in Division Two. Hackl has amassed two wins and 717 points over the season, which is five wins less and 32 points more than second place Kyle Larson. Dean Heck continues to pace Division Three with Lark continuing to impress in Division Four. Jay Adair currently leads a close Division Five as sixty points is the gap between he and sixth place Shawn Sage. Harold James holds the front in Division Six with Michael Atkins Jr. inching his point lead further in the seventh division. Fifty points is the margin between Bill Schoonover and Daniel Moellers in Division Eight.
The closest two battles happen to be in the lower divisions of the NiCCS ladder. Division Nine has David Trogdon with 372 points and leading Greg Venable's total of 365. Scott Anderson and Chad Henderson both sit within striking distance of the top two should a falter happen. One division back in sits Keith Bouchard and Graham Laster. The Division Ten rivals ironically have ten points between them after five weeks of racing. The top 36 in the class are all within 100 points with the top six being distanced by eighteen points. These two divisions will be nailbiters down to the wire!
Jared Crawford was the winner when it came to the Time Trial competition. 305 drivers took to the track to beat the clock and their peers to call themselves a winner in Week Five. Dalsant came home in second with Arthur Lucas, James Howard and Mark Russell completing the top five after seven days.
Virginia's Vannatta continues to lay a hurtin' on his fellow Time Trials competitors as their ten lap "beat the clock" challenge completes its fifth round. He now leads Rock Harris by eighteen with Chad Pingel, Trogdon and Scott Wallace completing the top five. Vannatta and Pingel recorded seventh and eighth place finishes at Michigan.
Overall division leaders shake down like this. Harris leads Division Two while Pingel paces Trogdon in Division Three. We see Walter Holmes holding the lead down in the fourth division with Jeff York holding the lead steady in Divison Five. Troy MacLean holds a hot hand in Division Six, Bobby Ingersoll and Trenton Moriarity have a battle on their hands in Division Seven and Jeffrey Kruize is safe for the time being atop Division Eight. Joerg Leipold and Mike Larsen complete the field of division leaders as they find themselves ahead of Divisions Nine and Ten!
Next up for the stars of the NiCCS is the Phoenix International Raceway. The tricky one-mile oval is a favorite of many but like many others can bite drivers deep with one wrong move. The action heats up in the desert this week and you can read all about here next time on inRacingNews.
Until then, keep the hammer down and we'll see you at the track!
---
You may also like...
---