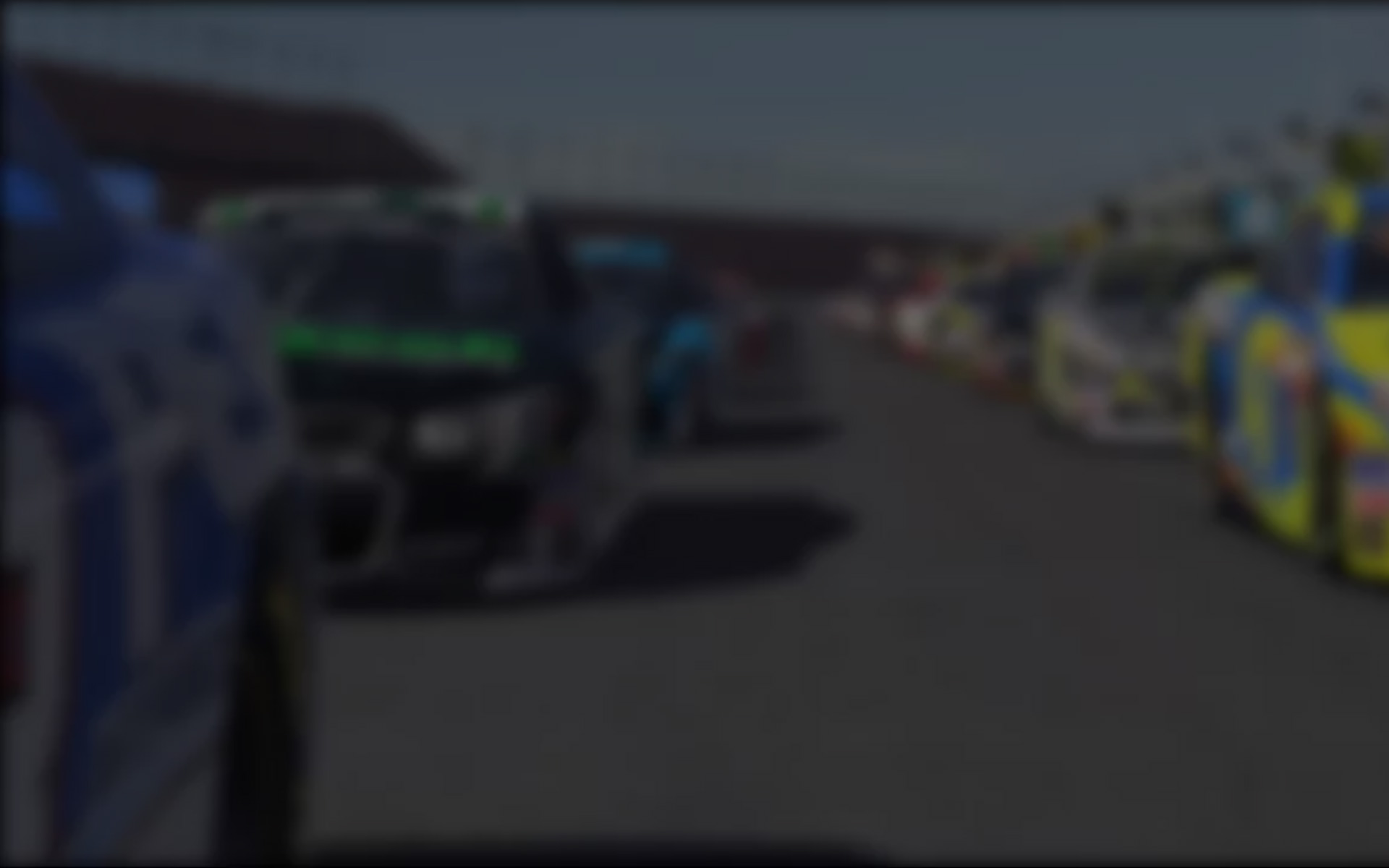 The final week of the iRacing Grand Prix Series was upon us: 11 weeks had been completed, but for people on the brink of the top 15 there would be no let off. Road America, located in the state of Wisconsin is situated close Elkhart Lake. The track itself has a unique heritage. The circuit's turns are designed to replicate corners which had previously been on street courses which were run in and around Elkhart Lake. In the 1950s the state banned racing on public roads but Elkhart Lake's motorsports heritage had only just begun. A man named Cliff Tufte organised a group of racing enthusiast to help bring the racing back, albeit in a controlled environment of a legalised track. This vision ultimately turned into the reality of a four mile-long permanent road course and Road America was opened in April 1955.   60 years on and the track's in fully functional use, and hosts (and has hosted) many top class series, although today's event would have a baker's dozen of iRacing's top sim racers competing in their Williams-Toyota FW31's around the 14 turn circuit.
This race was certainly a battle for who could scrape inside the top 15 in the championship standings to achieve an elusive black stripe. Mivano Racing's Fabio Gonzalez got his weekend off to a fantastic start under the pressure of knowing his qualifying could be the key to success. He did not get distracted and nailed a phenomenal lap to take pole position ahead of Apex Racing UK's Peter Berryman. What could have been the Mivano driver's worst nightmare became a reality . . . Enzo Amico has notoriously been the fastest starter off the grid throughout this season and the Radicals Online driver just so happened to be lining up directly behind his rival for the final top 15 place. Oscar Mangan was the man on the bubble as well: if Amico and Gonzalez both performed to the best of considerable their abilities then Mangan could be shuffled marginally out; either way the Irishman certainly didn't seem to be phased after putting in a solid time to take fourth on the grid for the broadcast race.
The drivers all got off the grid cleanly and as expected Amico nailed his launch to pull up alongside Gonzalez which enabled him to slot in ahead of Berryman. As the front pack of drivers exited the first turn Mivano's Gonzalez managed to get the upper hand to successfully repel Amico's early attack, although he'd have to fend him off once again only a few seconds later down the Moraine Sweep to Turn 5. The draft had pulled Amico back near the rear of the Mivano vehicle and an attempted move around the outside at turn 5 was made: unfortunately it didn't pay off and set him back a few car lengths and into the clutches of Berryman.
Berryman regained his second position only a lap later by passing Amico at Turn 5 on the second lap. This would have put huge dent in the British driver's hopes to gain a top 15 as Gonzalez was streaking away in to the distance. Mangan was also looking to get a piece of the action and demote the starting genius down even further; fortunately for Amico the TNT Racing driver didn't have good enough traction to trouble him as Turn 6 quickly approached.
What would be intriguing would be who chose what strategy; for the first time (and what happened to be the last time) this season a zero stop race could be viable, permitting drivers who managed to put in quick enough laps and were consistent with the heavy fuel loads to make this strategy work. Bida and Loozenoord seemed to be heading this way, especially with the lap times they were turning – considerably slower than one would have expected were they on a one stop strategy. Nonetheless, if their strategy was to work, their tires would be shot come the last few laps of the race: meaning if pit stops played-out in their favour they'd be holding on for dear life.
All was done and dusted for Amico come the start of Lap Nine, and it happened to be whilst running in a secure third position; I'm sure annoyed would be much too less of an understatement. The Radicals driver took slightly too much curb heading through Turn 1 which sent him out wide on to the grass and speared him directly across the track to the inside concrete wall, thus damaging his rear suspension and also tweaking his rear wing.
Mangan was fortunate he was still in the race, especially as the last corner at Road America usually ends in tears if you run off the track. The TNT driver was placed comfortably in third but a slight wiggle on exit as he got the power down shot him to the left and over the grass. He managed to get the car slowed down enough so it didn't spin, but still lost a considerable amount of time and a position to Joni Backman.
Meanwhile Berryman had clawed his way on to the back of Gonzalez's rear wing and was ever so close for five laps before getting a sufficient enough run to pass his competitor. Berryman managed to be within the needed .3s as they exited the final corner on to the start/finish straight to pull level with the German and pass him in to Turn One. Gonzalez didn't seem to put up a fight; possibly knowing that he'd accumulate the points he needed even if he didn't finish first, his aim may have just changed to finishing high up but coming home in one piece, especially knowing that Amico was now out of the context for this race.
The front runners' pit stops began on Lap 18, with Gonzalez and Mangan the first to dive into pit lane. For Mangan the early stop could come back to haunt him considering Backman is known for lengthening his stints a few laps longer than most drivers, and with the overcut working a one stop race can be spiced up by the differing laps of pit stops. Meanwhile, suspected zero stoppers of Loozenoord and Bida powered past the exit of pit lane before Gonzalez was off the jacks.  This staked the two drivers to a sizable lead which could certainly pay dividends come the final few laps where track position would be crucial on worn tires.
Berryman ducked in to pit lane a lap later but – crucially for the Apex Racing UK driver — he exited marginally ahead of the zero stoppers.  This enabled him to have clean air and effectively use the fresh rubber to his advantage to pull away. Backman and Valkeejarvi were the last of the front runners to pit, and considering Valkeejarvi was a couple of seconds behind Mangan come the start of the stops, he'd managed to achieve a sizable gap after the stops had been completed.  What we didn't see was that Mangan overshot his box adding another 2-3 seconds to his actual pit service. But for that and his off track he may not have been all the way down in seventh position.
For Loozenoord and Bida it was a question of holding on to their track position until the end of the race; for TNT's Bida the tire wear had taken its toll and he lost the first of two positions with five laps remaining. Gonzalez was promoted to  third position once again after passing the Israeli at Turn 5.  Nor had the German not given up hope of catching Loozenoord after seeing the rate at which he was catching the Dutchman. Whilst Berryman was nowhere in sight and was on his way to a first place finish, second through fifth positions were still being sorted as they started the final lap. Loozenoord seemed marginally safe in second but Bida was vulnerable in fourth; with Backman right behind he had a hard job to retain fourth and the tire difference showed. The Finn pulled a move off around the outside of Turn 5 to commandeer fourth and ultimately add to his overall points tally for the season. To be fair to Bida, the opportunistic strategy he had chosen had worked to a degree, quite possibly giving him a better race result than he would have enjoyed on a more conservative/predictable strategy.
Berryman garnered 279 points for his victory in the 4543 SOF race, moving him up to third overall for this seasons championship. Surprisingly – or should we say unsurprisingly – Mack Bakkum took a week high 283 points for Week 12; very impressive to say the least, but we'll cover more on the people who achieved a top 15 in another article. Loozenoord arguably achieved the drive of the race: going the distance on a zero stop strategy, he started in eighth and finished in an seriously impressive second place to achieve 255 points! Gonzalez all but safely secured his top 15 spot by taking 232 points – leap-frogging Mangan into the 14th A class driver postion – while Backman came home fourth after overtaking Bida on the final lap.
With 12 weeks in the books, 2015 Season 2 is over. The top 15 A class drivers are sorted, all but ensuring they achieve a Pro license. Current WCS driver Patrik Holzmann put-in a dominant display in all 16 of his race starts, winning 16 and taking pole in each one of those as well. He scored a phenomenal 2297 points finishing 268 points clear of second place, which will be returning Pro driver Pablo Lopez. Berryman took third position overall for the season, but of course the existing Pro drivers in the top 15 are excused for first 15 A class positions. Look out for an article/video review in the next week or two giving a recap of season 2 of the iRacing Grand Prix Series!
---
You may also like...
---