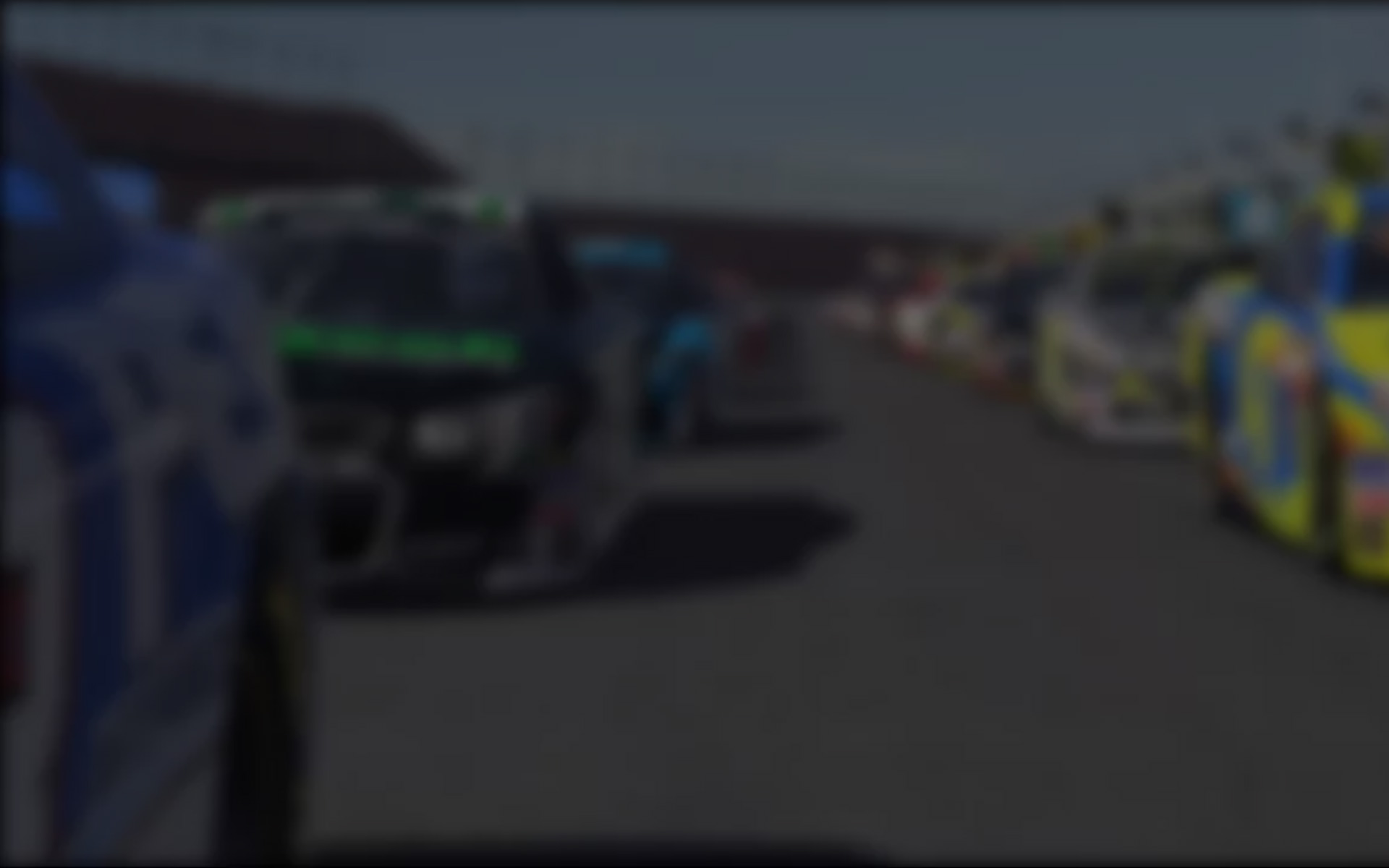 With four weeks remaining in the iRacing.com Sprint Car Series, time was running out for those jockeying for position in the points chase. Defending champion Alan Binder was still on top, over 100 points separating himself and second place; a safe margin by all standards. However, with four drop weeks available for those that race the full season, the separation between gold, silver, and bronze was still to be decided. Could Binder break even more ground in the iRacing record books by winning his sixth championship in a row?
Week 9 featured a stop at the famous half-mile oval of New Smyrna Speedway. Always a track tough to tame for sprint regulars, six official races took place during the week after Christmas. After grabbing the fastest qualifying time, Binder followed up his consistent winning streak by performing the hat trick, capturing three victories during the week out of the four races he ran. In one event, however, it was PJ Stergios who took the checkers after holding off series regulars Joe Quinn and Vinnie Sansone. Binder came in fourth place after mechanical issues plagued his machine.
Other highlights during Week 9 included another double feature from Ronald Williams, as he beat Randall Faulks and Brett Waldrep respectively to win two different races. Fred Lampela overcame earlier troubles in the week to finish second to Binder in Sunday's only official race. Rising stars also shined bright during the week, as Leila Wilson finished second to Binder in the first race of the week, while Kevin Malone found himself with three top 5 finishes to add to an already impressive season. Chet Wheeler's Grave Digger sprint car also performed well, with two top five finishes scored, and his teammate Glenn Cray found himself on the podium with Binder after he placed third on one of Tuesday's events.
A similar track to New Smyrna in build (but not length), the 3/4 mile USA International Speedway was the stop for Week 10. An impressive turnout resulted in eight official races taking place during the week. Back on top in qualifying was Binder once more, only three one-thousandths of a second faster than iSCS veteran Fred Lampela. A full field of drivers came out to race in the top split events at their regular times on Tuesday and Thursday, with only one separating the SOF ratings (3021 and 3022 respectively). Binder was able to snag both wins, making a total of four wins during the week.
Many other highlights were seen in this season's trip to USA, including a win by Steve Linder after leading a pack of 18 drivers for all 50 laps, beating iSCS veteran Scott Green to the checkers. Another Linder was seen in victory lane as well, as Michael dominated his Thursday night feature. Rookie Randall Faulks was also seen doing burnouts at the flagstand after his win on Tuesday, and scored another podium finish with his runner-up result on Thursday. On Sunday, it was a one-two punch from Pro/WC Road racers, as Jeremy Bouteloup found his way to victory lane after battling Petteri Kotovaara for the lead. Both drivers found themselves racing for the top position after Fred Lampela had an incident on the track after leading all 40 laps previous to his crash.
The iSCS blazed on, planting themselves at Irwindale Speedway for Week 11. Being a very popular track within the sprint car community, a total of 130 entries were placed during the week, split between ten races. Topping the charts once again were Binder and Lampela, separated this time by only five one-thousandths of a second. The week started off strong as the highest SOF rated feature was Tuesday's top split (3204). In the event, PJ Stergios was able to capitalize on his second place starting spot as he used the grip on the high side to take the lead away from Binder after the green flag fell. Stergios was then able to take home the win after holding off a determined Binder for all 50 laps. After his loss to Stergios, Binder show he still reigned at Irwindale, and took the checkered flag three times during the week, cementing his spot at the top of the championship standings.
Also at the top of the charts was Dylan Schriner, earning two victories at Irwindale and dominating all combined 100 laps of the events. Michael Linder led a long green flag run on Tuesday, successfully keeping distance from Scott Kelly's pursuit while racing through lapped traffic to win the highest rated 2nd split event of the week. Irwindale was also kind to series regular Mark Hephner, as he found himself on the podium twice with two third place finishes. Fred Lampela found the route back to victory lane once more after winning a strong 9-car feature, while Sansone also took the trip to winners' circle after besting Steve Linder and the Fast Finns (Petteri Kotovaara and Aleksi Elomaa). In a switch from Week 10's final race, Kotovaara was able to beat Bouteloup to a finish that unfortunately ended under the yellow flag conditions.
On the homestretch, the iSCS made their last stop of the season at Lanier. Being the second time the sprints had visited the track in 2012 S4, many drivers had their setups dialed in and ready to go come race day. Sitting on top of the charts was PJ Stergios, as he chalked up the fastest qualifying time of the week with a 12.562s fast lap. Sansone was seen not far behind; in fact, only five one-thousandths behind. With two gridded entries and one official race more than last week's visit at Irwindale, the action at Lanier was sure to be full of excitement, as veterans and rookies alike battled for the rare achievement of winning an official iRacing sprint car race.
Racking up the most wins during Week 12 was Fred Lampela, winning three hard-fought features, including holding off Kotovaara in Sunday's highest SOF event. "Petteri was right there pushing me at the end, but [I] was able to finish without any big mistakes and hold on," said an elated Lampela. "This season was the best yet for me, and the competition is getting tougher all the time."
"This season was the best yet for me, and the competition is getting tougher all the time." – Fred Lampela
Also taking the trip to victory lane in the week's main events was Sansone, who dominated Tuesday's first event by leading all 50 laps, finishing ahead of the second place machine of Michael Linder. Stergios came back after a disappointing run on Tuesday to best Sansone in the week's highest SOF event (3406). Ronald Williams and Glenn Cray were also seen taking the checkers while running in the lead position. Larry Landry held off series veteran Chet Wheeler Jr. to put another win in his sim racing resumé as well, with names such as Jon Watson, James Lamb, and James Stone rounding out the top five respectively. While running a part-time schedule in 2012 S4, Matthew Pilus stormed Lanier and was seen winning not just his first ever sprint car race, but following that one up with another trip to winner's circle in the race immediately following his inaugural victory.  Pilus wasn't the only one to discover the location of victory lane; Jacob Fredriksson also scored his first sprint car win in the last official sprint car race of the season after holding off Michael Lampela by less than half a second at the finish line. "I had the best week of my sprint car career at Lanier!" Fredriksson was heard stating in post-race celebrations. "It was the win I have been working the hardest for in my entire iRacing career."
"It was the win I have been working the hardest for in my entire iRacing career." – Jacob Fredriksson
As fans of the iSCS may have noticed, the famous flames of Alan Binder's Beast did not make the trip to Lanier National Speedway. Binder was already prepping for next season, as he successfully captured his sixth consecutive iRacing.com Sprint Car Series championship during Week 11. Although Binder was in a safe zone, PJ Stergios did close the gap on Binder, and finished 45 points behind him. Vinnie Sansone completed the top three, 90 points behind Binder.
With a change in scheduling times for the iSCS allowing for official races to take place every day, along with the addition of many new faces, Season 1 of 2013 is sure to be filled with even more thrills and wheel-to-wheel action that the sprint car came to be known for on the service. A schedule showcasing driver-favorite tracks ranging from bullrings such as Oxford Plains to banked ovals like Iowa will be sure to provide not only drivers with endless excitement, but spectators as well. Tune in next week to iRN to see what happens when iRacing kicks off their first 2013 season of the iSCS!
2012 S4 iRacing.com Sprint Car Series Championship – FINAL STANDINGS (Top 10)
1. Alan Binder (1511)
2. PJ Stergios (-45)
3. Vinnie Sansone (-90)
4. Fred Lampela (-137)
5. Joe Quinn (-263)
6. Steve Linder (-311)
7. Garry Loney (-438)
8. Michael Lampela (-468)
9. Petteri Kotovaara (-489)
10. Kevin Malone (-513)
2012 S4 iSCS DIVISION CHAMPIONS
Div. 1 – Alan Binder
Div. 2 – Steve Linder
Div. 3 – Michael Willard2
Div. 4 – Michael Linder
Div. 5 – Glenn Cray
Div. 6 – Mark Hephner
Div. 7 – James Stone
---
You may also like...
---