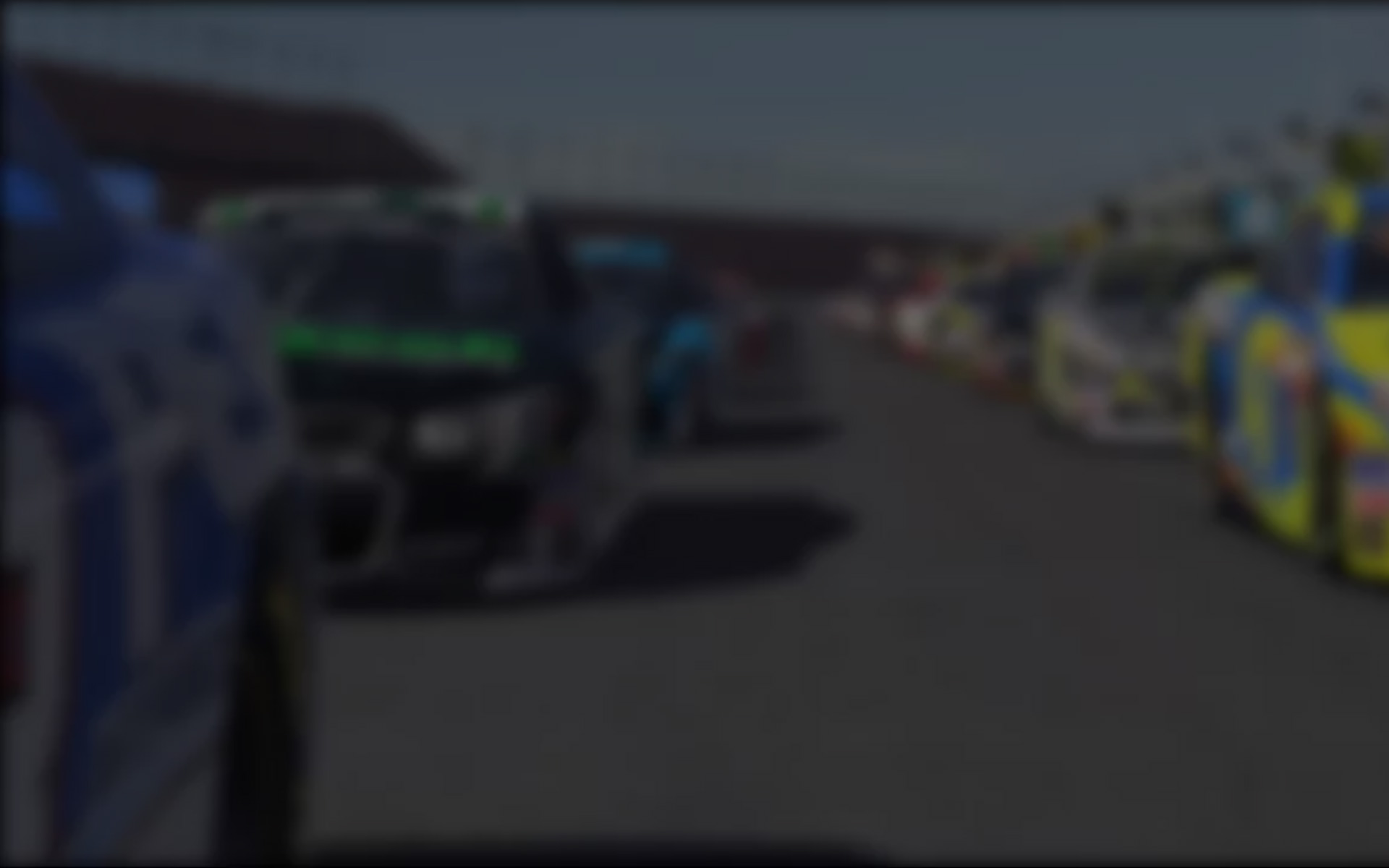 The sprint car: once you see them, you'll never forget what they look like. Popular in the United States as well as Australia, New Zealand, and Canada, the sprint is an absolute monster, packing 820 horsepower in a 1475 pound car that essentially appears to be a roll cage with four tires. Sporting a power-to-weight ratio close to that of a modern F1 machine, the sprint car is far detached from a normal racing vehicle. By having no clutch, transmission, battery, or onboard starter, the driver is required to start the car using a direct-drive system and a tow truck to get it rolling. Once it's going, however, it's hard to stop. With a 410 cubic inch, push rod engine allowing the car to churn its fastest laps, driving the sprint is one of the most challenging jobs a driver can have in the iRacing.com service. However, that doesn't stop the iRacing.com Sprint Car Series veterans from coming back for even more for Season 4 of 2012.
As the sun rose on the new season, Week 1 found itself back in a familiar proving ground – Phoenix International Raceway. With roots in USAC history, Phoenix has been the first stop on the iSCS tour for quite some time now, emulating a Daytona-esque reverence from its series contenders. Rolling into the inaugural events of the season, the favorite was once again Alan Binder, who was fresh off of winning his fifth iRacing.com Sprint Car Series championship in a row, as well as his sixth straight time trial championship. Leading a record-breaking 103 gridded entrants for the week, Binder's fastest qualifying lap came in at 25.306s. The fastest qualifying time at the real track was set in 2011 by Carl Edwards in his Ford Fusion at 26.224s. At almost a full second faster than a premier NASCAR competitor, one can get a grasp at just how fast these sprint cars can be, and how quick Alan Binder is behind the wheel of his favorite race car. Also to be commended is Fred Lampela, who started off his season with a 25.357s fast lap, hoping to capitalize on the good fortune that a lap that fast can bring.
On Tuesday, the green flag officially dropped for Season 4. A split was seen as 23 cars found their way to the preferred time slot of the series. Leading the first split, which was the top SOF race of the week (2549), was none other than Alan Binder, who led every lap of the 40 lap feature and found his way to victory lane for the first time this season. Behind him, a battle waged for second place between three drivers – series veterans Steve Linder, Tom Downey, and Leila Wilson. Finishing less than half a second away from each other at the finish line, it was Linder who snagged second place, beating Tom Downey by an extremely slim margin. Leila Wilson, coming off of her first full season of the iSCS, placed her first top 5 of the season in fourth place, while Marcus Dean completed the top five.
In the second split, nobody could have predicted the outcome of the event. When the green flag dropped, it was series veterans Brett Waldrep and Scott Kelly who took off to battle for 20 laps. Kelly tried multiple times to get around the loose machine of Waldrep, and finally found the hole he needed on lap 20. However, Waldrep lost control of his sprint on the high groove, and tagged Kelly, spinning both cars around and collecting Michael Linder and Paul Mepyans. With many cars sporting damage, it was Chet Wheeler who came through the smoke to take the lead. As the last restart commenced, Wheeler held off a damaged machine of Eddie Walczyk and Douglas Berryman to pull off a feat not many have accomplished on iRacing; taking the checkered flag in first place, after starting in last (11th).
With his famed Grave Digger machine in victory lane for the first time, Wheeler was ecstatic. "Berryman and Walczyk were right behind me and I knew they were fast. [W]hen the green flag dropped with 15 laps to go I knew I had to drive the "Grave Digger/Von Ehrics" car to its limit each remaining lap. What can I say except there's nothing like winning a Sprint car race. I still haven't come back down to earth yet."
"There's nothing like winning a Sprint car race. I still haven't come back down to earth yet." — Chet Wheeler
Walczyk would finish the race in second place, with Berryman in third. Joey McLaughlin completed his run in fourth place, still within a second of the leader Wheeler. Lew Ingalls completed the top five.
A rarity in the world of sim racing occured, as the iSCS experienced a "rain delay" when the iRacing.com servers were shut off for emergency maintenance. After the clouds passed, it was back to racing at Phoenix. 18 drivers packed the grid for another 40 lap shootout with Binder leading the field to the green once more. On lap 15, a nasty incident occurred after Edwin Jones lost control of his machine exiting the infamous Turn 2 and turned into Scott Kelly, sending Kelly's machine spinning down the track and into the grass. Behind them, Peter Bennett tried to avoid the mayhem by choosing to go low, but instead collided head-on with Kelly's machine, abruptly ending both of their nights.
"It's really frustrating how this stuff works out," said an exasperated Kelly. "My last season started this way as well, but I know the bad luck can't last forever. Going to take next race off and prepare for Iowa and we'll go get em there. No bad feelings towards anyone this week – we all know how hard these cars are to drive."
The bad luck wouldn't be experienced by Alan Binder, who once again took the checkered flag in the top spot, less than a second ahead of Fred Lampela. An extremely exciting duel was seen for the third place spot between multiple drivers. In the end, it was Steve Linder taking his second podium finish of the week in third, with Dayton Gank and Eddie Walczyk rounding out the top five respectively.
With the new iRacing points system in effect, Sunday was the last chance to score big on points for the first week of the iSCS season. Because of this, a total of four races were witnessed. In the race with the most entrants, Alan Binder returned to dominate the 17-car field in his traditional style. After Michael Lampela slammed the wall in Turn 4 on lap 38, the yellow was shown and the race was completed under caution, giving Binder his third win of the week. Anthony Roselli finished in second place, and Steve Linder ended up in familiar territory with another podium finish in third. Brett Waldrep effectively erased his Tuesday finish with a fourth place, and Ron Hilling was scored in fifth.
In a brilliant showcase of driving skill, another race on Sunday featured a memorable battle between PJ Stergios and Aleksi Elomaa for the lead. It started rocky on Lap 1 after Elomaa almost lost control coming off of Turn 4 and barely missed Stergios' machine. After the drivers regrouped, it was side-by-side racing for multiple laps, both drivers not willing to give an inch. In the end, it was Elomaa who held off Stergios for the win. Stergios finished .193s behind Elomaa. The drivers almost split the laps led between each other, with Elomaa leading 18 and Stergios 16.
"Awesome side by side race with Aleksi for the last race of the week," said a congratulatory Stergios. "We swapped the lead more times than I can count racing hard, but I just didn't have enough for him at the end."
"Awesome side by side race with Aleksi for the last race of the week." – PJ Stergios
Brett Waldrep scored a podium finish in third place, while series veteran Petteri Kotovaara finished in fourth. Newcomer Teemu Iivonen drove it home safely for a fifth place finish.
Kotovaara also found himself in victory lane in one of the many races held on the last day of the race week. Elomaa and Binder would go on to win once more on Sunday, adding to their win totals for the week. It's no surprise then to see Binder leading Elomaa in the championship standings by only 4 points at the end of Week One. With participation at a new high and the points structure allowing for more races to be held, Season 4 of 2012 should prove to be an exciting one. Who will come out victorious in Week 2 when the Sprints take to the short track of Langley Speedway? Find out soon on iRN!
iRacing.com Sprint Car Series Championship Standings
1. Alan Binder (156)
2. Aleksi Elomaa (-4)
3. Steve Linder (-15)
4. PJ Stergios (-23)
5. Fred Lampela (-28)
---
You may also like...
---