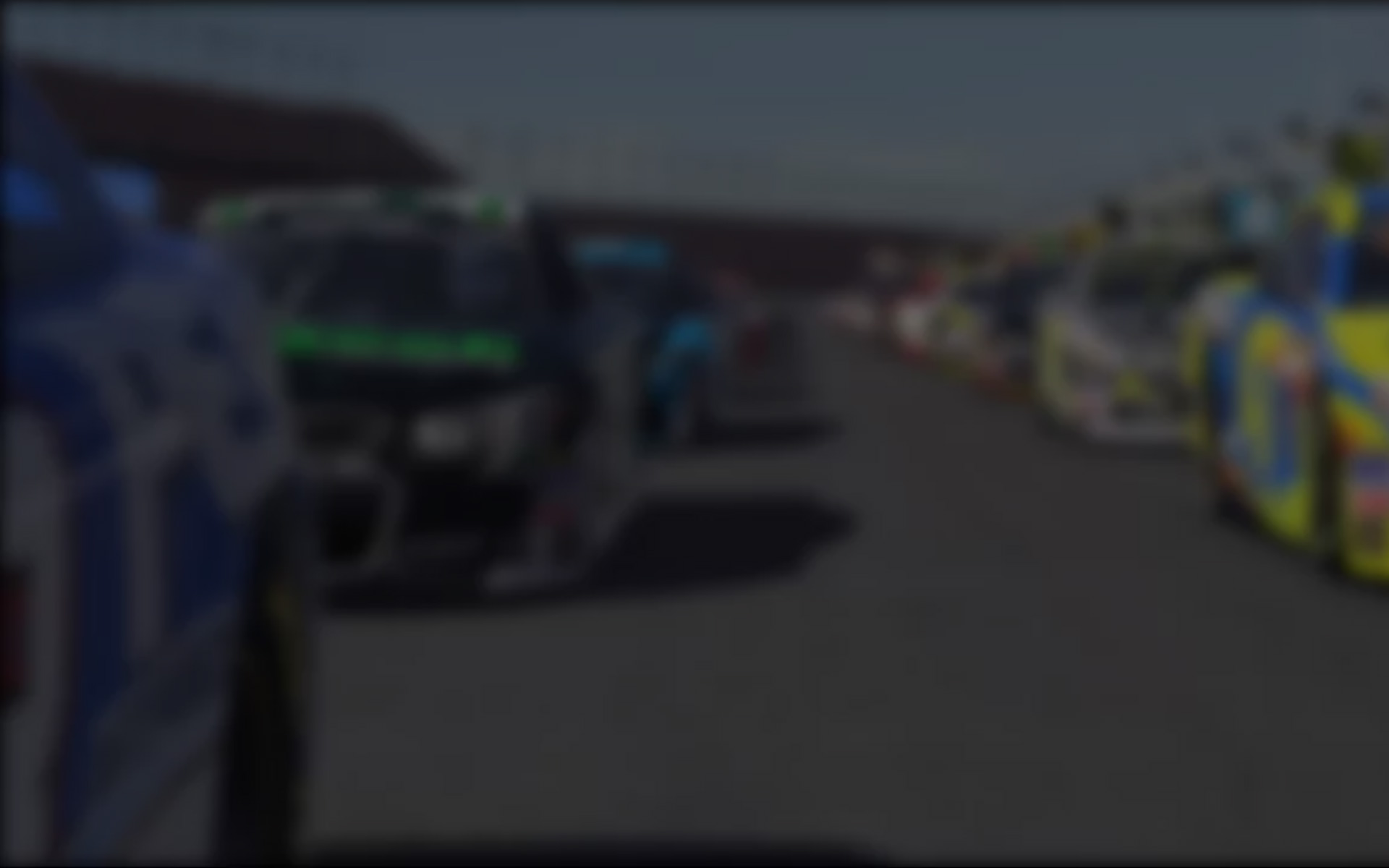 Langley Speedway is the newest track to grace iRacing's oval catalogue. Released last season, Hampton, VA's famous .395 mile bullring is one of the flattest tracks in the region. Six degrees of banking ensure that any driver who ventures on-track will be hard-pressed to find the right amount of grip to succeed. The iRacing.com Sprint Car Series' inaugural visit marks the first time any sprint car – real or simulated – has raced at Langley. iSCS drivers were confronted with making brand new setups for their sprints, and a fair amount of testing occurred during the week. Defending iSCS champion Alan Binder, who came away from Phoenix with the points lead and two wins under his belt, was already the favorite to win, judging from his previous performances on similar tracks.
The first world records for the sprints at Langley were set this week, as 54 entries were placed in four events. Once more Fred Lampela proved it's better late than never, as he topped the qualifying times late in the week for the second week in a row to secure the pole position for Sunday's event. Lampela edged-out Binder's time by two one-thousandths of a second. Because his time was set later in the week, Binder had the pole position in the top split races on Tuesday and Thursday.
Tuesday marked the iSCS's Langley debut. For fifty laps, fifteen sprints attempted to tame the flat six degree banking of the track, which proved to be quite slick for some who had worn their tires out too quickly. It was here when controversy struck – multiple cars spun and collided with others, but the caution flags, which are important for gaining track position and taking breathers in fierce short-track battles, were nowhere to be found.
Scott Kelly, was one of the victims of Langley's slippery surface, sounded off about the situation: "I ran too hard to catch-up to the lead pack and paid the price – spun out right in front of the flagstand. I found myself facing traffic and there was no way to safely get back in the race, thanks to the absent-minded flagman. I hope iRacing officials take a look at the situation we went through this week, because we need a working flagman here next season."
When the checkers flew, it was Binder who blasted through the smoke to win the first ever sprint race at Langley, a full seven seconds ahead of second place finisher Joe Quinn. Steve Linder again showed potential for a future sprint car championship by finishing third. Tom Downey came home in fourth ahead of James Tabler.
The thunder rolled back in to Langley on Thursday for the week's most populated and strongest Strength of Field event (3340). A split was seen as 28 cars took the green flag. In the top split, a new sprint with a familiar name was seen taking the checkers — Binder, sporting a new monochromatic flame livery, christened his new Beast-sponsored ride with a visit to victory lane by holding off a hard-charging Vinnie Sansone in the closing laps. Sansone kept pace with Binder, finishing .5s behind the winner while Fred Lampela showcased a strong first run at Langley by finishing third. Series veterans Brandon Buchberger and Scott Green rounded out the top five respectively.
Sansone wasn't upset with his run, but was disappointed with the lack of cautions once again. "After some hard fought laps for 2nd, [I] tried to go get Alan, but [the] car went away after gaining some [positions] and settled for runner up once again to the champ," he said. "Sucks to see race control go to sleep this week… I'm sure it gets fixed for next season but hate it for some guys it affected this week… Who knows what would happen on restarts at that place."
In the second split, it was another familiar face pulling into victory lane once more. Linder captured his second win of the season, dominating all 50 laps of the online race. Douglas Berryman finished a close second, only .2s behind Linder while Leila Wilson scored another impressive run for her iSCS rookie season with a third place finish. After four straight races of disappointment and bad luck, Kelly finally scored his first top five for the season with a fourth place finish, with Oscar Buxonat rounding-out the top five.
On Sunday, the sprints returned for the last time to the caution-free Langley Speedway. Fred Lampela led the 11-car field to the green flag and remained out front in the opening laps.  However, Lap 13 saw Lampela's sprint lose grip and spin, collecting PJ Stergios, who was running in second at the time.
"I got a good first lap or two, but then everything seemed to fall apart," said a disappointed Lampela. "I was fighting the car on every lap. I finally spun coming out of 2 [and] collected PJ in the process. Aleksi moved past us… I think I could see him smiling as he drove by."
And smile he did. Aleski Elomaa led the rest of the event and captured his first win of the season, breaking a five month winless streak. Excited about his win, Aleski did give credit to teammate Petteri Kotovaara.
"I think I could see (Aleksi) smiling as he drove by." — Fred Lampela
"Petteri sent me a setup just before the start," he explained. "Got by [him] early on and started to catch Fred and PJ. I was running much faster than before the race, which might be because I had much better setup, and could run pretty consistent lap times. Finally got a win in these cars after no wins last season as I managed to throw-out every chance I had."
Jake Stergios kept it clean and brought home his sprint in second place ahead of Wilson, who landed her second consecutive third place finish of the week. Kotovaara had an early spin after starting in fourth place and dropped back to last, but charged back to finish where he began, while Michael Willard2 completed the top five.
Leaving Langley, Binder sits atop the iSCS championship with 414 points, leading Sansone by just 32 points.  Lampela moves-up two spots to third place, 83 points behind Binder, with Elomma and Quinn not far behind.
Next week, the iSCS makes their return to Stafford Motor Speedway for more excitement. Will Sansone finally beat Binder to the checkers? Tune in next week to iRN to find out!
2012 iSCS S3 Standings
1. Alan Binder (414)
2. Vinnie Sansone (-32)
3. Fred Lampela (-83)
4. Aleski Elomaa (-98)
5. Joe Quinn (-111)
---
You may also like...
---