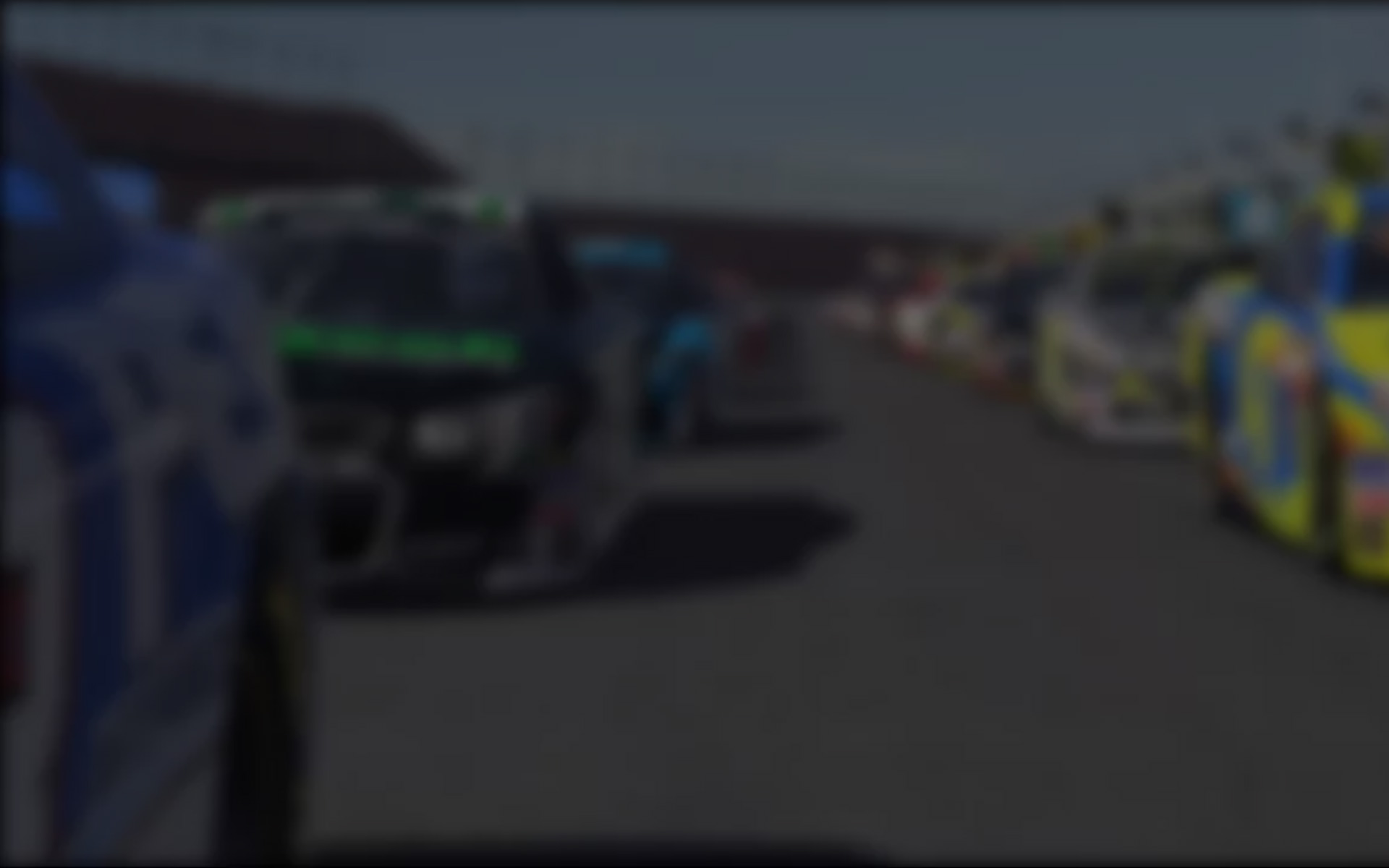 By being the oldest operating motorsport facility in the world, The Milwaukee Mile has its fair share of history with USAC and sprint cars. It's only fair, then, that the iRacing Sprint Car Series devotes a week in their schedule to this historic track. Featuring long straights and flat, tricky turns, "The Mile" isn't for everyone, especially with the sprint car. However, veterans in the iSCS know how to make this track work for them, and the action seen in Week 7 of Season 4 would only serve to prove that fact.
91 entries were placed during the five time slots that went official during the week, and 44 drivers set qualifying times. At the top of the charts, it was Alan Binder once more, etching a new fast time into the iRacing.com World Record databases with a 26.794s lap; two tenths faster than the next fastest driver's time in the record books. Fred Lampela, coming off of a hot week at Bristol, had the second fastest qualifying time at Milwaukee with a 26.924s fast lap.
The iSCS sprint cars began their chase on Tuesday, as Alan Binder led the top split of thirteen cars to the green flag. However, the green soon turned to yellow as Steve Linder dove too low into Turn 1 and lost control, collecting Douglas Berryman. Series regulars Michael Willard and Brett Waldrep were also involved. After clean-up, the green flag waved on the restart, and Binder began to put distance between himself and the rest of the field. Thankfully, the Lap 1 caution was the only incident in the event, and a long green flag run was witnessed. PJ Stergios, who started on the outside pole, began to reel in Binder. However, Binder and his Beast are not known for making mistakes, and when the checkered flag fell, it was Binder crossing the line first, separated from runner-up Stergios by .215s. Garry Loney scored himself a podium finish with his third place run. Michael Lampela finished in fourth position, and Steven Hunter completed the top five.
In the second split, Randall Faulks led a 13-car field to the green flag. As the race progressed, it was clear that Faulks had the car to beat. On lap 16, trouble struck rookie Rockie Piccione as he clipped the wall on entry into Turn 1, totaling his vehicle and damaging third place runner Ronald Williams' car. After the restart, this left Scott Kelly to battle Faulks for the lead. As the laps wound down, Kelly began to catch Faulks, but eventually ran out of time. Faulks would collect another win in his memorable rookie season, finishing .975s ahead of Kelly's machine. Robert Sklenka finished in third place, and Larry Landry fought from seventh to finish fourth. Brian Williams completed the top five.
Another race was made official on Tuesday as a field of eleven cars came out for an encore event, and it was Binder back out in front of an experienced assortment of drivers. Two yellows were seen during the 40-lap race, but when all was said and done, it was Binder leading every lap and capturing his second win of the night, blowing away the rest of the field. Michael Willard2 came in second, eleven seconds behind Binder. Todd Taylor2 collected a podium finish by finishing third, and Steve Linder, recovering from an early incident, limped home to a fourth place result. Matt Anderson came from ninth place to finish fifth.
The sprints returned to The Milwaukee Mile on Thursday with more practice under their belts, making three races "official" points events that night. In the top split, Binder once again led the sprint car pros to the green flag in the biggest SOF event of the week (3233). Two cautions were again seen; once for Michael Clement after he off-roaded his sprint on Lap 1, and once for Dustin Herner on Lap 24. Names such as Sansone, Stergios, Buchberger, Lampela, and Linder were all seen racing close behind Binder, waiting for their chance to pounce. In his usual fashion, however, all 40 laps were claimed under Binder's name as he achieved the hat trick performance of the week, winning his third feature win at Milwaukee. Stergios and Sansone completed the podium respectively. Brandon Buchberger placed fourth, edging out Fred Lampela who finished fifth.
Douglas Berryman was seen on point when the green flag dropped in the second split event. On Turn 1, however, trouble struck again as a multi-car incident involving Michael Linder, Daniel Muse, and Brett Waldrep took place. After the remaining racers regained their composure, a battle for the lead was seen between Berryman and Jonathan Sykes2, who was suffering from intermittent internet connection issues. Berryman successfully held off Sykes to win the event. Randall Faulks drove his sprint to a podium finish with his third place result. James Lamb and Scott Kelly completed the top five respectively.
The night wasn't over yet, and neither was Binder's reign over Milwaukee. Nine racers came out for one more race on Thursday, and surprising no-one, Binder once again visited victory lane, celebrating his fourth win of the week. Fred Lampela finished in second, while Kevin Malone completed the podium in third. Matthew Shanks and series veteran Glenn Cray completed the top five respectively.
With the week winding down, Sunday was all that remained for drivers looking to gain more points in the chase for the championship. With Binder taking the day off after a very productive week, someone new would be visiting victory lane after 40 laps of high-speed wheel-to-wheel action. Starting from the pole, Vinnie Sansone held off the Fast Finns of Aleksi Elomaa and Petteri Kotovaara to lead all 40 laps, earning his win in the last race of the week. Elomaa and Kotovaara finished second and third respectively, crossing the finish line less than a second behind Sansone. Steve Linder drove his sprint to a fourth place result, while series veteran Joe Quinn completed the top five.
Deservedly, Alan Binder holds the championship lead by over 100 points after Week 7. Next week features the famous Concord Speedway, a three-turn oval that is new experience for a good portion of the iSCS regulars. Will Binder continue his reign in his chase for his sixth consecutive championship? Tune in soon to find out on inRacingNews!
iRacing.com Sprint Car Series Championship Standings
1. Alan Binder (1206)
2. Fred Lampela (-116)
3. PJ Stergios (-119)
4. Vinnie Sansone (-372)
5. Garry Loney (-409)
---
You may also like...
---