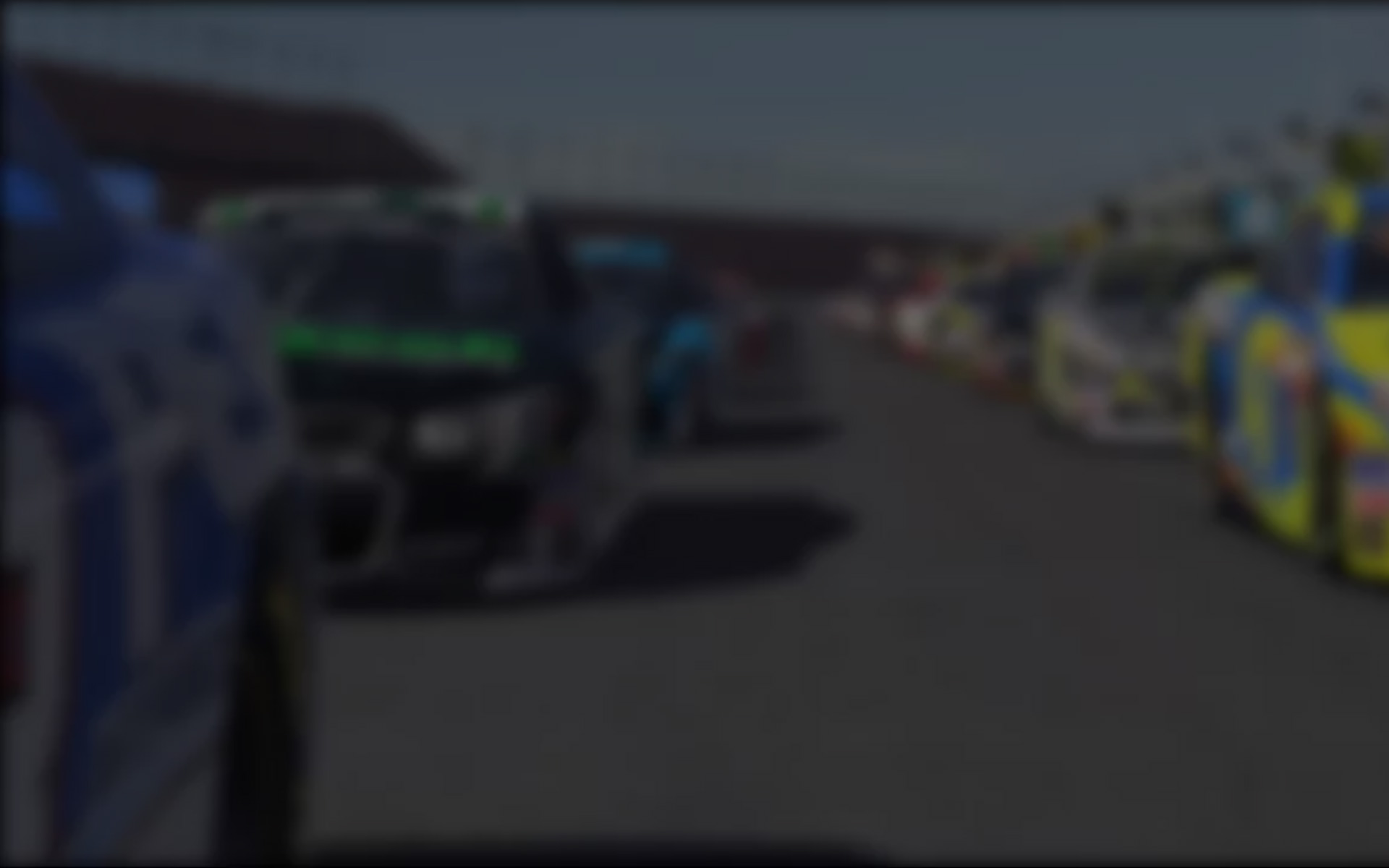 The iRacing.com Rookie Street Stock Series made its first visit of many to Charlotte Motor Speedway this week. The only draft track of the iRacing Street Stock series posed a challenge to some drivers, while others excelled greatly in races this week at the 1.5 mile quadoval. This week saw some great two-wide — and sometimes three-wide —  online racing, but also saw some spectacular crashes.
The highest Strength of Field race occurred on Saturday, with an SoF rating of 2106. The race saw Alex Bisson (New England) lead all twenty laps in his sixth race — and sixth win — of the week. The race turned out to be a close finish, though, as Ben Lykins (Indiana) finished a close second, only .025 seconds behind Bisson. This win provided a nice 131 championship points to Bisson.
This week, 1746 drivers competed in Street Stock action with 301 of them were able to secure a race win.  One hundred and fifty-six of the sim-racers in competition this week hailed from Club Australia/New Zealand, as drivers from 34 different countries took the green flag on a race at Charlotte.
The "Mark to beat" (pun intended) in qualifying was set early in the week by Mark Robert Gray (Australia/NZ) as he toured the speedway with a time of 36.718s. The time held up all week, although challenged by one one-thousandth of a second by Andre Gallardo (Brazil). However, the Time Trial of the week would go to Gallardo, who achieved an average of 36.539 seconds over a ten lap span. The "Iron Man" award for this week goes to Jo Harris (Florida). Harris competed in eighty-one races this week winning ten of them, putting him tied for 20th in points.
Otis Talbert (Atlantic) put himself  atop the championship race by competing in three races at Charlotte, winning twice. He was able to earn 124 points in a race, even while sustaining a 4x incident point for car contact. Talbert went on to another race win after that, and keep himself on top of the standings.
Gary Perry (Canada) moved into second in championship points by winning ten of his nineteen races at CMS. Although Perry competed in more races than the point leader, he kept up his mark of consistency, as his average starting position at Charlotte was first and his average finishing position was third.
Bisson found a way to be third in the championship standings for the week, competing in six races and winning all of them, including the Strength of Field race at Charlotte. Bisson led an amazing percentage of laps, crossing the line first on 114 of his 120 laps this week . . . all this while accumulating zero — that's Z-E-R-O — incidents. What a great performance by these top three drivers!
After Week 1, the top 10 in championship point standings look like this
1)    Otis Talbert (Atlantic)                124
2)    Gary Perry (Canada)                  -1
3)    Alex Bisson (New England)        -2
4)    Lorenzo Zwaenepoel (Benelux)    -4
5)    Ben Lykins (Indiana)                   -7
6)    Christopher Hensley (Michigan)   -7
7)    Nathaniel Martin (Michigan)         -8
8)    Sam Katakouzinos (Australia/NZ) -9
9)    Gage Rivait (Canada)                 -10
10)  Kent Stephens (California)          -11
Congrats to all of the Street Stock sim-racers after a great week at Charlotte, and good luck next week taking on the .75 mile in Lakeland, FL, USA International Raceway!
---
You may also like...
---