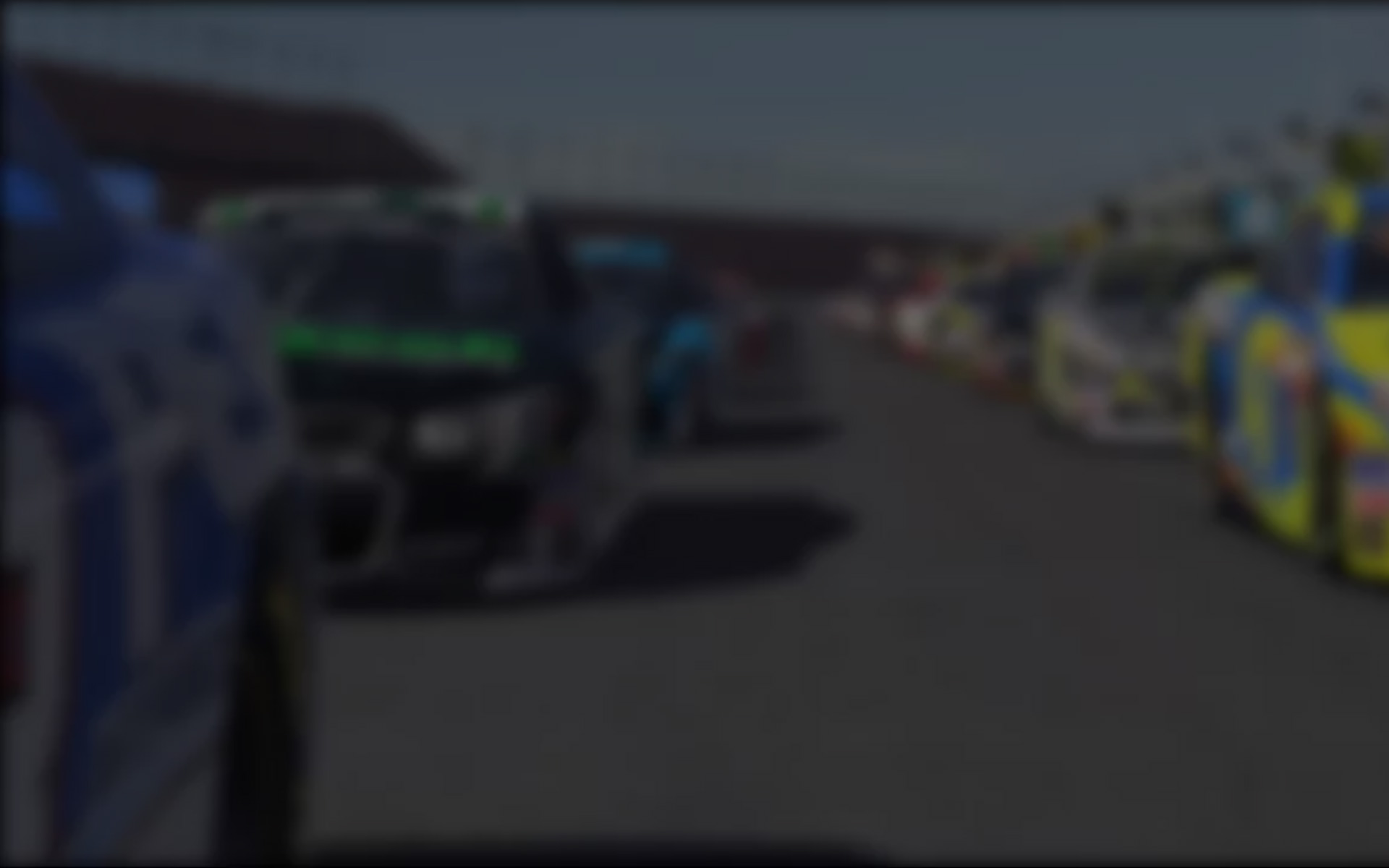 Deadzone Racing's Allen Boes is best known as a legitimate threat to capture victory at any oval track the NASCAR iRacing circuit visits.  However, last night for the iRacingLive televised NASCAR iRacing.com Class B Series Open top-split sim-race at the virtual Watkins Glen International, Boes morphed into a road-course ace and won the caution-free affair in dominating fashion, amassing his fourth televised iRacing win of the year.
"All week in practice I felt like we had the car to win," Boes stated after the race.  "And I think we showed it tonight."
"All week in practice I felt like we had the car to win. " – Allen Boes
He "showed it" by not only leading the field to green from pole position, but also maintaining the point for all 41 laps.  Boes crossed the virtual start/finish line a comfortable seven seconds ahead of second place finisher, PJ Stergios.
Stergios, of Last Row Motorsports, lined-up his virtual Ford Mustang outside front-row and was uncontested for the runner-up position throughout the entire race.  Although he fell short of claiming victory by one position, he still made a strong statement about his digital road-course skills; finishing 11 seconds ahead of third place runner, Michael Conti.
"I kind of messed up the start there," the Last Row Motorsports driver told iRacingLive's Tim Terry after the race.  "But I don't think it would have mattered.  I didn't have anything for him (Boes) anyway.  So hats off to him."
Decorated iRacer and frequent iRacingLive guest analyst, Michael Conti, had a determined run and finished third.  After the race he admitted the team wasn't able to find the right balance in the setup but still had a "fun" time working traffic and salvaging a good finish.
"A third place in a split like this is really cool," he expressed after the race.  Conti, who started 16th, gained 13 positions during the course of the race; making him your iRacingNight "Biggest Mover of the Race."
Although the race went caution-free, a few sim-racers still found themselves in problematic situations.
On Lap 13 – while charging through the field – Danny Hansen pulled to the inside of Devin Janikowski and attempted to overtake.  As the pass-friendly first turn challenged the sim-racers to drive in deeper, contact was made and the pair simultaneously pirouetted out of control.  Once they were able to gather their virtual machines and get pointed in the right direction, tempers appeared to flare and the pair exchanged virtual door-slams up the hill through the Esses.  Janikowski wasn't able to overcome the incident and finished 25th.  Hansen was more fortunate.  He finished P14,, up seven positions from where he began the race.
A lap later and Turn One proved to be problematic once again.  This time on corner exit; Chad Harnar made slight contact with the digital rear bumper of Michael Guariglia, sending his Chevrolet Camaro head-first into the left side barrier.
Staring at the unlucky side of the coin, series point leader, Victor Bartlett, had nowhere to go and plowed into the driver's side of Guariglia's Chevy; Bartlett went on to finish a disappointing 22nd.  Although Bartlett had problems, second place runner in the standings, Michael Vanosdol was unable to make much of a dent in the massive 411 point advantage his rival enjoyed entering the race: Vanosdol struggled and finished 20th.
The pit-window to make it to the end of the race opened up on Lap 19, and Conti was the first of the front-runners to hit pit-lane for service.  A lap later, it was leader Boes' turn to make – for what was this week a hard right-hander – and bring his virtual Chevy Camaro to the attention of his crew.  In just a tick over 13 seconds, Boes received fresh digital Goodyear Racing Eagles and rejoined the race.  After pit-stops cycled through, Boes still found himself in complete control of the race and lead second place, Stergios, by six seconds.
With 14 to go, Dylan Jones misjudged the rumble strip on the exit of the Bus Stop, dropped his right side rubber onto the grass, and looped it into the right side barrier.  Jones was running seventh at the time of his spin, and finished 16th.  A disheartening conclusion to his race after the young Wisconsinite looked to be en route to a strong top-10 finish.
With six laps remaining, Boes did not have any challengers, but back in the pack, positions were still up for grabs.  The climax to the fourth place battle commenced when Logan Clampitt locked up his brakes and almost spun-out entering Turn 10.  It was enough for Anthony Kernich to pull-away and hold onto the fourth position, while Clampitt had to be content with a top-five.
Two weeks ago Richard Hollyday hoisted the virtual trophy after the televised Class B Open race at Indy.  With his winning post-race interview holding optimistic sentiments towards the upcoming series' digital road-course races, some had him as the pre-race favorite at The Glen.  Albeit unable to continue on his winning ways, Hollyday and his BBH Motorsports- prepared Ford Mustang had a solid day, finishing sixth ; an improvement of two positions over where he started the race.
Jacob Harberts caught a piece of Jones' earlier incident but was unaffected by the cosmetic damage; he finished seventh.  Ryan Borges completed a last-lap-pass to take eighth ahead of Ryan Lowe while Joshua Chin rounded-out the top-10.
Next Tuesday night for the iRacingLive televised event, it will be the NASCAR PEAK Antifreeze Series taking to the virtual Watkins Glen International.  Many of tonight's top-finishing sim-racers are slated to take part.  When asked what he thought his chances were for adding to his televised win count, Boes had a simple answer: "Hopefully it's above fifty-percent.  That would be great."  Boes also revealed that a new paint-scheme dubbed "The Dixie Twister" is in the works and will be debuted on his virtual Chevrolet SS next week.
Be sure to tune in to iRacingLive next Tuesday, August 11th at 8:45 Eastern Time to see if Boes and "The Dixie Twister" can complete back-to-back wins and continue to blow away the competition!
---
You may also like...
---