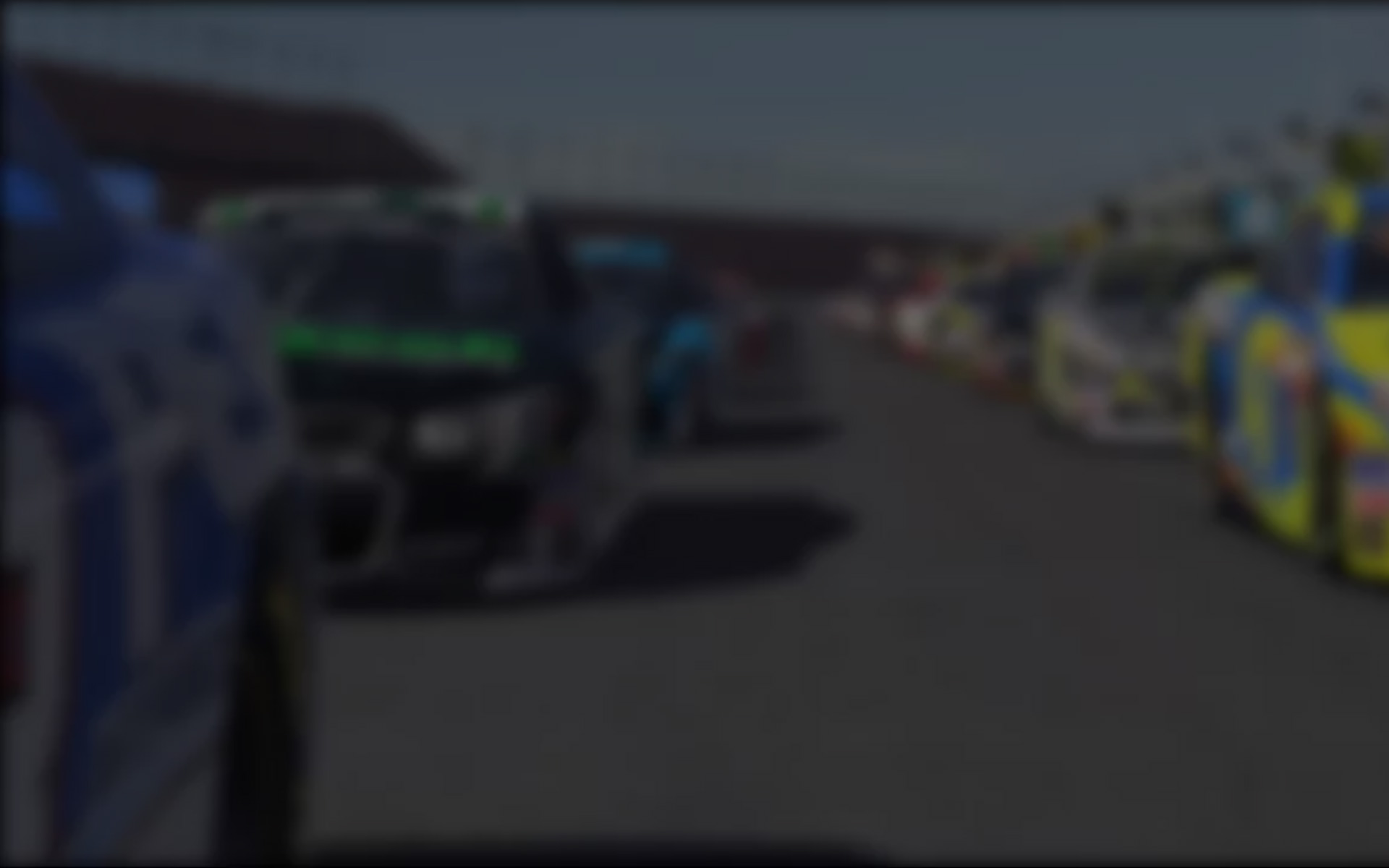 The third round of the iRacing.com Road Pro Series brought the virtual Williams-Toyota FW31s to the 13 turns of the Indianapolis Grand Prix circuit in its bid to source 25 new entrants for the 2013 iRacing.com World Championship Grand Prix Series. Securing his first ever victory of the iRPS was Enzo Bonito, who put on a nearly flawless display to dominate the 73 lap online race in its entirety. Fortunately for the Italian, his start at the front of the 29 car grid meant he missed out on the opening lap carnage that marred proceedings at the virtual Brickyard.
After qualifying on pole with a time of 1:05.960, ineX Racing's Bonito maintained his spot at the front even as behind him several cars found themselves embroiled in collisions within a few seconds of the green flag. After making a good getaway from the line, Radical Racing's Paul Ilbrink approached the tail of Max Dell Orco, who was making his first appearance of the season. But as Ilbrink moved to the left of the Italian, Dell Orco's car inexplicably veered in the same direction and set off into a spin. Ilbrink attempted to take avoiding action, which put him directly into the path of Ryan Terpstra, who had nowhere to go and collided with the Dutchman. A moment later, Dell Orco was finishing his spin at the same location as Terpstra and Ilbrink, which sent him back into the path of traffic in the middle of the circuit. Desperately trying to avoid Dell Orco's wayward car, Vasily Zaitsev darted to the right and tagged Fabio do Carmo, who was able to recover and get his car to the finish, despite sustaining damage in the process.
Meanwhile, as the field negotiated Turn One, Samuel Libeert's contact with Davy Decorp's left rear wheel sent the Frenchman into a 360 degree barrel-roll, before coming to a rest on the outside grass of the second corner. Miraculously, Decorps was able to get back to the pits, take repairs and rejoin the race to secure an eventual twelfth place finish. Libeert was not so fortunate, with the Radical's sim-racer retiring early in twenty-fifth.
Elsewhere, Aleksi Uusi-Jaakkola who had held a 100% winning record in the series to date, misjudged his braking into Turn Six and tagged Mogar DG Filho. The resulting suspension damage to Uusi-Jaakkola's Williams-Toyota saw the Finn retire immediately, whilst Filho was able to limp home to the finish twenty-first with a severely damaged rear-wing, albeit four-laps down.
As confusion reigned supreme behind him, Bonito was carving out his lead, with Emil Spindel and Richie Stanaway in tow after gaining immediate promotion following Filho's incident. Within a handful of laps Bonito had established a lead of nearly two-seconds, the same margin Spindel carried over Stanaway. By the time the Italian headed to pit-lane for his first stop for fuel and tires on lap 26, the margin was up to four seconds.
Settling into a comfortable pace for his second stint, Bonito was able to improve his advantage over Spindel, although a penalty for cutting the track at Turn One did see the ineX racer drop his lead from seven to five seconds by the time he made his final pit-stop. For his final batch of 24 laps, Bonito's pace proved to be unassailable, as he brought his Williams-Toyota FW31 home, unfettered with a nine-second gap in his pocket at the chequered flag. "I just let the car fly, I haven't won this race, my team was on pole," Bonito briefly and selflessly explained post-race.
"I just let the car fly, I haven't won this race, my team was on pole." — Enzo Bonito
The second place finish for Spindel, his best of the season so far, was enough to move the Scandinavian into the overall lead in the points standings, and earmark him as an iRPS championship contender. "I think there was not much I could do about Enzo with my pace this race," the 2012 iWCGPS regular explained post race. "And looking at the rest of his teammates' performances and pace, I think it's clear they were in really good shape here. After the second pit stop, I saw I had lost two to three seconds during the pit-stops somehow, I sort of lost the motivation and there was no way I would catch those six to seven seconds so I let off."
Although Stanaway was unable to match the unrelenting pace of Bonito and Spindel ahead of him, the New Zealander kept his hopes of a promotion to the iWCGPS alive with his first ever podium finish.
Whilst the top three finishers 'cruised' their way to the chequered flag, Teemu Iivonen, Dave Gelink and Simon Cattell had a 73 lap battle to the finish line. Starting from seventeenth on the grid, Iivonen made huge headway as a result of the opening lap confusion. Within just a few laps of the start, the Finn was up to sixth position, which soon became seventh on Lap 16, when he passed his ineX Racing teammate Gelink at Turn One. Then a mistake on pit-road by Englishman Cattell that cost him several seconds handed Iivonen fourth place. Cattell's second pit-stop proved to be just as costly, as he exited in sixth position, behind Gelink, who had taken service several laps earlier.
Locked together nose-to-tail for the final stint of the race, Iivonen led the trio of ineX Racing Williams-Toyota FW31s to the chequered flag, with barely a second separating the three of them. "To my surprise I managed to miss all the mayhem in Turn One and Turn Two and was sixth after the first lap when me and PJ [Stergios] drafted passed Sam," Helsinki-based Iivonen shared this week. "After that I kept switching places with both Dave [Gelink] and Simon [Cattell] after they had various misfortunes with slowdowns and pit-stops. It was a motivation boost to have my team-mates right behind me and made me more focused on the race.  However I couldn't close the gap to Richie [Stanaway] though since he had a really good pace in front."
Once PJ Stergios had worked his way into seventh position at the start, the American barely put a foot wrong to maintain his position until the chequered flag. Assisted by a three-car battle between Jesper Pedersen, Pierre Urbizu and Jaoa Cardosa behind him, Stergios' main challenge was the 2.6 mile circuit. As for the trio behind, after trading positions throughout the race, they finished eighth, ninth and tenth respectively, with Pedersen carrying a seven-second advantage to the line.
With Uusi-Jaakkola's early exit at Indianapolis, the iRacing.com Road Pro Series standings underwent a considerable shake-up. Spindel's first podium finish of the season sees him top the standings with 104 points to his name, with Indianapolis winner Bonito and Uusi-Jaakkola sharing second spot on 102. Filho's early retirement sees him drop to fourth on 84 points, whilst Decorps' tenacity sees the Frenchman move into fifth, just a single point behind.
Round Four of the iRPS heads to British shores for a visit to Silverstone's Grand Prix circuit, a favourite amongst many of the drivers. With the championship leader-board so tightly packed, who will come out on top is anyone's guess. You can find out live at GlacierTV.com this Saturday, and catch the analysis on inRacingNews soon after.
---
You may also like...
---