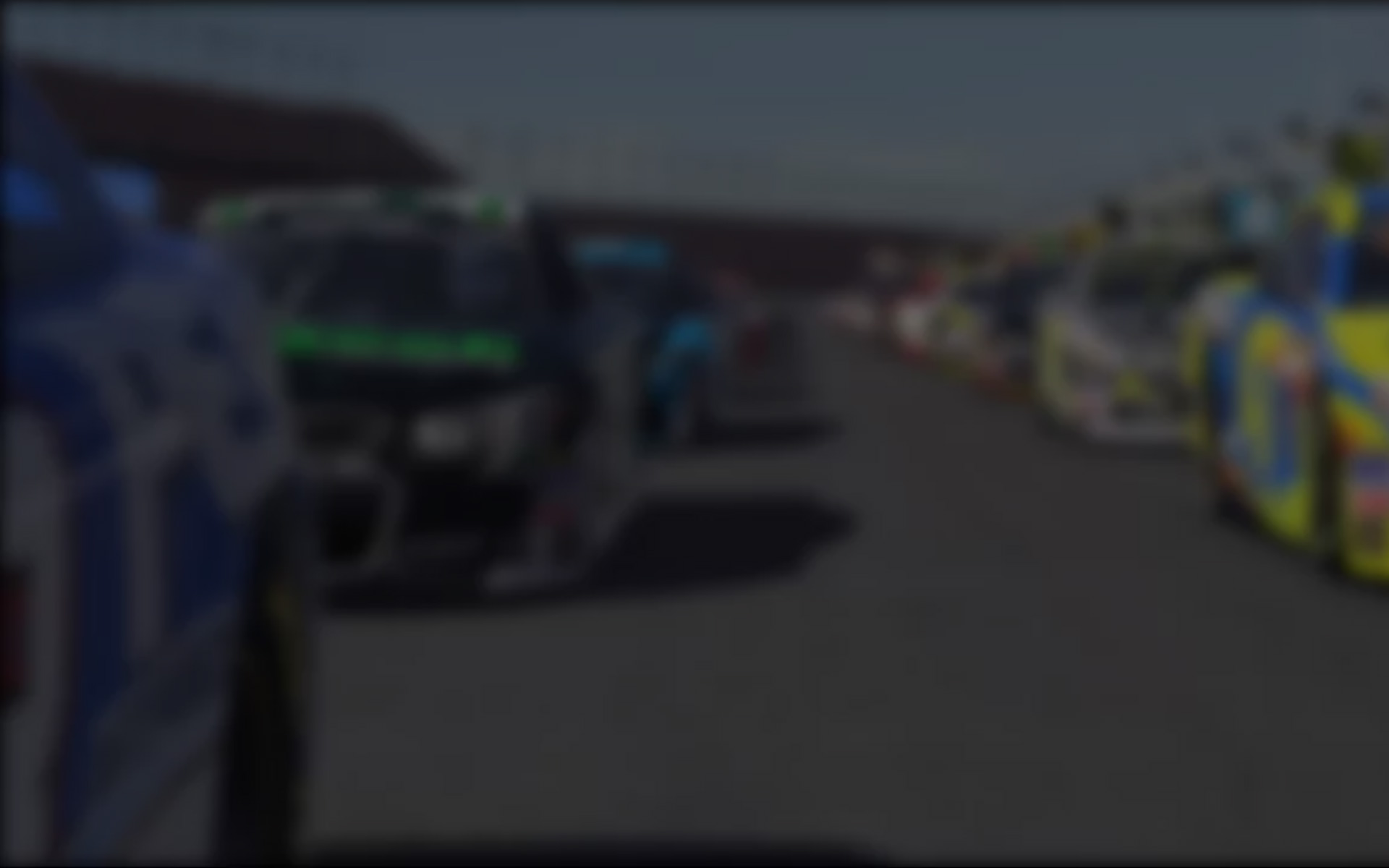 Versão em português abaixo
February 18th was the day that Silverstone got stormed by iRacing Brasil's sim-racers. Thirty-four cars formed the biggest field so far at "RUF Masters of Track" Series. Also, the number 34 was the total of laps to be done at that race on the 60 minutes of the scheduled time.
Thiago Almeida started on the pole, having it for the 1st time on the season, with Bruno do Carmo also on the front-row. On the first few corners, Kaique Piropo jumped from 7th to 3rd place, making a great race start that probably took him out of danger of the accident that would happen for the 7th place on that lap. Jose Pleguenzuelos (8th) tries to overtake Henrique Mandziuc, but with few room left to make it, Jose hits Henriques, who stays on the track, but Jose spins and blocks the way of the corner exit for the drivers coming behind. A big mess was seen then, with lots of drivers crashing and cutting the track to avoid the situation.
The 1st lap would see another accident, involving Ricardo Amorim, who is bumped by José Telmo and spins, also blocking the way for other drivers turning the 1st lap even more chaotic. Many had their cars damaged. Marco Sé de Freitas flipped over also on that moment, bumped by Frank Alexandre Silva, when they passed by the 1st incident.
Frank and Jose were the 1st drivers to stop on the pits looking for repairs. Marco Sé had to quit after flipping over. Meanwhile, Thiago Almeida now had to worry about Kaique Piropo, who was following him on the 2nd place, that would become Diego's spot at lap 9. Kaique overtakes Thiago Almeida at lap 6 and becomes the leader.
On the first 10 laps of the race, 5 drivers left the event because of their damaged cars. Marco Sé, Adriano Ornelass, Fernando Santii, Deni Williams and Jose Pleguenzuelos had to watch the rest of it on the spectators area.
With one third of the race done, Kaique had 2 of the strongest opponents on his tail, while he leaded for the first time: Diego Rancaño, who had won the 2nd race and Bruno do Carmo, winner from the 1st one. Close to the top 3 battle, Ricardo Inácio followed from the 4th spot. A bit far away, due to his mistake, Thiago Almeida was coming back and showed up on 5th place. Ricardo soon would get to be 3rd, after Bruno having a mistake while he tried to overtake Diego at lap 12, but Ricardo would come  back to the 4th place on the next lap while Bruno had the 3rd position back.
Again, the 2 winners so far of Masters of Track had a intense battle until Diego lost control of his RUF at the end of lap 15, coming off-track and getting off the battle. Ricardo Inácio and Bruno do Carmo now race for Bruno's 2nd place, with Kaique getting away and building a gap, taking advantage of the battles behind him, until lap 17, when he decides to stop on the pits for refuelling and new tires. Bruno leads then, with Ricardo Inácio coming 2nd. Kaique returns for the race at 14th place.
The race follows under the leadership of Bruno do Carmo, who extends his time on track for the longest possible, stopping by lap 30 on the pits. Ricardo Inácio, who had already stopped at lap 29 along with Thiago Almeida and Fabian Ventura (4th), pass by Bruno and now has the lead. The late stop of these drivers showed that Kaique was one of the few drivers with no damage to stop early.
Ricardo kept his 2nd place after Thiago Almeida closes in. He tries to split one corner with the driver of RUF 00 but didn't had success. Bruno now had his way free to get his 2nd victory on the championship. Ricardo comes 2nd, followed by Thiago in 3rd place, Fabian Ventura 4th and Kaique Piropo 5th, who didn't had a good outcome for his different strategy by stopping earlier.
Watch the full race on the link below:
http://www.youtube.com/watch?v=L3qawje1mWo&feature=share

Brazilian "Masters of Track" Storms Silverstone
No dia 18 de fevereiro, Silverstone foi invadida por 34 pilotos virtuais, formando o maior grid até o momento da "Ruf Masters of Track", na liga iRacing Brasil. Foram também 34 voltas pelo circuito Inglês durante os 60 minutos programados para o tempo de prova.
Thiago Almeida começa na pole, obtendo o feito pela 1ª vez na temporada, com Bruno do Carmo em 2º. Nas primeiras curvas, Kaique Piropo pula da 7ª para a 3ª posição, fazendo uma ótima largada que provavelmente o tirou da chance de se envolver no grande acidente que ocorreria antes dos pilotos completarem metada da volta inicial. Jose Pleguenzuelos (8º) tenta ultrapassar Henrique Mandziuc, mas com pouco espaço para efetuar a manobra, acaba se chocando com Henrique, que segue na pista, mas Jose roda e bloqueia a saída da curva, criando uma grande confusão a seguir. Diversos carros se chocam e muitos são obrigados a cortar a pista para evitar acidentes.
A 1ª volta ainda teria outro acidente, envolvendo Ricardo Amorim, que foi tocado por José Telmo e rodou, também ocasionando outro "congestionamento", criando mais uma situação complicada para quem vinha atrás. Muitos tiveram carros danificados. Marco Sé de Freitas capota seu carro no mesmo momento, tocado por Frank Alexandre Silva, ao passarem pelo primeiro incidente.
Frank e Jose foram os primeiros a entrarem no pit para reparos. Marco Sé abandonou após a capotagem. Enquanto isso, Thiago Almeida agora se preocupava com Kaique Piropo, que já o seguia em 2º lugar. Atrás, Bruno do Carmo e Diego Rancaño brigavam pela 3ª posição, que seria de Diego a partir da volta 9. Kaique consegue ultrapassar Thiago Almeida na volta 6 e se torna o líder da prova neste momento.
Durante as 10 primeiras voltas, 5 pilotos deixaram a prova por danos xcessivos em seus carros. Marco Sé, Adriano Ornellas, Fernando Santii, Deni Williams e Jose Pleguenzuelos tiveram de ver o resto da prova na área de espectadores.
Com um terço da corrida completada, Kaique havia dois fortes oponentes para lidar em sua liderança inédita, Diego Rancaño, vencedor da 2ª etapa e Bruno do Carmo, vencedor da 1ª etapa. Próximo da briga dos 3 primeiros, Ricardo Inácio acompanhava em 4º lugar. Mais distante devido seu erro, Thiago Almeida voltava a aparecer no top 5. Ricardo logo subiria para a 3ª posição, após uma tentativa de ultrapassagem de Bruno sobre Diego, na volta 12, onde Bruno acabou errando e perdendo alguns segundos, mas voltaria para o 4º lugar na volta seguinte com Bruno voltando ao top 3.
Novamente os 2 vencedores da Masters of Track voltam a disputar intensamente até Diego cometer um erro no final da volta 15 e sair da pista, deixando a briga. Ricardo Inácio e Bruno do Carmo passam a correr pela 2ª posição, de Bruno, com Kaique tirando bom proveito e avançando na liderança até a volta 17, onde entra no pitlane para rebastecimento e pneus novos. Bruno passa a liderar a prova então, com Ricardo Inácio em 2º. O retorno de Kaique é pela 14ª posição.
A corrida segue sob liderança de Bruno do Carmo que extende seu tempo na pista o máximo possível, parando apenas na volta 30. Ricardo Inácio, que já havia feito seu pitstop na volta 29, ultrapassa Bruno enquanto ele deixava o pitlane. Thiago Almeida, na 3ª colocação, também havia parado na volta 29, seguido por Fabian Ventura, que vinha em 4º. Situação que mostrou que Kaique foi um dos poucos não envolvidos em incidentes a parar cedo.
Ricardo consegue se manter em 2º lugar após aproximação de Thiago Almeida, que tenta dividir curva com o piloto do carro 00, mas não consegue a ultrapassagem. Bruno tinha agora caminho livre para sua 2ª vitória no campeonato. Ricardo cruza em 2º, seguido de Thiago em 3º, Fabian Ventura em 4º e Kaique Piropo, em 5º, que não teve sucesso em sua estratégia ao parar mais cedo.
Confira a corrida na íntegra pelo link abaixo:
http://www.youtube.com/watch?v=L3qawje1mWo&feature=share
---
You may also like...
---