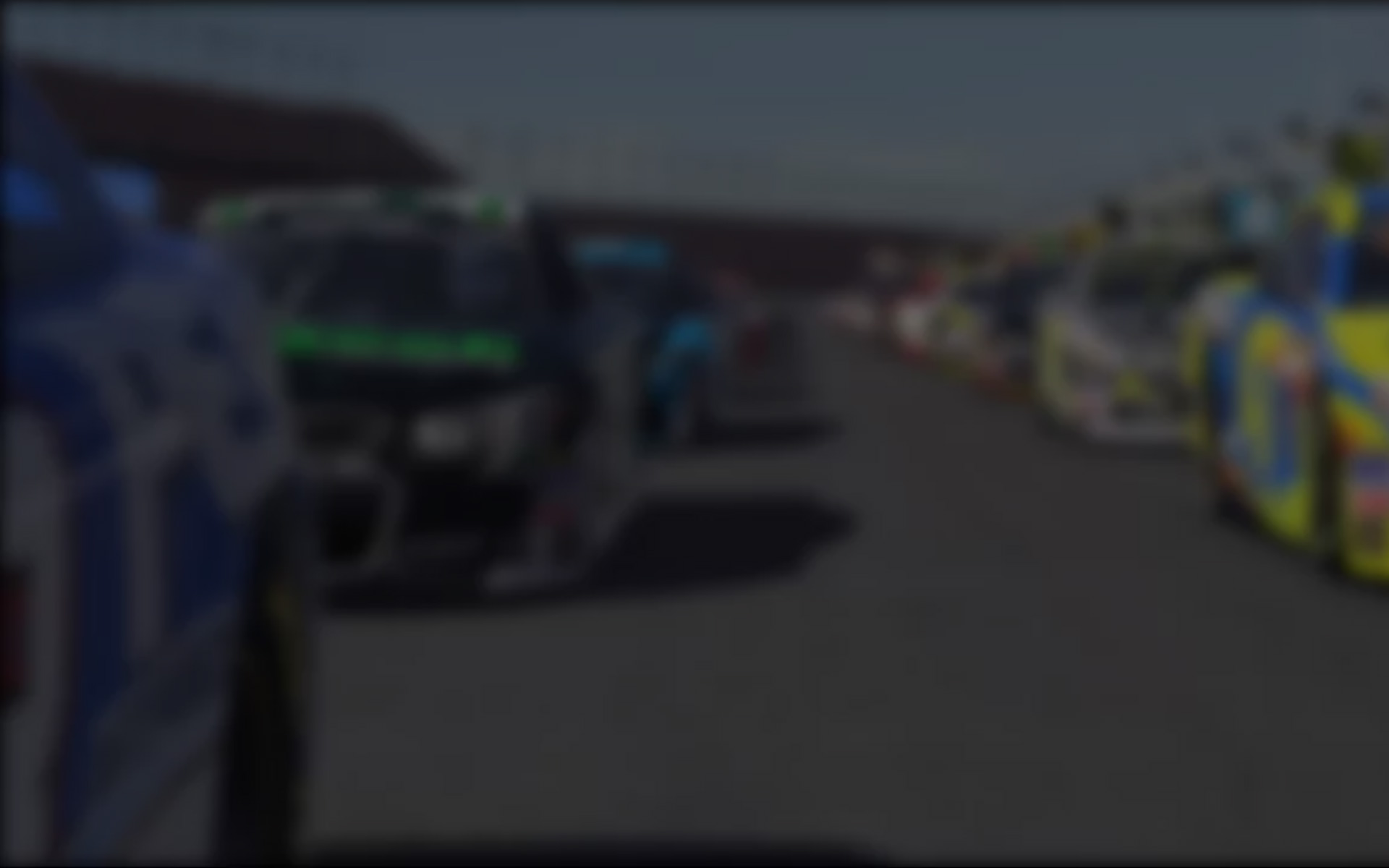 This week the Rennsport Racing League headed south, to Bristol Motor Speedway, a bit of a change for the predominantly road course online racing series. Practice started a full half hour earlier so the sim racers could get acclimated to the Nationwide car and only turning left. Unfortunately, not everyone took advantage of the extra time. . .
Qualifying was road course style with all cars on the track at the same time. Michael Skeen posted the quickest lap with a 16.408. Gary Miller and Patrick Guerin were hot on his heels with times of 16.581 and 16.595 respectively. Clive Whittaker, Kevin Bobbitt, Casey Carpentiere, Martin Mckeefery, Trevor Hopwood and Greg Deems also posted qualifying times and made the big show.
The race got off to a good start for some, the inside row in particular, with Guerin, Bobbitt and Mckeefery all picking-up spots early on. Nobody had anything for Skeen as he opened up a six or seven second gap on the field but there was a good scrap for position amongst the second, third, fourth and fifth place cars.
Skeen disconnected on Lap 45 while leading for an unknown reason (we contacted him for comment but only received a terse response from his PR firm that they would get back to us at their convenience). Gary Miller briefly took the lead before Mckeefery (aka Jack) took over the top spot on Lap 49 when the first caution came out.
The second caution came out as Bobbitt, who was on fresh tires after a recent pit stop, attempted to go around Hopwood who was driving a beat up car on old tires. This reporter won't assign blame and the drivers have different opinions on what actually happened, but the end result was both cars needed a tow and repair.
The next caution was a few laps later when Whittaker attempted a pass for the lead and was a bit overly optimistic and ended-up turning Mckeefery. Whittaker was beside himself over the radio and did something completely unheard of in racing, he gave himself a penalty and went to the back of the pack for the restart. The Rennsport Racing czar was so impressed with the gesture that no further action was taken.
There were only eight laps left at the time of the final restart and Miller was able to hold-off Guerin to take the victory as well as the points lead in the championship. Still eight more races in the season, so it is far from over . . . good news for those who struggled at Bristol this week.
Final results:
1st Gary Miller
2nd Patrick Guerin
3rd Clive Whittaker
4th Martin Mckeefery
5th Trevor Hopwood
6th Kevin Bobbitt
7th Casey Carpentiere
8th Greg Deems
DNF Michael Skeen
---
You may also like...
---