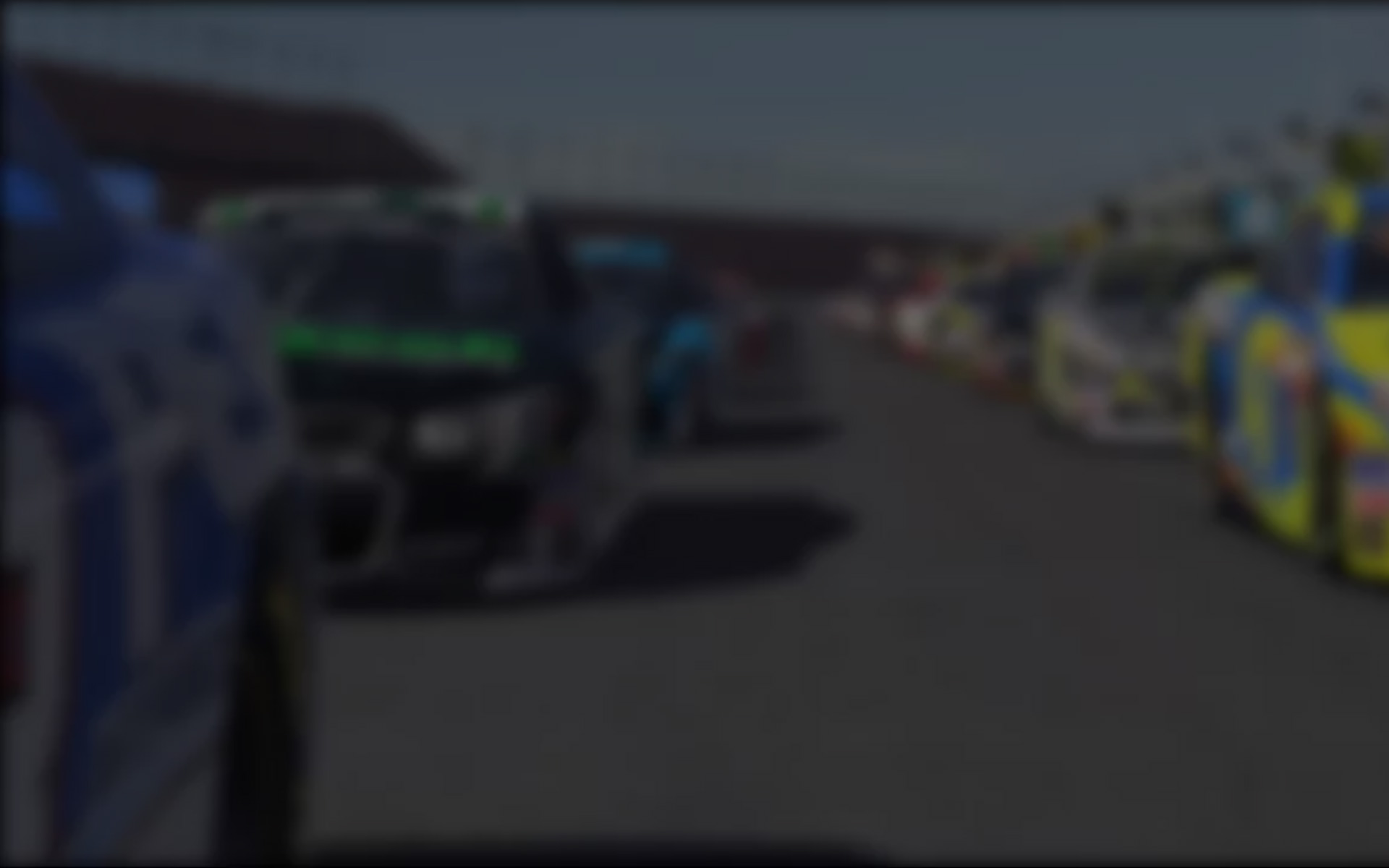 The Yankees weren't the only ones from the Bronx swinging for the fences on Tuesday night.  Gotham's Steve Sheehan shocked everyone watching, as well as himself, by bombing through the chaos of a late restart to claim his first career NASCAR iRacing.com Series World Championship win in only his second start.
Atlanta Motor Speedway was this week's venue, and the finish would have left Babe Ruth, Mickey Mantle and even Bobby Thompson at a loss for words.  Battling for fourth spot behind a top three consisting of Brad Davies, Ray Alfalla and Derek Wood, John Gorlinsky and Brian Schoenburg made contact with a dozen laps remaining to end a 30 lap green run. On the restart with six laps to go, Josh Parker spun his tires, collecting Wood in the process and bringing-out another caution that set-up a mad dash to the end, green-white-checkered style.
Gorlinsky led his battered car to the green for the final restart with Alfalla  to his right side and Schoenburg in his mirrors beside Davies.  At the green Gorlinsky spun his tires.  Schoenburg reacted with a hard left through the grass, and came back onto the track ahead of Gorlinsky as Alfalla jumped into the lead through Turns One and Two.  Coming-off Turn Two, however, Alfalla got loose and stacked-up the field with Davies emerging in front.  Out of nowhere Sheehan, who restarted fifth, cut his Whiskey River Impala down to the apron and returned to the pavement in second.
It was now a drag race between Davies and Sheehan for the win, with the New Yorker edging ahead into the final turns.  Behind them, Alfalla and Schoenburg made contact in Turn Three.  The resulting yellow flag found Sheehan inches ahead of Davies, taking a stunning win.
"Everything about that last restart and last green flag lap (half a lap) couldn't have benefited me more," Sheehan explained. "Where I lined up . . . the way they fanned out after Ray got loose in Turn Two, which also checked Brad up enough . . . the open track I found down low . . . and especially the exact timing (of that final yellow) that froze the field. I saw carnage in my mirror and went for broke into Turn Three. I needed the yellow to fly while my nose was in front of Brad's. It did just that. It's the first time I ever won a race that way, and definitely the first time I've ever won a race with barely a top ten car.
It was a very surreal feeling to have everything play out right into my lap like that, in an NiSWC race no less. Thanks JD Laird for the Whiskey River (thanks Jr) paint scheme."
By finishing second, championship leader Davies extends his points lead of Richard Towler, adding 15 to what is now a 'whopping' 26 point advantage.
Despite that late race contact with Alfalla, Schoenburg finished an impressive third ahead of Thomas Lewandowski with Towler rounding-out the top five.  Not to be lost in all the excitement was Tyler Hudson's great run, as he carved his way through the field from twenty-second to sixth, and first timer Pedro Mojica finished in the tenth position.
"I struggled early in a run but made up the time later," Hudson said.  "The car just kept getting tighter and tighter on entry so I made some air pressure adjustments and brake bias adjustments throughout the course of a fuel run and it worked great. The car had a great balance for an entire run I'm really happy."
Justin Trombley, Bryan Blackford, and Jesse Atchison finished seventh through ninth, respectively, to round-out the top ten finishers while Gorlinsky, Alfalla and Parker were credited with thirteenth through fifteenth.
The 163 lap race was slowed by caution six times for 20 laps. The cautions flew at the beginning and the end for the most part, with the middle of the race going green for 90 consecutive laps at one point.
Short track racing and, quite possibly, short tempers are up next as the teams head north to Richmond International Speedway for Round 16 of the NASCAR iRacing.com Series World Championship. With only three races remaining, the short track could provide a huge shake-up atop the points standings. This will mark the series' first appearance at Richmond, and it is sure to be a great show for competitors and fans alike.
---
You may also like...
---