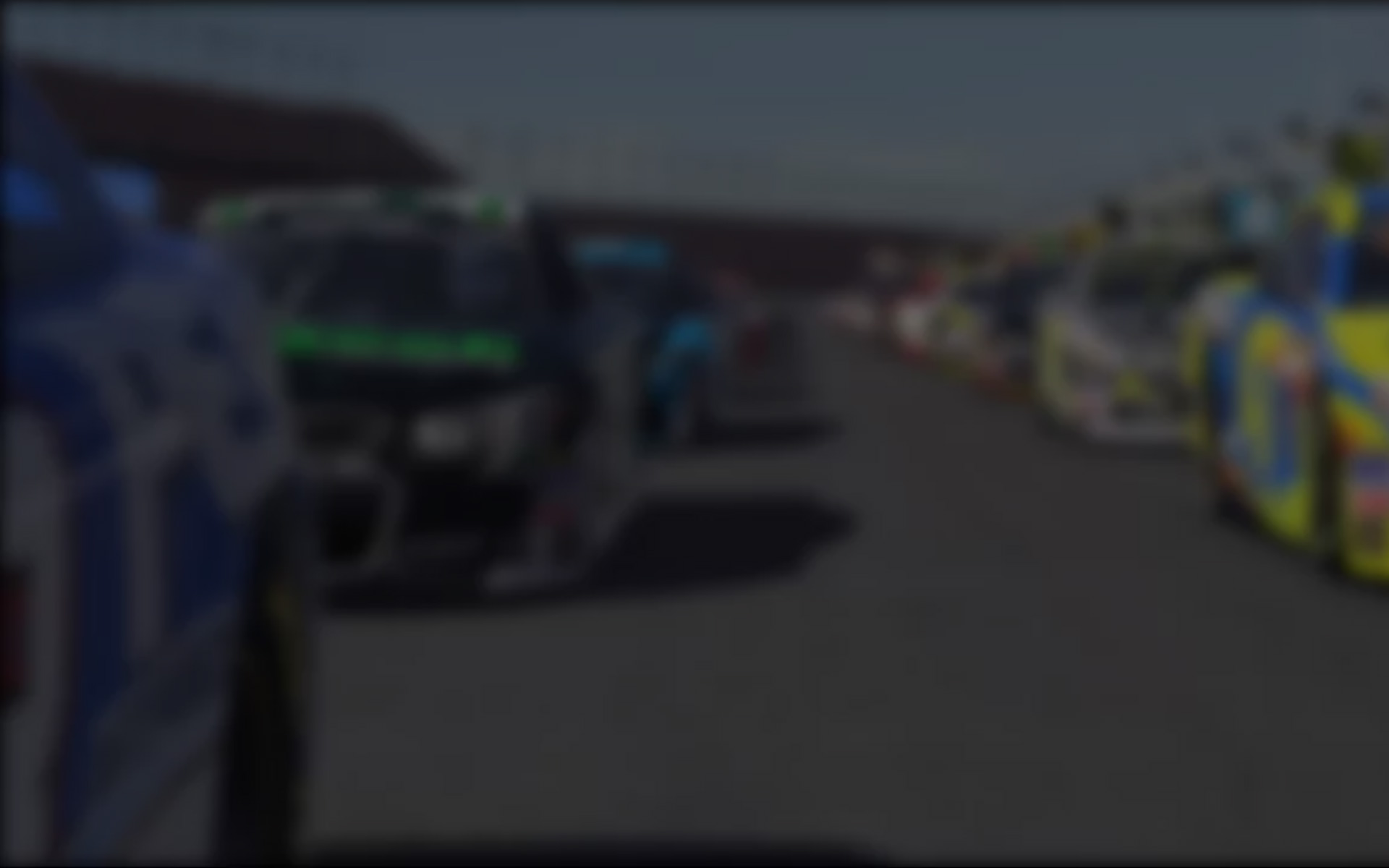 The NASCAR iRacing.com Class C Series (NiCCS) championship chase has turned into a battle between two of Illinois' best sim racers. Alex Warren and Brandon Buchberger have been trading the top spot in recent weeks and with the series visiting their home state during Week Five, you knew they weren't going to let up on their pursuit for the overall crown. When the checkered flag fell on seven days of intense tailgating action, it was a two point margin of victory for Buchberger over his Class C and NASCAR iRacing.com Pro Series (NiPS) rival Warren.
Over 1,300 drivers took to the track during Week Five but it was Buchberger's 3748 Strength of Field (SoF) victory on Monday that tipped the scales in the favor of the Sugar Grove native. Buchberger led just five laps of the 90 lap affair which featured six cautions and eight lead changes. Tanner Stoops came home in second, followed by Phil Juhring, G Allen Lewis and Dylan Slepian. For the win, Buchberger pocketed 236 points – the most of any competitor in Week Five. Stoops was rewarded with 222 points for his second place effort in this event, which placed him fourth overall for the week.
Warren's major triumph for the week was a 3723 SoF race on Thursday. Warren topped the one caution affair after leading 58 laps in the event. Scotty MacMichael, who made 27 starts on the week (which resulted in nine wins) finished second to Warren by eight tenths of a second. Championship contenders Adam Gilliland, Thomas D Smith and Buchberger completed the top five in the event. With the victory came 234 points for Warren, which slotted him second overall for Round Five.
Fellow NiPS driver Nick Ottinger took third overall for the week in the NiCCS. Ottinger, who drives for Gale Force Racing, pulled through for a victory on Thursday's 3657 SoF race. The event featured three yellow flags and five lead changes. Ottinger led 54 laps to the victory, finishing the race out ahead of Phil Brown, MacMichael, James Yerger and Michael Taylor. The race win was worth 230 championship points for the Claremont, North Carolina driver.
Fifth place for Week Seven at Chicagoland belonged to Bath, Pennsylvania's Alex Ciambrone. Ciambrone placed first in a 3308 SoF race on Wednesday in which he led 55 laps en route to the victory. Alan Jones was second, followed by Dylan Duval, Douglas Lundberg and Michael Guest. The race featured three cautions and five lead changes. Ciambrone captured 207 points for the win.
Floyd Kittle once again made the most starts of the week, seeing 32 green flags over seven days of competition. MacMichael's nine wins topped any other Class C racer at Chicagoland. Thomas D Smith took the top time in qualifying, ripping off a 31.499 second lap during the single truck qualifying. Brian Viola was second followed by Warren, Hunter Davis and Dustin Montgomery. MacMichael was also in control when it came to the Time Trial competition at Chicagoland, taking the top spot over 140 others. Smith, William Hart, James Heater and Albert Schultz also clocked in top five efforts in Time Trials.
While Buchberger took the lead at Chicagoland, the season-long battle is still led by Warren. Warren occupies the top spot with 18 more points than Buchberger after five weeks, 1091 to 1073. Smith is third with 978 markers, followed by Gilliland (953) and Division Two leader Greg Evans (934). John Rhine2, Tim Marlow, Milt Matice, Morgan Schooley, Kevin Sockow, Dan Hass, Brian Guedesse3 and Frank Hudson lead their respective divisions from Three to Ten after five weeks of racing.
Next week the NASCAR iRacing Class C Series heads to the Granite State and the New Hampshire Motor Speedway to mark the halfway point in their 12 week season. Who can parlay the "Magic Mile" into the extra distance to put them into the lead after seven days of grueling competition on the Louden oval? Find out here, next week at inRacingNews.
Until then, keep the hammer down and we'll see you at the track!
---
You may also like...
---