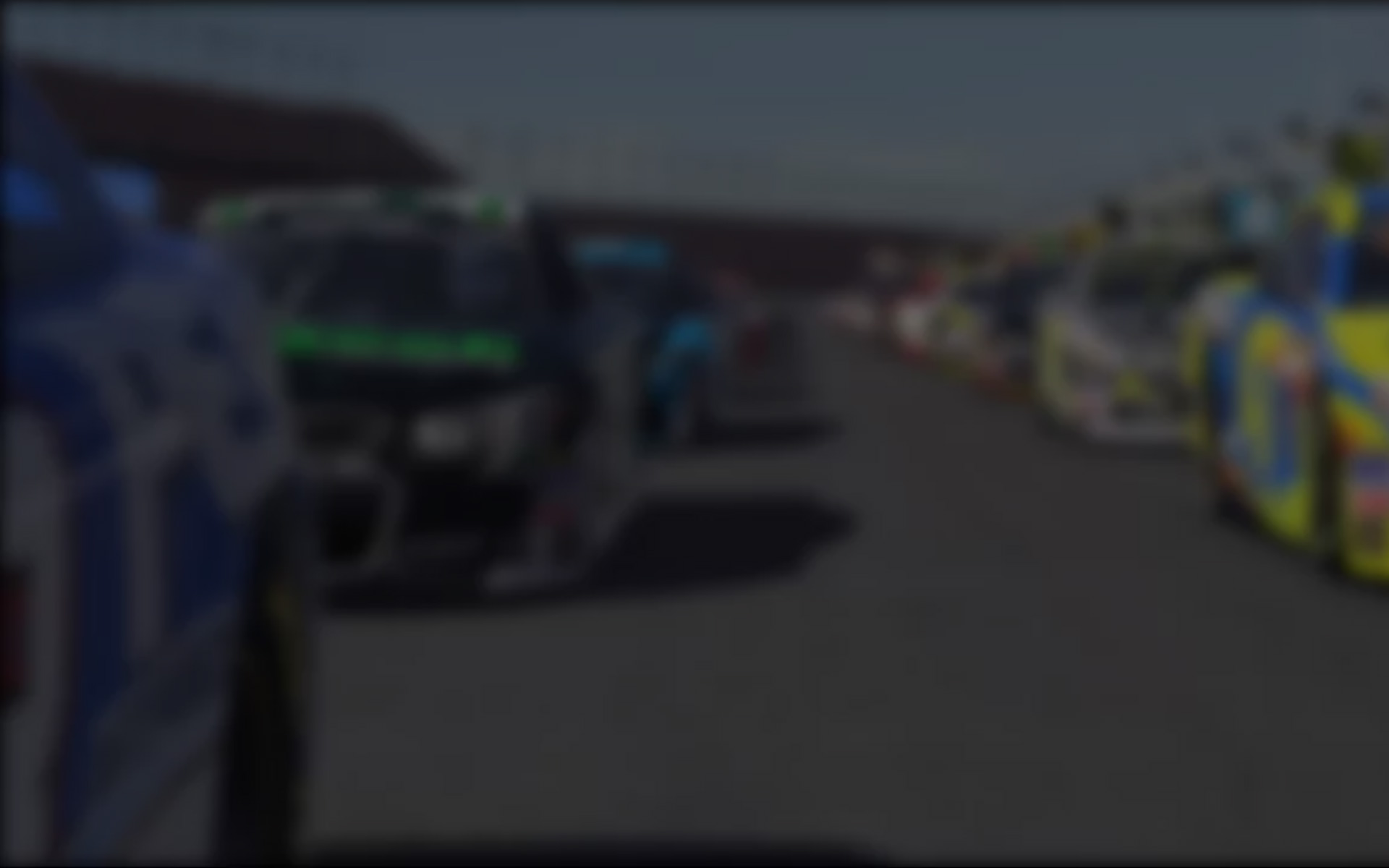 September 1st, 2017 by Richard J. Clarkson
Aaron Budka rode the cushion and slid his way to victory in Sunday night's running of NASCAR's iRacing edition of the Camping World Truck Series at the virtual Eldora Speedway.
Budka took charge on the sim-race's final restart and motored past Connor Lane on the outside, clearing Lane exiting Two and blasting down the backstretch, never looking back. Lane tried one final slide job as the field entered Three, commanding his Summit Chevrolet Silverado to the bottom of the dirt, picking up the throttle early and sliding out toward the wall. But Budka and his virtual Monster Energy bowtie were long gone, riding the cushion, shouting toward the digital checkers.
With the win, the 29-year-old sim-racer from Ohio, Budka, notched his 97th oval iRacing career victory. "That was a hell of a race," he said, standing in Gatorade's make-believe Victory Circle after the 30-lap affair.
When asked what was going through his head, his strategy leading up to the final restart, a one-lap shootout, he said: "Yeah, kind of timed it when (Lane) was coming up, figured (Lane) was going to try and go off the pace car. So, it was either I time it right or get the black flag, one of the two."
Budka, after starting on pole, had been the only sim-truck out front until lap 26. Four laps earlier the second yellow flag of the race flew for contact between Stephen Brewer and David Galloway Jr. Brewer tried his hand at a slide job and failed miserably.
"Are you kidding me?" Galloway Jr. asked, mashing his radio button. "Seriously, dude?"
Brewer responded: "Dude, that's my bad. I just slid up. I tried to pull a slide job on the guy beside me and I just came right past you. My bad."
John Schilling and Alfred Terra were also collected in the fracas.
After emotions had cooled, the race re-started on lap 25, and it didn't take long for Lane to jump to the lead. He passed Budka exiting Four.
The next lap brought out the third and final yellow flag of the race. This time Brewer made contact with Nick Silver exiting Two, trying to slide up in front, not clear.
While riding around at pace lap speed, anticipating the final nerve-racking restart, the sim-racers began to chat.
"I had to try something, Aaron," Lane said, referring to the pass he completed for the lead only a few laps earlier, "been riding behind you the entire race. Thought I might try something."
"Yeah, man," Budka said, "you made a hell of a move. I mean, thank you for doing it clean. It was fun… nothing I could do to stop it."
On the final lap, however, roaring beneath the freshly displayed computer-generated green flag, the stagger had swapped sides – think a valve bursting from its cover and jumping banks — the racing shoe on the other foot. It was Lane who couldn't stop it. He couldn't stop his white, Summit Racing Silverado from dancing in the mud like a mechanical catfish, squirming sideways and all kinds of screwed up, cattywampussed and sliding slow, strangled by the dirt, losing ground and relinquishing the lead, dead. Virtual bling, dead.
When asked about the final restart of the race, Lane spoke with brevity: "I screwed that up," he said. But Lane still managed to finish runner-up.  He crossed the line .568 seconds off Budka's virtual rear bumper.
Wes Hurd Jr. finished third, followed by Donnie Klein in fourth, and Matthew Bell3 rounding out the top-five.
From A Dig Motorsports's entry driven by Scott Smith6 finished sixth. The Floridian was available for comment in the invisible media center after the race.
"Hellfire, son," he said, "I'm beginnin' to love me some mud! Shoot, the first time I raced The Black Dahlia Murder/Snap-on Chevy round here, I didn't do so hot. I'z in the wall every damn corner! Spinnin' out like'uh Honda on four doughnuts! But, hell, this go round, I started twelfth and brought the damn thing home in sixth."
Before he continued, Smith6 pretended to pluck what appeared to be clumps of not-really-there dirt off of his fake firesuit. "I met this pretty young thang," he said. "A few weeks back. Blonde and bouncy and beautiful. She like to get dirty, too… four tires and winged, jugs full'uh methanol, four-hundred-and-ten-cubic-inches kind of dirty. She reckoned dirt racin' was harder. 'Hell naw,' I said. 'They'z just different. Racin' round and round on asphalt, concrete, just as damn hard,' I said. 'Yinz ain't know what ya talkin' 'bout. Stupid Venus Creature.' Hell, I reckon that damn Venus critter was right, though. Sim-racin' on dirt… hell, I ain't even got the words fur it."
Stephen Brewer rallied from his earlier slide job mishaps to finish seventh.
Branden Williams finished eighth and also received the Texas Instruments Rookie Colors Passing Grade award for the highest finishing Class C driver of the race.
Andrew Wehrli Jr. finished ninth; John Schilling closed out the top-ten.
---
You may also like...
---