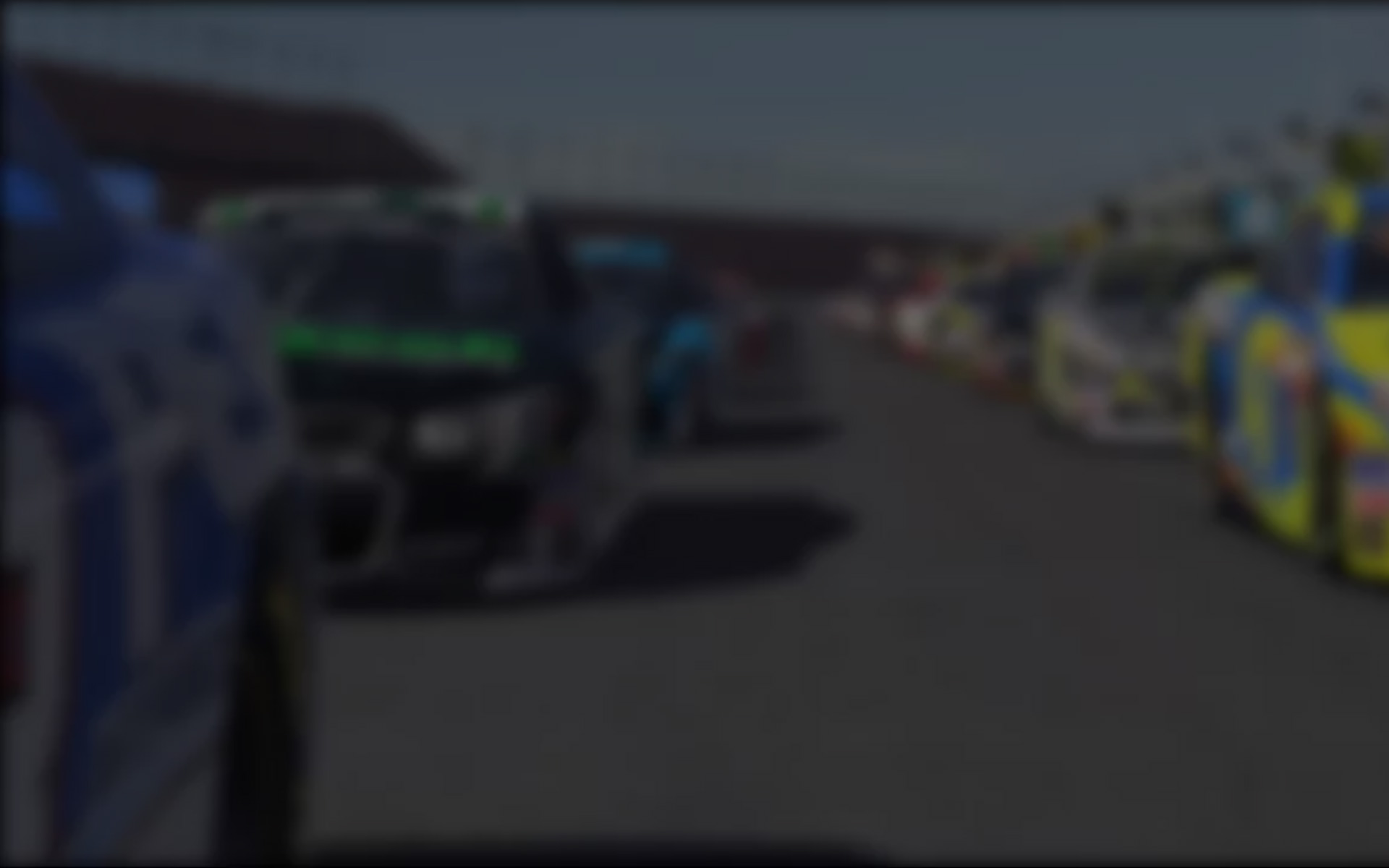 Welcome to sunny Phoenix, Arizona everyone!  We got into town yesterday, after a seemingly endless drive across country.  I feel sorry for those East Coast teams that have to drive even further than we did… two days stuffed in a car full of smelly dudes with questionable hygiene is enough for me.  I'm restless and ready for some action!
After last week's horrible finish, we were forced to purchase a new chassis and engine.  It's horrible having to scrap a whole car, but we're considering options for what to do with the trashed bodies.  Maybe we'll start a bone-yard in homage to NASCAR's most popular driver, Dale Jr.  He likes to collect other people's cars though, so I guess ours will just be our own dead machines.
This week, we say goodbye to the Kratos machine and hello to a brand new sponsor: DC Comics.  DC reserved the right to do whatever they like with the body advertising.  At first I was skeptical about not having my own input on the paint scheme, but after seeing the car and the resulting marketing material, I have to say that I'm very impressed.  The overall theme of the car centers on the "Joker" character and his overall psychosis.  It is pretty intimidating, and I hope those feelings carry over onto the track and the other drivers.  I wouldn't want to have this machine breathing down my tail pipe, that's for sure!  I'm also getting a sizable chunk from my secondary sponsor, Unique Signs and Design, and a little from www.tradingpaints.com as an associate sponsor.  I'd like to welcome both of these companies as well to our little racing team, and I hope we have a long and profitable relationship.
We lost about 100 grand in the bank from the beginning of last week to this one, so we'll be heading into this race with just over 2 million in reserve.  A good finish here is mandatory in order to keep our heads above water and our new sponsor happy.  Interest on the loan is about $29,000.  I went ahead and made a payment of about $50,000 in order to take a chunk off the principle.
As we unloaded the new car and got our preliminary suspension and tire setup into place, we notice that a lot of teams are having issues rotating the car in Turn 1, and even more issues with loose conditions out of 4.  After my first two practice laps I have to say that we were having the same issues.  We can't really fix both, so we decide to attack the issues with Turn 1 and just deal with a loose car through 3 and 4.  Hopefully as the green flag runs get longer the car will tighten up and become more manageable, without losing speed through the rest of the track.  After about an hour of additional practice and tweaking the setup, I think we are race ready.
Qualifying goes well pretty well, although I come very close to stuffing the car into the wall on my second lap.  Luckily, even though I spin the car I'm able to avoid both walls and make a clean spin all the way down the front straight and across the finish line.  I think I need a new fire suit… I've soiled this one.  Boas Kalf qualifies P1 with a time of 27.771s, followed by Bradley Bolen with a 27.867s.  My time of 28.202 gets me into P5.  Other names I recognize in this week's race are Ryan Hedrick, Bill Rowlands, and Vern Klukas.
At the drop of the green flag the first thing that is readily apparent is that most of the drivers in today's field have opted for the opposite strategy of my team, making their cars stable in 3 and 4, but tight through 1.  I'm catching and passing cars in the first corner, but having to hang on and play conservative everywhere else.  This is going to be an interesting race.
Lap 6 is our first caution.  Patrick Shelton takes a lonely spin off Turn 1 with no damage.   It looks like the lead cars are going to come in for some adjustments.  I also want to make an air pressure adjustment, but I get blocked out of the pits and have to come in on the second lap.  Big mistake, as this is against the rules without any lap down cars on the track, and I take a black flag.  I come in to serve the penalty after the green flag drops, but end up two laps down.  This is not how I wanted to start this race.
"This is not how I wanted to start this race."
I get the chance to make up for this mistake on Lap 30 when the next caution waves.  This time it is David Hopkins who gets under Bradley Bolen in Turn 1 and spins him out.  Bolen does a slow half spin down into the groove at the bottom of the corner and ends-up getting hammered by Fabio Pierotti.  Also involved in the aftermath is Vern Klukas.  The Lucky Dog is taken by Edward E. Cooper, and I take the wave around for a lap back, now putting me only one lap down.
On the restart, I somehow manage to end up ahead of someone in line and get ANOTHER black flag for passing under the yellow.  I have no idea how this happened since I wasn't getting any instructions to let anyone by from race control.  I'm a little pissed, but there is nothing I can do about it.  I come in to serve the penalty… again…when the caution waves.  Instead of wasting time serving and going another lap down, I quickly bypass my pits and head back out on the track before the leaders get back around.  This caution is caused by Scott McCann and Gregg McNally in Turn 4.  Also involved are David Hopkins and Patrick Shelton.  Hopkins ends up slamming into the inside wall on the front straight, effectively totaling his car.
Travis Swaim leads the field to green, and I am finally able to come in and serve my black flag, and manage to only go down one more lap.
Again I get a chance to get a lap back on Lap 44, when Hoyt Richter2 tries to cut the dog leg and totally fails, losing control and taking heavy damage from the inside wall.  Unfortunately for me, some of the leaders stay out so I am not able to take a wave-around, remaining two laps down.  The Lucky Dog this time around is Andrew Plank.
Travis Swaim continues to lead, but the lead pack is pretty tightly packed so it isn't like he's walking away from the field.  If I can make it back on the lead lap, I feel like I might have a top 10 car as well.  I just have to find the opportunities that I need.  I get another shot on Lap 75, as Bradley Bolen self spins out of 4 and flips his car down the front stretch.  He's un-injured, but his race is finished.  I stay out and take the wave around to get one of my laps back.  Now I'm only one lap down, and there are only four other cars on the same lap as me, so I only need to get ahead of a few to take the Lucky Dog and get back into the race.  One good thing about all these cautions though is that the field is getting thinner.  I'm already up to 19th.
It isn't very long before another yellow flag is waved on Lap 87.  Gary Henderson and Donald Bell get together in Turn 4 and Henderson pays the price.  Unfortunately for me, I wasn't able to climb enough spots to take the Lucky Dog, which is given to Michael Cummings3.  Again, some leaders stay out, and I opt to come in for fresh rubber.
Another caution comes quickly on Lap 93, as Shaun Thompson and Gary Henderson get into it in Turn 3.  Michael Cummings3 isn't able to slow up in time and ends up in the mess.  Just before the yellow comes out I manage to make the pass for the Lucky Dog spot, and I'm back on the lead lap and up to 14th!  Now my race can actually get underway.
"I'm back on the lead lap and up to 14th!  Now my race can actually get underway."
We actually get some green flag racing before our next break on Lap 108.  This time it is Fabio Pierotti who self spins out of 4 and takes a trip down the front stretch.  Gerry Dawn gets some minor damage as he tries to squeeze by.  Ryan Hedrick is finally able to recover from an earlier incident where he came into contact with the barrels at the end of pit road, and he takes the free pass to get back on the lead lap.  I consider this bad news… I know Ryan is fast.
John Signore has taken over the lead and guides the field on the restart.  We get in another good green flag run, but it isn't nearly long enough.  The longer the green flag stays out, the better my car seems to get as everyone else's tires fall off.  I go from 10th on the restart to 7th when the next yellow comes out on Lap 129.
I lose some spots on pit road and restart 11th.  Timothy Campbell takes over the lead, but John Signore is right behind him in second and wants the lead back.  The racing is tight up front, and once again I'm gaining spots, trying to get up to the lead pack.  The fun is spoiled by our next caution on Lap 134.  Man, this has been a very messy race, and this wreck is just an extension of that.  This is our first "big one," if you want to call it that.  Aron MacEachern rear ends Vern Klukas in 3, causing a chain reaction pile-up.  Also involved in this mess are Michael Cummings3, Wyatt Hairston, Chuck Kenny, Bill Rowlands, Gerry Dawn, Shaun Thompson, Jeremie Embrey, Edward E. Cooper and Russell Ganter.  The wreck happens right in front of me, and I take minor rear quarter panel damage as I swerve into the grass to avoid the carnage.
There isn't a Lucky Dog this go-round.  I guess all the lapped cars were involved in some way.  Unfortunately, even though this mess happened in front of me, I don't really gain any ground from it and restart again in 11th.
Signore has regained P1 and leads the field to the green along with Timothy Campbell5.  This time I get a great restart, and since I'm on tires that have a few laps on them I don't have to hang on for dear life.  I'm able to quickly put some cars behind me and climb to fifth.  I'm in the process of making the pass for fourth when the last caution waves.  Damn that was close!
Overall though, it was a tough race with a lot of bad luck, but with a lot of persistence and taking advantage of the opportunities as they came, we brought home our first top five of the season and a fat paycheck along with it!  Better though, the car is clean and in great condition for next week's race in Fontana.
We'll see you all there
---
You may also like...
---