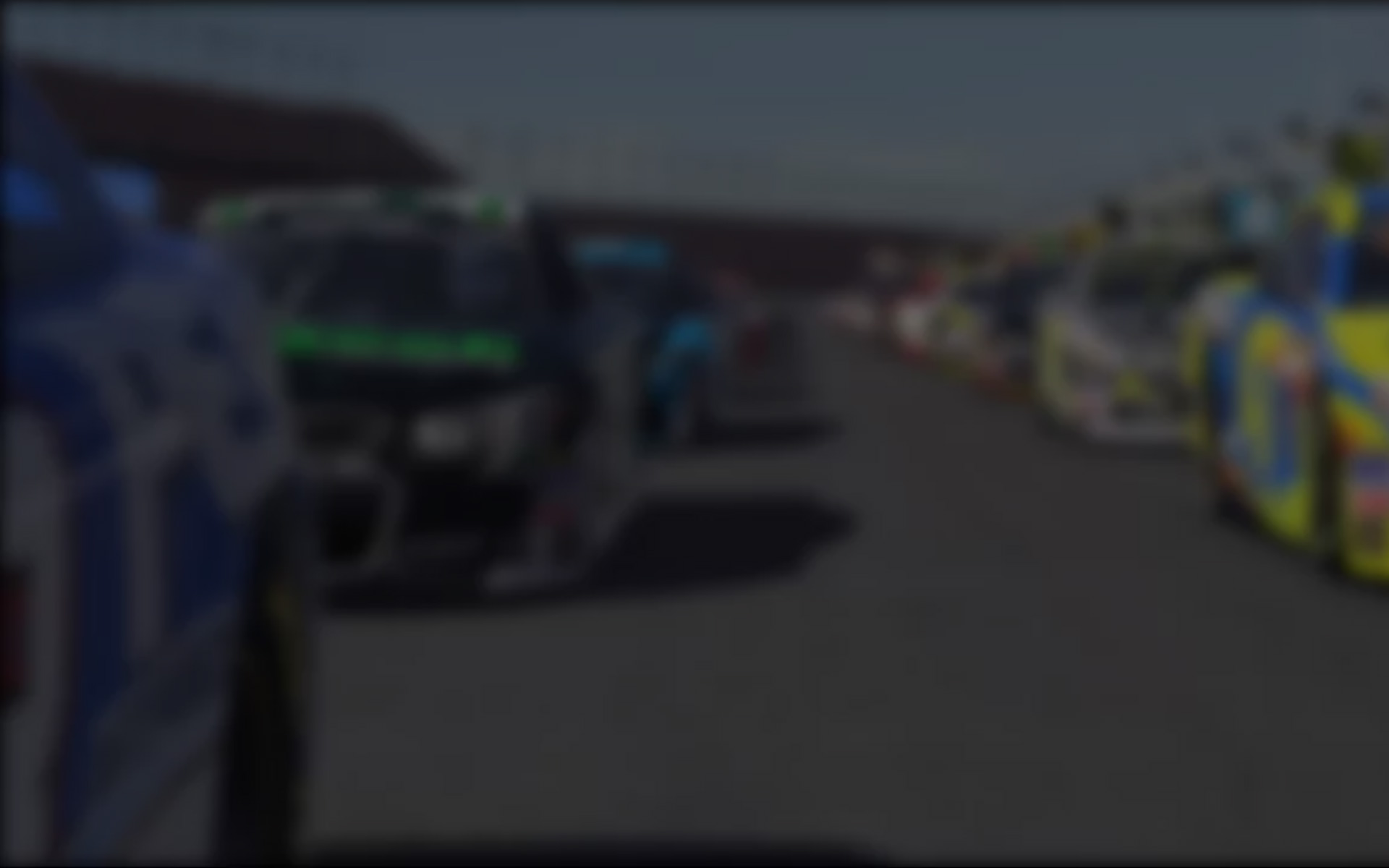 In a third straight show of dominance this season, 4 Motorsports driver Mitchell McLeod, continues to illustrate how the former iRacing.com V8 Supercars champion still has what it takes. For 36 laps of sim racing on the West configuration at the Circuit of The Americas, the finest drivers in the category fought door-to-door for every possible position. Indeed, there have been many movers and shakers this season and Week 3 promised to be no different. Still absent, however, were many of the series' favorites such as Madison Down, Richard Hamstead and Jarrad Filsell.
Coming off of a strong victory last week at Circuit Zolder, McLeod started on pole position with a time of 1:33.119, a full half second quicker than the number two starter, Ian Ford of Demidov Motorsports. Starting in third and fourth – and separated by .03 seconds – was Jake Burton of KustomImage Motorsports and Kamikaze Racing Team (KRT) driver, Michael Fulcher, respectively. Rounding out the top-five starting grid was Sam Sutton of Synergy Sim Racing (SSR).
At the green flag, it was Fulcher who got off to an excellent start. With a strong launch, he soon found himself in between McLeod and Ford as they headed uphill towards the signature Turn One. As the cars funneled through, it appeared Fulcher would be able to grab two positions in one turn . . .  but Ford had other plans. As they exited Turn One, Ford was on the outside and had more track space to use which afforded him a better exit. Thus, Ford reclaimed his position from Fulcher who settled into third for the time being.
Further back, mayhem was in full swing as the field passed through Turns Three, Four and Five. Sutton's teammate, Dean O'Brien, received a tap from Greg Sharp which caused the SSR driver to spin off the racing surface and fall to the back of the pack.
At the same time, Burton's teammate, Kurt Stenberg, made contact with KRT driver, Sam Collins. Stenberg backed-off in an effort to give Collins a chance to recover — which he did, but not before swerving side-to-side for several seconds. In the process, however, he made hard contact with Sharp. Whether trying to keep his car on the track or returning the serve, Sharp knocked up against Collins which added to the damage already collected on the wounded Ford Falcon. Collins would eventually park it in the pits to finish 16 laps down while Sharp, who started in fourteenth, kept it on the lead lap and dropped one spot to finish in fifteenth.
It wasn't all bad news for O'Brien, however. Recovering from the Lap One incident which sent him to the back of pack, he lit up the field with a monumental comeback. Although he was on the borderline for disqualification with 15 incident points by the end of the race, O'Brien managed to climb back into the top-ten by finishing in eighth position. This was only because he started in eighteenth position after not posting a qualifying time. No doubt that, given his pace, he would've been a strong contender for a top-five finish had he posted a good starting time.
Back up front, McLeod began to show why former champions don't need new tricks to get the job done. By Lap 10, he had pulled away to an incredible lead which only seemed to extend with each passing lap. Behind him, however, the fight for the podium raged. Burton, who initially lost positions to Fulcher and Blake Coppo of Demidov Motorsports on Lap One, began to slowly move up through the field. Reaching as high as second on Lap 14, Burton would pit the next lap. As the race neared its end, Burton soon found himself in close proximity to Coppo who was on a charge after starting in sixth. As the laps wound down, Coppo charged ahead of Burton who maintained about a one second gap behind.
Ford, who had gridded second, eventually found himself back in his starting position after his pit stop. As the final laps approached, however, Ford began slipping back as he was overtaken by Coppo, then Burton and, with six laps to go, Sutton. Fulcher was in position to challenge Ford for the top-five but couldn't get it done by the end of the race. Ultimately, Fulcher finished what was a great run with a solid sixth position just behind Ford who managed to stay inside the top-five and also set the fastest lap with a 1:34.004.
Sutton, who started in fifth, was able to hold onto his position after passing Ford but did so while being dangerously close to becoming disqualified. Collecting a total of 16 incident points (with a max of 17 before you're DQ'd), Sutton finished just off the podium with a fourth place run.
Coming down to the final lap, Burton never gave up in his pursuit of Coppo. By the end of the race, however, Coppo completed what was an excellent run to finish in second after starting in sixth. Credit was due to Burton for a consistent run as he finished where he started in third.
The man of the hour, however, was McLeod as he completed his three-for-three start to the season. Leading 27 of the 36 laps, McLeod extends his championship margin with a purely dominating Week 3 victory. The question many are asking is this:
Can anyone stop McLeod?
His past three races have been nothing short of flawless and also have been his "best start to a season ever" and "even better than three and a half years ago when he won the series," per 4 Motorsports' facebook page. In regards to the championship, however, it's still anyone's to take. To say that McLeod is running away with it would be premature, but three-from-three is certainly enough reason to incline people to think as such.
This Australian Strength-of-Field (SoF) race had a strength of 3614 and was split three times. The top five finishers from the other splits are as follows:
Split 2/SoF 2072
1- Denis Gataric
2- Luke Emerton
3- Jason Scandolera
4- Michael Cracknell
5- Martin Creemers
Split 3/SoF 1212
1- Liam Wild
2- Andrew Cooper
3- Peter Goodwin
4- Brian Borg
5- Justin Parkinson
As we head into Week 4, the iRacing.com V8 Supercars Series returns to Europe for 22 laps at historic Oulton Park. Racing on the "International Hislop Course" configuration, this driver-favorite features 14 radically different turns and stretches out over nearly 2.7 miles. Known for its tight corners and elevation changes, this course can quickly throw the heavy V8 off balance and into the nearest wall. In addition, many of the corners are blind which is where the pro-level drivers will separate themselves from the rest. Will McLeod continue his dominance and be counted among the greats who've previously mastered this tricky course?  We certainly look forward to the action as Season 3 of 2014 charges on at Oultan Park Raceway!
---
You may also like...
---