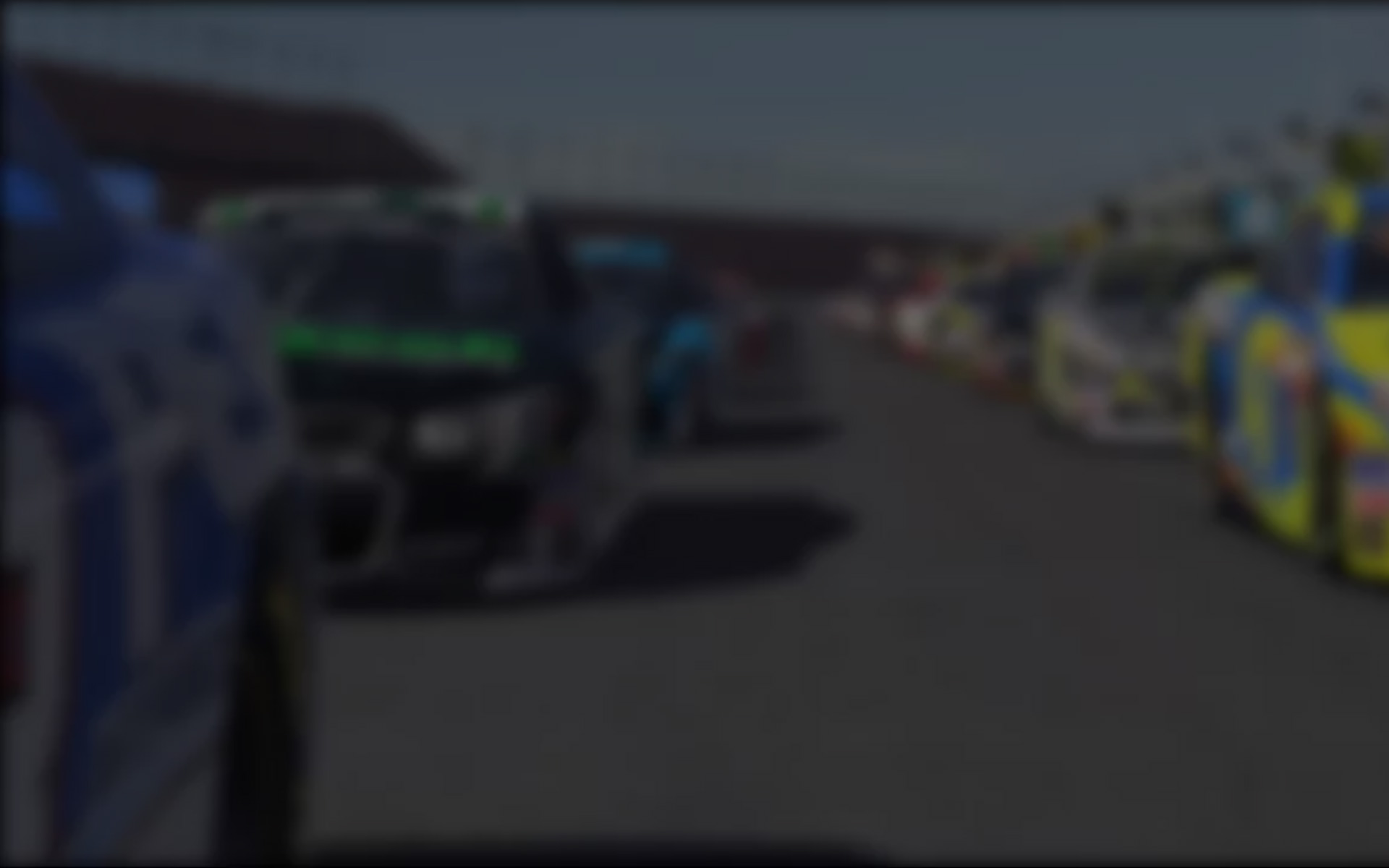 Season 2 of 2013 has begun in iRacing. For the NASCAR iRacing.com Class A Series (fixed setup), the season kicked-off with 35-lap races on the high banks of the Talladega Superspeedway. The thrill of three-wide, flat-out racing always helps populate iRacing servers, and this past week did not disappoint in terms of participation, as an astounding total of 1479 drivers came out to take a chance in the draft at NASCAR's largest oval.
High SOF Race: The high strength-of-field (SOF) race took place on the first night of the race week. Clayton Celovsky (Canada) drove his Mustang Creek Ford Fusion to victory lane in the 4183 SOF event, earning his only win of the week in the series and 267 championship points.  Eric Sabol (Pennsylvania) finished second in the race, followed by Ryan S. Oates (Virginias), Logan Sheets (Northwest), and Steven Eszenyi (New England).
No stranger to restrictor plate sim-racing, inRacingNews caught up with Celovsky after his victory to ask him some questions.
"Find a good partner and stay in front of the wreck." — Clayton Celovsky
iRN: What attracted you to race this week at Talladega?
CC: (Teammate) Ryan S. Oates told me to sign up for that race and lucky enough, without knowing it at the time, it was a high SOF race.
iRN: What type of game plan(s) so you have going into a race at Talladega?
CC: Find a good partner and stay in front of the wreck.
iRN: Did you like the type of drafting that occurred in the fixed series this week?
CC: The two car tandem is a fun and interesting style of racing. It involves key communication between partners and puts a little more effort into having a successful race.
iRN: Why do you think so many people enjoy running the fixed series races?
CC: A lot of people like me have school, jobs or other hobbies that they are committed to and making setups is very time consuming. With the fixed series, it makes it easier for me and many others to just join and race.
iRN: Will you run this series at other tracks this season? If so, which ones?
CC: The schedule for the A car is very interesting. I might not run the fixed series every week since I'll be focusing on the A open series, but at tracks like Darlington, Indy, Pocono and NHMS, you might see my name in a race or two.
Points Update: High-SOF race winner Clayton Celovsky also took the highest amount of points for the week with 267. The rest of the top five include Sabol (256 points), Sheets (234 points), Eszenyi (224 points), and plate-track ace Jesse Atchison (Atlantic; 213 points). Division point leaders are Celovsky, Ryan S. Oates (Virginias), Rick Thompson (West), Joshua D. Baker (Ohio), Chris Quick (Illinois), Howard Buckler (West), Rick Dukes Jr. (Ohio), Michael Goss (Georgia), Casey McMullen Sr. (Pennsylvania), and Mike Burnell (Midwest).
By the Numbers: As stated before, almost 1500 different drivers tackled the high banks of Talladega during Week 1. Alpha Nickleberry (New Jersey) led all drivers with a total of 32 starts; however, the luck and skill involved in racing at Talladega showed, as Nickleberry only claimed one victory and nine top-five finishes. Rick Dukes Jr. (Ohio) won the most races during the week (four) and a total of 13 different drivers had multiple wins. Vincent Davis (Illinois) led the week in poles, starting from the first position of 12 of his 15 starts. The aforementioned Nickleberry completed the most laps during the week (1032), totaling over 2700 miles of racing.
Next on the Schedule: Next week, the NiCAS (F) series heads to the challenging, treacherous, and always fun Darlington Raceway for 50 lap races around the "Lady in Black." Darlington is a favorite among experienced and novice sim-racers alike, as its unique egg-shaped layout requires a unique approach to being fast and consistent around the 1.366 mile oval. Drivers will need to use caution and finesse to complete passes within the tight racing grooves that the track provides.
---
You may also like...
---