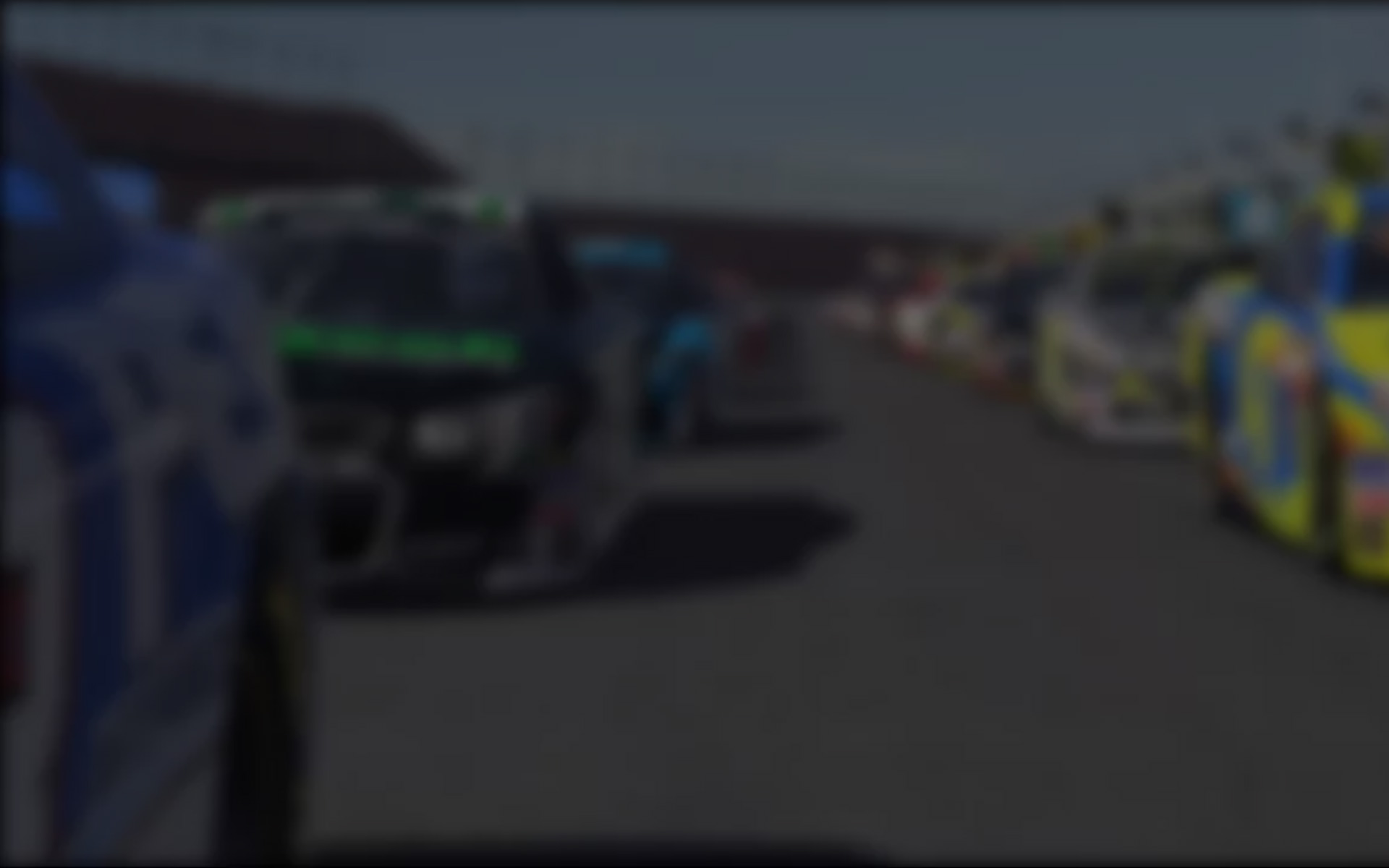 DAYTONA BEACH, FLORIDA – And it all comes down to this. Eleven parts have been completed of the twelve-act drama known as the Red Sox Racing League's GT Battle, and the final act is set to take place on quite the stage. Home to both the Daytona 500 and Rolex 24 Hours of Daytona, the Daytona International Speedway has given fans of both oval and road course disciplines plenty to cheer about over the years, and the season-ending Gentleman Jim 25 Laps of Daytona elicit a few more roars.
If that wasn't enough, fans in attendance are in for a special treat – this particular weekend the Red Sox Racing League is sharing the 12-turn, 3.56-mile with the Historic Sportscar Racing group as they put on their annual Classic 24 Hours of Daytona. Through no small effort, the group has succeeded in attracting some of the most iconic endurance racing cars and personalities from the last 60 years, and the participating teams have been absolutely meticulous in coaxing the original appearance and performance from these machines. "Goosebumps, that's all I can really say," mentioned Caribbean Food Delights BMW Z4 GT3 driver James Prostell Jr. in remarks about the classic paddock. "We're driving some of the latest racing machines BMW, McLaren, and, well, let's just say 'practically Porsche' have on offer, and to see, and hear, these marques and many more in their natural habitat, on the track, instead of in some kind of museum or car show is awesome. I've really gained an appreciation for teams of yesteryear who didn't have traction control, live telemetry, power steering, or the other accouterments we've gotten accustomed to now. I even have a hard time when I'm without a pit speed limiter, being honest! But, really, to know the history of these cars and watch them come to life is something I'm glad I've been able to see, and that's just watching practice. I can't wait to see the green flag drop on the Classic 24!"
But before the green starts the Classic 24 of Daytona, the checkered flag needs to wave over the GT Class Battle Season. With a time of 1:46.491, Reed Rundell's up and down RUF class season took another turn skyward, grabbing the final available Wil-Trans Pole Position Award, besting fellow RUF driver Dave Hoffman by only .123 seconds.  Sam Dobie followed to make it a 1-2-3 start for the marque, followed by Dean Moll, fastest of the BMW Z4 Brigade. Next up, Brian Irby, faster of the two McLaren MP4 GT3 entries lines up on the inside of row three, flanked by Les Turner on the outside of the third row. Terry Daul, Chris Weidner, Dennis Griffen, Kevin Kyle, Ed Sutcliff, and James Prostell Jr. fill out the rest of the 12-car field.
In anticipation of the green flag, the Ford Mustang Pace Car ducked into pitlane, letting the field takeoff for one last time. Polesitter Reed Rundell had visions of leaving the field in his wake, but early on that was not to be the case. While Rundell was able to lead laps two, three, and four after Hoffman made good use of the draft to take honors for the opening lap, the close battle for the top four meant Dean Moll and Sam Dobie were just as easily in the mix. Should anything happen up front, Brian Irby and Les Turner were lying in wait, ready to take advantage.
Now, as almost always is the case in auto racing, something did happen. Actually, quite a few things. With the long straights and banked NASCAR turns allowing the cars to run flatout, the tight international hairpins on the infield became roughly the only place to pass throughout the race. First to head in the wrong direction, with a little help, was Sam Dobie, nudged by Dave Hoffman after taking second on lap four. This, and a few other meetings with Daytona concrete dampened an otherwise promising outing. Four laps later, second-placed McLaren driver Dennis Griffen swapped ends under braking for the busstop chicane, and the trip to the tire barrier ended his day. Later, leader Reed Rundell had his own spot of bad luck himself, first clipping the tire barrier entering turn one, then spinning in the following hairpin, scattering the field as they darted to avoid his Harley-Davidson RUF. All this before the halfway point. "I hereby declare Daytona as 'The race that nobody wanted to win,'" said Turner, one of few to leave the race without significant damage to his race car. "There wasn't anything too out of line going on, just a bump here or there, just enough to turn people around, but one after another those leading ran into some bad luck." All told, the 12-car field racked up 61 incident points for the race per unofficial post-race standings.
Adding to the carnage, James Prostell Jr. exited pitlane just beyond the halfway point only to exit the race itself a half lap later due to a hard impact of NASCAR turn 2. "The human mind is an incredible machine, especially when it's dead-set to do what you're telling yourself not to do," he told reporters post-race. "There are these bumps at the exit of pitlane, designed to keep you honest and within the set boundaries, and the mantra is 'don't hit those bumps, don't hit those bumps' and what happens? Of course, I run over the last set.  I thought I might be ok, but the suspension did not appreciate the hit, and gave way right in the middle of the banked turn, sending me into the wall. Lucky on two points, one that I didn't take anyone else out, and two that it's the end of the season so we're not scrambling to repair the chassis before the next race. Tough way to end the season, but glad to have so few races end this way this year."
With half the race in the books, McLaren MP4 driver Brian Irby was poised to take the win, with a slim lead over Dave Hoffman. Spending laps 15 through 21, Irby shocked the crowd, and maybe himself, when he got caught out by the same chicane that claimed fellow McLaren driver Dennis Griffen in the earlier portion of the race. Irby's loss quicly became Hoffman's gain, able to take the checkered flag ten seconds clear of Les Turner, who found himself in a late fight with Dean Moll to decide which steps of the overall podium they'd take. Turner finished second and took the BMW class win in the process, followed by Dean Moll in his own BMW, then the RUF of Reed Rundell and the BMW of Terry Daul for the top five. Amidst all the chaos, Arrested Development's Ed Sutcliff was excited to claim a class podium, third in the RUF class, and shared sentiments that would be echoed by all in the paddock. "Third place in our division was a great result for the #33 car tonight.  We've really struggled with the RUF this season, so much so that we gave serious consideration to switching to the BMW about half way into it.  Tonight's race, The Gentleman Jim 25 Laps of Daytona, was held in honor of our good friend and former league member, Gentleman Jim Albertson.  I know Jim would have been proud of the clean racing RSR members demonstrated again this year.  Hats off to league officials for their tireless efforts to keep the cars competitive week in and week out."
Class Results
RUF Rt-12t Track
1. Dave Hoffman
2. Reed Rundell
3. Ed Sutcliff
4. Sam Dobie
BMW Z4 GT3
1. Les Turner
2. Dean Moll
3. Terry Daul
4. Chris Wiedner
5. Kevin Kyle
6. James Prostell Jr.
McLaren MP4-12C GT3
1. Brian Irby
2. Dennis Griffen
And with the checkered flag in the air, the Red Sox Racing League's GT Battle season came to an end. Yet, while the numbers were in the books, not everything was exactly over as a surprise on the track was still in store for a particular winning RUF driver. "I was just about ready to call it a day, and get ready for the award ceremonies tonight," said race winner and RUF class champion Dave Hoffman, "but it turned out that, during my race, my team was able to work a deal with the Historic Sportscar Racing team in charge of the Dauer Racing Tic-Tac Porsche 962. I wasn't expecting it at all, but our publicist pitched the idea of having the driver of the Tic-Tac RUF take a turn behind the wheel of the Tic-Tac Porsche 962, and they actually went along with it, giving me a small stint in the prototype during the Classic 24. All of a sudden, an extra hour in the racing suit isn't so bad!" laughed Hoffman, thrilled at the opportunity. " That was a great experience I'll take with me for some time!"
Later that night, the Red Sox Racing League held their year-end event, handing out hard-earned trophies and recognition for season-long efforts and triumphs.
Championship Results (Duplicate names participated in at least one race in that particular class)
BMW Z4 GT3
1. Terry Daul
2. John Koscielniak
3. Les Turner
4. James Prostell Jr.
5. Kevin Kyle
6. William Kabela
7. Dean Moll
8. Greg Harris
9. Jeff Thomas
10. Gary Jorgensen
11. Jeff Marianetti
12. Dennis Griffen
13. Karl Mumbower
14. Chris Wiedner
15. Dean Ayer
16. Brian Corss
17. Jeremy N. Cross
18. Brian Irby
RUF Rt-12 Track
1. Dave Hoffman
2. Reed Rundell
3. Sam Dobie
4. Ed Sutcliff
5. Andrew Feldman
6. Corey A. Wolf
7. Scott Husted
8. Andrew Gantman
9. Ronnie Potts
10. Brian Irby
11. Dean Moll
12. Michael Baley
McLaren MP4-12C GT3
1. Joseph Jordan
2. Dennis Griffen
3. Brad Vincent
4. Divina Galica
5. Tony Duffey
6. Brian Irby
7. Troy Harder
8. Karl Mumbower
9. Paul Hesla
10. Chris Wiedner
11. Dean Ayer
12. Dean Moll
13. Les Turner
BMW class champion Terry Daul had a few words for the audience: "First off a big thank you to ITT Engineering. Obviously they're on the BMW's John (Koscielniak) and I drive, but they're a driving force behind the series as a whole. Thanks, too, to BMW – the Z4 is an incredible car to drive, whether in street or racing GT3 form, and is one slick ride. And last but not least, thanks to McLaren and luring Les Turner to drive a MP4 at Montreal. This was his championship to win had he driven the Z4 in enough races, but, well, he didn't!" joked Daul. RUF Champion Dave Hoffman was sure to offer thanks while hoisting his trophy. "A big thanks to the Red Sox Racing League, RUF, and the fine folks at Tic-Tac, not only for their support through the season, but also for the surprise earlier today – what a rush!" Finally, McLaren champion Joseph Jordan expressed some gratitude of his own. "My car might not have as many sponsor names on it as others in the field, but I know I'm just as supported. This one goes out to my family, who have to make things work while I'm heading to the track week after week, then deal with a preoccupied me while I'm home! Thanks for your love and support – this doesn't happen without you!"
Rarely at a loss for words, James Prostell Jr. took to the podium while accepting his fourth-place BMW class trophy, and shared a quick story. "Probably one of the best things to happen for me and my racing career was right here in Daytona earlier today, even though with the wreck, some might think this was a terrible day. We knew we'd be starting in the back since qualifying had finished without us turning a lap. It was lunchtime so all the guys were out, and it was just me in the trailer, with the car outside in the paddock. I've got my head in my hands, and I have no idea how I can find the speed to keep up, and now I'm just hoping all I can for some kind of good showing, especially with some key people representing my sponsors in attendance. Next thing I know this kid walks up to my car to take a closer look, and he's holding a 1/64th scale model of my car to boot. I didn't even know we sold them, but in any case, he'd look at the tires on his toy, then examine the real thing. The he'd eye the front bumper, then view the same on my car. He didn't know I was watching, but I could just see the gears turning in his head. Before long, he had scoped out the whole car before finding another car in the paddock to pour over. But that was when it hit me – I used to be that kid! I was the little boy that, for three laps at a time at the local go-kart track, was just as fast as Ayrton Senna. I was the kid that turned on a video game, and controlled an eight-bit stockcar-ish thing that would give Dale Earnhardt a run for his money. I was the young man that went to bed and would dream of having anything to do with the racing world. Today, I realized that not only was I that kid, I still am that kid! There's still a part of me that lights up as I walk through the paddock, or hit the ignition for the first session of a race weekend. I can't see myself anywhere else, or doing anything else, yet I think that for awhile I've forgotten some of that. My advice? Don't forget! I am that kid, living the dream right now, and you know what? So are you!"
Finally, league officials took the opportunity to give out a State of the League address, and let everyone know what the near future held for the teams. "First off, hats off to everyone here – take a look around and see how far we've come! I remember when we'd be giving trophies out at Wendy's down the street from the main office, but now we've really made it, with the whole banquet room, nice dinner and all! But all joking aside, I think John Henry would be proud of how far his league has come, and it's time we made him even prouder. My first challenge for every team here is to continue to help grow the Red Sox Racing League brand. There's a simple enough solution, and it won't cost anyone a dime – social media. Let's get the Red Sox Racing League out there, let's hit Facebook, Instagram, Twitter, YouTube, and so on and spread our stories! Our sponsors our counting on us to be as viable as possible, and getting in front of any pair of eyes we can won't hurt!"
"Now, I know there have been rumors of what's going on for the next season, and first, let me tell you what we're not going to do. For the foreseeable future, today's Daytona race was the last multi-car, fixed series race we will be holding for some time. Was the racing good? Yes, exceptional, really. Did the fans enjoy it? Absolutely. Thing is, though, behind the scenes, so many hours were poured into balancing the cars against one another while keeping the teams happy that the techs should be commended, if not committed, for their efforts. That's part of why we're giving Brian Irby a separate trophy – the Test 'n' Tune award – for his time behind the wheel each model car at every round, his feedback helping to establish a foundation to work with. Without that, I couldn't imagine us having qualifying sessions where you didn't know which car would be on pole, or race finishes with a representative from each on the overall podium. It didn't always shake out that way, but this work was crucial and getting us as close as it was."
"Having had all that work put in, what did we end up with? The car counts were low again for the season, and it's no fault of the teams here – we just think there are too many places to go race a GT3 car. I miss having 35-40 car fields, and I bet you do too. So we did some thinking, and rather than become a GT3 feeder series, we've decided it's time for a change – time to go back to our roots. We're thinking that it's not so much the cars on the track that matter, but the people in said cars. We have an amazing group here that will race each other hard, but clean, and no matter what happens will laugh about it at the end of the day. Fans in the stands can feel that, and gravitate towards it. I see no other reason for them to have stuck by us for so long and through so much. So, here's the plan. Three six-week mini-seasons, each in different fixed setup cars. First up, six weeks in the Skip Barber RT2000 – the same open-wheeler that put us on the map six years ago roars again. After that, we take the reins of a still to be decided GT3 car again, and have six one-make races. Finally, the third leg, we go oval racing again. Not sure which car then either, still working things out, but maybe we'll be flying around here in Daytona again without those twisty bits on the infield again!
Guys, I know it's a lot to take in, but if there's any group that's able to survive, and even thrive after such a change, it's this one! Thanks again for a great season, congratulations to our champions, and I'm looking forward to seeing everyone at Canadian Tire Motorsports Park!"
---
You may also like...
---