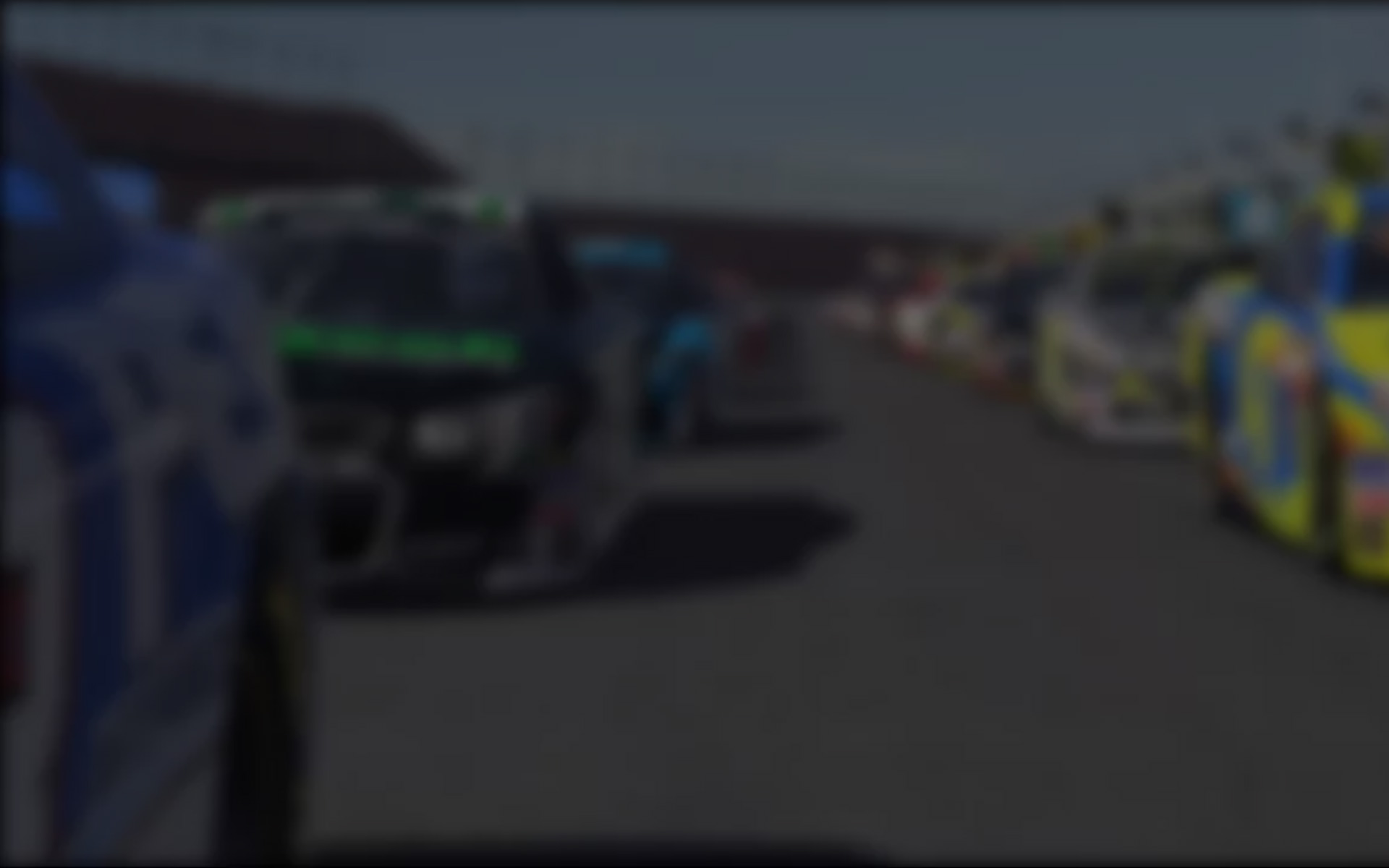 It's been a relatively quiet championship season for ANZ Motorsports driver Jarrad Filsell. Although he's consistently been finishing races in the top-five, he's yet to come home with a Strength of Field (SoF) race win this season. On a sunny but windy race at Circuit Gilles-Villenueve (AKA Montreal), however, that all changed.  Week 11 of the 2014 Season 2 iRacing.com V8 Supercars Series saw Filsell take a dominating win over an extremely competitive field. Filsell began the race in second position beside the pole-sitter, Trans-Tasman Racing (TTR) driver and defending series champion, Madison Down. Starting in third was Team TTL driver Richard Hamstead with Kumho Tyres Australian V8 Touring Car Series driver, Justin Ruggier of Eggleston Motorsport starting in fourth. Rounding out the top-five starting grid was two-time V8 Supercars Americas Champion, Marlon McMullen of Powerbond Racing Team.
As the race got underway, Lap One brought ample opportunity for some and utter mayhem for others. As the pack headed into the first set of corners, Hamstead had a great start off the line and got the jump on Filsell. At the sharp Turn Two, Virage Senna, Hamstead looked to complete the pass on the outside but came down too far onto Filsell. The two drivers came together ever so slightly but it was Hamstead who was the true victim. Getting bumped on his back right tire, he spun around and was forced to wait for the entire field to pass him before making a safe re-entry into the race. There was a brief but mild pile-up as the rest of the field looked to get around Hamstead who, unfortunately, couldn't move until the race pack had passed and had to wait it out in the center of the track.
A few corners later at Turn 6, Pont de la Concorde, KustomImage Motorsports driver Jake Burton got the punt from Zak Jones as Jones looked to pass Burton's teammate, Kurt Stenburg, on the inside but came into the corner too fast.
The impact sent Burton spinning off the track but Jones didn't make a clean getaway. Taking a tap from behind by Stenburg, Jones also went spinning off the track as the rest of the field, including Hamstead, passed Burton and Jones as they re-entered the race.
Still on the first lap as the field began to spread out, SDC Motorsports driver James McKnight made a huge dive going into the chicane of Turns 8 and 9 and passed both Demidov Motorsports driver Ian Ford AND Synergy Sim Racing team driver Michael Schreyer for thirteenth position. McKnight was on the move.
Back up front on Lap Two, Down continued to hold the lead as he raced down the flat-out straight of Droit Du Casino. This long straight leads directly to the infamous Wall of Champions. Before Down got there, however, he first had to overcome the high curbs of the chicane at Turns 13 and 14. The Montreal's strict race marshals are known for dishing out corner-cutting penalties for the slightest infraction, and the 9-time series champion was no exception. As Down drove into Turn 14, he put too much of his Ford Falcon into the curb and received a very costly slow down penalty. This allowed Filsell to slip by for the lead with Leigh Ellis hot on his tail. Now in third, Down soon found his mirrors filled by Ruggier who was on the charge. Down was able to hold him him off until he received yet another slow-down penalty on Turn Four. This one was even more costly than the first as the field was more condensed behind him. To make matter worse, Down got into the back of Dean O'Brien as they braked hard for the hairpin Turn 10. This briefly sent Down off the racing line, allowing Kamikaze Racing Team driver Michael Fulcher to slip by as well. By the end of that eventful lap, Down had slipped from first position to ninth.
Around the same time, an intense three-way battle for tenth position was being waged by Dean O'Brien, John Emerson and Mitchell McLeod. The three were in a very heated argument and frequently found themselves side-by-side going down the long straight towards the chicane at Turns 13 and 14.
This all changed, however, as McLeod received a slow-down penalty for corner-cutting which allowed O'Brien and Emerson to fight amongst themselves…or so they thought. Into the fray came McKnight who was continuing to have an incredible drive. A few laps later, Emerson received a corner-cutting penalty of his own, which dropped him out of this battle. That left McKnight and O'Brien who continued in a fight which stretched for almost the entire duration of the race. It wasn't until Lap 24 that O'Brien made a mistake coming out of Turn 10 that McKnight was finally able to pass. McKnight went on to finish seventh after starting in nineteenth in what could only be described as a truly stellar drive. O'Brien fought to the end and managed to take home an eighth place finish less than a second behind McKnight.
Further back, the two rivals of Down and Hamstead were having at it once again except this time it wasn't for the lead of the race; it was for tenth. With both top-tier drivers receiving penalties or getting caught up in racing incidents, they found themselves battling for every inch as they usually do . . . only further back in the field. By the end of the race, a frustrated Down was able to maintain his position and crossed the finish line in tenth with Hamstead finishing just behind.
Up front for Filsell, it was a quiet ride to victory. Leading 26 of the 30 laps and setting the fastest lap of the race with a 1.37.113, Filsell sailed home to an easy win with a 15 second gap over the Beaus — as in Beau Cattell who finished second and Beau Cubis, who rounded out the podium after he got around a frustrated Ruggier who battled Cattell for second the majority of the race until he received a slow-down penalty. Still on the topic of frustrated, McMullen was able to complete the top-five after receiving a number of slow-down penalties himself.
This Australian Strength-of-Field (SoF) race had a strength of 4611 and was split four times. The top five finishers from the other splits are as follows:
Split 2/SoF 2373
1- Martin Carroll
2- Sanjin Delalic
3- Aaron Hamilton
4- Corey Preston
5- Henry King
Split 3/SoF 1766
1- Dylan Carroll
2- Rhys Goldfinch
3- Mark Pickett
4- Jason Scandolera
5- David Baxter
Split 4/SoF 1081
1-Andrew Williams
2-Tony Lynch
3-Aaron Mcintyre
4-Michael Creed
5-Greg von Heraud-Parker
With Week 11 completed, most drivers are relieved to have this track behind them. Frustrated by the shear amount of corner cutting penalties received in one race, many drivers have taken to the forums to express what they believe is a "ridiculous" corner-cutting penalty system.
Regardless, most will be excited to bring their Ford Falcons back to home turf for the final week of Season 2 which will take place at Phillip Island Circuit. This 2.76 mile road course is located in Phillip Island, Victoria, Australia and features a single configuration of 12 challenging turns. With the close battle for the championship coming to an end this week, Hamstead, who leads the championship with 1875 points, will be looking to capitalize on his excellent season of SoF victories while Filsell will be hoping his spot as one of the most consistent drivers will pay off as he's just two points behind Hamstead. Phillip Island will be the battlefield and by the end of the week, we'll be crowning the 2014 Season 2 Champion. Many have fought hard for this honor over a grueling 12 weeks of sim racing but, in the words of the Highlander, "There can be only one."
V8 Supercars Online Premier Series
In conjunction with Oceanic Sim Racing (OCR) and V8s Online, the V8 Supercars Online Premier Series is a new Australian racing series which will feature "longer races, live marshalling, one qualifier and a chance for any driver to enter the series." This series aims at putting more realism into sim-racing by including special rules such as the "No ESC button" rule (no quick-tows during qualifying) as well as grid penalties as a result of poor driving during qualifying. This will be a broadcasted series and, so far, over 120 drivers have registered. The first season begins next month and will be a shorter "test season" before the full roll out in 2015.  There will be MUCH more to come on this series so be sure to head to the forums for more information and to register.
---
You may also like...
---