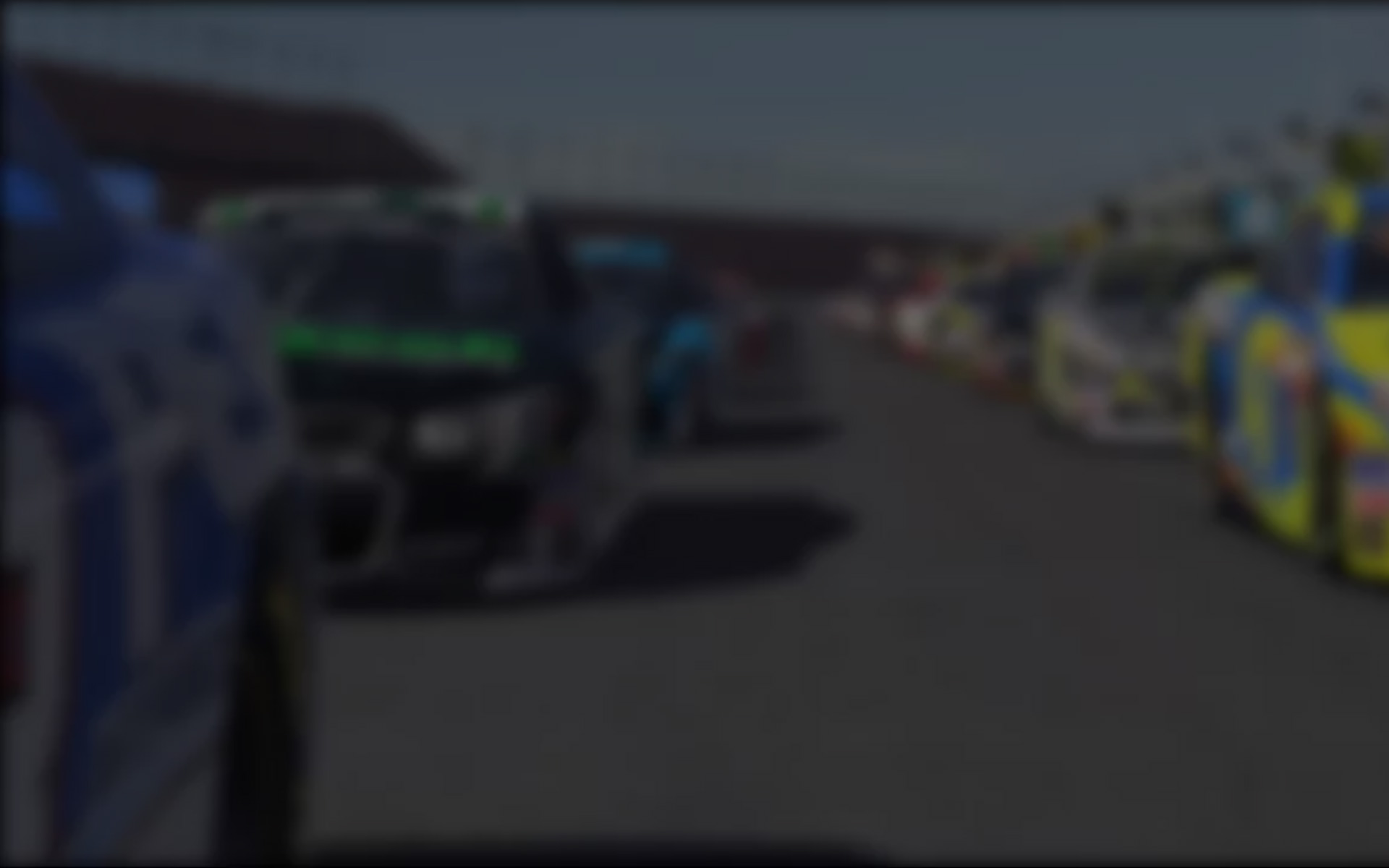 Versão em português abaixo
It was the 3rd race done at iRacing Brasil's NASCAR Pro Series. On February 17th, the championship starts to give its first impressions, but there is 7 races to go yet for the conclusion. Anderson Paes leads on the points, with 139 counting so far, followed by João Carlos Nóbrega, with 126. At 3rd place, Luis Antonio Piccolo have 117 points. This is the outcome of the 3 online races done so far.
Indianapolis had Igor Kops as pole position, with Paulo Junior also on the front row. Behind them, Anderson Paes and Rodrigo Lellis on the 2nd row, leading the rest of the 32 cars. A total of 22 drivers qualified for the race and 10 other drivers decided to stay on the bottom for the start.
Igor Kops had a good start and kept the lead, getting away of Paulo Junior and Anderson Paes. With a better setup for his car, Igor came up as a strong contender for the win, increasing the gap for each following lap.
Anderson Paes saw Paulo Junior hitting the walls of Indianapolis and came through it, getting the 2nd place at lap 4. Paulo had a tough moment and lost positions, going for the 6th place and losing contact with the leaders. At lap 5, Leonardo Pires and Rafael Matta (7th place) had contact at turn 1 and Rafael ends losing control, finding the walls. With too many damage, he would leave the race a few moments after.
The drivers headed their ways for the pitlane at lap 6 for tires and refuelling. Igor Kops (1st place) also was in the pits, leaving Luis Piccolo for the lead. Sergio Abella also sticks with Piccolo and fills the 1st row for the restart at lap 10. Piccolo does a good restart and stays on the front while Abella falls behind for the 4th place and gets contact by Rodrigo Lellis. Caution is out again and Lellis leaves the race along with Marcos Bicca, who also got involved on the incident.
Restart at lap 15, Luis Piccolo gets a good gap on the main straight, from Anderson Paes and Igor Kops. But right after turn 1, Anderson overtakes Piccolo and became the new leader. Piccolo also lost position for Kops (3rd place).
With Leonardo's accident at lap 16, we had our 3rd yellow flag at Indianapolis. The restart was done at lap 21. After 5 more laps on green flag, Caique Ribeiro and Alex Montoanelli caused the 4th caution  of the race. Caique had a mistake and Alex got involved, crashing on Caique, who also got hit by Luis Masironi, having his Fusion's engine damaged, leaving the race.
Piccolo once again leads the restart, on his Fusion 92, following a different strategy from the other drivers who were contenders for the win at that moment. Without having any pit services done so far, Piccolo was the driver with more laps done without changing his set of tires, on the top 5, since the race start. Igor Kops and Anderson Paes, again on the top 3, had their 2nd stop so far.
Kops overtakes Piccolo and gets the lead again on lap 31, leaving the 92 car behind, still ahead of Anderson Paes who had newer tires. Lap 32 had a new caution happening after Marcos Resende and Diego Resende having contact. Marcos hits the wall and pushes Diego off track, who crashes into the inside walls and now had his chevy bumpers destroyed. Besides the strong impact, Diego could return for the restart at lap 36.
The race at Indianapolis was having now a strong battle for the lead, between Igor Kops and Anderson Paes, restarting together for a few more times, constantly changing positions. Now they were followed by Anderson Perez and Sergio Calizário, by lap 52. With 23 more to go, more 2 cautions would be thrown at the track: The 8th one was caused after Eli Rocha lost control of his Fusion and spun on track being hit by Carlos Feruti. Carlos left the race but Eli not. The 9th and final caution was out after Duca Lamego and Filemon Fábio getting contact. Duca made his return to the track but Filemon spun out of control and Marcelo Massa, Marcelo Bianchi and Roberto Vianna were involved on a bigger crash.
At lap 73, the last restart had Igor and Anderson going side by side at turn 1, but soon after that Igor was out of Anderson's reach, winning with 2 seconds of advantage for Anderson, 2nd place. Pedro Souza (3rd), Murilo Augusto (4th) and Jr. Borborema made the top 5. Igor also became the 1st driver running a Ford to win on this series.
Watch the full race on the link below:
http://www.youtube.com/watch?v=JuwjsGMifO0&feature=share
Caçando "Kops" em Indianapolis no iRacing Brasil
O iRacing Brasil realizou a 3ª etapa da NASCAR Pro Series neste último 17 de fevereiro, começando a dar as primeiras impressões do campeonato que ainda tem 7 etapas para contar na tabela. Anderson Paes lidera na pontuação geral com 139 pontos, seguido por João Carlos Nóbrega, com 126. No 3º lugar, Luis Antonio Piccolo, tem 117 pontos. Esta pontuação é referente às 3 etapas contabilizadas até o momento.
Indianapolis começou com mais uma pole de Igor Kops, que largou ao lado de Paulo Junior na 1ª fila. Atrás, Anderson Paes e Rodrigo Lellis na 2ª fila, lideravam o resto do pelotão de 32 carros. No total, 22 carros optaram por qualificar, enquanto outros 10 ficaram para alinhar no fundo do grid.
Igor Kops larga bem e mantêm a liderança, se afastando de Paulo Junior e Anderson Paes. Com um carro melhor acertado para a pista, Igor se mostrava um forte concorrente pela vitória, aumentando sua distância a cada volta.
Anderson Paes vê Paulo Junior encontrar os muros de Indianapolis e passa a ser o segundo colocado da prova na volta 4. Paulo passa por um momento difícil e se vê caindo para o 6º lugar, perdendo muito contato com os líderes. Na volta 5, Leonardo Pires e Rafael Matta (7º colocado) entram em contato na curva 1 e Rafael acaba perdendo o controle, se chocando com o muro.
Os pilotos já se dirigem ao pitlane na volta 6 para trocar pneus e reabastecer. Igor Kops, então líder da prova, também opta por parar e deixa para Luis Piccolo a liderança. Sergio Abella também não foi ao pitlane e ficou na 1ª fila para a relargada, que ocorreu na volta 10. Piccolo faz boa largada e se mantêm na frente enquanto Sergio cai para o 4º lugar e é tocado por Rodrigo Lellis, o que ocasiona uma nova bandeira amarela . Lellis e Marcos Bicca, que é envolvido, sofrem danos severos no acidente e acabam abandonando.
Na relargada da volta 15, Luis Piccolo se distancia na reta de seus oponentes, Anderson Paes e Igor Kops. Mas já na curva 1, deixa para Anderson a liderança e também perde posição para Kops, ficando em 3º.
Com o acidente de Leonardo na volta 16, são 3 bandeiras amarelas seguidas a serem acionadas em Indianapolis. A relargada é dada na volta 21 e 5 voltas são dadas em bandeira verde, até um acidente entre Caique Ribeiro e Alex Montoanelli acontecer no giro 25, causando a 4ª. Caique, que comete um erro e envolve Alex na batida, também é atingido por Luis Masironi e fica com o motor de seu Fusion prejudicado, abandonando.
Piccolo mais uma vez lidera na relargada, com seu Fusion nº 92, seguindo uma estratégia diferente dos outros concorrentes pela vitória. Sem parar em nenhum momento no pit, Piccolo era o piloto com mais voltas completadas no mesmo jogo de pneus entre os 5 primeiros desde a largada. Igor Kops e Anderson Paes, novamente no top 3, aproveitaram novamente o momento do pace car na pista para voltar ao pitlane.
Kops ultrapassa Piccolo e volta a liderar a prova na volta 31, deixando o carro 92 para trás, mas ainda na frente Anderson Paes, que tinha pneus mais novos. A volta 32 traz mais uma bandeira amarela em Indianapolis, após entre Marcos Resende e Diego Resende. Marcos toca o muro e acaba empurrando Diego para fora da pista, que bate fortemente e acaba tendo a frente de seu Chevy destruída. Apesar disso, Diego retorna para a relargada na volta 36.
A corrida de Indianapolis teve então uma disputa intensa pela liderança entre Igor Kops e Anderson Paes, que seguiram relargando juntos e trocando continuamente de posição, seguidos por Anderson Perez e Sergio Calizário já na volta 52. Com 23 voltas para o término, ainda seriam vistas mais duas bandeiras amarelas até a volta final de nº 75. A 8ª é ocasionada após Eli Rocha perder o controle de seu Fusion e rodar na pista, sendo atingido por Carlos Feruti. Carlos deixa a pista mas Eli permanece. E a 9ª bandeira amarela é causada pelo acidente entre Duca Lamego e Filemon Fábio, que se tocam. Duca consegue retornar à pista mas Filemon segue sem controle e ao voltar, acaba envolvendo Marcelo Massa, Marcelo Bianchi e Roberto Vianna em um acidente maior.
Na volta 73, última relargada, Igor e Anderson entram na curva 1 lado a lado, mas Igor logo consegue se destacar e manter a liderança que seria sua até a volta final, afastando-se mais uma vez dos outros carros e vencendo com quase 2 segundos de distância para Anderson Paes, 2º colocado. Pedro Souza (3º), Murilo Augusto (4º) e Jr. Borborema completam o top 5. Igor também se tornou o 1º piloto com um Ford Fusion a vencer no campeonato.
Confira a corrida na íntegra no link abaixo:
http://www.youtube.com/watch?v=JuwjsGMifO0&feature=share
---
You may also like...
---