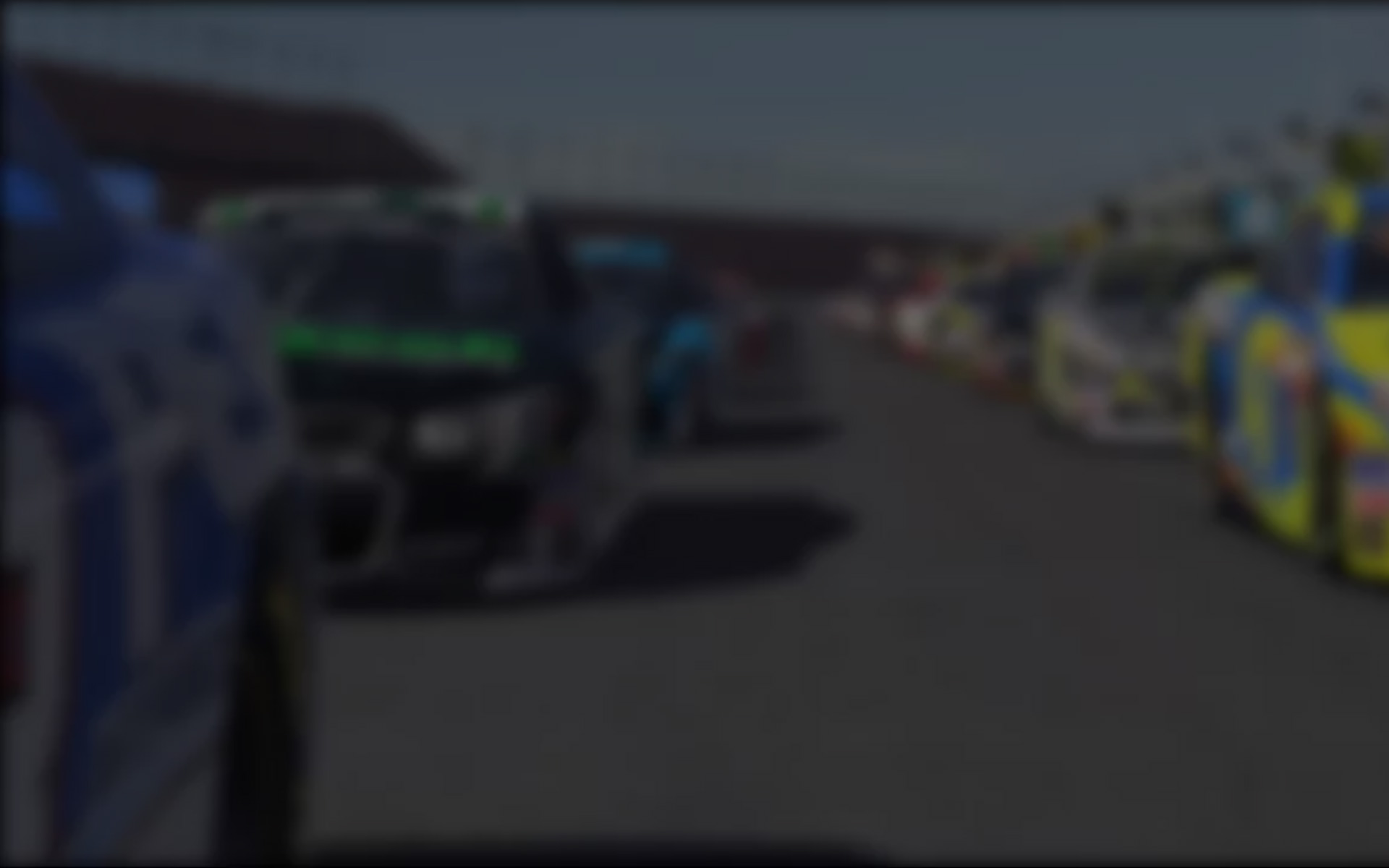 September 16th, 2015 by JaimeB
A Coanda Simsports driver won the 14th round of the iRacing World Championship Grand Prix Series.  However, it wasn't German sim racer Martin Krönke, who headed into the event needing to rack up as many points as possible to close the gap to four time champion Greger Huttu. Instead it was the Red Bull Rallycross driver Mitchell DeJong who claimed his second victory of the season, as he sought to secure fourth place in the championship.
Heading into the event, drivers were presented with new challenges, principally the introduction of iRacing's new dynamic track surfaces. This is the second change that drivers have had to adjust to since the mid-season, as they had previously been introduced to dynamic weather. It was well appreciated that this would have some form of impact on qualifying, but little were competitors and observers alike prepared for the outcomes.
The biggest surprise of qualifying?  Most certainly Huttu. It was a miserable P13 for the Finn, his worst qualifying in series history, and it marked the first time in years that two Team Redline drivers had started outside of the top 10 (Aleksi Uusi-Jaakola would start at the rear after not qualifying). Although Redline's Olli Pahkala would find a way to stop a Coanda Simsport lockout of the front row, having three Coanda Simsport Williams-Toyota FW31s in the top five spots on the grid — Krönke (pole), Luis (P3) and DeJong (P5) – was clearly not the way the team would want to start the race.
After leading the way early, Hugo Luis earned his best start in months, but it would eventually be Krönke who scored a much needed pole position. An honourable mention would go to Radicals Online, as Jeremy Bouteloup posted a lap that at one point placed him in pole position before sliding to fourth, and the team once again placed a couple of cars in the Top 10.
In 2014, the autumn Suzuka race saw one of the biggest opening lap crashes in series history, and this hung in the minds of a number of drivers approaching the race start. Whilst all drivers got away and through Turn 1 without issue, trouble occurred at the rear of the field in the Esses with Davy Decorps (Orion Race Team), Jaakola, Justin Lindsey and Pablo 'GoPro' Lopez, the latter of whom will now certainly have to run in the 2015 Pro Series of Road Racing in order to gain entry to next season's World Championship series.
The first victim of the day would be Bouteloup, who became one of three drivers over the course of the event to be involved in a crash on the exit of Denger 2. Friction Racing's Marcus Hamilton would follow suit later on in the event, joining Bouteloup in retirement. Radical's day would continue to falter, first with Mogar Filho being involved in an incident and latterly Joonas Nukarinen having some issues of his own, but the big moment of the day involved Mack Bakkum, racing with Luis.
It should be prefaced that to this point, though Bakkum had been on aggressive form, he had made some spectacular passes, notably two overtakes in as many laps at Spoon Curve. It should also be noted that these were not drivers at the rear of the field, but Coanda drivers running inside the top 10. When it came to the incident with Luis however, luck, and track placement ran out. Heading out of 130R, Bakkum looked to the outside – with two wheels on the grass – then tried to move back to the middle of the racetrack. Luis kept his car steady, and the result? Carnage. As well as hurting Bakkum's chances of making the top 25 in points (and automatic entry in the 2016 series), the incident also harmed Luis' chance of maintaining fourth in the championship.
Notwithstanding the Bakkum/Luis crash, we witnessed more clean overtakes at Suzuka than at some other tracks, and a number of drivers were able to work their way through the field into good positions before the first round of pits tops. This group of movers included Robin Friskopps (ineX Racing) who, despite being on an alternate strategy, was able to pass lighter cars around him, and Tommaso Carla (Mivano Racing), who was able to break into the top 10.  One driver who notably was unable to pass cars however was Huttu, who was doubtlessly ruing Redline's traditional strategy of gearing their machines for running in clean air rather than traffic. Whilst Huttu has been able to pull-off a stunning pass over Dejong at Spa a fortnight ago, there would be no carving through the field for the Finnish driver here.
On the other hand, pit stops proved useful for Huttu, as he was able to run a few laps longer to help him move through the field. But at the end of the first stop it was his teammate of Pahkalla leading the Redline chase of Coanda's Krönke and DeJong. Overall, the ability to stay out for an additional five laps enabled him able to leapfrog four positions, as the overcut that had worked so well for him all season proved to be fruitful again.
Krönke maintained the lead through the first round of stops, but saw his advantage over DeJong reduced; not to dangerous levels, but enough to keep the German driver paying attention. At this point, the field settled down, with the only real incident being Martti Pietilä (Coanda Simsports), who lost a ton of time after a spin.
The second round of stops proved to be the difference-maker for deJong, as he stayed out two laps longer than Krönke and assume the lead when all was said and done. Krönke would lose time throughout his final stint, and many were wondering if he had perhaps taken a splash too little of fuel and had to save; after all, the dynamic track conditions and variable winds could impact on the fuel flow rate of cars over the course of a race.  Instead, the cause of his slow pace turned out to be light suspension damage resulting from a bump on pit road that perhaps put paid to his championship aspirations. With the damage affecting his lap time, he began falling into the clutches of Pahkala, and would finish almost 10 seconds behind the American race winner.
It is what happened after Pahkala exited the Chicane for the final time that set tongues wagging, as he moved over to allow Huttu to pass. At this stage of the championship, and given Krönke's failure to secure a victory, Huttu only needs a handful of points to earn his fifth title. However some questioned the ethnicity of the move by Pahkala, particularly the blatant manner by which it was done. In fact, the commentators for the race speculated whether Coanda would employ a similar tactic – with DeJong yielding to Krönke, through team orders or otherwise — and highlighted the potential difficulties it may cause. Regardless, it would be Huttu joining Krönke and the victorious DeJong on the podium and Pahkala settling for fourth.
Following the event, both Dom Duhan (Redline team principal), along with Pahkala himself insisted that there were no team orders on play, and the decision was made by Pahkala alone. In post race interviews, he defended his decision by stating that as 3rd place in the championship was pretty much secure for him, he was thinking more about helping Redline claim another drivers championship (there are no team championships in the series). When asked whether he was prepared to do the same, DeJong stated that he may have considered so had Krönke's car not been damaged, and he was closer to him on track, but he would not give a definitive answer either way.
The penultimate round of the championship sees a return to Brazil, and Interlagos, where Huttu, after a crazy race, will have one hand on his fifth driver's crown. Finishing in the top two, or anywhere ahead of Krönke is all he has to do; most importantly, he just needs to bring the car home. At the other end of the table, four drivers are battling for three spots at the rear of the top 25, and a ticket to the 2016 championship – with Bakkum, after just five starts, only 30 points away from joining this party. If his recent performances (this race excepted) are taken into consideration, he very well could end up causing an upset somewhere.
As ever, the entire race will be live on iRacing Live, on Saturday 26th September from 1:30PM GMT. Look out for another recap, possibly a championship recap, shortly afterward.
---
You may also like...
---