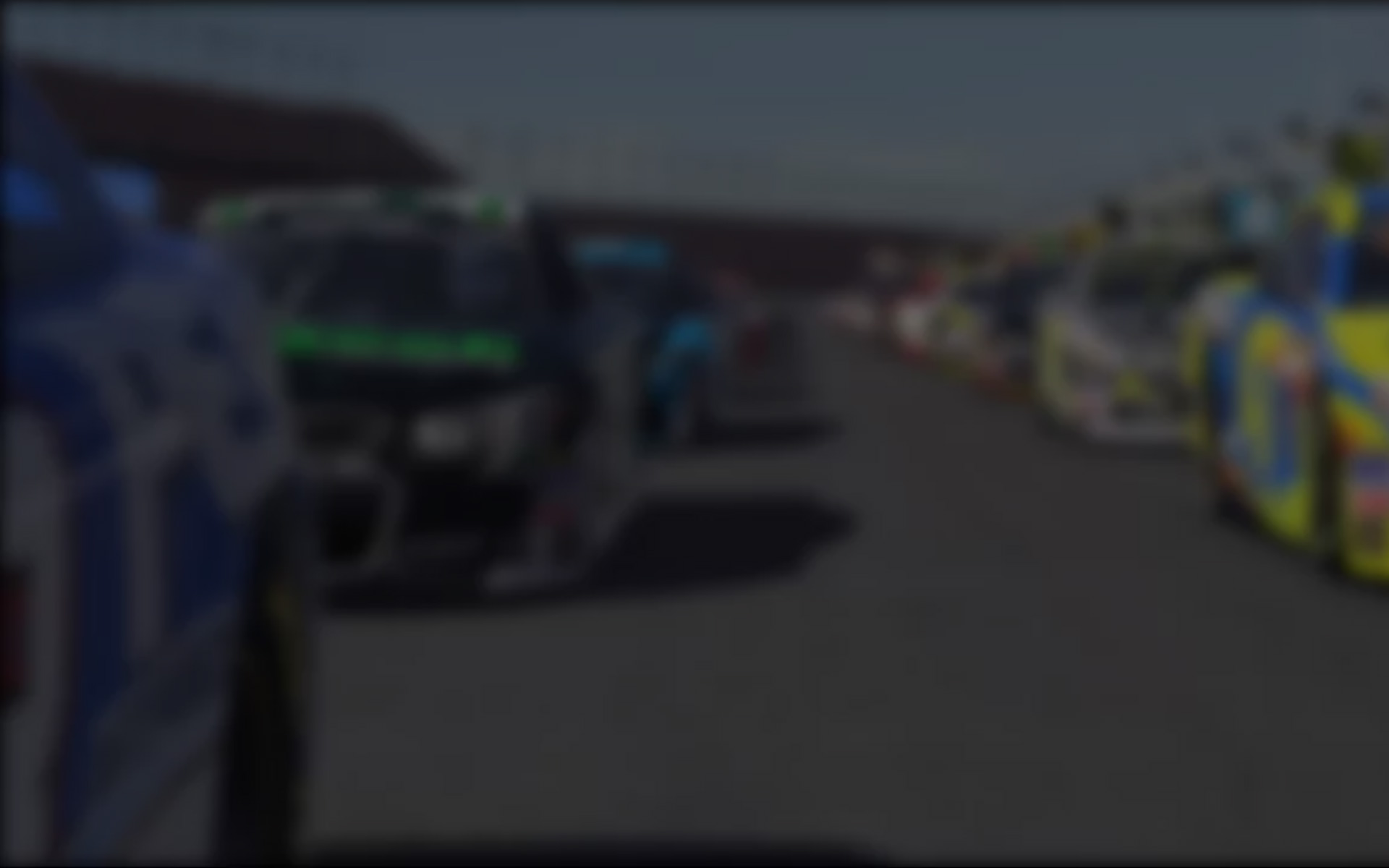 Nearly two dozen sim racers took to the field for Round 3 of the Continental Endurance Sports Car Series (CESCS) at Homestead-Miami Speedway Road Course "B"on March 10.  The mixed class online racing competition features the Ford Mustang FR500S in the GS Class and Mazda MX5 of the ST Class.
Practice and Qualifying
Trace McRae was fastest in final practice with a 1:27.761, just a bit over 1/10th of a second faster than the similar Mustang of Brian Strodtbeck.  Ryan Worley was fastest in the MX5s with a 1:34.568, but that was only .02s faster than Giancarlo Lenzi.
Trace continued his practice form with a 1:27.743 to take overall pole in the #69 Mustang ahead of Strodtbeck and Oscar Sahlin.  Unfortunately, Worley had a troubled qualifying session in his MX5, unable to match his practice time. So it was Giancarlo Lenzi with a 1:33.880 on the MX5 pole pole with Eric Biggs and Jarrett Lawson split by .01s to securing second and third on the grid for the ST class.
Race Review
Zero cautions were the order of the day, although there was no shortage of incidents during the race, especially at Turn 2.
McRae got off to a clean start as the green flag waved, while Hang Ho Tao in his MX5 was first to go out before he even got to Turn 2.  And in the subsequent laps Lenzi, Biggs and Lawson were all fighting for the lead in the ST class.  Strodtbeck in the #7 Mustang had to take action to avoid Trace McRae (who made a small error changing down into first gear) and ran wide onto the grass, falling from second to ninth.
Lap 4 saw Russell Klaesson clip the grass coming into Turn 2, sending him into the gravel trap.  Moments later, a spin by David Waters on the same turn resulted in a collision with Steve Brown, with a lucky Strodtbeck able to drive on through the of the chaos without incident.
Lap 6 saw Jady Baumgardner's Mustang drop from second to seventh after going off at Turn 2.  Also, by Lap 6 Biggs had managed to grab MX5 class lead while battling with Giancarlo and Jarret, before Giancarlo pitted on the next lap.
By lap 13 Strodtbeck's recovery had brought him to second only for him to apparently miss a(nother) shift, enabling Sahlin to retake the position.  A nice battle then ensued between Mustang drivers Sahlin, Strodtbeck and Browne for P2, until Strodtbeck pitted on Lap 15.
One lap later, leaders McRae and Sahlin followed suit, allowing Browne an extra lap to see if he could take advantage of the clean air out front to find some extra pace.  Browne pitted on the following lap, and after all drivers had made their mandatory stops by Lap 19, the positions were as follows: Sahlin was leading the Mustang class (after a lightning stop by his pit crew) from McRae and Strodtbeck.  In the ST class Lenzi was back in the lead, followed by Lawson and Biggs.
Lap 29 saw the overall leaders making their way past the leading MX5s, and as McRae came down the inside Lawson, the Mazda appeared to turn in too early.  The two cars touched and while McRae appeared unaffected by the contact, Lawson ran wide onto the grass and lost a position to the closely following Biggs.
On lap 30 Lawson pitted for more fuel, and perhaps a spot of front-end panel damage.  He was not the only driver in trouble with low fuel, as the other pit crews frantically started calculating to see if their driver would be able to make it to the chequered flag if the race stayed green to the finish.
Lawson's "unscheduled" stop moved Joseph Peak and Jason Bryfogle into a fight for the remaining spot on the ST podium, a   battle that had been raging since Lap 16.  Meanwhile, down at Turn 2 Sahlin was having his own problems running wide, allowing McRae to sneak by on the inside and take the outright lead of the race at the following corner.
By lap 36 Strodtbeck had managed to close to within a second of Sahlin,who obliged by running wide again, this time on the exit of Turn 8.  Strodtbeck needed no invitation, capitalizing on Sahlin's bobble with a better exit out of the corner to take 2nd place…again.
Over the next dozen laps, Strodtbeck made inroads into McRae's lead, bringing Sahlin along for the ride. Lap 50 saw Strodtbeck almost spin on the exit of Turn 3, allowing Sahlin to close right in.  The battle between the two of them continued until Strodtbeck smacked the inside wall between Turns 6 and 7 on Lap 53.  Replays showed him running wide up on the curb exiting turn 6, which sent him heading into the concrete barriers on the opposite side of the track and out of the race.  Strodtbeck's dramatic exit promoted Sahlin to P2 while a consistent Browne found himself in third.
The closing laps saw the battle for third in the ST class raging on between Peak and Bryfogle.  But, with only one lap to go, the latter's Mazda started to cough and splutter, out of fuel.  Not only did it cost Bryfogle a chance at third, Worley seized the opportunity to overtake him for fourth place with Jason, ultimtately crawling across the line in fifth.
So, the finishing positions after yet another exciting CESCS race are:
GS Class Podium
1. Trace McRae (No.69 Team Green)
2. Oscar Sahlin (No. 84)
3. Kevin Browne     (No. 14 Team Northwest/Barnacle Motorsports)
ST Class Podium
1. Giancarlo Lenzi (No.02 Team Northwest/Fanatec/nVidia)
2. Eric Biggs (No. 16 Oakley)
3. Joseph Peak (No. 8 Plum Street Productions)

Race Statistics
Laps completed:  61 laps
Cars finishing on lead lap: 6
Overall lap leaders:  Trace McRae, Kevin Browne, Jady Baumgardner, Oscar Sahlin.
Full-course Cautions: 0
DNF's: 5
Fastest Lap (GS class): 1:27.715 – Brian Strodtbeck
Fastest Lap (ST Class): 1:34.363 – Giancarlo Lenzi
Race Marshal: Steve Myers
The 4th Round of the CESCS will be at Virginia International Raceway (VIR) on March 24th.
——————————————————————————–
The CESCS is an official iRacing league which mirrors the Grand-Am Continental Tires series. It features the Mazda MX-5 Cup competing in Street Touring (ST) and the Ford Mustang FR500S competing in the Grand Sport (GS) class. It was established to provide a proper mixed-class racing experience for drivers of the MX5 and the Mustang beyond what is currently offered and especially to provide a true endurance series for drivers of both vehicles. The schedule aims to replicate the real-world series featuring timed endurance race distances run at the same tracks as the real series including Daytona, Mid-Ohio and, this season, Indianapolis!
You can follow our races streamed live over the internet through GlacierTV or via our Live Timing & Scoring app. Both links are located on our Schedule page.
For more information on the Continental Endurance Sports Car Series check out the official website.
---
You may also like...
---