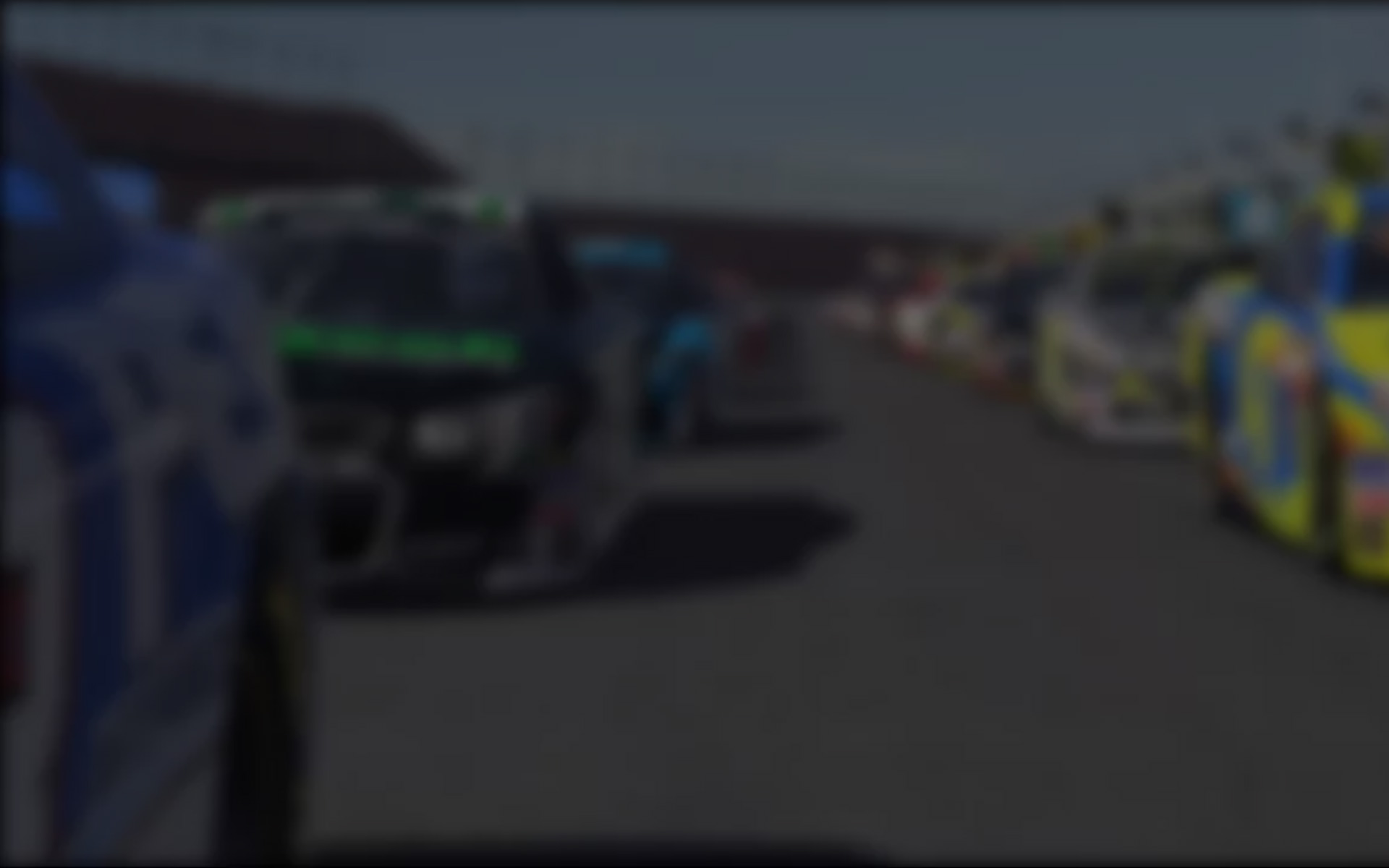 Two dozen sim racers took to the field for Round 4 of the Continental Endurance Sports Car Series (CESCS) at 5.26km Virginia International Raceway on March 24th.  The mixed class online racing competition features the Ford Mustang FR500S in the GS Class and Mazda MX5 of the ST Class.
Qualifying
A brief rundown on qualifying showed the #69 of Trace McRae at the top again in the GS class with a 2:05.724.  Oscar Sahlin qualified 2nd with a 2:06.116 and Russell Klaesson 3rd fastest with 2:06.334.
The Aussie James Stevenson qualified 1st in the ST class with a stunning 2:12.933 to be almost a full second clear of 2nd placed Giancarlo Lenzi with a 2:13.880.  Jason Bryfogle was able to snag 3rd fastest on the grid with a 2:14.184 when both Antti Tuominen and Jarrett Lawson were unable to match their earlier practice times.
Race Review
Trace McRae got off to another great start, but it was in the ST class where the early action was to happen.  James Stevenson in the MX5 was able to keep his position into turn 1, but coming through turns 5A and 6 he found himself going quicker than the slower Mustang of Ricky Dalton, and tried to make a pass.  Unfortunately, there was minimal room for this, and he had to slot back in behind Ricky.  This allowed Giancarlo Lenzi in 2nd to get a better run, and they went side-by-side through turn 7 only to touch. This must have unsettled James' car and he lost control at the subsequent corner running onto the grass, and falling back to 8th.  Lenzi then ran wide exiting turn 12 at Oak Tree giving the #90 of Antti Tuominen (who was behind) a relatively straight-forward pass into turn 14 of the Roller Coaster.  And, it was Tuominen who lead the MX5's past the start-finish line to complete their first lap.
Trace McRae was having no such troubles in the Mustang to be leading the GS class during the opening stages of the race.  Over the course of the next few laps, we saw what has become the norm in the ST class, with many of the drivers coming in to satisfy their mandatory pitstop.  Antti would stay out and continue leading the MX5's. But, Lenzi would lead the charge of those already pitted, and on lap 6 had caught the slower MX5 of John Montoya.  Coming 'round turn 10, Lenzi ran wide onto the grass allowing Jarrett Lawson, behind, to close in. Then, exiting Oak Tree Lenzi got stuck briefly behind Montoya and Lawson pounced. Fans were on their feet as the 3 MX5's ran side-by-side down the Back Straight.  Lenzi trying to pass Montoya, and Lawson trying pass both!  As the Roller Coaster approached we were about to see who had the biggest cahoonas.
And, it was Lawson who entered turn 14 in the lead, with Lenzi deciding to slot in behind Lawson to get past Montoya.  Although, two laps later, Lenzi had the position back.
Back out in front, the leading Mustang of McRae had yet to pit, and was followed by the #84 of Oscar Sahlin and the #14 of Kevin Browne.  In the ST class Tuominen was still leading, followed by the #16 of Eric Biggs and the #57 of Stephane Morien (neither of the three having made their mandatory pitstop).
On lap 10 James Stevenson had managed to catch Jarrett Lawson in 5th, and drew up alongside Lawson on the Back Straight, after getting a better run out of Oak Tree.  And, it was Lawson this time who braked early, handing the position to Stevenson.  But, just ahead Lenzi was having his own moment, losing control on the Roller Coaster, and running off on the grassy infield.  This mistake moved Stevenson up yet another position to now be 4th in the ST class.
So, with the last of the ST class pitstops being made on lap 12, including the current leader Tuominen, it was going to be close as to whether he had created enough of a gap while out in front.  And, as he rejoined the track, he found himself right in the middle of the battle between Stevenson and Lawson (who were all now fighting for the lead in their respective class).  Once again, at the exit of Oak Tree, Tuominen got into Stevenson's slipstream and was able to take the position back, only to run wide on the exit of Hog Pen.  This pushed Antti back to 3rd and finally moved Stevenson back into the lead.
In the GS class, Oscar Sahlin's pit crew had (yet again) managed to get him out in front of McRae to be leading outright, with Jady Baumgardner back in 3rd.  But, McRae hadn't given up, and on lap 16 as Sahlin closed in on the MX5 of Hang Ho Tao, found an opening as Sahlin overcooked it and ran wide trying to pass into the slow turn 11.  This gave McRae the opening he was looking for, and found himself in front once again as he exited turn 12 onto the Back Straight.  One lap later, and we had our first full-course caution of the day and the field bunched back up, and those cars one lap down were able to get a wave-around to be back on the lead lap once more.
At the restart, both Antti Tuominen (in 2nd) and Jarrett Lawson (3rd) found themselves in trouble from the stewards being handed stop-and-go penalties due to overtaking before the start/finish line.
Lap 24 brought out another full-course caution with an incident between the #2 of Lenzi and the #10 of Hang Ho Tao.  Lenzi spinning on the exit of Oak Tree leaving the #10 with nowhere to go.  As the field bunched up again, Mustang positions up front remained unchanged.  But, in the MX5 division the #34 of Jason Bryfogle and the #16 of Eric Biggs had found their way into 2nd and 3rd places respectively, with Stevenson still leading.
Lap 28  saw the race back under green only to be under caution again 3 laps later.  Replays showed Joseph Peak's unsuccessful move down the inside of Matthew Reinoehl at Oak Tree for 5th place.  Both spun, and Lenzi was just able to avoid contact with either, following close behind.
Back under pace car conditions pit crews were calculating whether the 90 minute race would finish under the pace car or not. And, as the track was cleared of debris it looked as if there might be anywhere between 2-3 laps remaining if the pace car came in at the end of lap 34.  And, that proved to be the case, as the pace came in on lap 34, leaving drivers and fans with a 3 lap shootout to the finish.  Positions in the GS class had changed with 3rd placed Jady Baumgardner losing control and running wide at the fast South Bend.  This promoted Russell Klaesson into 3rd.  In the ST class Stevenson was still leading with Jarrett Lawson making a recovery to find himself back in 2nd and Jason Bryfogle now in 3rd.
So, green flag for the final time at Virginia, and everyone away cleanly, except for #57 of Stephane Morien who would be black flagged for jumping the start.  Out in front McRae, Sahlin and Klaesson were pulling away from the pack in their Mustangs.  But, back in the ST class Stevenson was being pressured by Lawson.  And, at turn 5 Lawson made a surprise move on Stevenson to get by cleanly before heading into the Snake to take the lead.  Stevenson again fought back on the Back Straight, and was able to find his way around the outside of Lawson at the Roller Coaster.
Meanwhile, McRae had been forced into an error exiting Oak Tree by Oscar Sahlin. And Oscar saw his chance and pulled his #84 Mustang alongside McRae on the Back Straight with a little over a lap to go.
Approaching the Roller Coaster 2-wide Trace outbreaked Sahlin, yet still managing to keep control for the right-hander and maintain the lead and take the win, his 3rd in a row.  James Stevenson hung on to take his 3rd win of the series as well, after his first lap excursion.  Lawson missed his opportunity to grab second, with a last lap off at turn 4.
So, the finishing positions after yet another exciting CESCS race are:-
GS Class Podium
1. Trace McRae (No.69 Team Green)
2. Oscar Sahlin (No. 84)
3. Russell Klaesson (No. 22 vApex Racing Group/ Inside Sim Racing TV)
ST Class Podium
1. James Stevenson (No. 11)
2. Jason Bryfogle (No. 34 B Racing / Smarter Planet / St. Jude's)
3. Matthew Reinoehl (No. 44 E. Kostritzer Schwartzbier)
Race Statistics
Laps completed (by leader):  37 laps
Cars finishing on lead lap: 23
Overall lap leaders:  Trace McRae, Oscar Sahlin.
Full-course Cautions: 3
DNFs: 1
Fastest Lap (GS class): 2:05.432 – Trace McRae
Fastest Lap (ST Class): 2:13.186 – Jarrett Lawson
Race Marshal: Mike Perry
The 5th Round of the CESCS will be at Mid-Ohio Sports Car Course on April 7th.
——————————————————————————–
The CESCS is an official iRacing league which mirrors the Grand-Am Continental Tires series. It features the Mazda MX-5 Cup competing in Street Touring (ST) and the Ford Mustang FR500S competing in the Grand Sport (GS) class. It was established to provide a proper mixed-class racing experience for drivers of the MX5 and the Mustang beyond what is currently offered and especially to provide a true endurance series for drivers of both vehicles. The schedule aims to replicate the real-world series featuring timed endurance race distances run at the same tracks as the real series including Daytona, Mid-Ohio and, this season, Indianapolis!
You can follow our races streamed live over the internet through GlacierTV or via our Live Timing & Scoring app. Both links are located on our Schedule page.
For more information on the Continental Endurance Sports Car Series check out the official website.
---
You may also like...
---