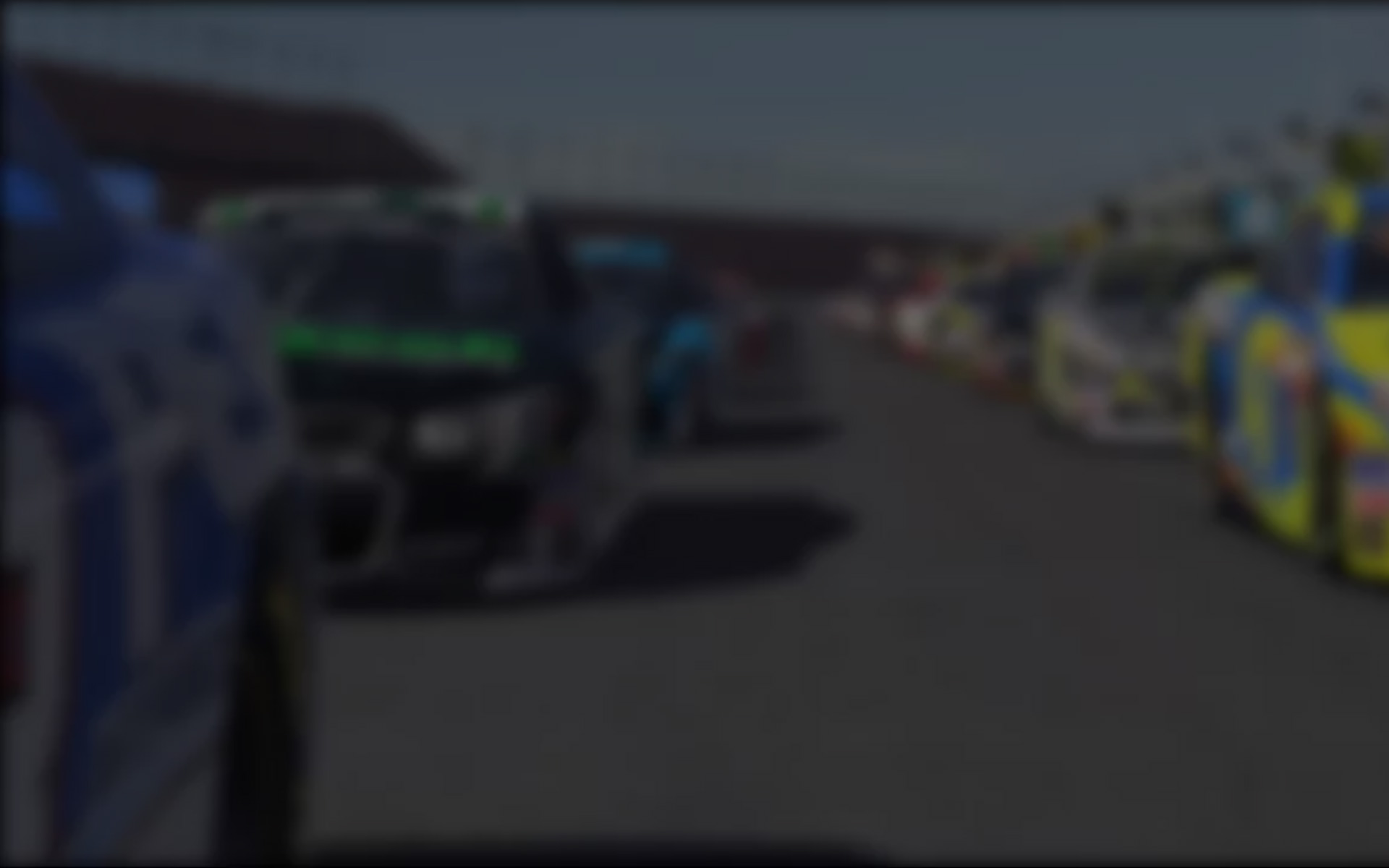 Week Five of the 2014 Season 1 iRacing.com IndyCar Oval Series sent the series to Pocono Raceway in Long Pond Pennsylvania. Only 53 drivers took part in trying to master the Tricky Triangle, with troublesome Turns One and Two the story(s) of the week.
Randy Crossno (California) started on pole, with Brad Sanford (Texas) on his outside. Vick Caudill (Michigan) started third, with Denis Garese (France) fourth, and Matt Cooke (Canada) rounding-out the top five starting positions.
Crossno got off to a great start as he opened up a three car-length lead going exiting Turn One. Cooke made the pass on Garese allowing Cristopher Demeritt (New Jersey) to attempt a pass on Garese off of Turn Three. Meanwhile, further back in the pack, Loïc Boussiquet (France) went wide off the corner slapping the wall, before spinning down to the infield. Andreas Stratmann took evasive action through the grass, while Matteo Bortolotti (Italy) barely avoided slamming into Boussiquet. Stratmann suffered front wing damage sliding through the grass, but re-joined the online race as the caution did not fly.
Another incident unfolded a couple of seconds later as Demeritt suffered technical issues and bounced along the wall in Turn Two (aka The Tunnel Turn). The hits damaged Demeritt's sidepod and suspension, leaving him to limp back to pit road, ending his race after only two laps. Once again the caution flag did not fly. As this was occurring Cooke used the draft to his advantage to reel-in Sanford and, Lap Seven, Cooke made his move and passed Sanford for P3 in Turn One. Garese attempted the same move a lap later, but got loose, allowing an opportunistic Troy Eddy (Atlantic) to make the pass. Meanhile, a few cars back, Miguel Angel Martinez clipped the curb in Turn Two, sending him wide and into the outside wall, destroying his Dallara and, obviously, ending his race. Yet again, the caution did not fly in what became a recurring theme in the race.
Continuing his charge through the field, Cooke drafted up to the Caudill in the Tunnel Turn. Caudill went wide in Turn Three, allowing Cooke to use his momentum and make the pass for second place down the long frontstretch. Three laps later, Sanford hit a bump in Turn One, went wide and slapped the wall, forcing Eddy to take evasive action. Sanford, his car wounded, allowed Garese to go by a lap later. Caudill would do the same for both Eddy and Garese on Lap 21 laps later.
Passing would prove to be at a premium as only a handful of sim-racers — Cooke, Eddy, and Garese among them — were big movers. Cooke ran down Crossno, and made the pass for the lead entering Turn One on Lap 20. The lead twosome ran nose-to-tail for much of the next 15 laps before green flag pitstops interupted their duel. Eddy had an excellent pit entrance, making-up over a second on Cooke, and nearly passed Crossno. Brandon Trost attempted to match Eddy's pit entrance, but got busted for speeding and missed his pit stall, ending his competitive run and the race for Team Velociraptor.
Cooke and Eddy renewed acquaintances, exiting pit road side-by-side and leaving Crossno behind.  Having the preferred line entering Turn One, Cooke quickly opened up a six car-length lead on Eddy. For his part, Eddy didn't back down and reeled-in Cooke to take up station on the Canadian's gearbox by Lap 44 before Connor Cross (Ohio) hit the Turn One bump — and like those before him — slammed the outside wall. Cross limped his car into the infield to avoid bringing out a caution.
Eddy waited for the perfect opportunity to pass Cooke.   That opportunity came on Lap 48 when Cooke narrowly avoided the Turn One wall, but lost all of his momentum on the Long Pond Straight enabling Eddy to take the lead. Cooke didn't let Eddy go easily, and reclaimed Eddy the lead on Lap  51 when his rival missed a shift going down the frontstretch. Eddy worked furiously in his efforts to atone for his bobble, looking low on Cooke a few times and nearly getting his nose in.   But with less than five miles remaining, Eddy tagged the wall off of –you guessed it — Turn One, fortunately without serious damage.  Although he continued working on Cooke, it was to no avail, as he crossed the finish line .097 seconds behind the race winner. Crossno finished third ahead of Garese, while Sanford rounded-out the top five in what proved to be a caution-(if not incident-) free race.
Cooke earned a week high of 238 points in the 3835 Strength of Field, moving him up to eighth in the standings, while Eddy collected 221 points to advance to sixth in points. Crossno now leads the overall standings with 942 points, with Sanford (840)sits in second just ahead of Rob Unglenieks (Michigan) with 833 points, Demeritt (831) is fourth ahead of Cross (791). Other race winners throughout the week included Martin Miller2 (Mid-South), Brendan Lichtenberg (Midwest), Terry Matthiensen (California), and Georg Naujoks (DE-AT-CH).
---
You may also like...
---