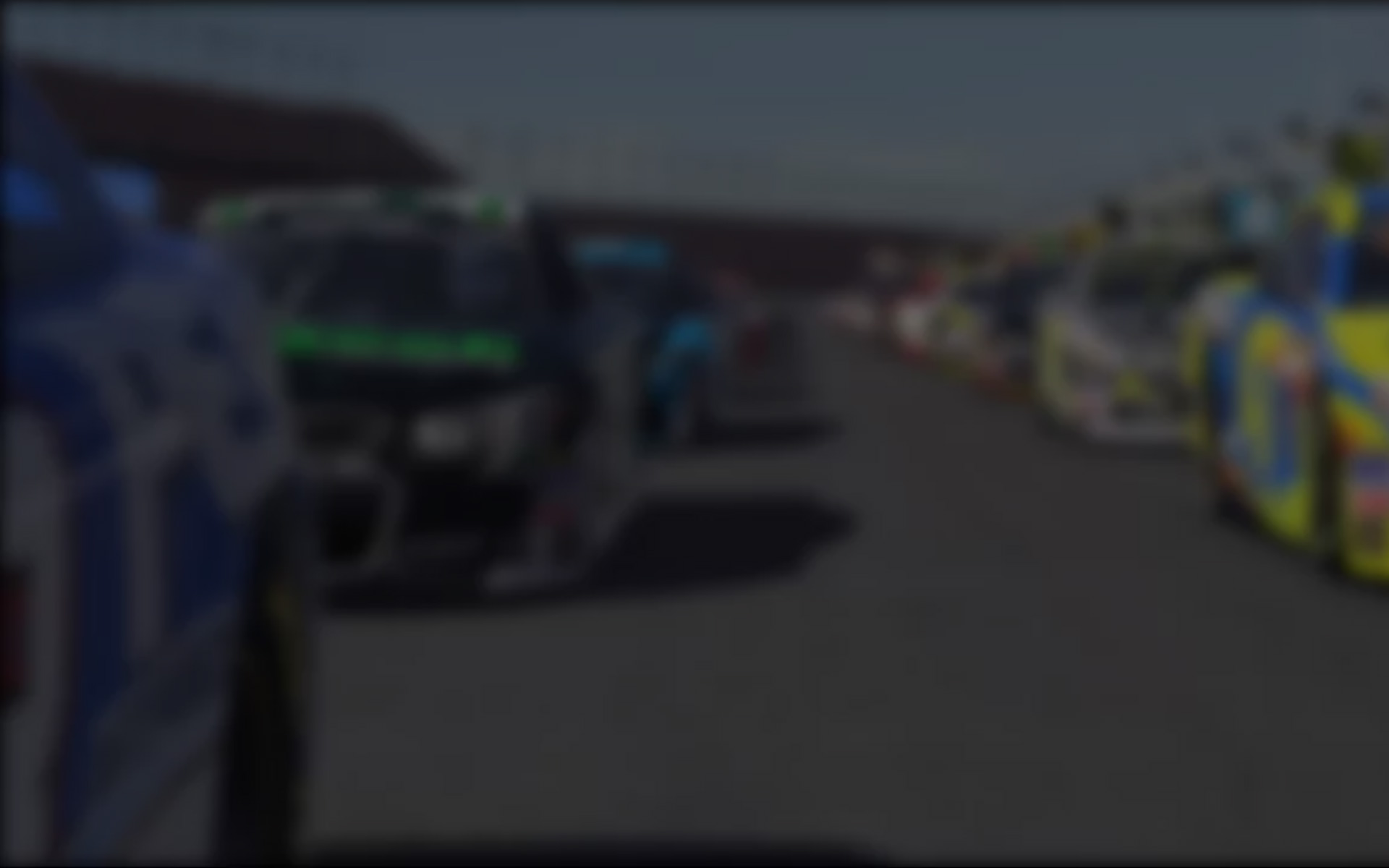 As Season 3 nears completion, the Ford Falcons stopped in Montreal for their final official voyage overseas. Circuit Gilles-Villeneuve (aka Montreal) hosted Week 11 of the iRacing.com V8 Supercars Series, producing a hard fought battle for some and a race best forgotten for others.
The Starting Lineup
Starting on pole was Beau Cubis of Hi-Tec Sim Racing with a time of 1:35.446. Alongside Cubis was SDC Motorsports driver, Chad Chastain. The second row of the grid was comprised of Synergy Sim Racing's Dean O'Brien and SDC Motorsports driver, Martin Carroll. Rounding-out the top-five starting grid was Beau Cattell of ANZ Motorsports.
As the online race got underway, the first few laps unfolded without major incident as the drivers maneuvered around the tricky Canadian circuit.  The clean sim racing was too good to last, however and, thanks to an unfortunate event, SDC Motorsports' Michael Cracknell was the first driver victimized by Montreal.
Three-wide? That's never good.
Samuel Collins and O'Brien headed into Virage Senna with Cracknell in the middle. Cracknell took the apex of the left-hander but didn't give O'Brien, who was on his inside, enough room. The gap closed and O'Brien made contact with Cracknell, sending the SDC Motorsport Falcon around. This only proved to be one foot in the grave for Cracknell as he was able to 'slightly' recover from the spin. The nail in the coffin came when he over-corrected exiting Virage Senna and spun into oncoming traffic. Hard contact with innocent bystander Sam Sutton proved fatal for both drivers hopes as they soon retired from the event.
In a heart-breaking turn of events for one of the primary challengers, Chastain was involved in an early accident after completing his pit-stop. Winding his way through Pont de la Concorde , Chastain attempted to pass Mario Vlasic on the inside of the right hander.  Vlasic came down on Chastain causing the SDC Motorsports to smash into his rear end, spinning Vlasic around. As Vlasic completed the spin, the two cars came together again sending Chastain into a spin of his own. After taking considerable damage, Chastain was towed to the pits where his Ford Falcon succumbed to the damage.
On the move
Back up front, it seemed to be a one man show as Cubis was well on his way to running away with the win. This did little to slow down Cattell, however, as he was on a charge of his own after starting in fifth.  After working his way up to third on the first lap of the online race., the consistent Cattell stayed solid and smooth, which paid off in spades by the end of the race.
As the online event came to its completion, the 'Beaus' were both up on top with Cubis taking the win followed by Cattell.  Despite suffering early damage in his run-in with Cracknell, O'Brien managed to finish where he started in third.  In contrast, Wayne C. Bourke moved-up two positions to finish the online race fourth ahead of Michael Schreyer who gridded seighth.
This Australian Strength of Field (SoF) race had a strength of 3215 and was split two times. The top-five finishers from the other split are as follows:
Split 2/SoF 1370
1-      Andrew Vince
2-      Paul Gorrell
3-      David A Moore
4-      David Baxter
5-      Jamie M Eaton
Taking it home
As we come to the final week of Season 3 which brings the Ford Falcon back to its home country of Australia, it seems to be a fitting way to say farewell to the car with which many developed a of love/hate relationship. Not for the faint of heart, the Ford Falcon FG01 V8 Supercar is well-known to be something of a monster to drive. It is this writer's estimation that Top Gear host, Jeremy Clarkson, best described the Falcon when he said driving it is like "riding a lion that's made of teeth…and jelly."
Indeed, many hopes and dreams have been achieved in this car: From Madison Down's incredible nine championship victories to aiding Josh Muggleton and Justin Ruggier in their transition to real-world racing, the Ford Falcon has made its mark upon the hearts of many sim-racers. That 'mark,' however, came in more ways than one and was usually associated with frustration.
Although many are looking forward to making the transition to the Car of the Future (COTF), it's with a heavy heart that we soon bid adieu to our beloved Ford Falcon. This week, the final Strength of Field (SoF) race of the season will be provide a final winner in the Falcon as we approach the arrival of its counterpart, the Holden VF Commodore.  It will be a race worth remembering as our longtime mount in the official series rides into the sunset and we also crown a new iRacing.com V8 Supercars Series champion.
Mark your calendars, drivers. Week 12 at Phillip Island Circuit will indeed be a race you won't want to miss.
---
You may also like...
---