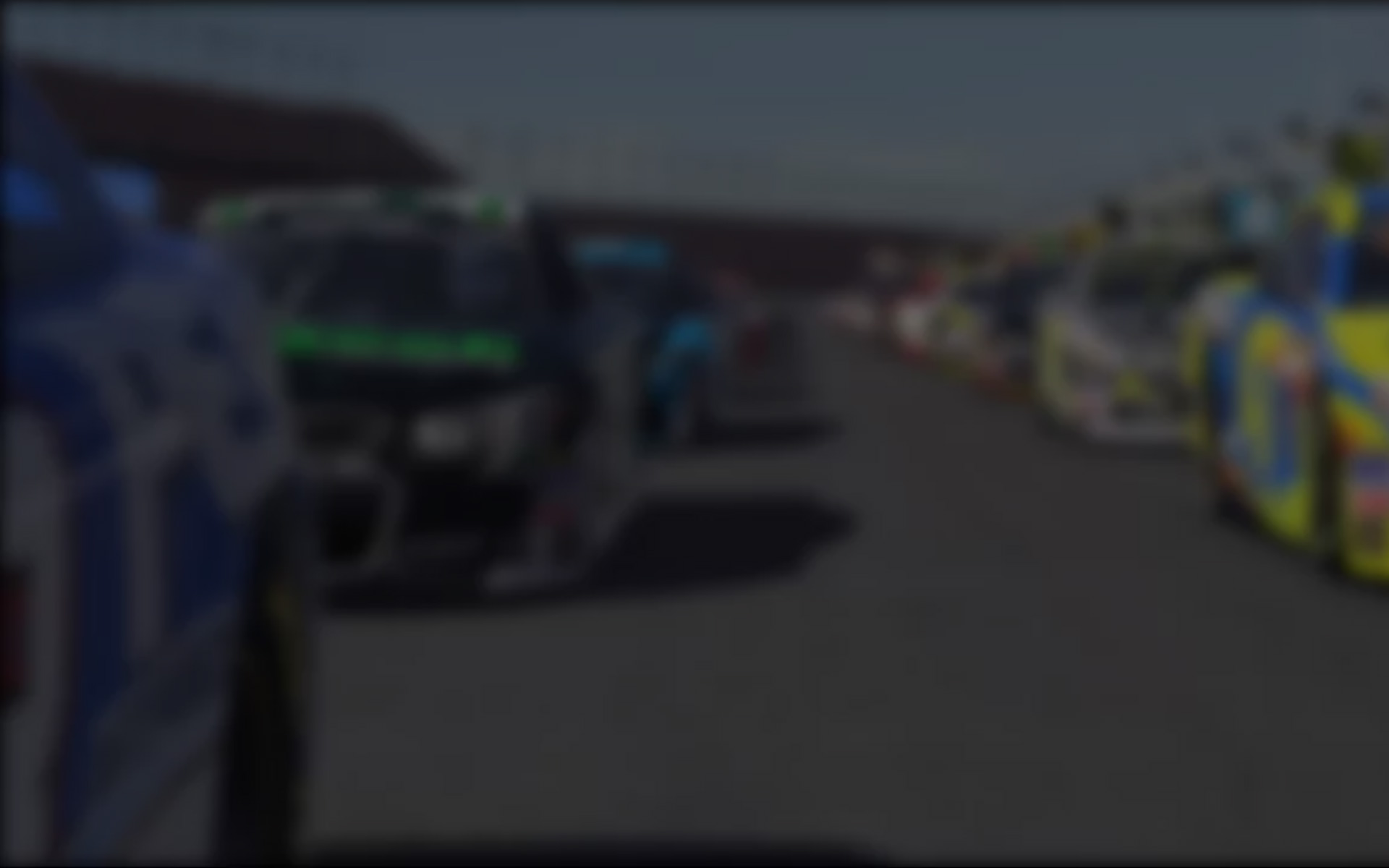 For the second time in the ITSR Power Series' tenth season, the drivers and their virtual haulers rolled into the Daytona International Speedway.  However, instead of bolting on restrictor plates and preparing for a pack racing battle, they set up for a 45-lap sim race on the 3.56-mile road course.
The pole position went to Corey Davis with a lap of 1:41.701 seconds.  Tim Johnston qualified seven tenths behind in second, followed by Dean Moll, Matt Delk and Chad Dalton.
When the race went green, Johnston made an outside pass in Turn 1 to take the lead, and Delk, Davis, and Moll battled three-wide behind him into the first infield hairpin.  Delk came away in second place, but polesitter Davis took that position before the end of the first lap.
Davis then chased down Johnston and passed for the lead exiting the Bus Stop chicane on Lap 5.  In the next ten laps, Davis opened up a nearly ten-second lead over Johnston, Delk, and Moll before the first round of pit stops began.
By virtue of an early pit stop and several laps on fresh tires, Johnston closed the gap to less than five seconds, but his troubles with traffic and a persistent electrical gremlin allowed Davis to open up the lead to eight seconds.
However, disaster struck the race leader on Lap 22.  While exiting the Bus Stop, Davis couldn't avoid the slowing car of Tom Emasie, resulting in hard contact and extensive front-end damage to the race-leading #70 Fusion.
The damage slowed Davis' lap times by nearly a second per lap, and in just five laps, Johnston cut the gap to five seconds.  But the second-place driver had problems of his own on Lap 28.  The ongoing electrical problem caused his car to coast to a stop in the infield section, ending the night for the series points leader.
That gave Davis some breathing room to the tune of nine seconds ahead of Moll, who passed Delk during the first round of pit stops and kept the Darlington winner behind him during the second run.  Behind the leaders, another close battle played out inside the top ten between John Hensley and Rick Thompson, with Hensley taking the eighth position on Lap 28.
Following the final round of pit stops around Lap 30, Davis held an eight-second lead but saw it quickly shrink as Moll ran his fastest laps of the race.  With five laps to go, the gap was down to five seconds with clear track ahead of the two leaders.
Moll closed to within three seconds coming to the white flag, but ultimately, Davis and his damaged car prevailed to take his second win of the season.  For Davis and Moll, who both sported tribute paint schemes to Justin Wilson, it was a bit of déjà vu.  They also finished first and second in the season's other road course event at Watkins Glen.
Delk came home in third and Dalton held off a late charge by Robert Lynn to finish fourth.  Trevor Cameron scored a career-best sixth-place finish and Allen McEwen earned a season-best seventh-place result, followed by Hensley, Thompson, and Jeff Gilmore.
Johnston's problems meant he lost the points lead for the first time all season.  With four dropped races factored in, Dalton leads Johnston by a single point, with Delk ten markers back and Davis twelve back.
After taking the Labor Day weekend off, the Power Series will head to Iowa Speedway for a day/night doubleheader.  Two events in one night means two online races' worth of points on offer, and at a short track like Iowa, that could present big risks or big opportunities to the title contenders.
---
You may also like...
---