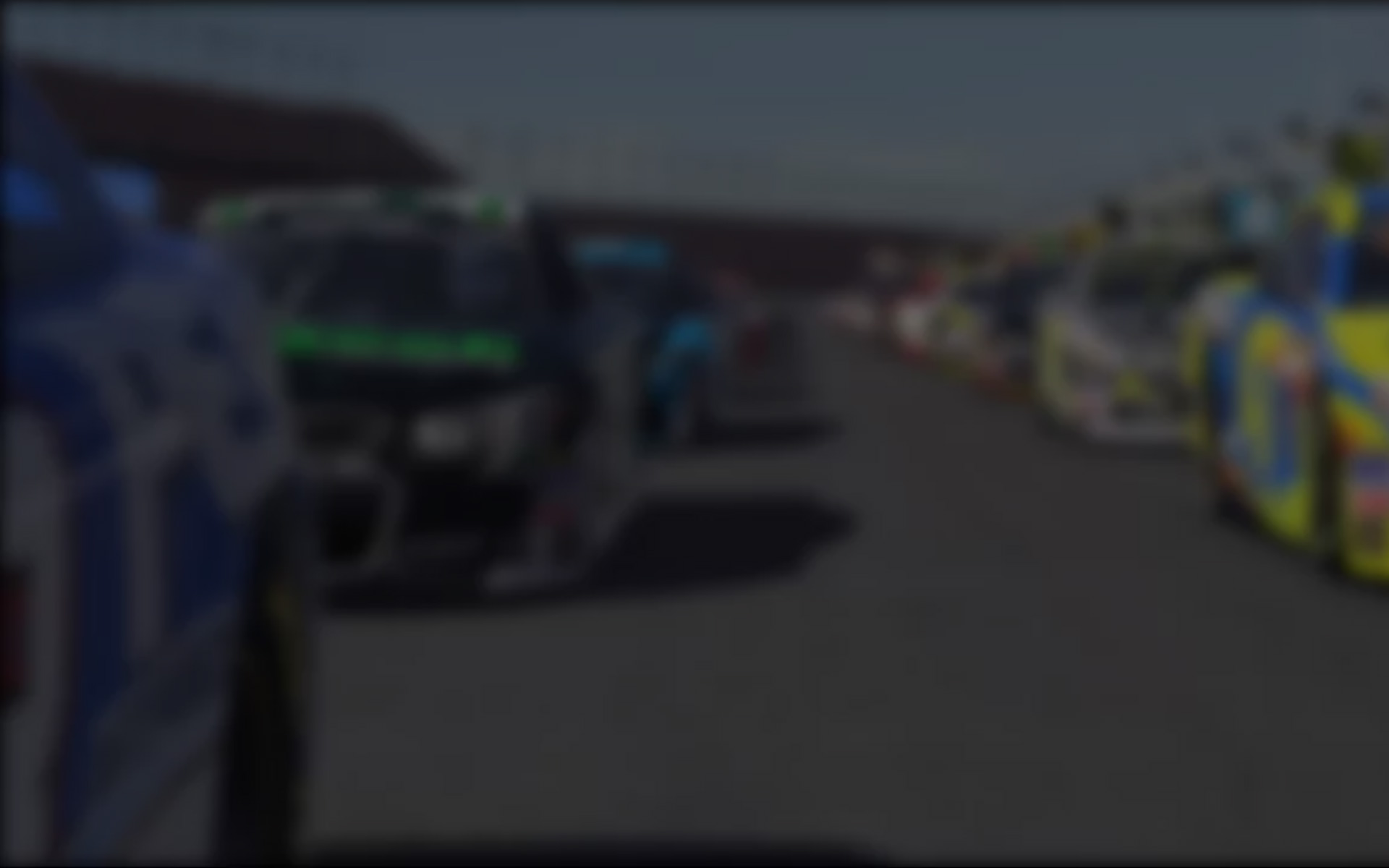 In typical Talladega fashion, the outcome of last night's NASCAR iRacing.com Series World Championship (NiSWC) race came down to a few last laps of frantic online racing action for just about everyone but Brad Davies.  As he was most of the race, Davies was in front of the field when a big crash erupted in the closing laps, and he went on to score his first series win from John Gorlinsky, Dale Earnhardt, Jr., Thomas Lewandowski  and Derek Cash.
I never thought my first win in NiSWC would come at a super-speedway but I'll take them anyway I can get them," said Davies.  "Not only to survive at Talladega, but to come away with the victory is very refreshing.
"It feels like a huge weight has been lifted off my chest and I can breathe again. I'd like to thank Whiskey River for coming on board with us this season and I'm really excited about being able to get their first win of the season."
Davies didn't have a monopoly on excitement at Talladega, where three- (and sometimes four-) wide racing was the norm the majority of the race.  Although the NiSWC drivers took it to the absolute limit this week, unlike previous weeks, they rarely exceeded those limits. The race only saw three cautions, two of which were caused by extremely hard racing.  The other resulted from a melee off the fourth turn near the half way point of the race when some drivers attempted to duck onto pit road for service, while others wanted to stay out for a few more laps. The end result was, to use a highly technical term, a big mess.
However, Davies did have a virtually monopoly on first place.  Starting from pole he took the lead at the green flag and, but for a pit stop at mid-race, stayed there throughout the contest.  Josh Berry, Thomas Hazard, Derek Wood and Daniel Pope II headed the chase for the first half of the race.  Berry fell back after the first round of pit stops and was eventually classified thirty-fifth after a late-race incident.   Similarly, Hazard and Wood lost their chances of a top three finish when Hazard gave Wood a shot going down the backstretch on Lap 29. Wood shot down the track into Phoenix winner Josh Parker, ending his day, and also collecting NiSWC points leader Richard Towler in the process.  Jesse Atchison went up and over Towler and returned to earth, somehow only losing six positions and staying in the lead draft in the process.   Pope also lost time due to an incident and finished 27th.
Some drivers' misfortune means good fortune for others.   As Berry, Hazard, Wood and Pope fell out of contention, they were replaced by Gorlinsky, Atchison, Lewandowski, Earnhardt and Ray Alfalla.   They were soon joined in the pursuit of Davies by Cash, who worked his way up from a twentieth place start to run in the top five in the closing laps. With the leaders running in double file order as the race neared its conclusion, however, Lewandowski  gave Atchison a huge bump from behind on the inside lane.  The contact shot Atchison into Gorlinsky, who was leading the outside lane's bid for the lead, and caused a massive stack up into the third turn.
The first thing I would like to do is give an apology to Jesse and the rest of the field," said Lewandowski. "I thought I had room between me and Jesse but after watching the replay I didn't.
I'm normally not the kind of person to make those kinds of mistakes in a race but I hope everyone that was involved can forgive me for my error."
When all the late race drama settled, Davies was on top, Gorlinsky held on for his second top two finish in a row, with Earnhardt taking third from the repentant Lewandowski  and Cash.
"I'm happy with third, it helps me recover a bit in the points from some missed races," said Earnhardt. "Congrats to Brad Davies on the win and to everyone I raced, I really enjoyed it.  It wasn't the snooze fest I expected. A quick shout out to 'The Drill Aisle v2' for all their help this week."
Bryan Blackford and Andrew Fayash III also enjoyed good runs, coming home seventh and eighth behind Martinsville winner Alfalla to perhaps put an end to their early season struggles.
"I finished seventh after just holding the bottom the entire race," said Blackford, who holds down fourth spot in the NiSWC standings.  "It was pretty uneventful as others have said because it was really hard to pass."
Patrick Fogel had another impressive run, and continues to sneak up on people in the NiSWC.  Fogel  has not finished outside the top 15 yet.  That puts him third in the NiSWC point standings behind Davies and a mere 67 markers behind Towler who, despite his 23rd place finish at Talladega, continues to lead the series.
In two weeks' time the NiSWC visits the "Lady in Black," Darlington Raceway, arguably the most challenging track on the schedule.   Towler will be looking to rebound from his troubled Talladega race while Davies, Fogel, Blackford and the rest will be equally eager to overhaul the Englishman in their pursuit of the NiSWC lead.
---
You may also like...
---