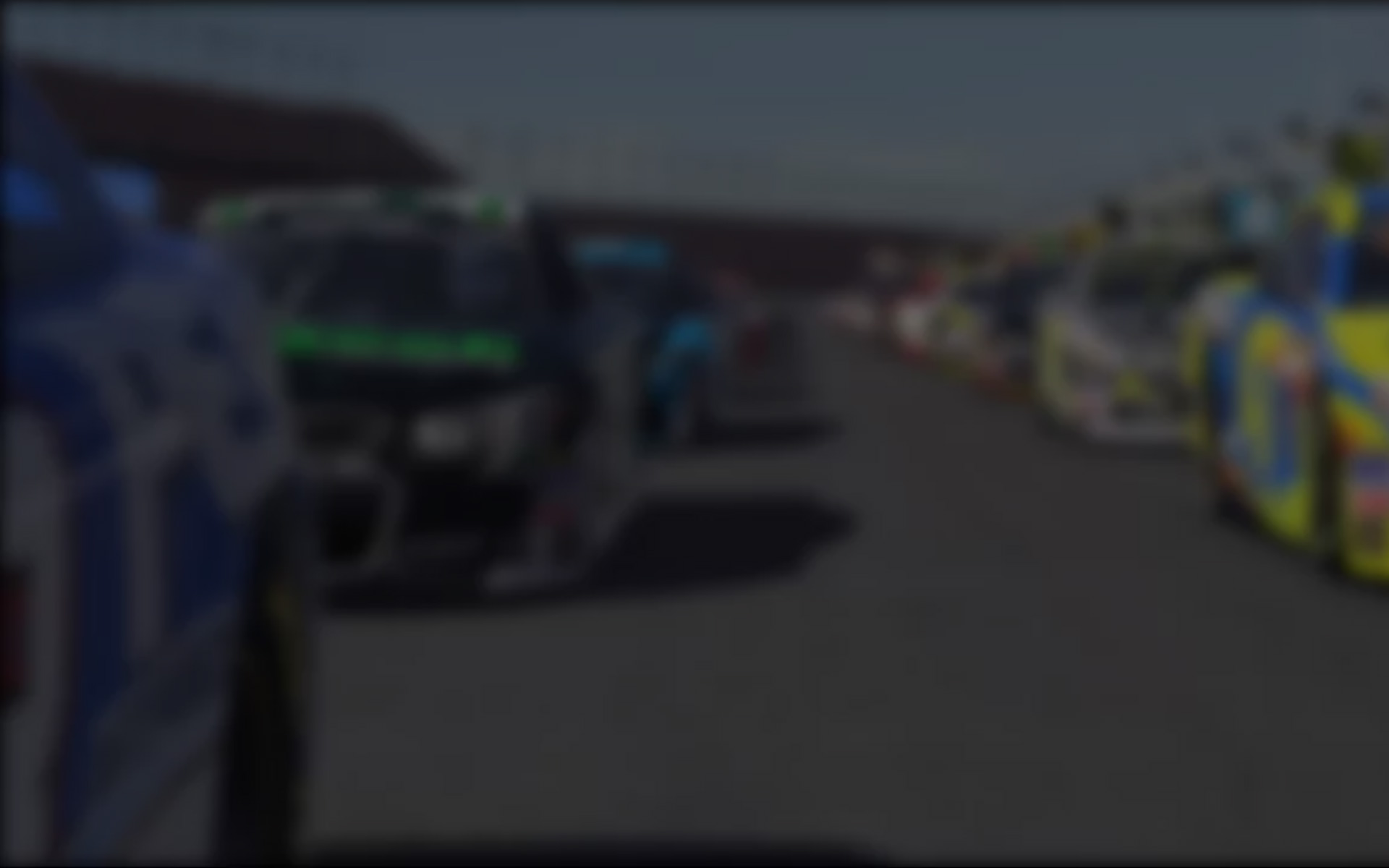 I'd like to take this opportunity to introduce myself to the iRacing community.  I'm Chris Lerch, and I'm the most recent hire here at iRacing.  I work in vehicle dynamics, and mostly define the multi-body physics models that give each of our cars the unique feel and handling characteristics that we strive to match as closely as possible with their real-world counterparts.
My background is predominantly in professional road racing.  Over the last 16 years, I've worked for teams competing in Formula 1, IndyCar, Champ Car, Formula Atlantic, ALMS, Grand-Am, and now the unified Tudor United SportsCar Championship sanctioned by IMSA.  For the last 11 years, I've been a race engineer.  In this role, I've been broadly responsible for car development, safety/function/reliability, tuning for handling, and race strategy.
I began my racing career working in simulation, so joining iRacing represents a turn full circle, now informed by many years of practical experience.  I'm really excited by what's going on behind the scenes in Bedford, from Dave Kaemmer's continuing work on the tire model to improvements that are coming to our collision model to the storied race tracks that we'll soon add to our service.  And I look forward to helping make what I think is already a very cool service even better.
In my case, returning to simulation doesn't mean an end to my time at the racetrack, and these are the stories I'd like to share with you.  I'll continue regularly attending races, and plan to share these experiences with the iRacing community via a series of blog posts.  I recently had the opportunity to work with Fall-Line Motorsports as a race engineer at the opening event of the 2014 IMSA Continental Tire SportsCar Challenge season in Daytona.  This is the story of what turned out to be a fairly dramatic event for the team.
For those of you who may not be familiar with the IMSA Continental Tire SportsCar Challenge (CTSC), it is a support series to the Tudor United SportsCar Championship.  CTSC supports most of the events on the Tudor calendar.  CTSC is one of the best-kept secrets in road racing.  The fields are large, and the racing is close and hard-fought.  Not for the faint-of-heart, car-to-car contact occurs often, and ranges from clever tap-and-run overtaking maneuvers to epic car-destroying impacts.  Wise competitors add 20-30% to their base annual budgets in anticipation of likely crash damage repair costs.
There are two classes of cars in CTSC:  Grand Sports (GS) and Street Tuner (ST).  GS roughly fits FIA GT4 specifications, and is comprised of a diverse group of cars that include the Aston Martin Vantage V8, BMW E92 M3, Chevy Camaro Z/28.R, Ford Mustang Boss 302R GT, Nissan 370Z, Porsche 997 Carrera S, and Subaru WRX STi.  Similarly, ST roughly fits FIA GT5 specifications, and includes cars such as the BMW 128i and 328i, Honda Civic Si, Hyundai Genesis 2.0T, Mazda Speed 3 and MX 5, Nissan Altima V6, and Porsche Boxster + Cayman.  Each CTSC race is 2 ½ hours long, and each car must have at least two drivers.
Fall-Line Motorsports builds, preps, and campaigns sports cars for customers at all experience and ability levels.  Fall-Line has a 35,000 square-foot facility outside of Chicago, and has permanent garage space at Autobahn Country Club.  It regularly sends ten or more cars to the SCCA Runoffs, has competed regularly in CTSC since 2008, and joined the Tudor GTD class in mid-2012 with an Audi R8 LMS.  Fall-Line was the first team to campaign the BMW E92 M3 in CTSC in 2009, and continues to run the V8-powered cars.
For 2014, the team has a formidable and youthful regular driver lineup spearheaded by factory BMW GTLM driver John Edwards and that also included the up-and-coming trio of Shelby Blackstock, Trent Hindman, and Ashley Freiberg.  For Daytona, Steve Bertheau and Spencer Pumpelly joined the team in a third entry.  John and Trent teamed-up in the Trim-Tex sponsored car 46.  Steve and Spencer were in the Sargent and Lundy car 47.  Shelby and Ashley drove together in the Starstruck car 48.
The CTSC season officially kicked off with two 1-hour practice sessions on Wednesday, January 22.  The E92 is always relatively competitive at this event, displaying its production-car roots as an Autobahn performer on the high banks of Daytona, and generating consistent top speeds in the upper 170s.  As such, we knew we had fast race cars.  In addition, the three Fall-Line entries rolled off the transporter with solid baseline setups from the Roar pre-season test in early January.  So this was a really unusual event in the life of a race engineer in that our top priority was not to find more car speed.  Instead, we focused on ensuring we would be kind enough to the tires not to lose too much grip over the course of full race stints and executing as a team in a fashion that would ensure smooth function and perfect reliability.
The track was green and low grip at the start of Practice 1.  All three of our cars also started on well-used tires, so grip was at a premium early on.  Car 47 was the first to put on sticker tires late during this session, and Spencer Pumpelly went to the top of the time sheets with a 1:56.6 that compared well with the mid-1:56 fastest GS-class laps that were turned at the Roar test.  Spencer's lap put him 0.2 seconds clear of John Edwards in car 46.  While we were pleased to finish the session 1-2, driver feedback confirmed our concerns about tire degradation.  All of our drivers agreed that we would need to protect the rear tires over the course of long race stints.
We devoted the second session to car setup work aimed at improving rear tire degradation, and made significant progress in this regard.  Fall-Line cars were also fast again, with cars 48 and 46 topping the timesheets.  We were aided to some degree by improving track conditions, which we expected to be even better once the Tudor cars took to the track on Thursday.  Meanwhile, Wednesday evening settled into our normal routine of driver debriefs and the study of logged data and in-car video.
As the evening wore on, a few car function problems surfaced.  Front brake cooling was a cause for concern.  Our front rotor temperatures were peaking at over 1325° F – anything over 1100° F is considered excessive.  These high peak temperatures combined with the long periods of cooling on the high banks result in dramatic temperature variations in the rotors over the course of each lap.  These high thermal stresses produced significant cracks in every front rotor we ran.  Left unchecked, these cracks were likely to propagate, and could result in catastrophic rotor failure.
We installed additional caliper cooling – and new rotors! – overnight in the hope that cooler brake pads would reduce peak rotor temperatures and lessen the temperature variation over the lap.  Car 47 also suffered from a pesky gearbox oil leak that, if not addressed, would prevent the car from finishing the race.  The mechanics spent quite some time trying to diagnose the problem, and replaced all of the gearbox lines to the external oil cooler.  At the close of the day, we slept well in the knowledge that it had been a very productive and positive start to the 2014 season for the Fall-Line CTSC team.
As would be the case for the entire event, Thursday was clear and sunny, but brisk, with temperatures ranging from the high-20s to the mid-50s F.  Our track time was much more limited, with 30 minutes of practice followed by 15 minutes of qualifying.  We planned to take the opportunity early during the practice to evaluate overnight setup changes and then shift our focus to preparing for qualifying.  As it turned out, the session was interrupted by two red flag periods, and thus permitted evaluation of overnight changes, but compromised qualifying preparation.  Nonetheless, we finished the session 2nd and 3rd, and felt that we'd have things pretty well figured out for qualifying.
After the session we were relieved to find that peak front rotor temperatures were now below 1000° F, rotor condition was much-improved, and we were confident our brakes would make it through the race.  However, the gearbox leak in car 47 persisted; the mechanics were able to pinpoint two possible sources, neither of which could be addressed at the racetrack.  As such, they began planning to perform an overnight gearbox change.  Extracting maximum performance from the Continental tires in qualifying can be tricky.  New tires generally bring excessive understeer, so we altered our car setups to suit.
The trend of disruptive red flag periods continued in qualifying.  Most drivers were able to do a single timed lap during the 15 minutes.  No pressure!  This "one lap" shootout did not play into the hands of our relatively young drivers Trent Hindman and Ashley Freiberg.  Trent finished P3, and was disappointed not to have been on pole.  Ashley was even more disappointed to end the session P12, as she felt she should be right with Trent.
After the session, the team quickly turned its attention to race preparation, which was highlighted by the gearbox change in car 47.  In the engineering office, after reverting to race setups on all cars, we started to lay the groundwork for race strategy, performing a number of calculations that we would use to inform our decisions during the race.  The 9:30 PM track curfew arrived all too soon, and we left the track tired and with our thoughts full of what race day would bring.
Ken Tyrrell once said that no matter how many races he attended, there was always something magical about race day.  I've always shared this feeling, and the opening race of any season boosts the excitement level still further.  This feeling of anticipation was palpable again this year as we walked into the quiet paddock at sunrise, the morning air crisp and cold, and the smell of early rising campers' bacon and egg breakfasts drifting through on a light breeze. . .
This was a morning of meetings.  First, we attended the CTSC drivers' meeting, and then we hosted an intra-team strategy meeting with all of our drivers.  There were a few significant changes to race procedure for the new season, and we wanted to be sure everyone was clear on how to handle various scenarios.  Final practice proceeded almost as an afterthought, as tends to be the case with race morning warmup sessions.  We did final dress rehearsal pit stop practice with driver changes on pit road during the early part of the session.  Our finishing drivers then did what they could to make final evaluations of race setups while dodging red flag periods.
The subsequent two hour period till the cars rolled to pit lane flew by as we made final preparations for the race.  The drivers then strapped in, and the cars rolled from pit lane for an on-time start just before 1:45 PM.
The grid was fairly well-formed at start-finish as the green flag flew.  Trent Hindman did not have a great start in car 46, falling from P3 to P5 by the end of the first lap.  Ashley Freiberg made up for Trent's loss by gaining two spots in car 48 to run P10 from her P12 starting position.  Steve Bertheau held station initially in P25.  All three drivers then settled-in and made steady forward progress.  Trent moved to the front, overtaking the Rum Bum 997 to lead by the end of Lap 12.  Ashley pushed her way to the top half of the top 10, running P5 by the end of Lap 20.  Steve moved to P19 in car 47 by Lap 15.
Car 47 was the first of our cars make its visit pit road, under green flag conditions, on Lap 16, approximately 40 minutes into the 2 ½ hour timed race.  We installed four new tires, filled the car with fuel, and changed drivers to Spencer Pumpelly.  The car was away quickly, but unfortunately fell off the lead lap during the stop.  We held our breath for a period of time, waiting for the cars that were a lap up to make their first pit stops, hoping we did not see a full-course caution that could trap us one lap down.
One-by-one, the lead cars pitted.  Cars 46 and 48 pitted from P1 and P5, respectively, on Lap 22.  Both fitted four new tires, filled with fuel, and made driver changes to John Edwards and Shelby Blackstock, respectively.  The second full-course caution started on Lap 26 when there was car-to-car contact at Turn 5 on the race course. Thankfully, by this time, car 47 was back on the lead lap, and lined up behind its sister Fall-Line cars as the field re-formed.
The race returned to green flag conditions for a very brief one-lap run on Lap 32 before the 3rd full-course caution started, again for car-to-car contact at Turn 5.  All three of our cars took advantage of this opportunity to make final pit stops.  Cars 46 and 48 stopped for fuel only, having spent just about their entire middle stint running under full-course caution.  Having made its first stop earlier, car 47 took a full load of fuel plus four new tires.
There was a stack-up at Pit Out as our cars left their pit stalls to rejoin other GS frontrunners under a closed pit – cars were not permitted to rejoin the racetrack immediately, as the main field was still streaming past.  In the chaos that followed as Pit Out was re-opened, our cars faired very well.  As the GS field formed up on the racetrack, we expected the Series to radio a message that we should drop back in the pack, giving up the positions gained at Pit Out.  However, the call never came, and cars 46, 48, and 47 duly commenced green flag running on Lap 45 from positions 5, 6, and 7.
Our cars moved quickly forward, with John Edwards putting in the fast lap of the race on Lap 47.  John then made a super-aggressive overtaking attempt to take P2 from the car 96 Turner M3 in Turn 1 at the start of lap 51.  The maneuver was a little optimistic, and John ran well wide of the corner apex, stopping just short of the tire barrier at the outside of the circuit before rejoining the track in fifth place.
Meanwhile, the race leading Rum Bum car 13 suffered from an apparent, momentary fuel starvation problem at the exit of Turn 2 on the same lap, allowing most of the GS field to stream past.  This action moved car 96 to the lead of the race, followed by Shelby Blackstock, Spencer Pumpelly, and a recovering John Edwards in the three Fall-Line cars.
The fifth and final full-course caution started on Lap 51, with approximately 12 minutes remaining in the race, when a pair of ST cars collided at the Bus Stop.  Our initial excitement at the prospect of a short dash to the checkered during which we felt we could challenge car 96 for the win was tempered by the Series' decision that the race would end under this full-course caution.  The checkered duly flew under continued yellow flag conditions on lap 54 with car 96 crossing first followed by the three Fall-Line cars in P2-3-4.  Disappointment at being the first losers was tempered by the prospect of kicking off our championship run with solid race finishes.
As it turns out, this race didn't end with the fall of the checkered flag.  First, car 47 was penalized for being too aggressive when it exited the pits after its final stop.  The penalty was harsh to a degree that didn't fit the crime, and this car was pushed from P3 to the tail of the GS cars that were on the lead lap.  Then, car 96 failed post-race technical inspection, and was disqualified.  This promoted car 48 to P1 and a win!  Car 46 followed in P2, creating a Fall-Line 1-2 finish.  While this was not the way we would have chosen to achieve it, this turn of circumstances created a number of firsts for Fall-Line and its drivers:  first wins for Shelby Blackstock and Ashley Freiberg, first overall win in CTSC for a female driver (and first female overall winner at Daytona) and first one-two in CTSC for Fall-Line Motorsports.
As the dust settled on the opening round of the CTSC season, the cars and equipment were loaded, and we left the racetrack, I was both proud of the way the entire Fall-Line team performed and already anticipating the hard championship fight that lay ahead.  Even as the team celebrated the Daytona win, it had already begun turning its attention to our next event at the harsh and unforgiving, historic runways of Sebring.
Photo credits: Kevin Bobbitt (Chris Lerch); all others Wes Duenkel Motorsport Photography
---
You may also like...
---