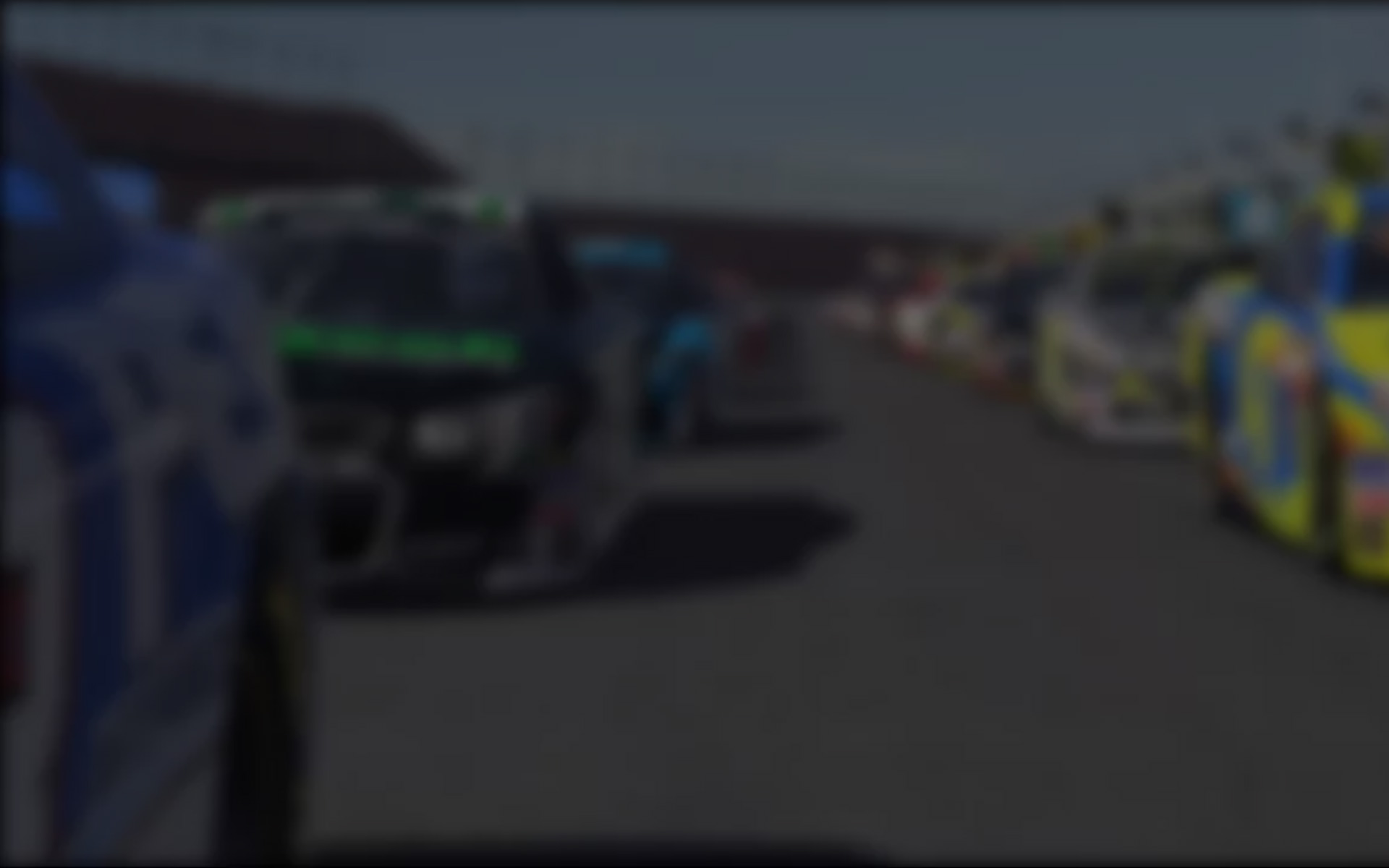 2012 Season 1 Round 4 brought the iRacing.com Grand Prix Series to Belgium at the world famous Circuit de Spa-Francorchamps. Although iRacing's Williams-Toyota FW31 is no stranger to the Ardennes, the new tire model forced many setup changes for the week's online racing. Even at Spa the high downforce package reigned superior, allowing Max Dell'Orco to set a new world record lap time of 1:44.066.
From the pole Dell'Orco got out to an early and unchallenged lead. Unfortunately the start was not clean for everyone. Ken Leach spun his tires on the start causing his Williams-Toyota FW31 to swerve onto the grass.  Leach then slid back onto the track leaving Phillip Diaz nowhere to go. He hopped Leach's wheel and flipped violently into the air, forcing an abrupt end to his race. When the smoke cleared, James Allard also found himself upside down, while Kevin Parrish and Levi Poland were also forced to retire due to damage incurred from the same incident even as Leach miraculously continued on without damage.
Newcomer Luke Russell made an impressive showing slotting into second position early-on despite nursing a damage front wing, followed by 'Flyin' Ryan' Terpstra.   Terpstra was able to maintain the gap to Russell and by stopping for fuel and tires a few laps later, leapfrogged him during pitstops. Bryan Carey opted for a low downforce setup which allowed him to hold-off multiple drivers including Matt Peixinho, Mitchell Cornett and a recovering Leach. This led to some very exciting, close, and fair racing. Dell'Orco went on to take the win ahead of Terpstra and Russell, with Carey a strong fourth ahead of Leach in the Friday Strength of Field (SoF) race.
Dell'Orco would be absent from Sunday's 6:15 SoF race, which saw Jake Stergios and Riku Alatalo starting on the front row. Stergios had a good launch off the grid and managed to pull away from the rest of the field to finish 15 seconds in front of this race's upset, fellow iRacing.com Grand Prix World Championship Series entrant Emil Spindel, who started at the back of the grid after failing to set a qualifying time. Spindel, who went for a medium downforce setup this evening compared to the high downforce setups favored by most of the other competitors, managed to pilot his car to second place after the pitstops, then hung-on to that position despite serious pressure from the chasing Alatalo. The Finn applied great pressure but, due to his higher downforce package, lacked the top speed to get past the Swede in the latter stages of the race. Laurent Beteille sneaked into fourth behind Alatalo after an early spin whilst Xavier Busoms rounded out the top five.
After last week's misfortune with his fuel calculations, Dell'Orco would get a second chance against Jake Stergios as they both lined-up on the front-row in the 8:15 SoF race. This time it all played into the hands of Dell'Orco as an incident at the start saw Stergios collecting damage that forced him to later retire from the race. Dell'Orco would cruise to an unopposed, incident free victory ahead of Finn Aleksi Uusi-Jaakkola who drove a fast and consistent race. Terpstra drove a smart race to take third with a unique 0-stop strategy after Jason Lovett made a mistake at the exit of Les Combes which led to his Williams-Toyota FW31 retiring from the race. Teemu Iivonen took fourth, followed by Marcus Caton after Beteille unfortunately spun-out in the very last turn of the race, dropping from fifth to eighth in the process.
With Week 4 in the books, the top four in the championship remains the same as prior to the weekend, with Stergios in a comfortable lead with his 1144 points against Alatalo's 1009 and Terpstra third with 959 markers. Beteille (928) sits in fourth followed by Iivonen (881). Next week the drivers will have to manouver their Williams-Toyota FW31s for 35 laps around famed Watkins Glen International in New York, USA. This will be the same weekend as the 2012 iRacing.com Grand Prix World Championship Series' season-opener at the very same track, so be sure to follow both events for some action-packed racing!
---
You may also like...
---