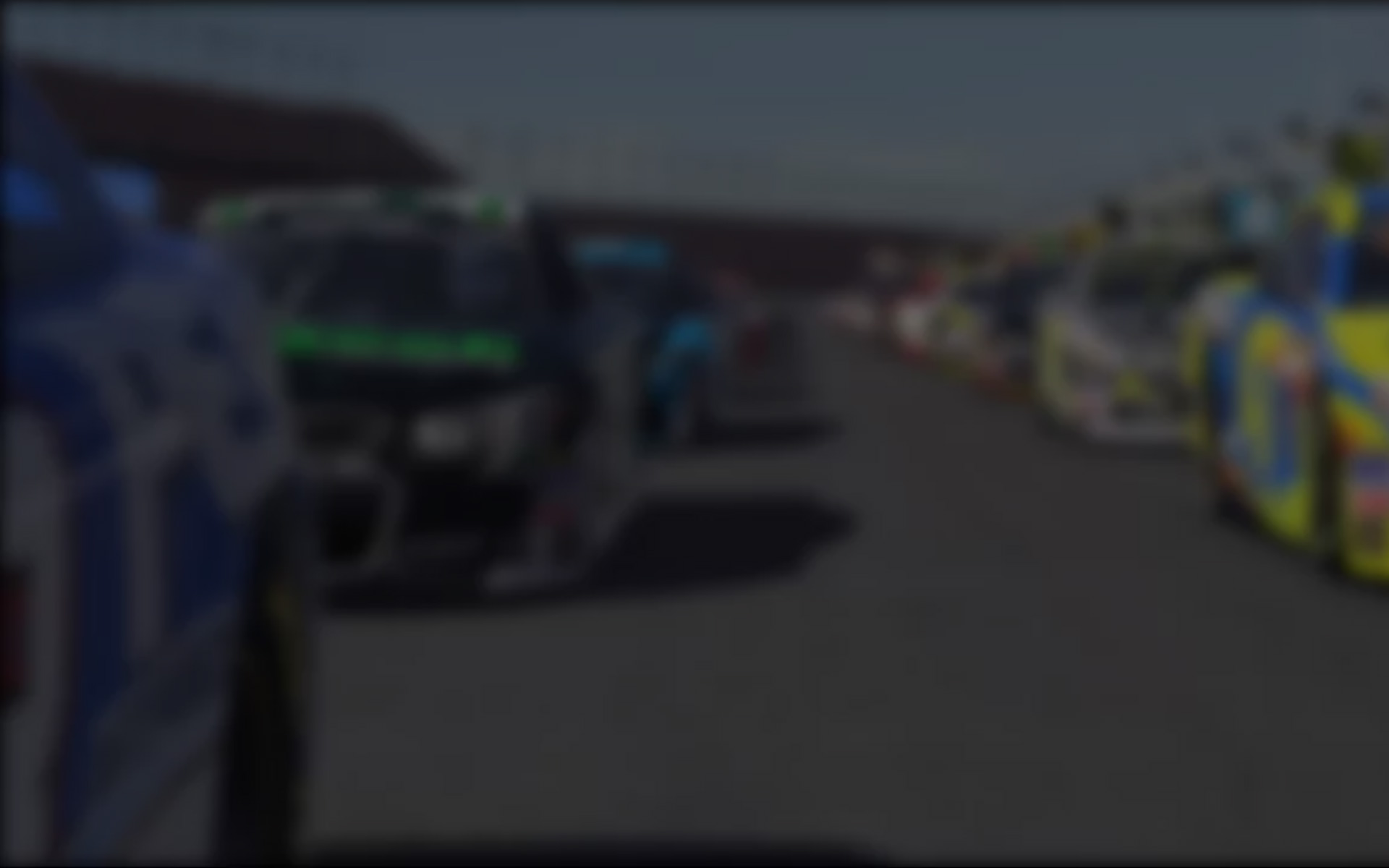 Wednesday night in the ninth week of the iRacing Oval Pro Series saw a return to normalcy as Derek Wood and Brad Davies took the wins in a double split at New Hampshire Motor Speedway.
In the first split, it was Wood who dominated, leading 112 laps and taking his second victory of the season in only his fifth start. Wood cut the fastest lap of the day (30.434), led the most laps, and started from the pole in this dominating performance. Wood, representing the Plains Club, broke into the 6000 iRating club with his gain of 70 iRating for winning the race. Wood now has a total of 6001 iRating, earned 299 championship points for the victory, and moved up to 43rd in the iRacing Oval Pro Series standings with only five weeks counted this season.
Finishing second was NASCAR driver Dale Earnhardt Jr. who was a mere two tenths of a second behind Wood at the line.  Jr. didn't lead many laps, two to be precise, but continued to move higher up the leaderboard in the overall standings with his runner-up finish.  He came from the third starting position to finish second and earn 288 points towards the overall championship. Earnhardt also gained 31 iRating to bring his total to 7857 iRating and now sits 22nd overall in the championship.  Not bad for only having six weeks counted this season.
Finishing third was Mid-South driver Josh Berry. Berry started second and ran up front all night, leading four laps over the course of the evening, and brought the car home safely at the end of the race. Berry earned 278 points towards the overall standings, and now sits seventh overall. Berry also increased his iRating 38 points to a total iRating of 6997. Berry continues to run well as he has five wins this season, which is fourth overall for most wins.
Finishing fourth was Brian Schoenburg, who sits second in the overall championship, while Jake Swanson finished fifth.
30 cars started the race and 27 were still running after 130 laps.
Brad Davies continued to put his stamp on the iRacing Oval Pro Series with a win in the second split. Davies led 32 laps en route to his victory and, along with having the fastest average lap time, added 299 points to his championship total. Davies started and ran second before passing pole-sitter Thomas Lewandowski for the lead shortly before the halfway point.  Davies earned 50 iRating to increase his total iRating to 7106 and continues to lead the iRacing Oval Pro Series Championship with his victory at New Hampshire.
Finishing second was the Midsouth driver, Tyler Hudson after starting in the third position. Hudson used a consistent strategy and had a great handling car that allowed him to remain towards the front during the entire race. Hudson earned 288 points towards the championship with his second place finish and broke into the 7000 club in iRating. Hudson earned 45 iRating and now has a total iRating of 7002. With his second place finish, Hudson advanced to 8th overall in the championship and will move up when the drops come into effect, having missed one race this season.
Finishing third was another Midsouth driver, Jim Caudill Jr. Caudill started fourth and finished third at New Hampshire and currently sits 59th in the championship having only run five races this season. Caudill earned 278 points for his third place finish towards the championship and continues to amass solid finishes when he chooses to race. Caudill earned 76 iRating and now has an iRating of 5097.
Lewandowski, the pole sitter, who led 86 laps, finished fourth and Jacob Adler finished fifth.
The iRacing Oval Pro Series has three more scheduled races this week and New Hampshire looks to continue to produce exciting racing before heading to Michigan International Speedway.
---
You may also like...
---