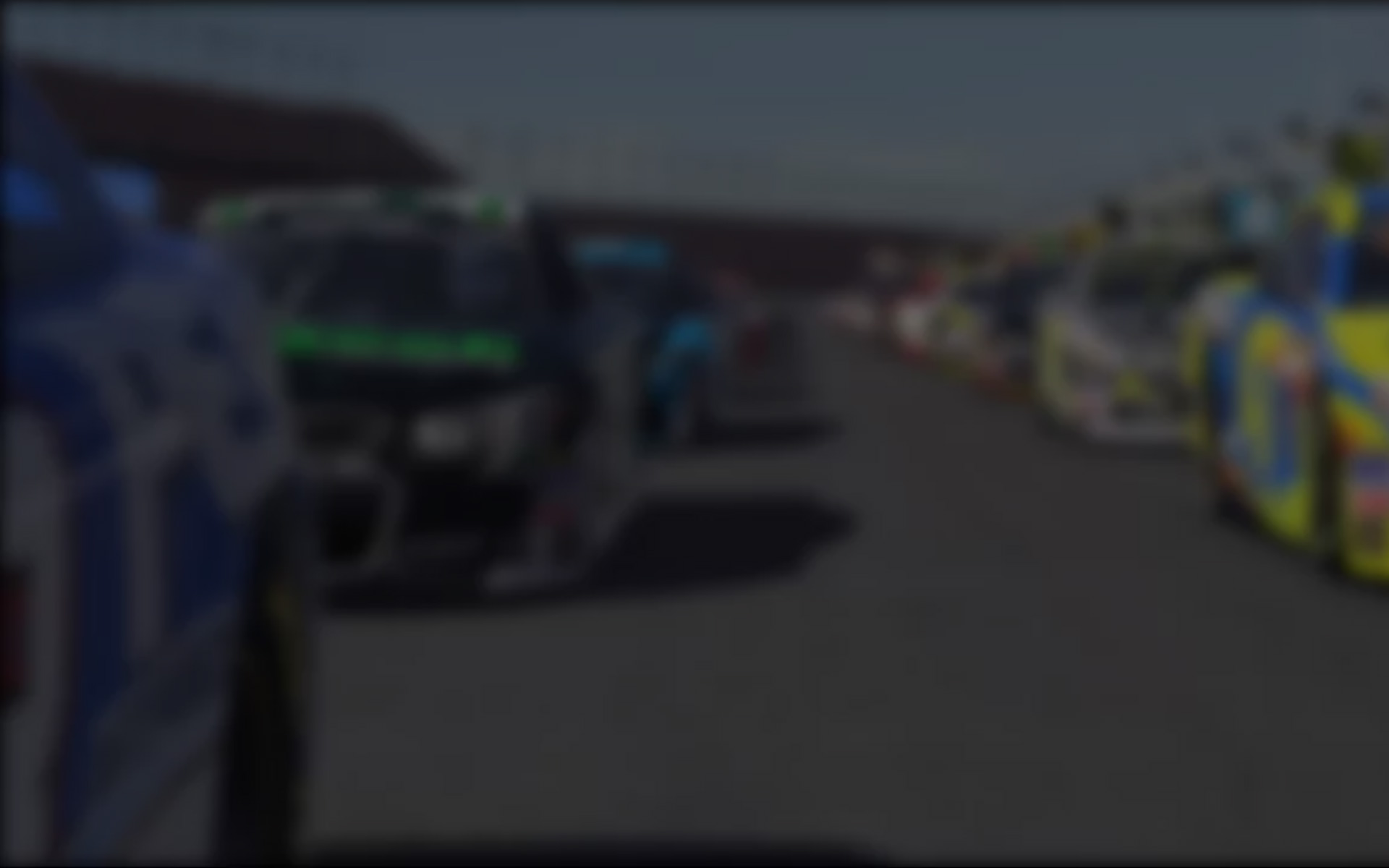 Can anyone stop Madison Down?  For the sim racers entered in Race Two of Week Seven in the iRacing.com V8 Supercar Series at Summit Point Raceway, this was the question.
After his Race One win, Down retained pole position, this time from the ever-present Shay Griffith. Troy Cox, joining Down in Trans Tasman Racing, was third. Andrew Le, flying the flag solo for XSG Motorsport, shared the second row, enjoying a tantalising view of the rear of Down's Falcon FG01. Next qualifiers were Dylan Sharman, George Fullerton, Darrin Vouch, Wayne Harris, Craig Hunter and Guy Leach making his first appearance in Split One.
Down set off as expected at the green lights, this time with Griffith doing well to hang on to him for three laps. It took some white-knuckled fevered driving but alas, being on the ragged edge took its toll, and Griffith dropped it into Turn Three on Lap Three, with wall contact. The damage was too much and he retired. It put-paid to any chance of quality action for the lead- but this is the iRacing V8 Supercars, and action finds a way in somewhere…
So Andrew Le found himself in second, but under serious pressure from Cox. Fullerton was next from Sharman, then further back Harris was holding off an angry pack of Leach in his "two face" Falcon, Vouch, Simon Black, and Hunter. Leach and Vouch traded virtual paint, leaving Harris to drive off into some breathing space.
On Lap Seven Cox outbraked Le at the end of the front straight. Le tried to argue the point and was lucky to keep it together on the marbles out wide, surviving to stay third. He then went off-road at Turn Four on Lap 12, allowing Fullerton to close up. Despite this, Le was more settled than Race One. "I knew what I needed to do to finish, and that was to drive the car straight to conserve the tyres" he said later.
Cox had pulled well away, but was faced with a ten-second deficit to Down, as if he expected anything less.  As is normally the case with this series, for all Down's dominance, the racing behind him was intense, highly entertaining, and a class act by the field.
By lap 11 both Vouch and Leach had yo-yo'd back onto Harris' bumper, and their tussle lasted for several laps.  On Lap 17 Sharman nailed Fullerton as George dropped it onto the dirt into Turn Four, subsequently leaving some big black quotation marks all the way out of Turn Five in frustration. Immediately following them, Vouch was doing some morse code on Harris' rear with Leach watching closely, keeping the battle for sixth alive. Sharman was now clear in fourth.
So it was Down, Cox, Le, Sharman, Fullerton, Harris, Vouch, Leach. Further back was Simon Black and Craig Hunter.  The order would quickly be reshuffled however.  Sharman lost it out of Turn Five on Lap 19, dropping back behind the Harris-Leach-Vouch battle, and not without giving them all a scare into Turn Six upon rejoining.  Then, just when Fullerton thought he could relax in fourth, a four-car battle pulled up to his rear wing to make it a five car shootout, all wanting a piece of him.
Even with Down out to a 16 second lead, the race was cracking hot. But, as Vouch rightly pointed out later "Five or six cars nose to tail for several laps – it was always going to end in tears."
Sure enough, Lap 25 into Turn One saw Leach-Vouch-Sharman all simultaneously rear-ending each other and spinning in synchronised harmony, setting Harris free but spreadeagling the rest of the pack.
So, taking a quick breath; it was Down, Cox, Le, Fullerton, Harris, Leach, Black, Hunter, Sharman, Clayton Nelmes, then Darrin Vouch. Harris was now harassing Fullerton, with the 1977 Tribute Falcon in all sorts of rear tyre dramas. Sharman wasted no time in muscling back past Hunter.
Eventually Fullerton succumbed to Harris' pressure at Turn One with two laps to go, binning it gracefully under brakes and dropping back behind Black in seventh. Wayne Harris in the Seeka Kiwifruit Falcon was "losing bucketloads of sweat" after the titanic battle…"No breathing space till the last couple of laps. Epic!"
"No breathing space till the last couple of laps. Epic!" – Wayne Harris
Down was already celebrating his victory on the last lap, with some tail-happy action through the esses complex. And so they finished thus: Down, Cox, le, Harris, Leach, Black, Fullerton, Sharman, Nelmes, and Vouch.
Split Two was won by Wayne Tolley, Samuel Collins and Justin Strickland. Split Three was Cameron Fuge, Jamie Skella and Andrew Cooper.
So the short answer to the question "Can anyone stop Madison Down?" is "No."  At least not at Summit Point.  Everyone will have to wait until Zandvoort for another crack at Down.
---
You may also like...
---