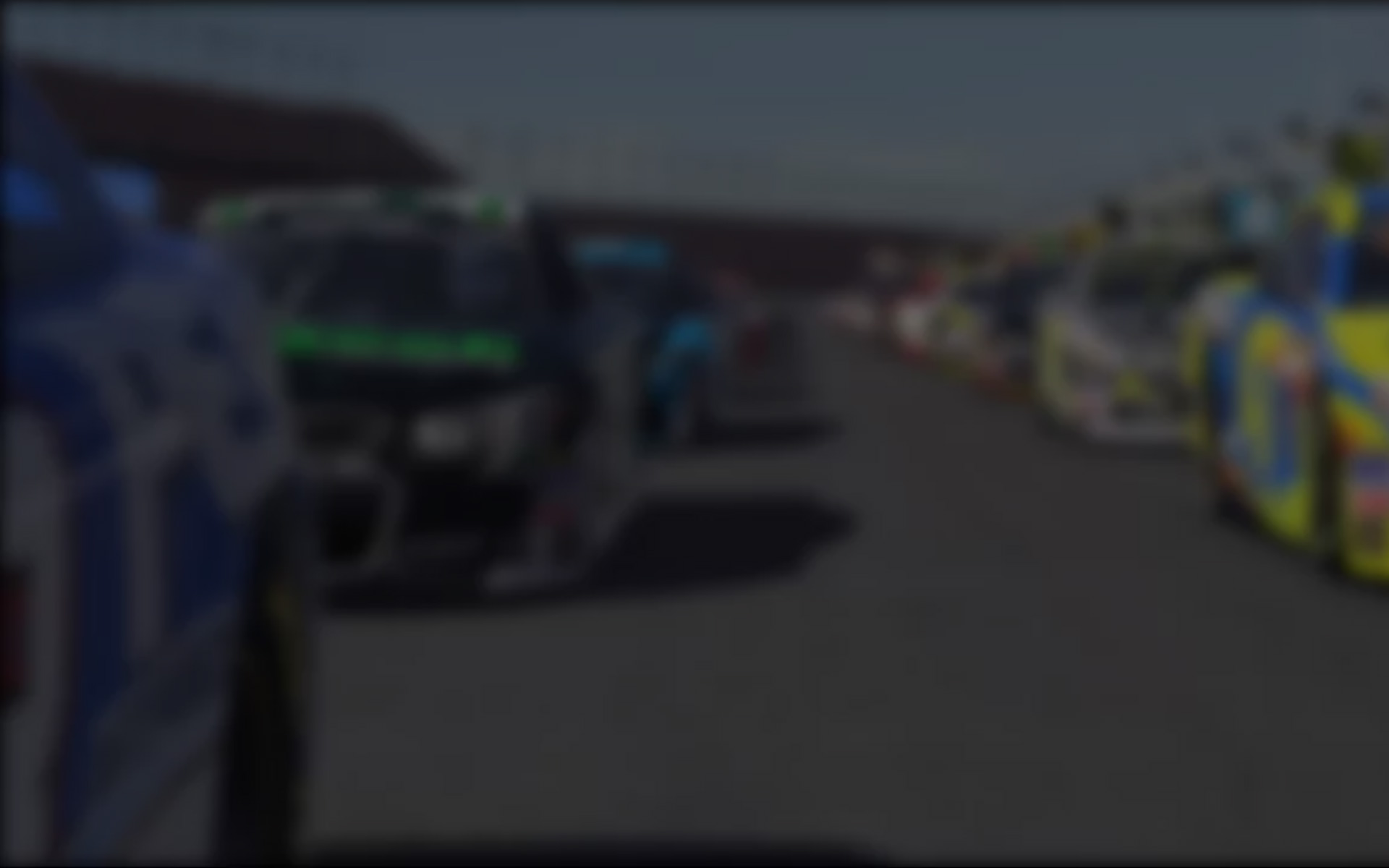 The final weeks of the 2011 Season 4 inRacingNews Challenge saw the mixed class (SpecRacer Fords and Pontiac Solstices) visit three very different circuits:  the short course configuration at Summit Point Raceway, Charlotte Motor Speedway's "r-oval" road course and Okayama International's  long course.  Long or short, r-oval or pure road circuit, Michael Booth and Gabriel Tobar proved unbeatable as they swept to the Solstice and SRF titles, respectively . . . again (in Booth's case, his second straight title, while Tobar took his third SRF crown in the past four seasons).
Week 10 of the inRacingNews Challenge season headed to West Virginia and Summit Point Raceway, marking the fourth and final visit of the season to the series' de facto home track, and one of precious few opportunities for the sim racers to improve their positions in the point standings.
Booth dominated the Solstice class all season, and Week 10 was no exception, as he took 140 points (four starts, all from the pole, and two wins) to top all drivers. Wim Bries ranked second in the category with 136 points, while David Albaladejo placed third with 129. Meanwhile, Kalle Ruokola went four-for-four to score 188 points and dominate the SRF class; second place Mitch Weatherley scored 149 points, while Chris Hughson and Tobar tied for third with 146.
Two Solstice drivers topped 20 starts on the week: Chris Hughson ran 21 races, while Dmitry Kizyukevich started 20. Hughson also led the class in victories, with 13; Bryan J. Miller's nine wins and Bries' six were second and third best, respectively. Hughson's 11 poles were also good enough to beat both Miller and Bries in that category, as they each had seven.
Roope Turkkila led all major statistical categories in SRF, with 18 starts, 13 wins, and 16 poles. Two drivers, Douglas Campbell and Nikolay Andreev, also cracked 15 starts, scoring two and three wins, respectively. Hughson ranked second in the wins category, with seven, and second in the poles category, with five. Daniel Mageste placed third in wins with five, while four drivers tied for third in poles with four apiece.
Miller posted the fastest time in Solstice time trials, a 1:06.938, topping David Benedict's 1:07.203. But it was Booth who would top the field in qualifying, with a 1:06.481 that edged close laps from Bries and Miller, respectively. In SRF, Nikolay Andreev's 1:05.874 was the fastest lap in time trials, while Tobar turned the fastest qualifying lap with a 1:04.747.
The inRacingNews Challenge headed to Charlotte Motor Speedway's road course for the penultimate round of the season.  This would be the series' second visit to the North Carolina 'r-oval' s as Kalle Ruokola topped both classes in points scored in Week Five (182 in Solstice and 168 in SRF).  As a championship challenger in both Solstice and Ford, he was looking for a repeat performance.
However, there would be no repeats for Ruokola. With 156 points, Joni Hagner topped the Solstice class for the week, beating Hughson's 142 points and Riku Alatalo's 130. Ruokola would only score 93 points, ranking 18th. In SRF, meanwhile, Diego Doni edged Ruokola, 159-158, for the best point total on the week; both drivers scored one win and one pole in two starts. Third placed Scott Fox won in his lone start to score 151 points.
Hugo Ramos led all Solstice drivers with 28 starts, though he only scored one win. It would be Hughson, who won in each of his 23 starts, who would lead that category; Bryan J. Miller would rank second in the category with eight wins, while Douglas Campbell's four victories ranked third. Hughson added 21 poles, topping Campbell and Miller again, who had seven apiece.
Meanwhile in SRF, Hana Mahlbachr's 16 starts led all drivers, while three other drivers tied for second with 14. But Igor Avgustinovich was the winningest driver on the week, winning nine races in only ten starts; Mitch Weatherly ranked second with eight wins, and Ramon Sprecher ranked third with five. Weatherly's 14 poles bested all drivers, beating Avgustinovich's nine and Hughson's five.
Thomas van Bussel's lap of 1:22.511 topped all Solstice drivers in time trials, while Hughson posted the best qualifying lap, a 1:21.813. Avgustinovich posted the fastest Ford time trial lap, a 1:22.061, but Weatherly's 1:20.839 bested all others in qualifying.
The iRNC headed to the Land of the Rising Sun for the 2011 Season Four finale at Okayama International Circuit on the full course layout.  This was the series' third Okayama visit of the season, and the second on that particular layout.   Week Six had seen Booth's 162 points lead the Solstice class, while Ruokola's impressive 237 point week topped all SRF drivers.
When all the virtual dust had settled at Okayama, Booth (Solstice) and Tobar (SRF) emerged as the series champions.  Booth topped all Solstice drivers with 1224 points on the season, scoring 20 victories and 32 poles in 36 total starts to win his second consecutive class title. Gabriel Tobar won his third Ford championship (he also won in Seasons One and Two) with 1434 points, taking 17 wins in 20 starts. Kalle Ruokola, meanwhile, ranked second in both series; he had 15 starts, nine wins, and 1150 points in Solstice, and 33 wins in 49 starts for 1418 points in Ford.
Chris Hughson ranked third in Solstice points, scoring 1056 after winning in 197 of his 250 starts. Fourth place Nenad Matijevic won 21 times in 50 starts to score 1038 points, while fifth place Wim Bries tallied 59 wins in 109 starts to total 956 points. Mihael Vucinic, Antti Lepisto, Michael Vaughn, Thomas van Bussel, and Juan Rodriguez completed the overall Solstice top 10.
With 22 starts, 19 wins, and 1238 points, Mogar DG Filho ranked third in the Ford championship. Diego Doni's 13 wins in 34 starts were good for 1231 points and fourth place, while Mitch Weatherly's 59 starts and 27 wins scored him 1190 points and fifth place. Sergio Roda Junior, Chris Hughson, Tim Bone, Roope Turkkila, and Jerry Burkacki rounded out the top 10 in Ford.
In Solstice, David Benedict won the time trial championship with 782 out of a possible 800 points, while Vucinic and van Bussel tied for second place with 753. In Ford, the battle was much closer, as Daniel Ryan edged Scott Hanley, 749-748, for the honor. Nikolay Andreev placed third with 738 points.
inRacingNews Challenge Champions by Division
(Division, Pontiac Solstice champion, Spec Racer Ford champion)
Division One: Michael Booth, Gabriel Tobar
Division Two: Nenad Matijevic, Diego Doni
Division Three: Thomas van Bussel, Sergio Roda Junior
Division Four: David Albaladejo, Ramon Sprecher
Division Five: Nick Stine, Hicham Kadiri
Division Six: John Tucker, Fredrik Persson
Division Seven: Bradley Morris, Andrey Tararaksin
Division Eight: Bradly Hieb, Emerson Bracisievicz
Division Nine: Walter Kurman, Michael Hilliard
Division 10: Andrew Corrigan, Jean Fernandez
Rookie Division: Benjamin Harste, Hakan Thornqvist
---
You may also like...
---