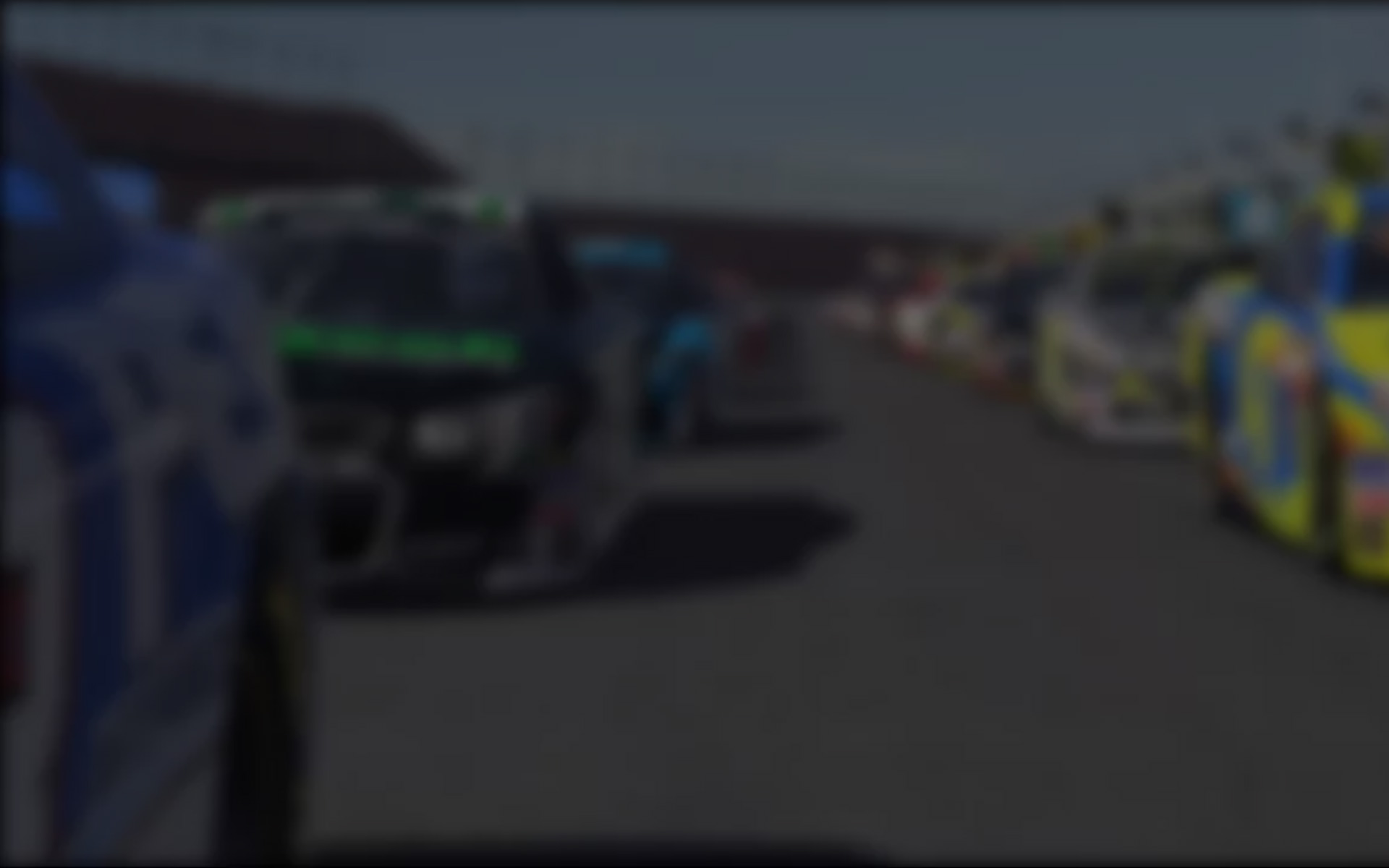 Week 6 of the NASCAR iRacing.com Late Model Series headed to Lakeland, Florida for a date with USA International Speedway.  This .75 mile high-banked oval only exists now in memory and in the virtual racing world.  The track was demolished in 2012 but that does not stop the online racing fun.  USA brought many elements into play to this week series, including hard, fast sim-racing and a handling curve not many were expecting due to the weather.  With Turns 1 and 2 producing some understeer, Turn 3 and 4 went the opposite producing a slight oversteer.  This twist led to many incidents and some exciting racing.  This week's featured race strength came in at a 3391 SoF.
Shane Dougherty started on the pole with Mark Jorgensen lining-up next to him.  As the pace car pulled-off Dougherty played possum a little and took a big jump at the start, stretching his advantage to more than four car lengths over Jorgensen who never had a chance to make a challenge.   The front three sim-racers put eight car lengths over the rest of the field as they still run two wide from fourth on back.
With patience being a virtue this field doesn't seem to have, Kevin J Myers in P9 gets tagged and pushed up the track by Patrick Davis.  However, Davis failed to complete the pass as Chad Williams bobbled off the exit in Turn 4 in front of Davis allowing Myers to pass both sim-racers.   Only four laps in the books and these sim-racers were wasting no time trading paint and gaining as many positions as possible.
Josh Combs drove it in deep and got to the bumper of Gary Hensley in an effort to take fifth spot.  Hensley broke loose and Combs backed-off in hopes Hensley could gather it back up.  By the apex of the corner it looked like Hensley had regained control only to have it break completely loose on exit. Trying to save it, Hensley over corrected and turned into the outside,  hammering Combs into the wall and collecting Ray Farlow in the bargain, with Myers just barely avoiding the wreck.  Although he suffered significant damage, Hensley continued on while Combs was to pit for repairs as a result of the contact.
While all this action unfolded in the back of the field  the front four of Doughrty, Jorgensen, Christian Corriveau, and Christian Pederson would stretched their lead over Myers by four seconds who, although he was in P5 was  clear of traffic and could focus on running down the lead pack.
By Lap 8 the back of the field finally resolved into single file mode in the hopes of not losing any more time on the leaders.  The single file racing didn't last long, though.  On lap 16 Davis got loose on exit and gathered it up quickly but, not wanting to lose the spot, chopped down on Denny Clark.  With no time to react, Clark pushed Davis head-on into the outside wall.  Fortunately, Davis was able to pull it directly into the pits after hitting the wall and so only lost two laps to the leaders effecting repairs.
By Lap 20 Corrival had lost touch with the front three and had a mirror-full of Myers who wasted no time in commandeering P4.
As the half way point approached, the back of the field was still trying to sort itself out.  Derrick Hopkinson tried to mount a charge on Devon Amos for ninth spot, only to misjudge his closing speed and lift out of the gas on the exit of Turn 2, with Williams cruising past as a result.
The racing settled down in the second half of the race until Myers caught the three leaders with ten laps remaining.  The lead group had seen some shuffling that put Jorgensen in the lead from Daugherty and Pedersen.  With seven to go the action really picked-up as Jorgensen pressured Daugherty for the lead into Turn 3, only to fall back in line.  In their wake, Myers got under Pedersen and completed the pass down the front stretch to take third place.
Three laps later, Daugherty re-engaged Jorgensen and the two battled side-by-side out for three laps before Daugherty finally grabbed the lead, leaving Jorgensen to contend with Myers.  In the back, Clark tried to pass Derreck Robinson2 for seventh.  As Clark got under Robinson2 he drifted-up on the exit putting Robinson2 into the wall and spinning down the front stretch.  Robinson2 dropped back to eleventh while Clark forfeited his newly-gained P7 to Williams.
The final lap saw Daugherty stretch his lead to .8s over Jorgensen and Myers, who were not done racing.  Exiting Turn 4, Myers seized the opportunity to get under Jorgensen but it was too little too late and and he fell short of completing the pass by a mere 8 hundredths of a second.
1st Daughtery                         9th Amos –17.153
2nd Jorgensen  -0.787           10th Hensley –17.386
3rd Myers –0.862                  11th Robinson2 –18.940
4th Pedersen  -3.547             12th Hopkinson –19.265
5th Corriveau –4.766              13th Farlow –20.760
6th  Ryan Ayers –11.475        14th  Davis –2 L
7th Williams –13.993             15th Combs –14 L
8th  Clark –16.118
Week 7 sees the NASCAR iRacing.com Late Model Series heading to Martinsville, a flat, half mile paper clip of a track that is sure to see plenty of bumper-to-bumper action.  The style of racing is sure to change as competitors will be looking to make passed with late braking moves rather than by trying to get the run off the corners.
---
You may also like...
---